Pasta salad is a staple at all of my summer parties, barbecues, and picnics. Cold pasta tossed with veggies, meats, and favored with a zesty dressing is a classic that is always a hit.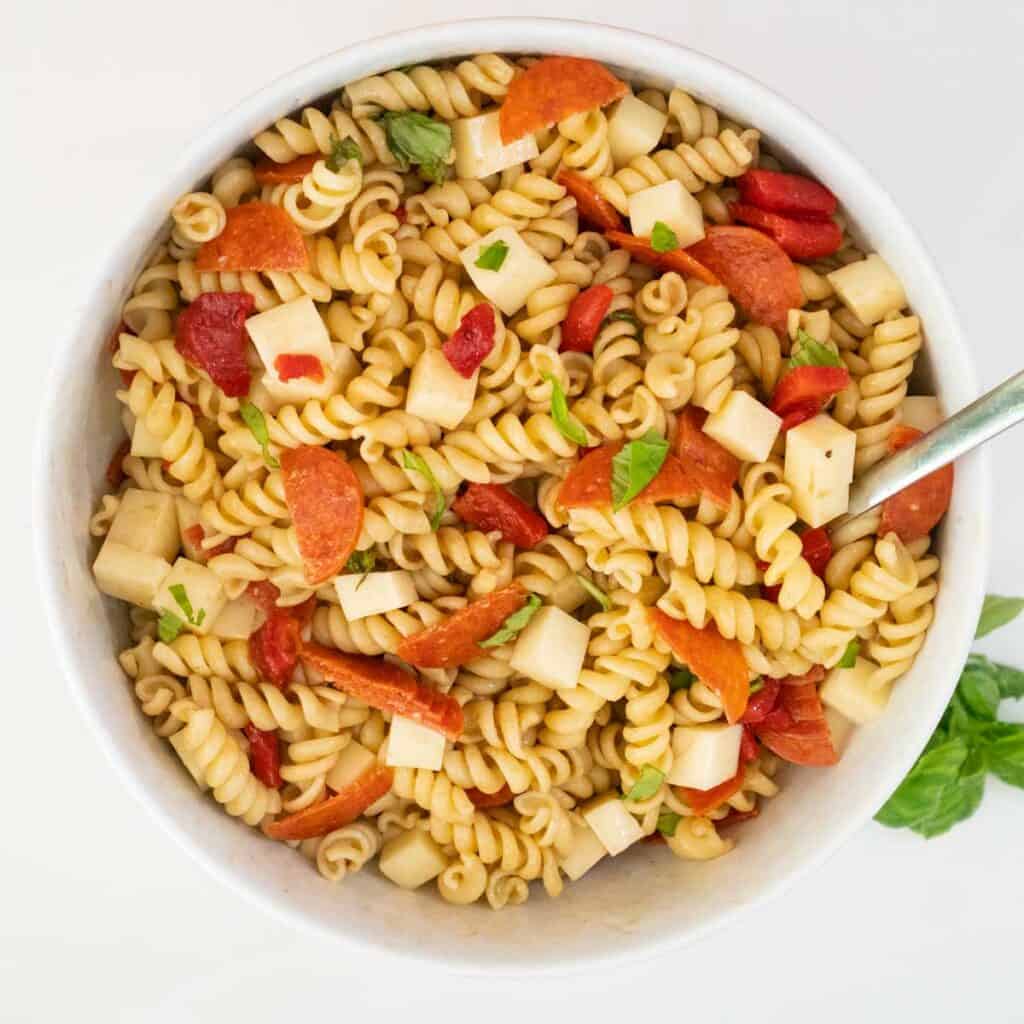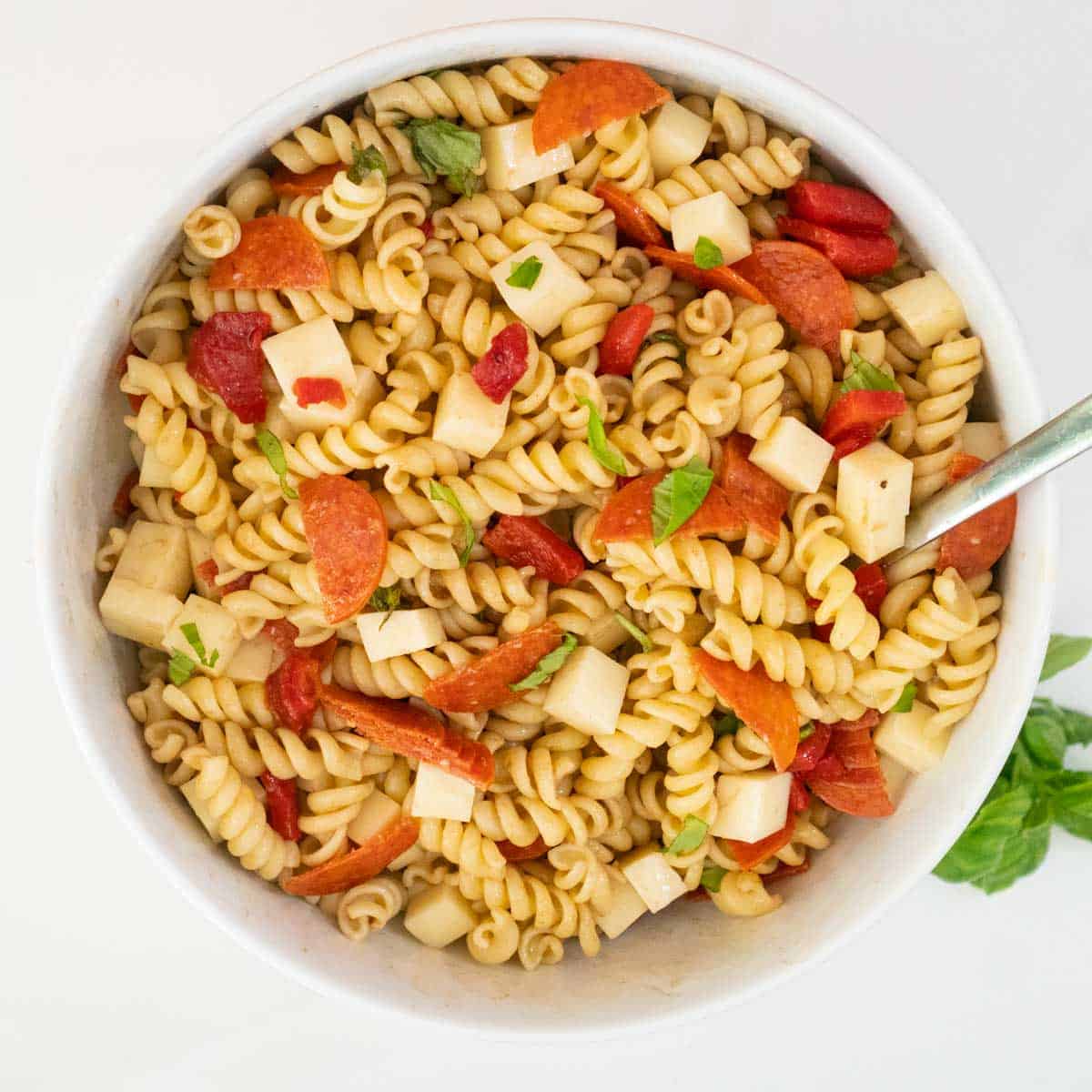 Because everyone loves pasta salad it's always one of the first dishes to go so I like to serve it with a lot of sides so everyone has enough to eat. The perfect dish to serve with pasta salad should be picnic friendly: easy to prep and easy to serve.
(Some of our favorites are Tuscan Pasta Salad, Creamy Chicken Pasta Salad, and Italian Pasta Salad!)
Ready to picnic? Here are 15 of my favorite recipes to serve with pasta salad!
Fried Chicken
Crispy fried chicken pairs great with creamy pasta salad. Plus, since your protein is the fried chicken itself you can skimp on meat with your pasta!
Hot Dogs
Hot dogs on the grill are a summer favorite for all ages. I like to choose all-beef hot dogs but you can opt for traditional or turkey dogs as well or even grill up these BBQ glazed smoked sausages.
Hamburgers
Since we're talking about the grill, hamburgers are another great options. Serve with a variety of burger toppings to let everyone customize to their own taste.
Pulled Pork
Oh, how I love pulled pork! Make it on the smoker or in a slow cooker and dress with your favorite BBQ sauce for a picnic to remember!
Sandwiches
Finger sandwiches can be made ahead of time for an easy picnic meal. Meat and cheese, chicken salad, pimento cheese, caprese sandwiches with mozzarella, basil, and tomatoes; or cucumber with herbed cream cheese are a few of my favorite options.
Roll Ups
Roll ups, or pinwheels as they are sometimes called, are another great make-ahead side dish. Roast beef and spicy mustard pinwheels are my favorite but ham and cheese or turkey are popular options as well.
Deviled Eggs
What's a picnic without deviled eggs? These rich and creamy appetizers are also on my short list of party favorites that are always gobbled up in a flash!
Baked Beans or Calico Beans
Baked beans are another summer favorite. The rich, smokey flavor is the perfect compliment to the smooth, cool pasta salad. To make the meal even more filling, upgrade to calico beans made with ground beef and bacon!
Corn on the Cob
Whether you boil it or grill it, corn on the cob is a great easy recipe to serve with pasta salad, especially if your salad already has a protein added. The crisp crunch of the corn is a great contrast with the soft and creamy pasta.
Chicken Wings
Grab your favorite BBQ sauce or seasoning rub and serve them up! Cold pasta salad is especially good if you serve up your BBQ chicken wings with a spicy hot sauce.
Ribs
Smoking ribs is one of my very favorite meals for a crowd. They don't take as long to smoke as larger cuts of meat like Boston Butts or brisket and they are always a hit.
Crudités
Chop up vegetables like carrots, broccoli, or peppers and serve with a dip for a fun finger food appetizer complement.
Egg Salad
Like hard boiled eggs, egg salad is a great picnic dish. Serve on its own to eat with a fork or with soft rolls for egg salad sandwiches.
Steak
Like grilling hamburgers or hot dogs, a nice grilled steak is a great option to serve with pasta salad.
Fruit
Serve savory salad pasta with sweet fruit. Sliced watermelon, fruit salad, pineapple spears, or simple sliced apples and grapes are all delicious options.
Now that you know what sides to serve, here are some ideas of things you can toss with your pasta to customize your own perfect pasta salad recipe:
peas
ham cubes
feta cheese
cubed cheddar or mozzarella cheese
asparagus
chopped bell peppers
olives
salami
chopped red onion
pepperoni
olive oil & red wine vinegar
chopped fresh parsley
store-bought vinaigrette
pepperoncini
shaved parmesan cheese
pesto
Italian salad dressing