Now that summer is nearly here (or maybe it just feels like it in Florida!), my taste buds are craving light desserts that can be packed up and taken on a road trip, picnic or shared at a BBQ on a sunny day!  So, when I came across a recipe for a pig pickin' cake ... it seemed like a perfect choice for a Southern summer get together. And because everything is cuter in a mason jar, I decided to skip the layered version and make individual servings in wide mouth half pint mason jars  Now, I know you may be saying, "What is a pig pickin' cake?"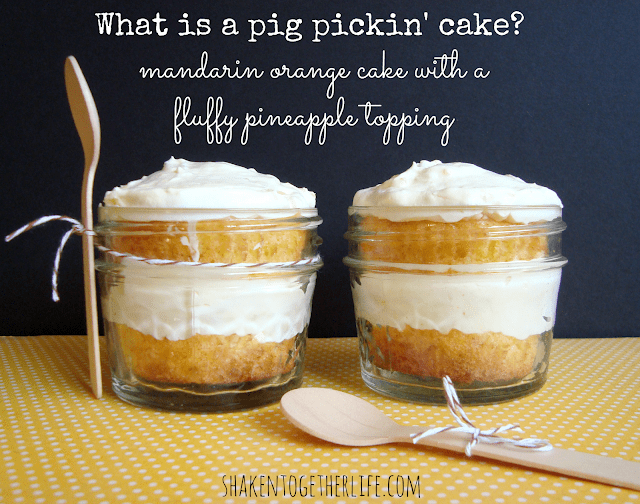 Simply put, a pig pickin' cake is a moist mandarin orange cake that is topped/layered with a fluffy vanilla pineapple topping.  Traditionally, this light fruity dessert was served at a Southern pig roast - or pig pickin' - so that is most likely how this cake got its name.  I just call it plain delicious!
pig pickin' cake in a jar
recipe found on About.com
Yield:  24 cupcakes/cakes in a jar
mandarin orange cake
1 box yellow cake mix
11 oz. can of mandarin oranges with juice
4 eggs
½ cup vegetable oil
fluffy pineapple topping
One 9 o.z tub of Cool Whip, thawed
One 8 oz. can of crushed pineapple, with juice
One 3.4 ounce (4-servings) box of instant vanilla pudding
In mixing bowl, combine cake mix, mandarin oranges (with juice), eggs and oil. Beat for 2 minutes with electric mixer. Pour the batter into cupcake pans with foil cupcake papers.  Bake for about 18 -20 minutes at 350* or until a toothpick comes out clean. Allow cupcakes to cool.
For the topping:  using a hand  mixer on low, combine Cool Whip, pineapple (and juice) and vanilla pudding mix.
Cut each cooled cupcake in half.  Place the bottom of the cupcake in a wide mouth half pint mason jar.  Spoon a layer of topping over it.  Top with the other half of the cupcake and add another layer of topping.  If you are packing these up for a get together, you can reduce the amount of topping so the lid fits on the jar or add the rest of the topping just before serving.  But if you are eating these at home, pile it high and enjoy!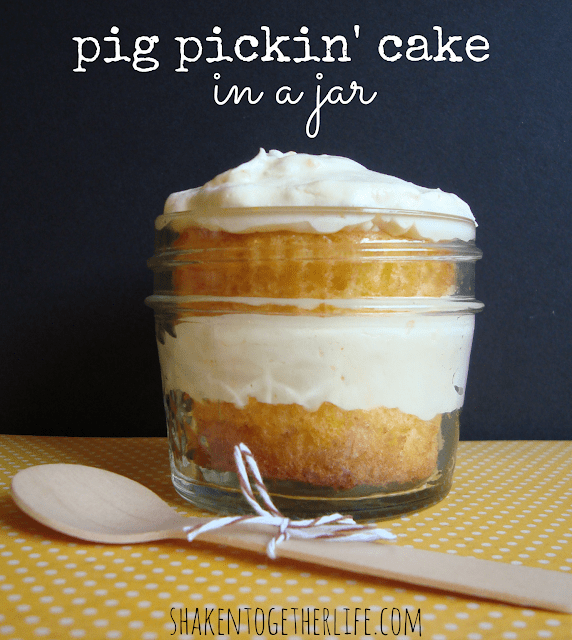 Here are some of my favorite summer time desserts!
No Bake Summer Raspberry Pies
Reader Interactions