As a food and craft blogger, beautiful photos are a must! Cool back drops and awesome props are just tools of a blogger's trade. A few key accessories can add charm and personality to an otherwise plain photo. What pile of brownies or stack of cookies is complete without a sweetly curved bottle of milk and a sassy striped straw?

Since the title of this post pretty much gives it away, this is no regular glass bottle full of milk. Today, I'll show you how to make a milk bottle blog prop!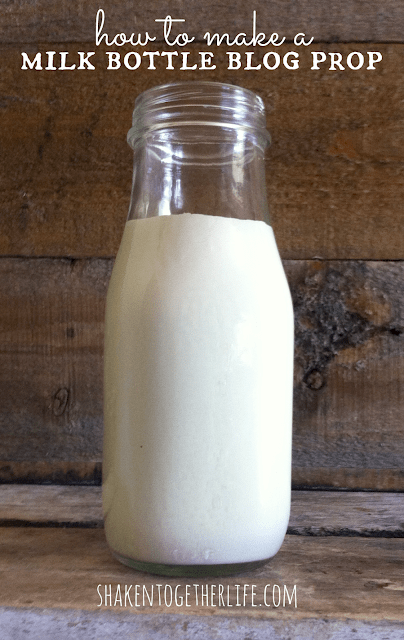 These start with a Starbucks frappaccino bottle. Drink the contents - now you are properly caffeinated and this project will be done in a flash! Remove the label and any remaining sticky adhesive. Make sure the inside of the bottle is clean and dry.

Squeeze a good amount of paint into the bottle of the bottle. Slowly, tilt and tip the bottle to maneuver the paint up and around the neck of the bottle. Add paint as necessary and continue tilting, tipping and rotating until the glass is covered and you have the milk bottle as "full" as you would like it.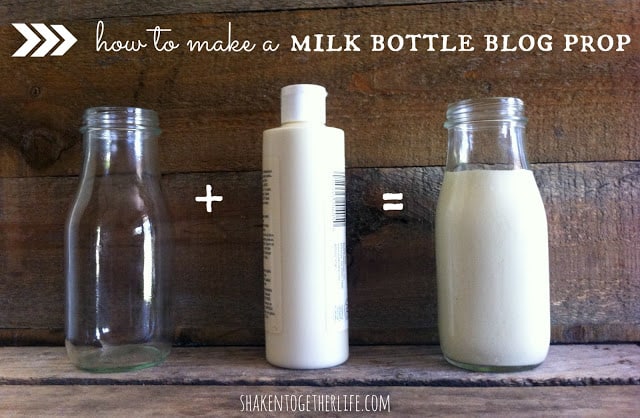 You may remember seeing this cute little guy in the pictures of the Nutella swirl brownies from scratch that I shared yesterday. Nope, not real milk ... sneaky, sneaky!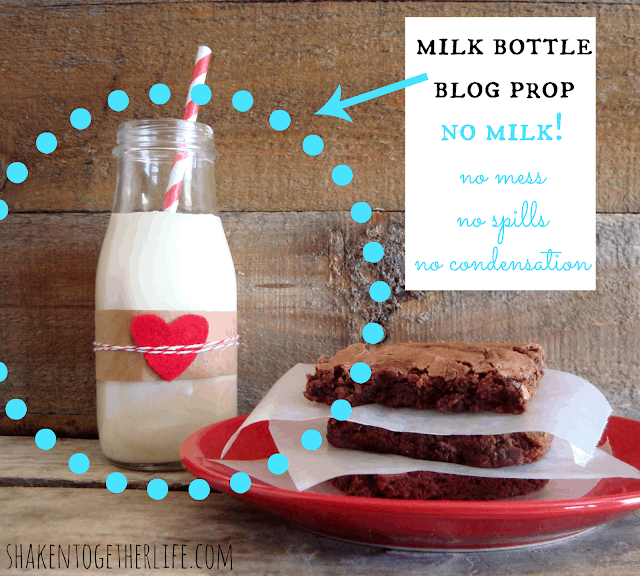 The look of milk but no mess, no potential spills and no condensation from cold liquid! And they are just so stinkin' cute!! I dressed up the milk bottle with a brown paper bag strip, a red felt heart and a few wraps of bakers twine.

These would be adorable tied together with twine, lined up along a shelf or filled with flowers!

I used this same technique to make this cute milk bottle bunting when I gave my boring gray work cubicle a makeover! Those are salad dressing bottles from Walmart - they make our favorite Caesar dressing!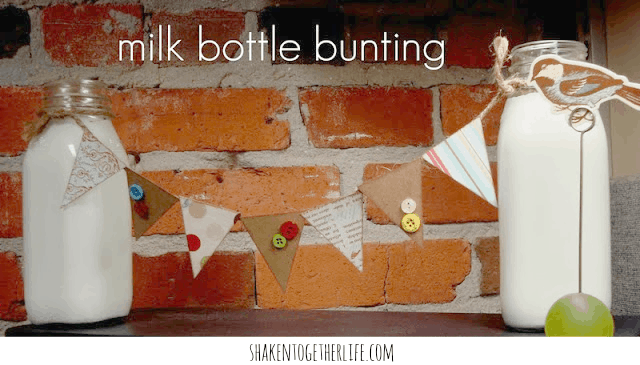 Since we are talking "milk" today ... here are a few of my favorite cookie recipes to go along with it!
Cup of Everything Cookies
Fluffernutter Sandwich Cookies

This post was shared at all of the fantastic parties on my link page!