I'm sharing my tried and true method of making the PERFECT Hard Boiled Eggs 9 out of 10 Times! Because let's face it - sometimes hard boiled eggs are jerks.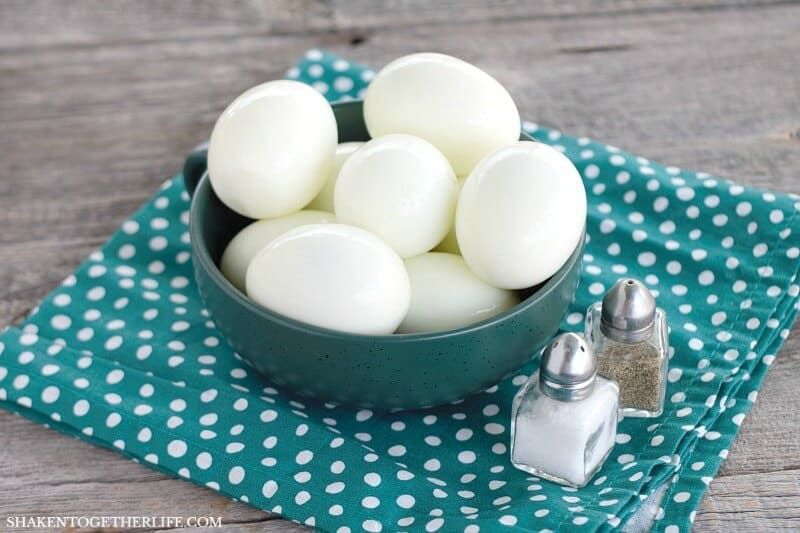 Ya'll, I make 10 hard boiled eggs every.single.week. So while I know that there are lots of methods for making the perfect hard boiled eggs, I think I've got this locked down. Yes, I am aware that there are egg cookers. And I've heard good things about them. But I honestly just can't bring another appliance into this house. So water + pot + eggs it is!
PERFECT Hard Boiled Eggs 9 out of 10 Times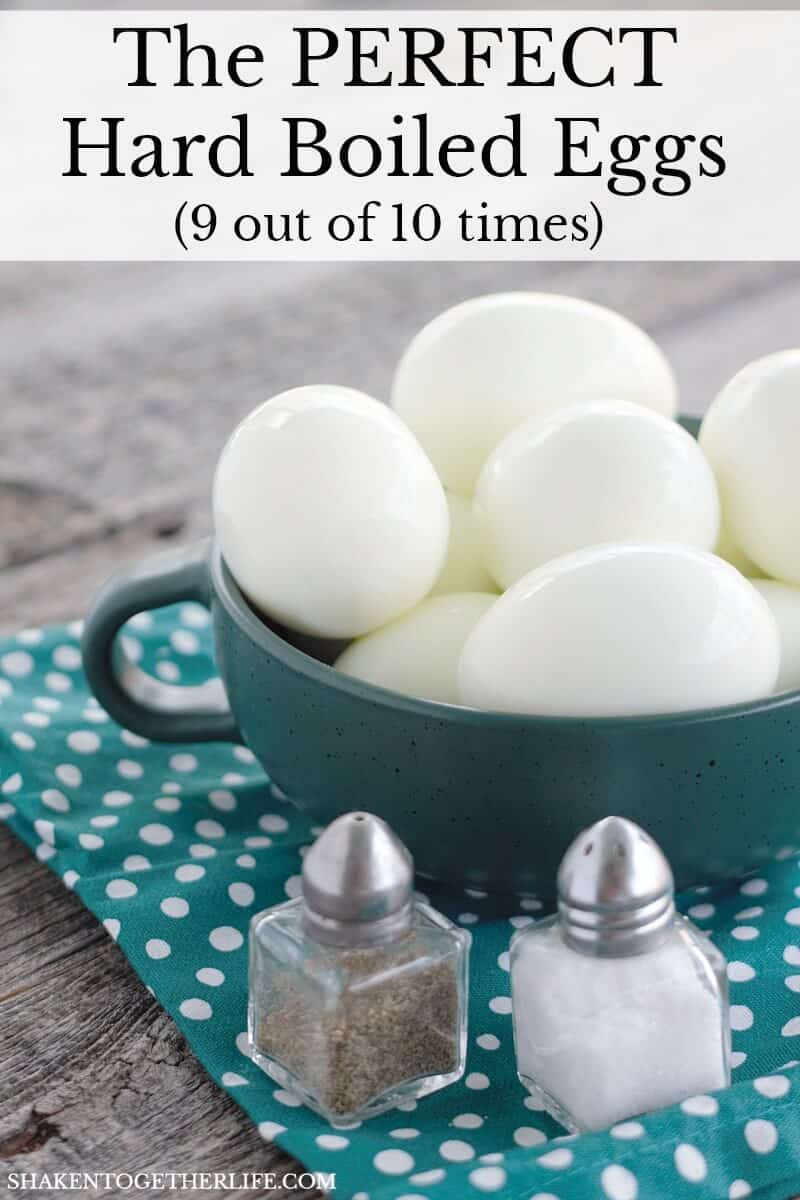 **This post contains affiliate links, meaning that if you make a purchase after clicking through, Shaken Together may receive a small commission at no extra cost to you. Thanks for helping me keep the kitchen stocked and free recipes and entertaining ideas coming your way! For all of my favorite kitchen tools, products and fun finds, Shop Shaken Together!
I do have a few notes for making hard boiled eggs:
Don't use "new" eggs. I always have 2 cartons of eggs in my fridge: one waiting to be hard boiled the following week and one to use for other things (breakfast, baking, etc.). I think I read somewhere that when eggs are a little older, a small air pocket forms in the egg which will provide a cushion between the cooked egg and the shell once they're boiled. So plan ahead if you're bringing deviled eggs to that BBQ.
Salt the water. I don't have any science-y reason behind that. I just started doing it and it seems to help.
I use a 3 quart saucepan with a lid. (This pan gives me all the heart eyes and it is part of my favorite Calphalon set. It easily holds a dozen eggs!) This size pot/saucepan gives me enough space to cover the eggs with water and keeps it from splashing out once the water boils.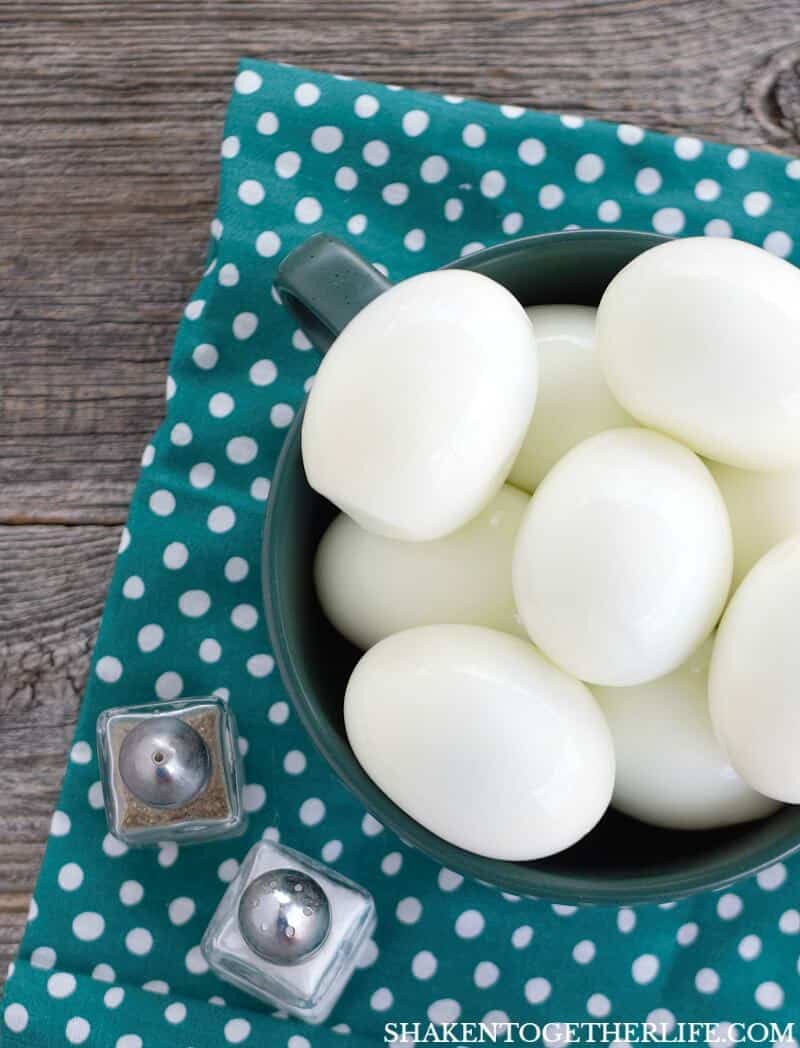 Please note the "9 out of 1o times". What I am trying to say is that despite my best efforts, sometimes hard boiled eggs don't peel well. Sometimes my eggs are a little too "new". Sometimes I forget to set a timer and they may boil a little too long or not long enough. Sometimes I am impatient and don't let them cool. And sometimes, hard boiled eggs are just jerks. On those weeks, I make egg salad. I'll show them 😉
But more often that not, these perfect hard boiled eggs slip right out of their shells after a gentle whack on the counter. Hello gorgeous!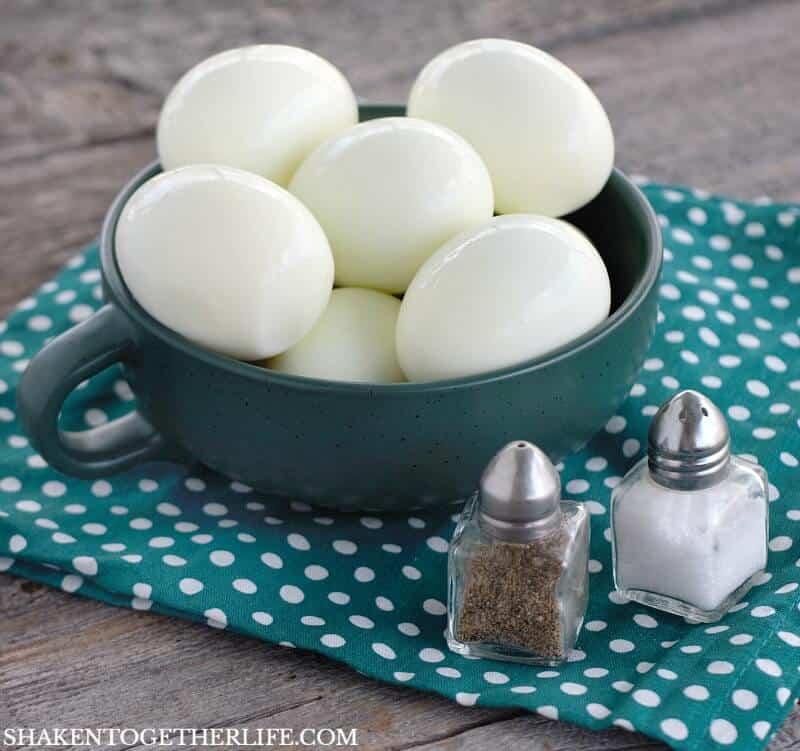 Print PERFECT Hard Boiled Eggs 9 out of 10 Times
Yield:

10

hard boiled eggs

1

x
---
Description
I'm sharing my tried and true method of making the PERFECT Hard Boiled Eggs that works 9 out of 10 Times! Because let's face it - sometimes hard boiled eggs are jerks.
---
---
Instructions
Place the eggs in a 3 quart pot and cover with cold water.
Salt the water generously.
Bring the eggs to a boil over medium-high heat and boil them for 9 minutes.
Remove the pot from the direct heat and allow eggs to sit in hot water for 9 minutes.
Drain the hot water and cover the eggs with cold tap water and add about 2 cups of ice.
Once the ice has melted, drain the water from the eggs.
Gently tap the hard boiled eggs to crack the shell and peel it away gently. Rinse each egg to remove any stray shell pieces.
Refrigerate the eggs for up to a week.
---
Notes
Are your hard boiled eggs peeling poorly? There is a membrane between the cooked egg and the shell. Make sure you are removing the membrane with the shell and not the shell from the membrane. Sometimes, I also run a bit of water while I am peeling the eggs and it seems to help lift the shell away from the egg. If all else fails, peel those eggs the best you can and make egg salad! 
What are your favorite ways to eat hard boiled eggs? Deviled eggs are of course the champ and I love to add hard boiled eggs to summer salads. Since I take hard boiled eggs every week in my lunch, I thought I would share a few more creative ways that I like to eat hard boiled eggs:
Try sprinkling them with everything bagel seasoning
Drizzle hard boiled egg halves with ranch dressing and sprinkle some crispy cooked bacon pieces
Add a sprinkle of soy sauce (or liquid aminos) and sesame seeds to hard boiled egg halves
Slice hard boiled eggs and layer them with veggies on hummus or avocado toast
Sprinkle hard boiled eggs with flavored salt - I love the garlic salt and lime salt from Florida Pure Sea Salt (P.S. That is not a sponsored link - I love sharing local FL companies with you!)
Add sliced hard boiled eggs to your caprese salad and drizzle with balsamic vinegar
Do you have any tips for making the PERFECT Hard Boiled Eggs?
Here are a few more of my favorite ways to use EGGS!
BAKED SHEET PAN EGGS - Perfect for breakfast sandwiches or breakfast soft tacos!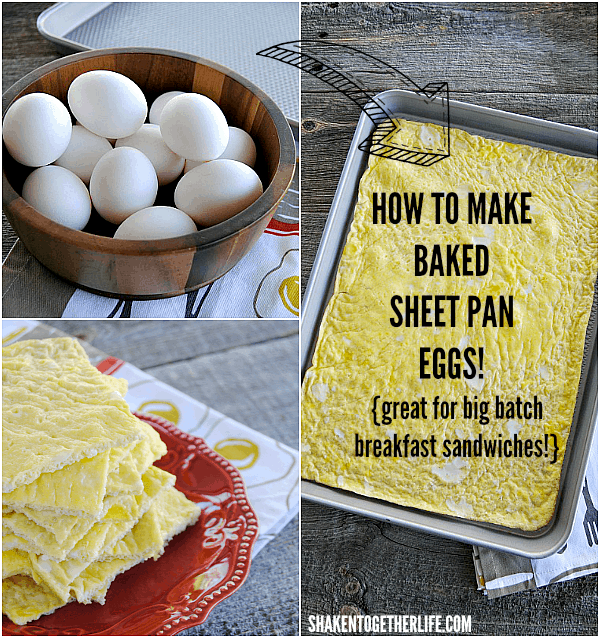 Speaking of BREAKFAST SOFT TACOS ...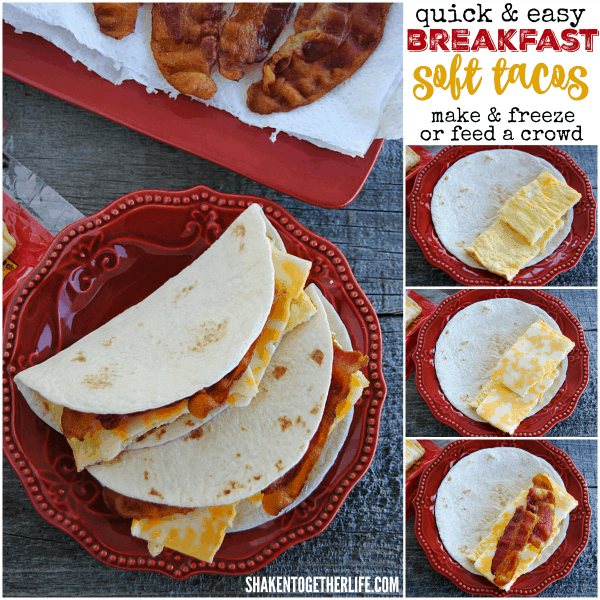 OVERNIGHT WAFFLE BREAKFAST CASSEROLE with brown sugar pecans sauce