With the busy holidays upon us, I am so excited to share our easy, make ahead Overnight Waffle Breakfast Casserole with Brown Sugar Pecan Sauce. This shop has been compensated by Collective Bias, Inc. and its advertiser. All opinions are mine alone. #MoreEggo2Love #LeggoYourEggo#CollectiveBias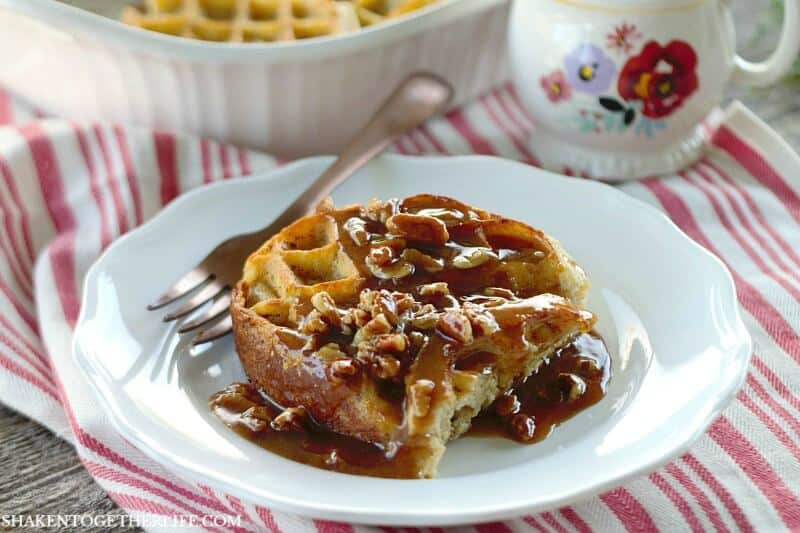 Do you have any holiday traditions? We always have ham and turkey on Thanksgiving. My Aunt Lori always makes the pumpkin pie. We watch every holiday parade on TV. And our big family meal on Christmas is breakfast! So every Christmas morning, while my family is just beginning to stir and my mom is on her way over, I pop an overnight breakfast casserole in the oven. I love for my family to wake up to the scents of vanilla, cinnamon and syrup. It is truly what Christmas morning smells like to me. This year, I am putting a twist on my typical breakfast casserole with a big pan of waffles soaked in a spiced egg and milk mixture and I am positive that this dish will be a new holiday tradition!
Overnight Waffle Breakfast Casserole with Brown Sugar Pecan Sauce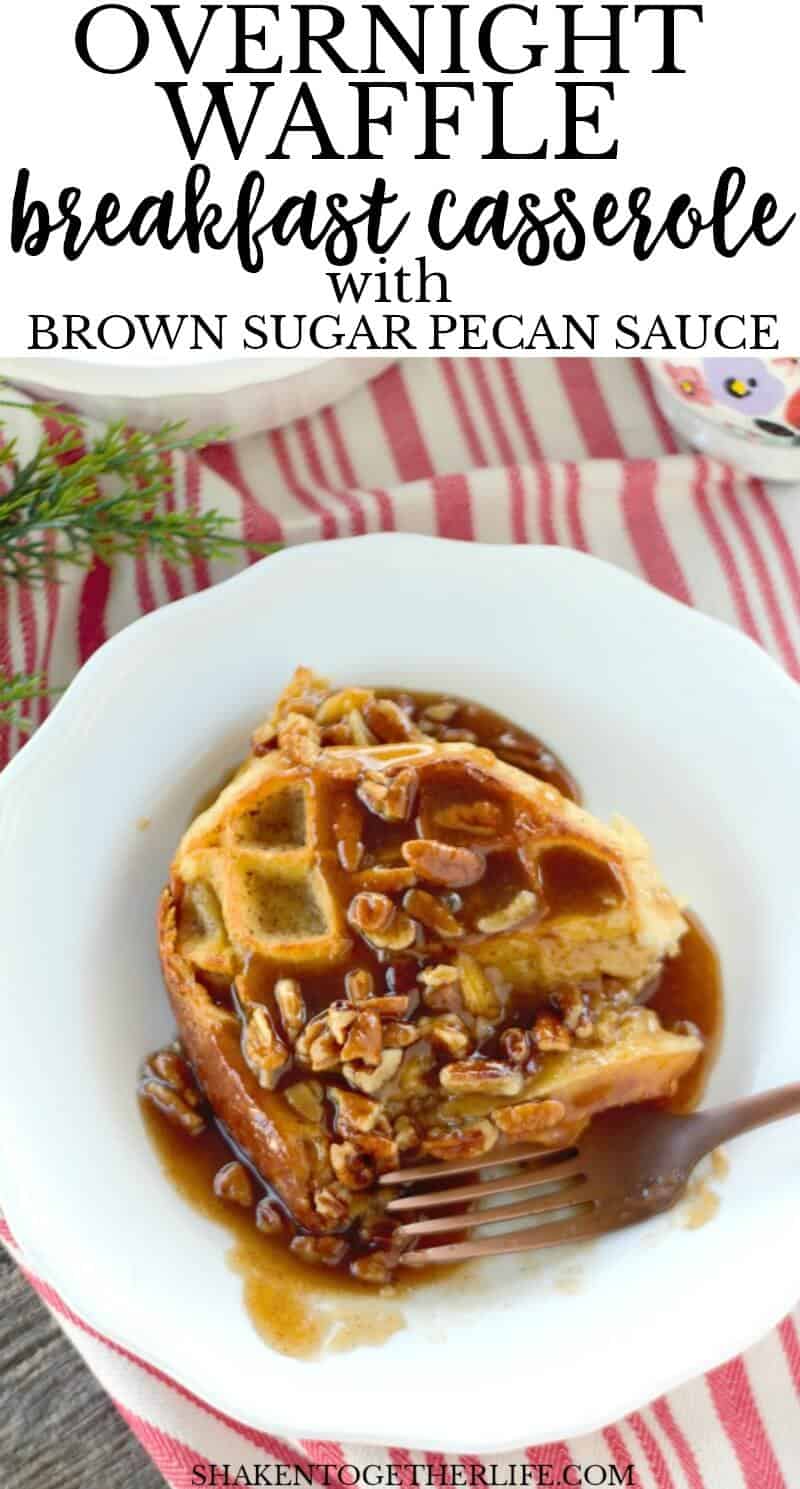 Now, the idea of an overnight breakfast casserole is not new. BUT. Move over bread and make way for waffles! Not just any waffles. Kellogg's® Eggo Thick & Fluffy Original waffles! They are made with Madagascar vanilla and perfect to keep stocked for breakfast, dinner (hello chicken + waffles) or even topped with ice cream for dessert! The Belgian style waffles taste just like homemade and those deep nooks and crannies are perfect to soak in the spices and vanilla for this recipe. YUM!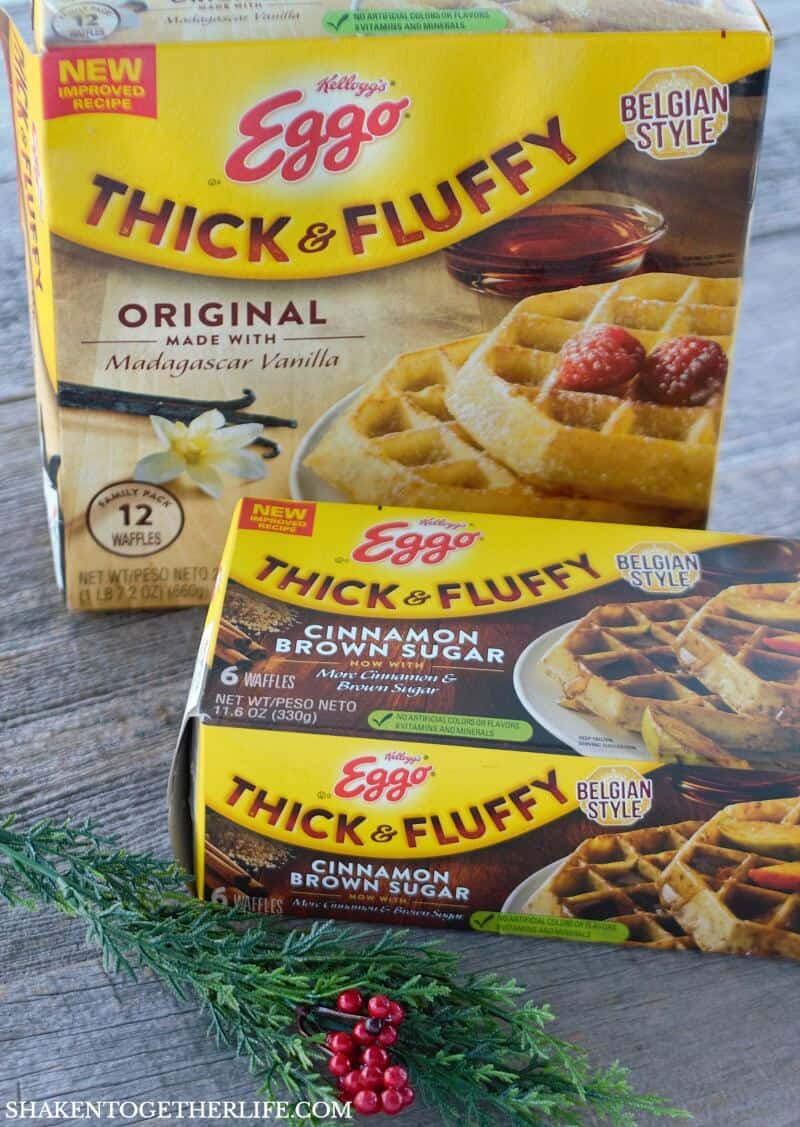 Since we are talking about traditions, I thought I would share something that is also going to be a new time-saving tradition for me: Walmart's Online Grocery Pickup Service. Have you ever used this service? You basically fill your cart online (see screenshot below), select a pick up  date and time and arrive when your order is ready. A Walmart associate loads your groceries in your car and off you go! It is all kinds of amazing! I shopped for all of the ingredients for this breakfast casserole as well as some other items I needed around my house. (I loved not having to lift heavy cat litter and a case of water, ha ha!)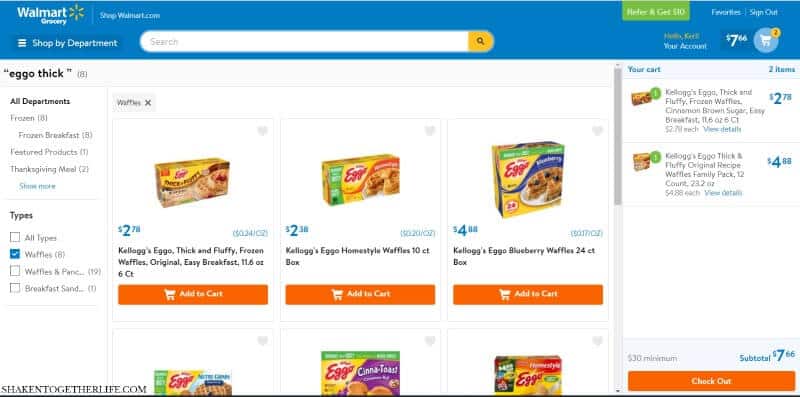 Since my college major was Communications, I really appreciate the ease of communication and use of this service through the app:
You get a text or notification when your order is ready.
Via the app, let the store know that you're on your way.
Once you arrive at your local Walmart, follow the orange signs to the designated pick up center.
Pick a parking spot and an associate will bring out your order and review it with you. Since this was the first time I used the service, James (my awesome associate) explained the service, how they substitute products if necessary and what the process looks like from start to finish. You even have the opportunity to put back items at the time of pick up.
Once you finalize your order, your groceries are loaded, you sign to acknowledge receipt and you are ready to head back home and prep your Overnight Waffle Breakfast Casserole 😉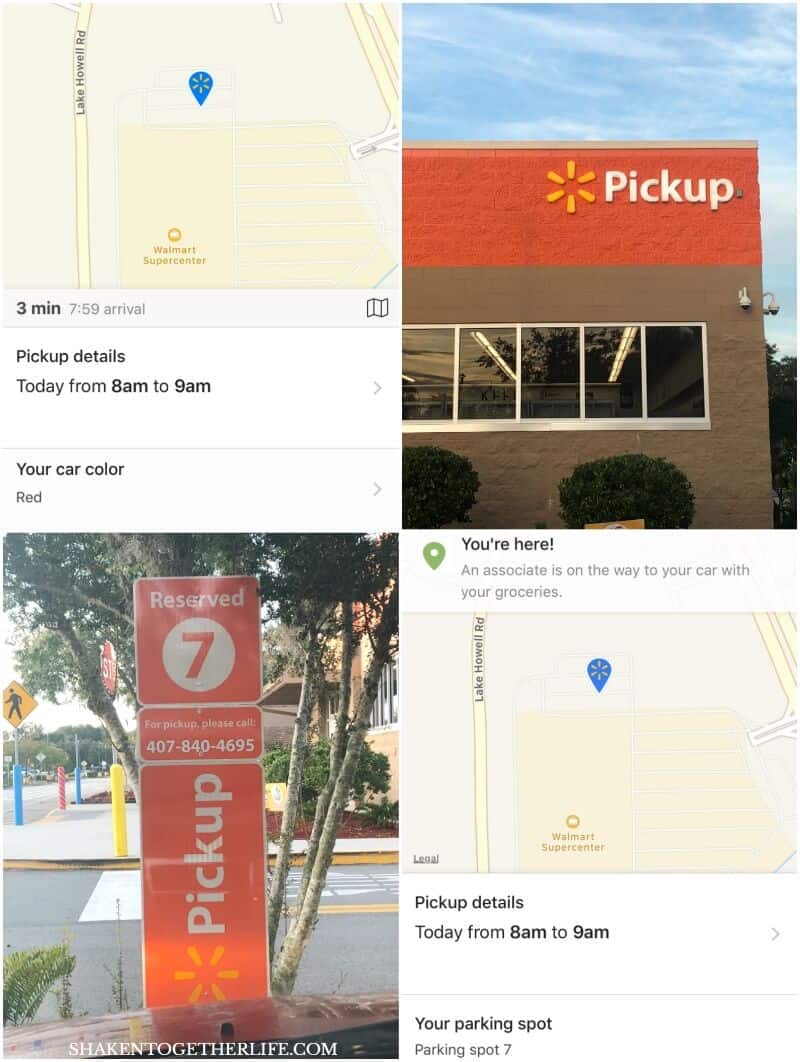 Ya'll … it was easier than easy and seriously a fabulous time saver. And you can click here to earn cash back with Ibotta, too!
Now, back to this easy waffle breakfast casserole!
First, prepare the egg and milk mixture. It's pretty standard and I use the same recipe for French toast. I love the addition of syrup in the mixture especially since I serve a brown sugar pecan sauce instead of syrup with this casserole.
TIP: Use a hand mixer to blend the eggs, milk and spices. This really breaks up the eggs and clumps of cinnamon in the mixture. Game changer!
Then, dip each toasted Eggo Thick & Fluffy Original waffle in the egg and milk mixture and overlap them in your baking dish. I used the Eggo Thick & Fluffy Original Waffles for this recipe, but I also picked up the Eggo Thick & Fluffy Cinnamon Brown Sugar Waffles and I think those would be delicious, too! (Don't worry if the waffles soften after you dip them. They will firm back up as they soak up the mixture and chill in the fridge.)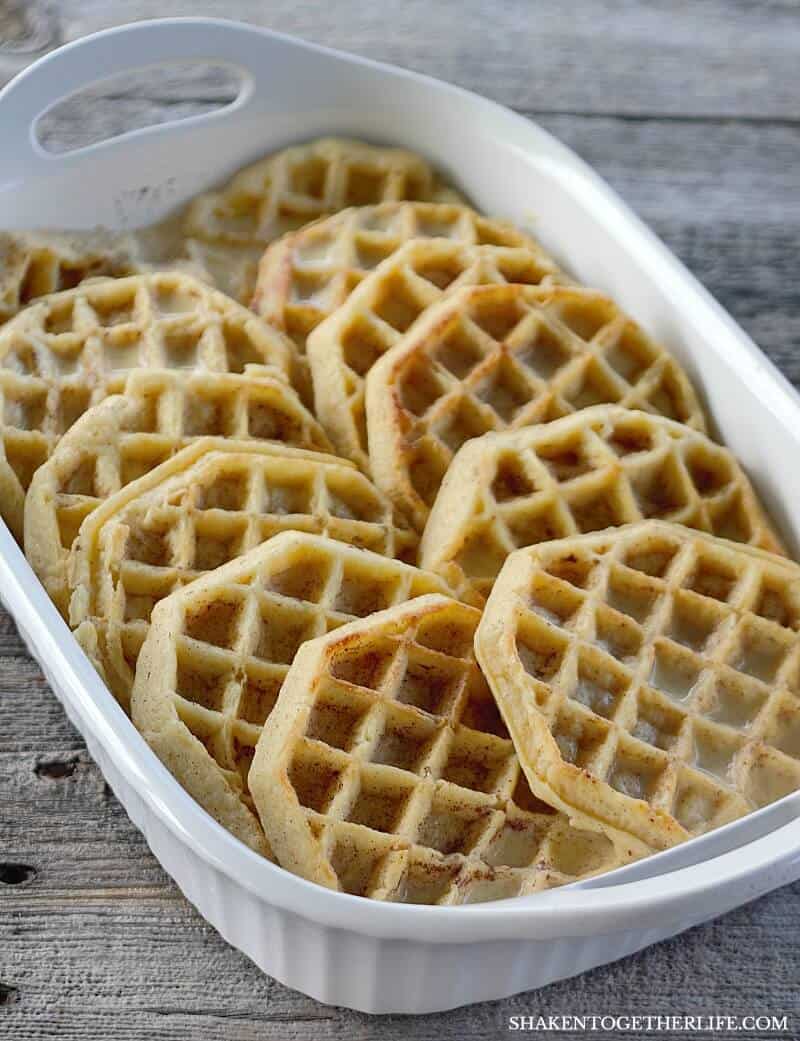 Cover the dish with foil and tuck it in your refrigerator for 8 hours or better yet, overnight. When you are ready to bake the breakfast casserole, slide the foil covered pan into your oven and let it bake.
Those waffles soak up all of the flavors of cinnamon, vanilla and maple syrup. The edges and tops get golden brown and lightly toasted. The nooks on the surface are absolutely perfect to capture alllllllll of that glorious brown sugar pecan sauce. This is serious deliciousness, folks.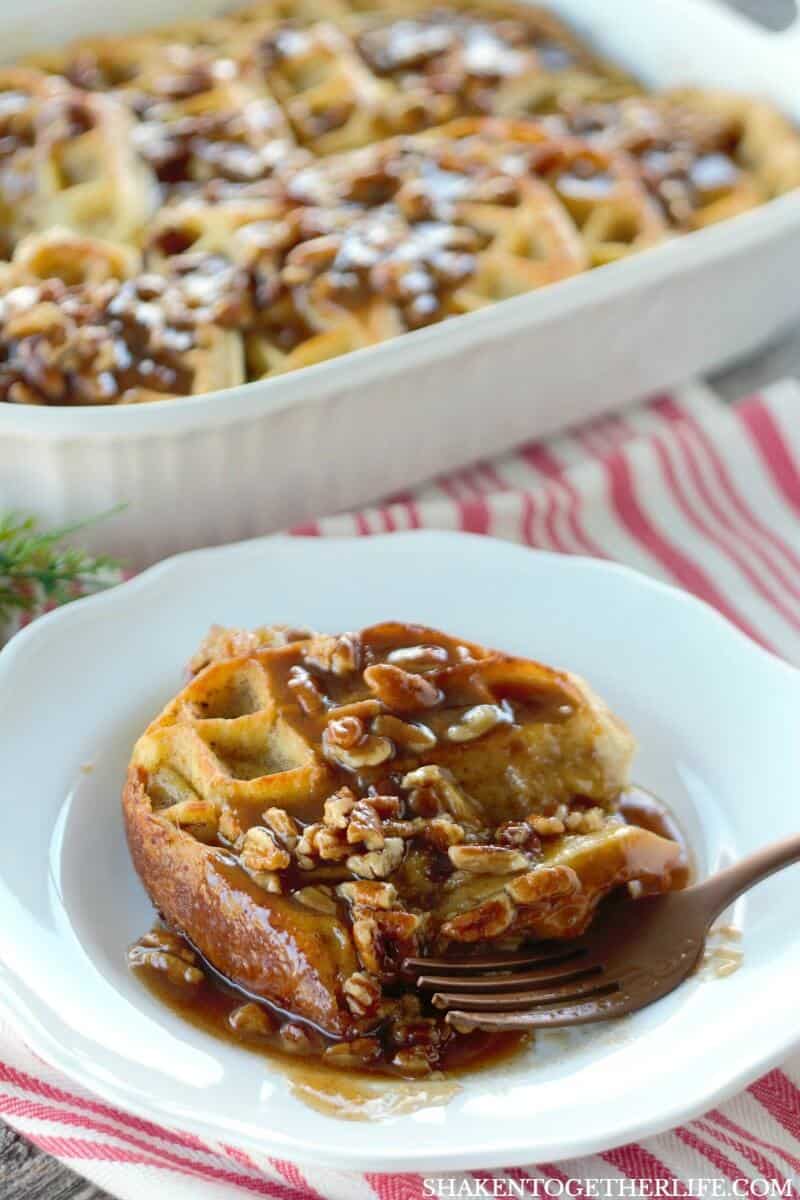 Can we talk about this sauce for a sec? While the casserole is baking, you can make the brown sugar pecan sauce on the stove top. It's glossy thanks to a generous amount of butter, gloriously cinnamon-y and just bursting with chopped pecans. Hubba hubba!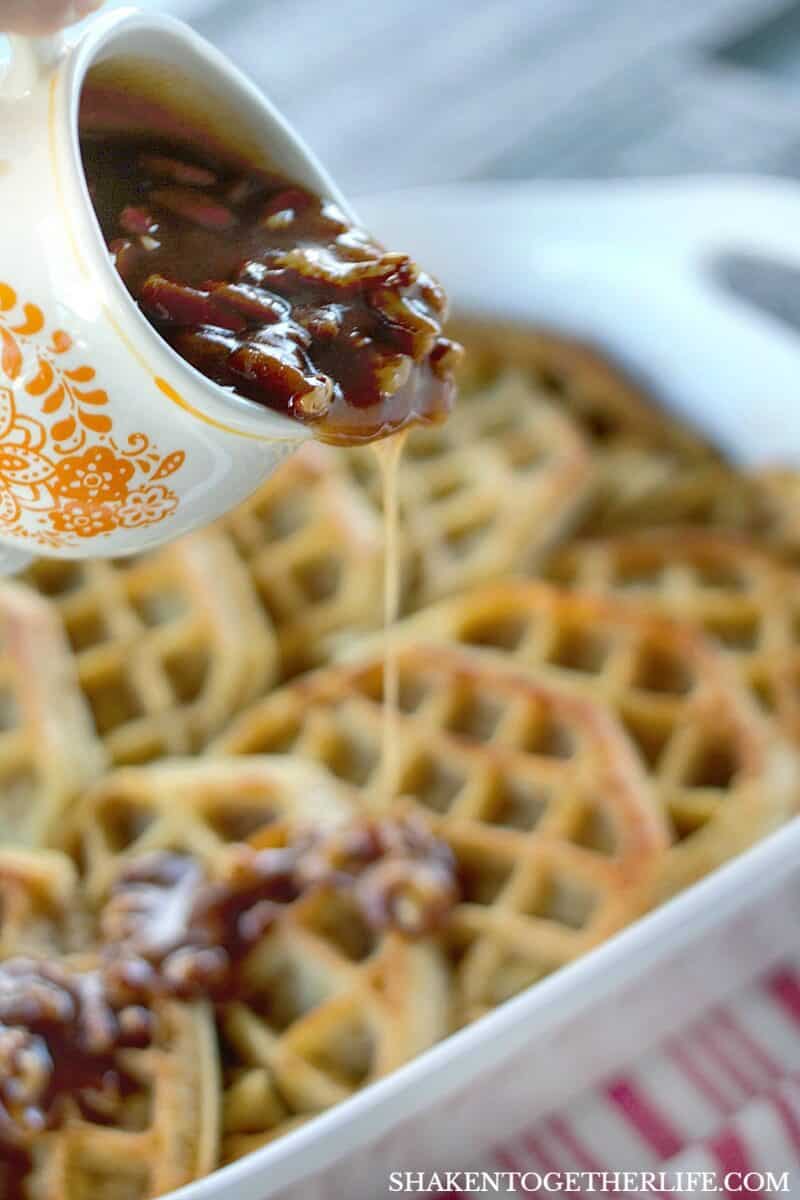 Print Overnight Waffle Breakfast Casserole with Brown Sugar Pecan Sauce
---
Scale
Ingredients
12

Kellogg's® Eggo Thick & Fluffy Original waffles

8

large eggs

2 cup

s whole milk or

half an

d half

1/4 cup

maple syrup

1 teaspoon

vanilla extract

1 teaspoon

ground cinnamon
pinch salt

2

sticks unsalted butter

1 cup

brown sugar, packed

1 teaspoon

vanilla extract

1 teaspoon

ground cinnamon

1 cup

chopped pecans
---
Instructions
Prepare a 9×13 baking dish with non-stick cooking spray.

Using a toaster, toast 12 Kellogg's® Eggo Thick & Fluffy Original waffles.

In a medium bowl, use a hand mixer to blend eggs, milk (or half & half), vanilla extract, cinnamon, syrup and salt.
Dip each toasted waffle into the egg mixture and layer the waffles in the baking dish. Pour the remaining egg mixture over the waffles, cover the baking dish with foil and refrigerate for 8 hours or overnight.
When you are ready to baking the casserole, preheat the oven to 350 degrees F.
Leave the casserole covered with foil and bake for 30 minutes.
Remove the foil and bake the waffle casserole for another 20-30 minutes until the waffles are fully baked (meaning they are not jiggly and there is no wet egg mixture) and the edges of the waffles are golden brown and toasted.
After you remove the foil and continue baking, make the brown sugar pecan sauce: Combine the butter, brown sugar, vanilla, cinnamon and pecans in a small sauce pan over medium heat. Stir frequently until the butter is melted and the brown sugar is dissolved. Reduce heat to low and simmer the brown sugar pecan sauce until the waffle casserole has finished baking.
Cut the casserole into 8-10 servings and drizzle with brown sugar pecan sauce.
---
Well, breakfast is served and I'm pretty sure that our holiday breakfasts will never be the same again thanks to this Overnight Waffle Breakfast Casserole with Brown Sugar Pecan Sauce!
If you can't get enough of Eggo Thick & Fluffy waffles, here are some more creative ways to get waffled!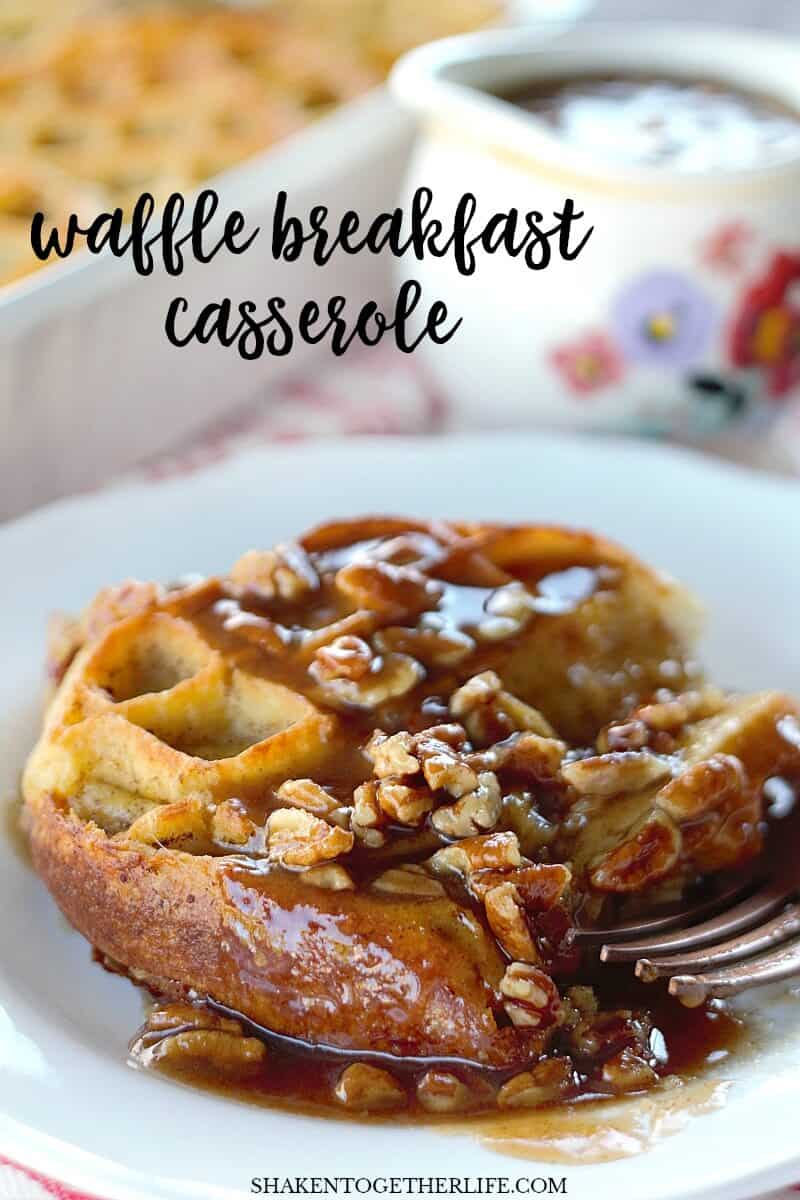 More Holiday Breakfast Recipes!
Orange & Brown Sugar Mixed Berry Salad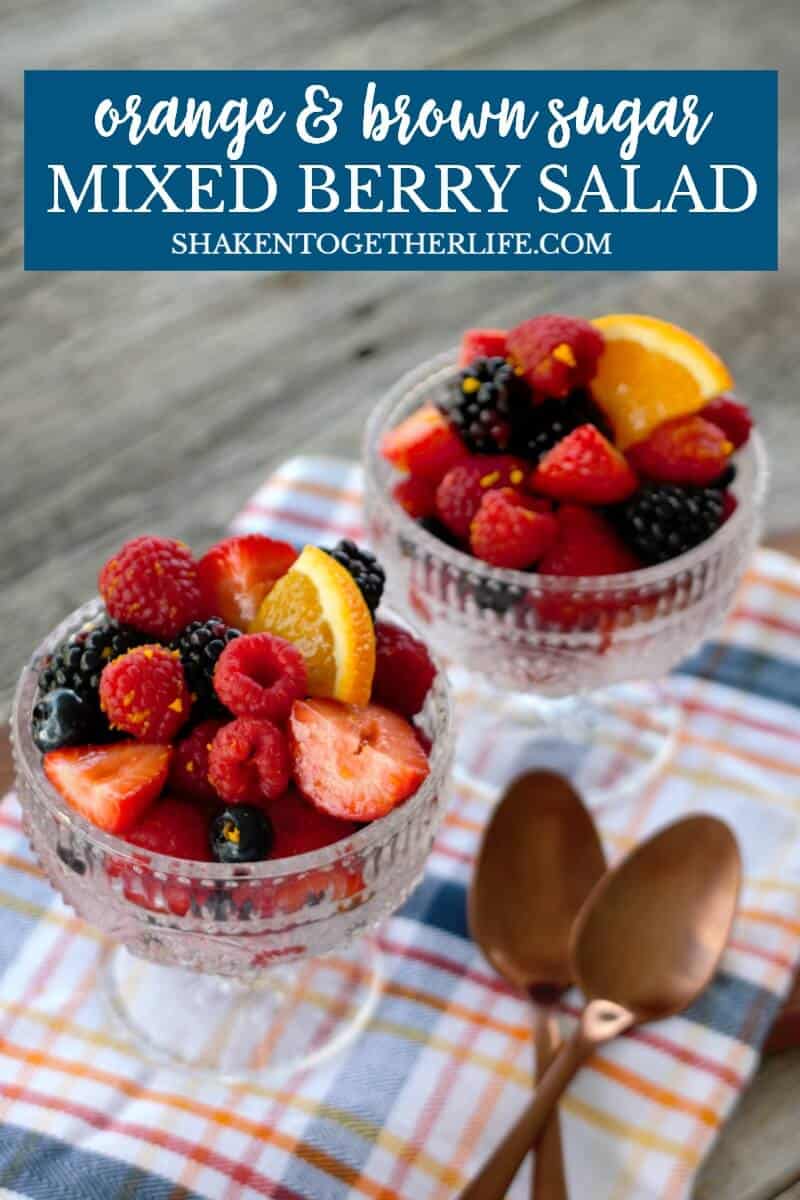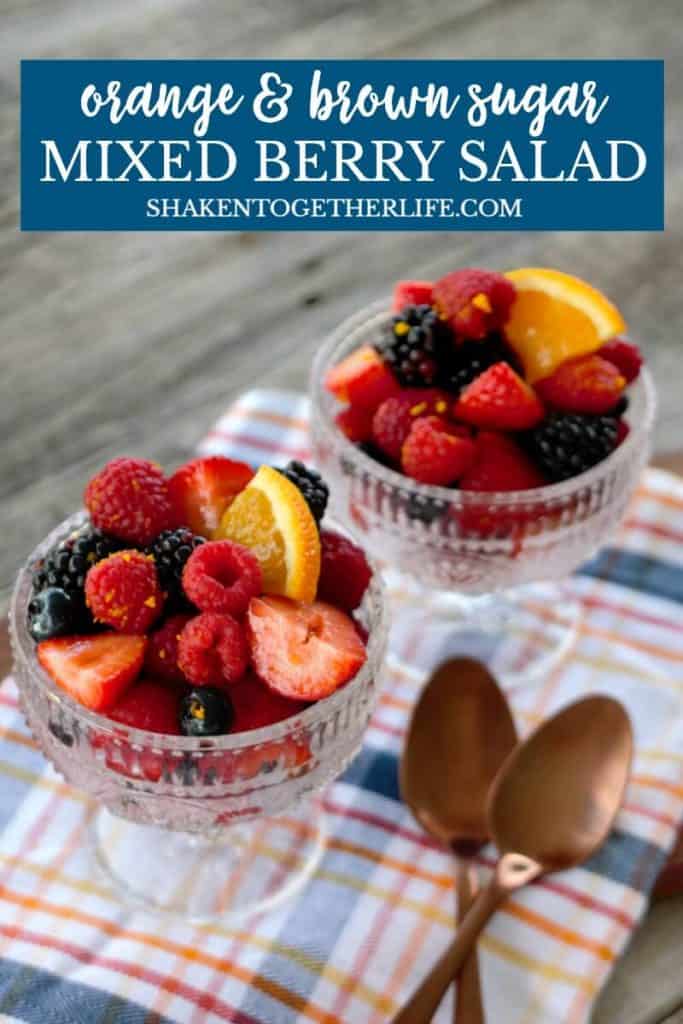 Banana Bread Baked Oatmeal Cups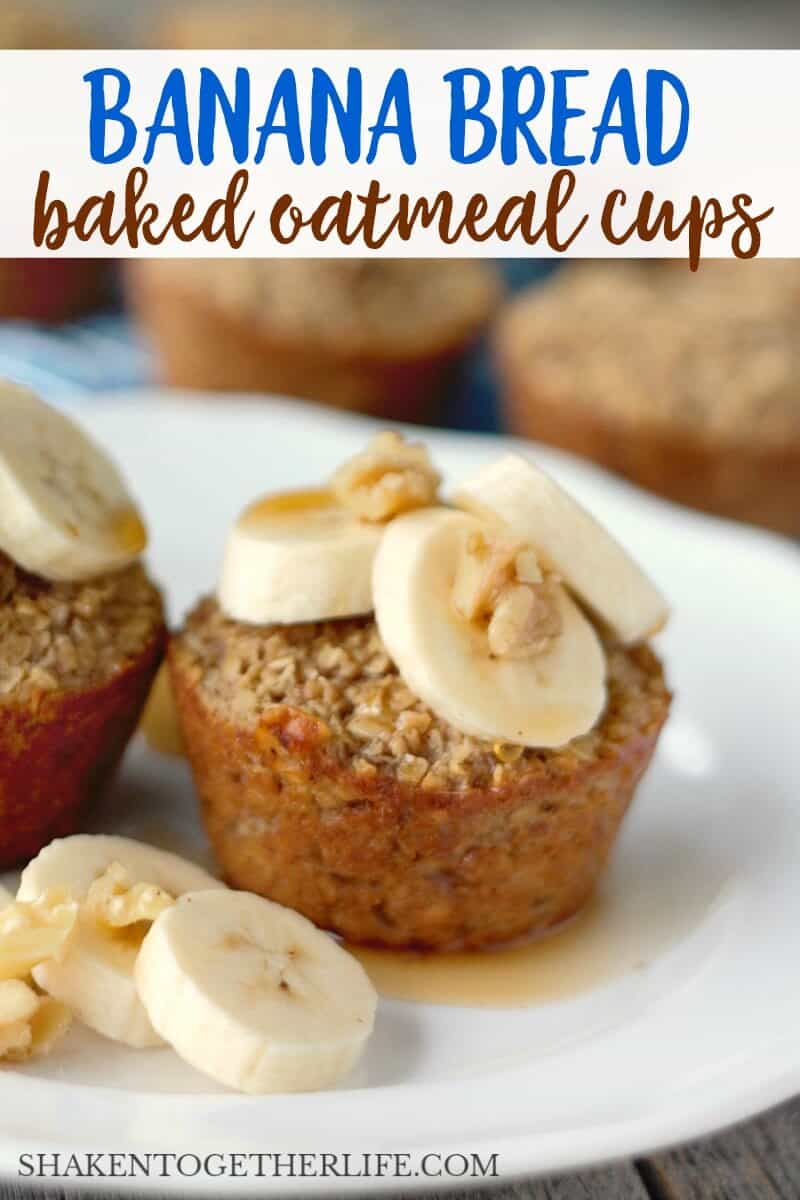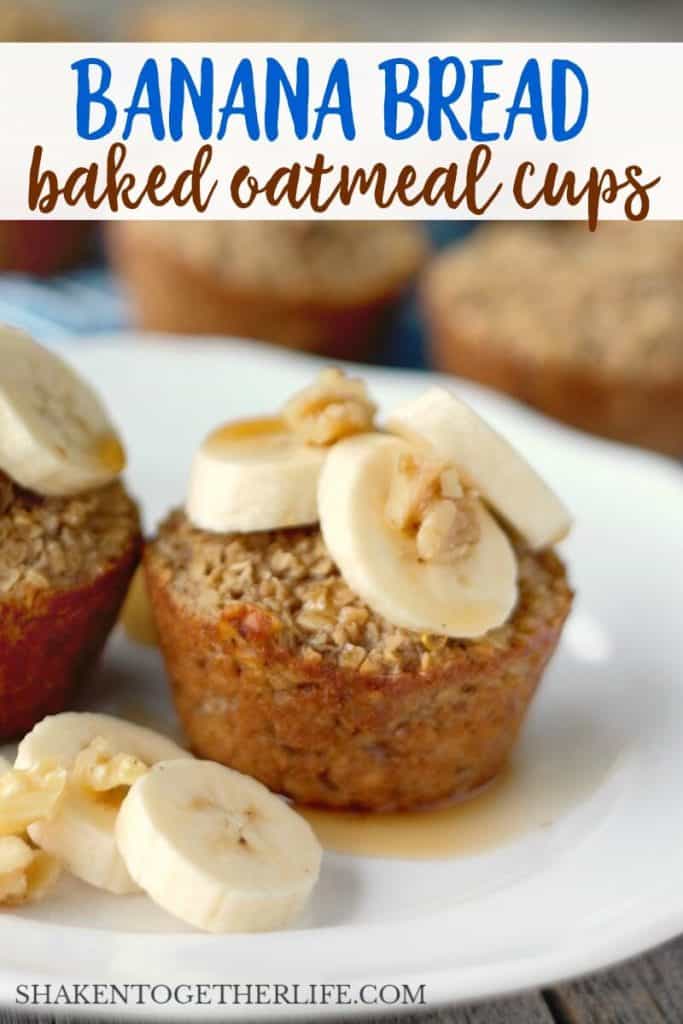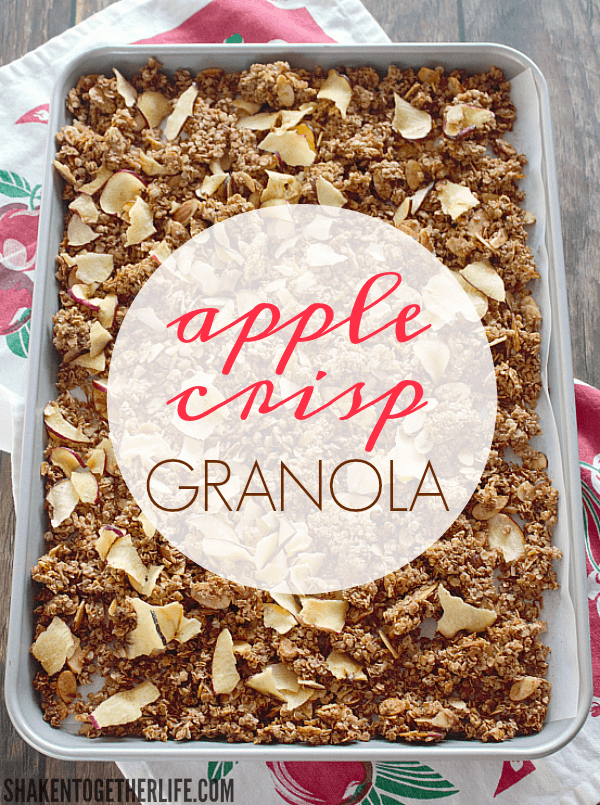 Mini Donut Wreaths – fun for kids and oh-so-festive!