Make Indian Corn Thanksgiving favors with this step by step tutorial. Stamp the tags with words of Thanksgiving or guests' names for place cards!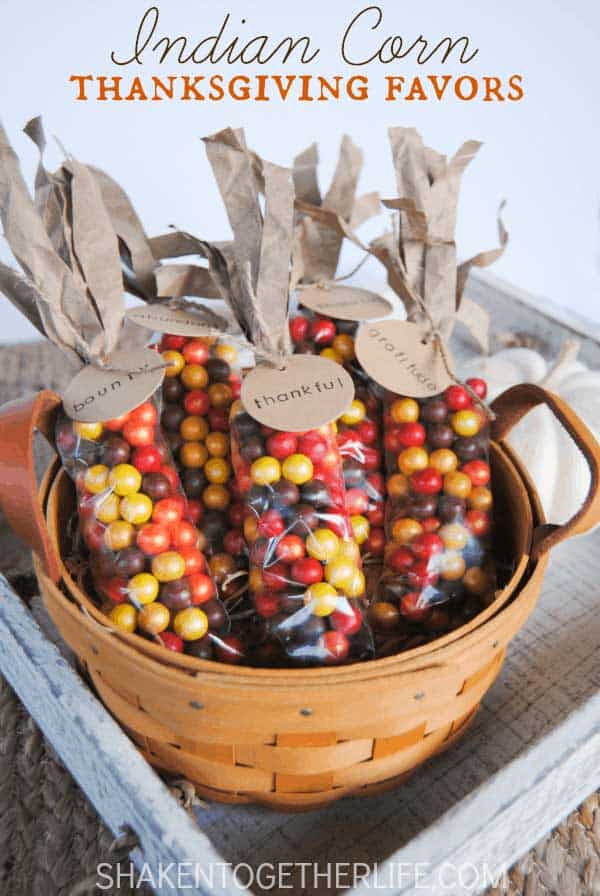 Indian Corn Thanksgiving Favors
It is November - yay! I can hardly wait for Thanksgiving! It is one of my favorite holidays though it tends to get overlooked sandwiched between Halloween and Christmas.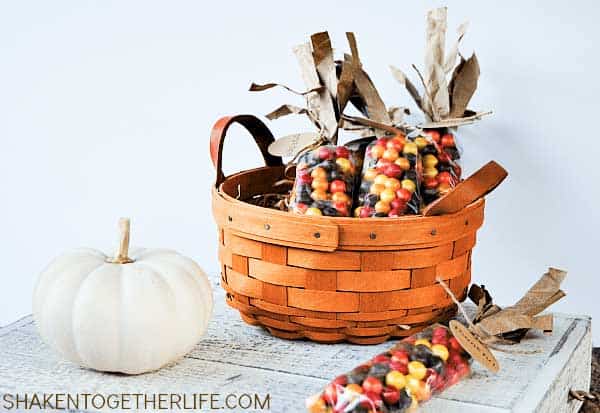 I for one love watching the Macy's Thanksgiving Day parade, splurging on a great breakfast and then heading to the kitchen to cook with my mom and the boys. Since we are heading out to my mom's house for dinner this year, I thought it would be fun to bring these Indian Corn Thanksgiving Favors with me.
Aren't they cute? I can just see these waiting by the door to greet your guests before dinner or for them to take with them for the drive home. If you stamp the tags with your guests' names, they are the perfect place cards!
Indian Corn Favor Supplies
(list contains affiliate links)
How to Make Indian Corn Thanksgiving Favors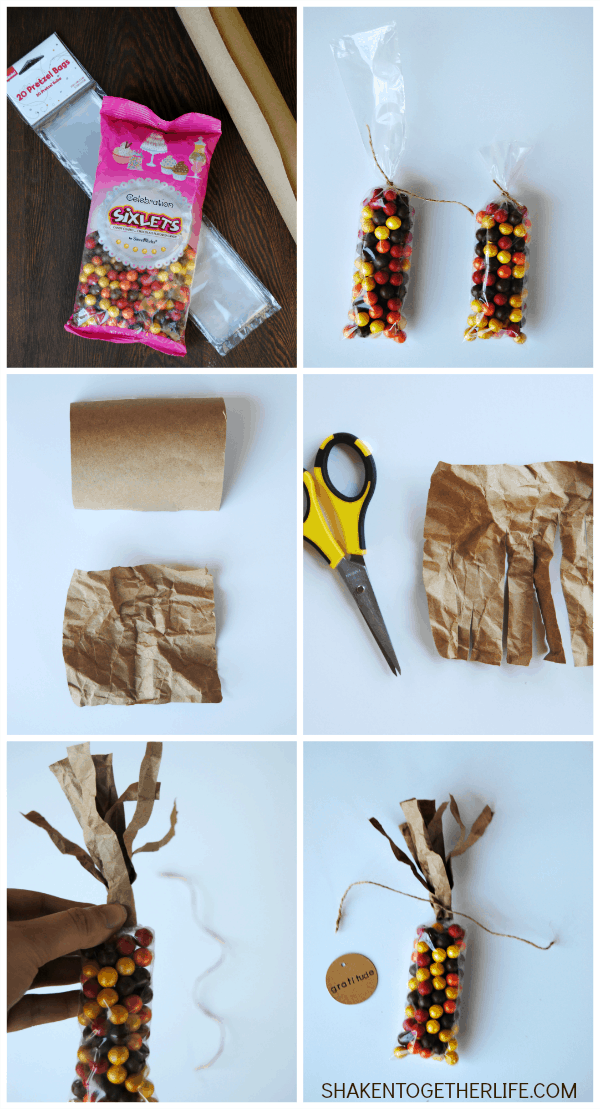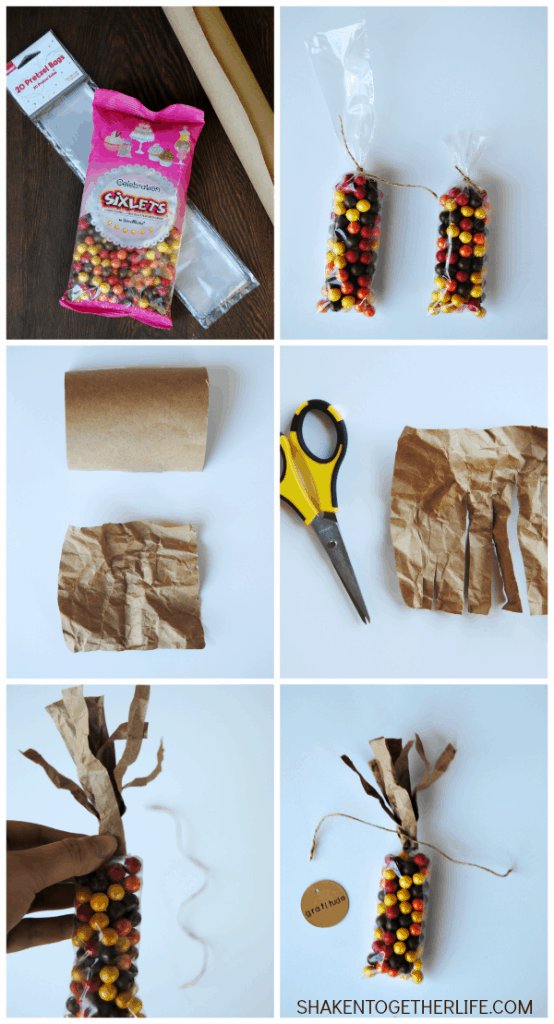 Fill each pretzel bag about half way full of Fall Sixlets - each favor has about ½ cup of Sixlets but you can adjust this as needed. The pretzel bags are longer and thinner than regular cello bags.
Use a small length of twine to tie the bag closed and cut off most of the excess bag. Leave about 1-2 inches so the twine doesn't slip off.
Cut a 5 inch x 5 inch square from your kraft wrapping paper. (You could try a lunch bag if you don't have kraft wrapping paper.) Crumble it into a ball and flatten it back out several times. This will be the corn husk and crumpling it gives it a more realistic look.
Using your scissors, cut long strips into the kraft paper and stop about 1 ½ inches from the bottom of the kraft paper square.
Wrap the kraft paper 'husk' around the top of the bag where you tied it closed with twine. The paper husk will wrap around several times.
Use another piece of twine to tie the husk on. You want this twine long enough to tie and knot the husk on and also to attach the tag, so give yourself a little extra length. Tie the husk on tightly and make a small knot. (You could also try hot glue, but I just stuck with twine.)
Stamp words of Thanksgiving on each kraft tag: thankful, bounty, gratitude, etc. If you are using these for place cards, stamp your guests' name on the tags. Tie the tag on and trim any excess twine.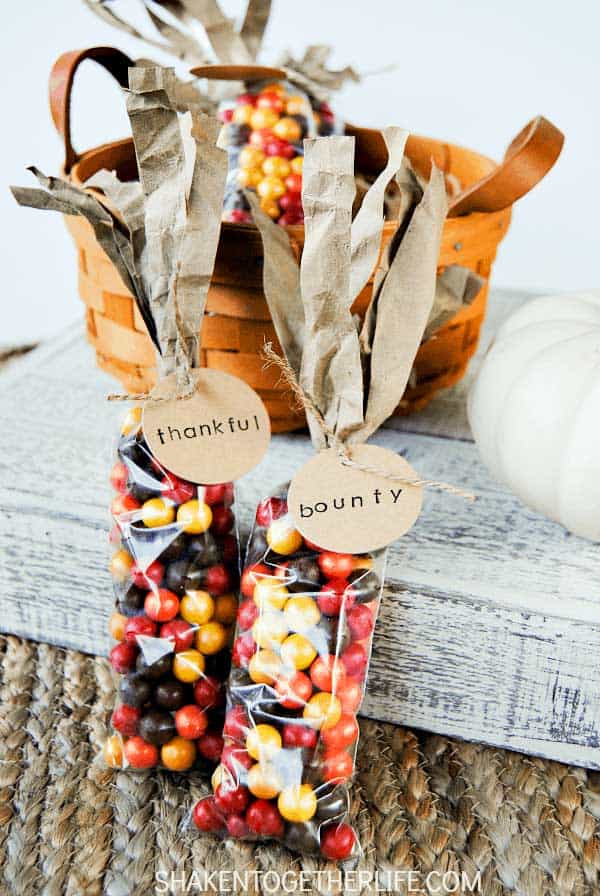 I really love the colors, the simplicity and you know how much I love stamped kraft tags. I can't wait to surprise our family with these Indian Corn Thanksgiving Favors!
More Thanksgiving from Shaken Together:
This post was originally published in November 2014 and updated with new information and photos in November 2019.