Every summer when I was growing up, I would fly North to Ohio and Michigan to visit my my Dad and grandparents.  One of my favorite parts of the trip was visiting Grandma Fisher.  She was an antique collector, flamingo lover, creative soul and mu-mu wearer. Her yellow two-story house tucked in the middle of Toledo, Ohio was the first place I ever saw a cicada molt, my first time using a laundry chute and her front porch is the reason I love hens and chickens!  She had a big terra cotta pot with holes in it (maybe a strawberry pot?) that she tucked the cute little succulents in.  I just loved the waxy green leaves of the "hens" and the mini "chicks" that would grow to eventually spill out of the pot.
So this year, when I decided that I wanted to do a rustic, garden-ish "GROW" theme for my Spring decorating, succulents were the first plant that came to mind.  But since my green thumb is non-existent, I decided to recreate my favorite little plants with felt!  These succulents will definitely survive through the Spring at my house.  And the soft leaves of my felt succulents  just make me smile every time I see them!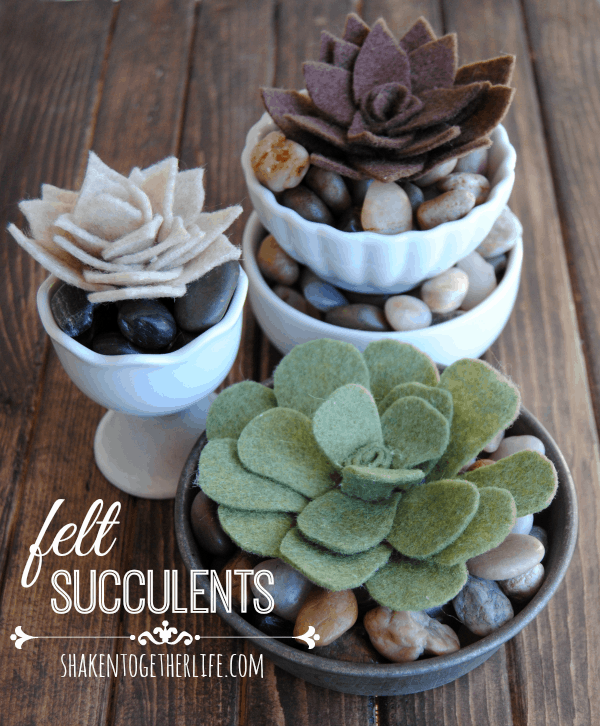 Now, since I am obviously not a gardening aficionado, I took a bit of creative license when making these felt succulents.  I did a quick Google image search for succulents and literally sat in front of my laptop and cut petal shapes from felt.  So, while I don't have a template to share, my gift of gab and handily labeled pictures should be enough to walk you through the process if you want to make your own felt succulents.
The supplies are minimal: felt, sharp scissors and a hot glue gun with glue sticks.
For the green felt succulent, I cut long rounded petals and began hot gluing them in a circle.  I layered two more layers of gradually smaller, similar shaped petals.  Then, I rolled a scrap of felt and hot glued the three smallest leaves around it and glued it in the center of the layered leaves.  Finally, I "planted" the felt succulent in a shallow metal dish filled with river rocks I picked up at the dollar store.
For the brown succulent, I used the same method but cut thinner petals/leaves with a pointed end.  Once the succulent was hot glued together, I shaped the leaves upward and tucked it into two two white bowls that I filled with rocks and stacked together.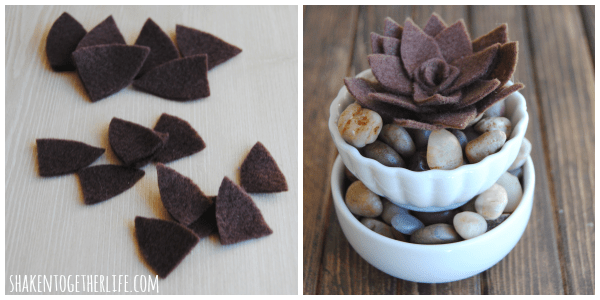 And now, for the little cream colored beauty.  These petals are a little shorter and more curvy.  Since I didn't want to burn the heck out of my finger tips with the hot glue, I rolled a piece of 2 inch wide felt to glue the petals around.  I started with the smallest petals and worked my way to the largest petals.  I left the felt "stem" intact so I could tuck it in the river rocks that fill a white egg cup.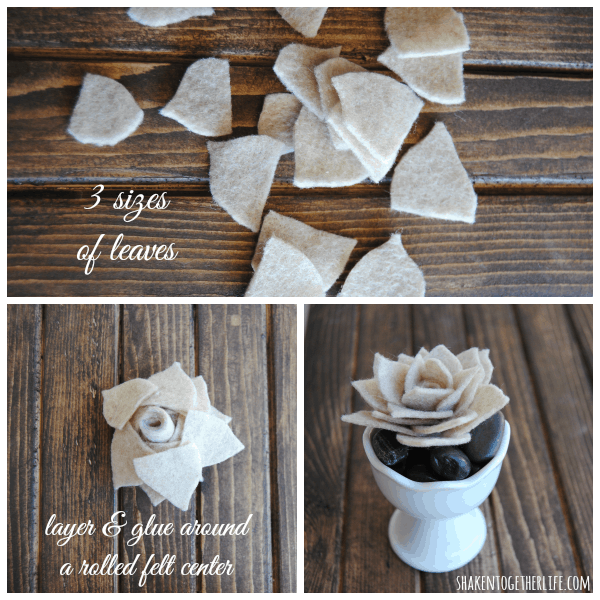 Don't worry about perfection ... nature, after all, is not perfect.  I don't think a single petal is exactly the same shape or size.  What is perfect is the fact that I don't have to water these guys at all.  Felt succulents: the perfect plant for the gardening impaired!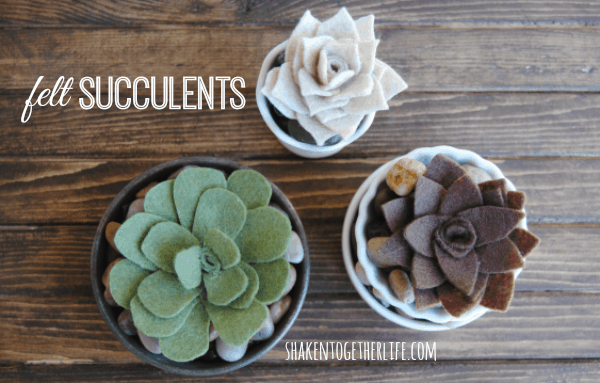 There are so many different shapes, colors and sizes of succulents ... so don't be afraid to be creative!  Brush paint on the leaves to alter the color, add small beads for texture or add a length of pom pom trim to mimic the trailing tendrils.  I would love to see your version of these quick and easy felt succulents!
Don't tell the others, but I think this one is my favorite!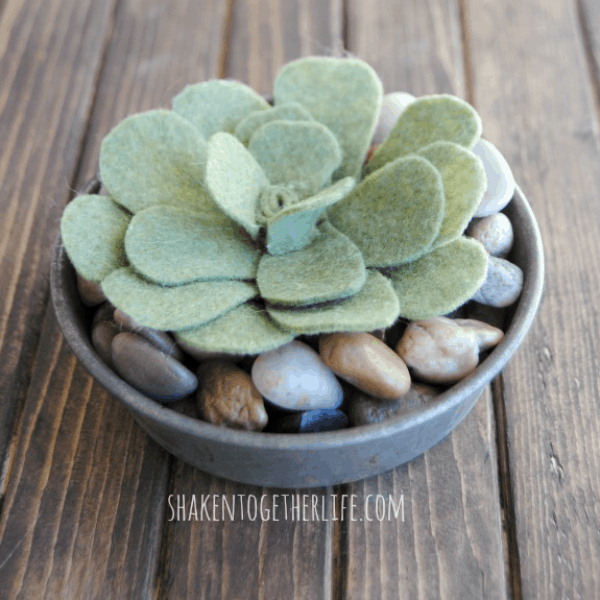 I can't wait to share my Spring Hutch with you!  I am finishing up a few quick projects but I should be posting it soon!  How are you decorating for Spring this year?  Can you fit in a few little felt succulents?
This project may be shared at these link parties: