Put a twist on a classic holiday side dish with these easy and oh-so-delicious Sweet Potato Casserole Bites! I am thrilled to share this budget friendly Thanksgiving recipe as part of a sponsored partnership with ALDI!
Our family is a group of Thanksgiving nomads. By that I mean that some years we do Thanksgiving at our house, or travel to the Panhandle to visit Chris' family, switch it up with a big ol' Friendsgiving meal and other times or head over to my mom's house. While the location may change, one thing is certain: the food does not. I have a few non-negotiables when it comes to Thanksgiving: Turkey and ham, both please. Stuffing (not dressing). Cranberry sauce (I know, I'm probably in the minority with that). And most definitely, sweet potato casserole.
This year, I decided to put a twist on the classic flavors of sweet potato casserole with this easy Thanksgiving side dish or appetizer!
Sweet Potato Casserole Bites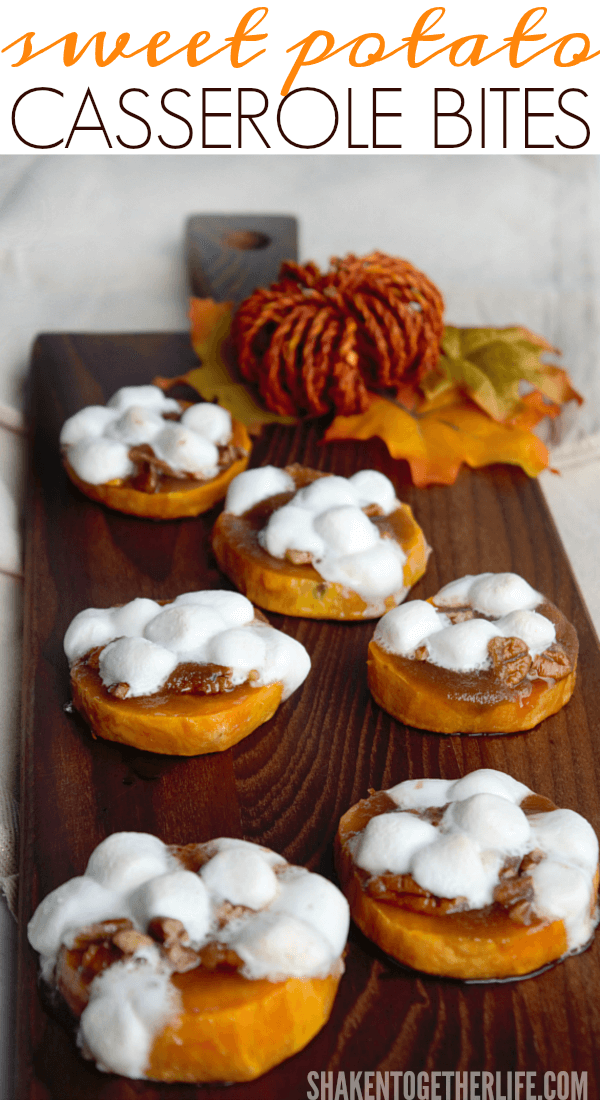 Sweet potato planks are roasted, then topped with butter, brown sugar, pecans and mini marshmallows – it's the best of sweet potato casserole in a few delectable bites. How awesome would these be for a Thanksgiving appetizer? No longer just a lumpy bumpy side dish … these sweet potato casserole bites will absolutely steal the show!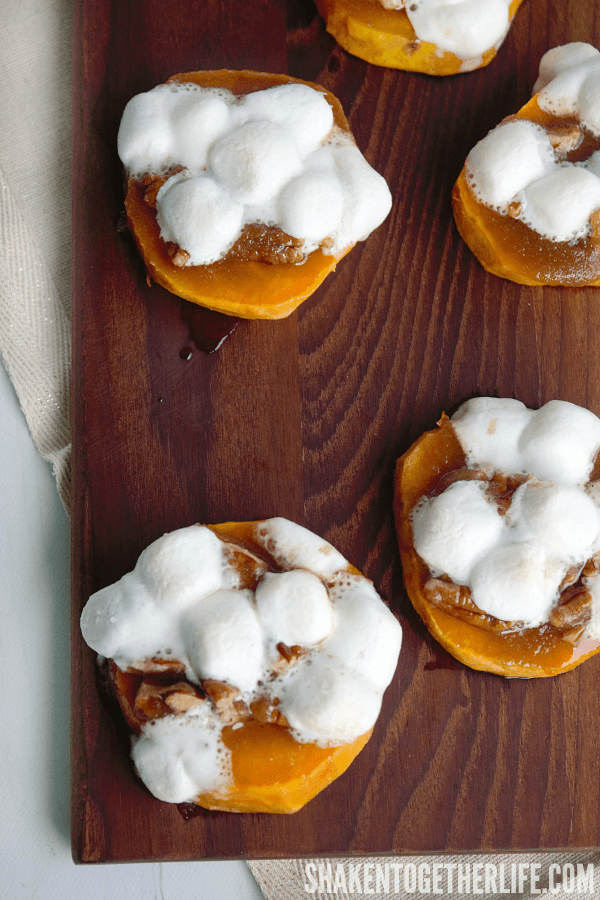 The best part is that there are only 5 ingredients and I picked up all of them at my local ALDI. Well, that's not entirely true. I actually bought the ingredients at both my local grocery store and at ALDI.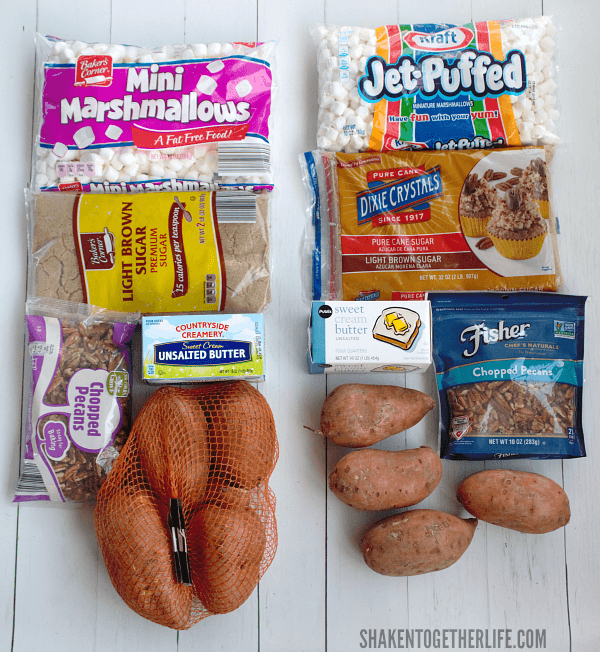 Why? Well, I figured it was high time that I try to put a dent in our grocery bill. With two active teenage athletes in our house, our grocery bill each month is the equivalent to 3/4 of our mortgage payment! I have heard a ton of good things about ALDI – high quality, great selection and easy on the budget – so I decided to put one of my favorite holiday recipes to the test.
I purchased brand name ingredients for these Sweet Potato Casserole Bites at my local grocery store and their equivalents at ALDI for a Try & Tell experience.
And?
I saved almost 50%!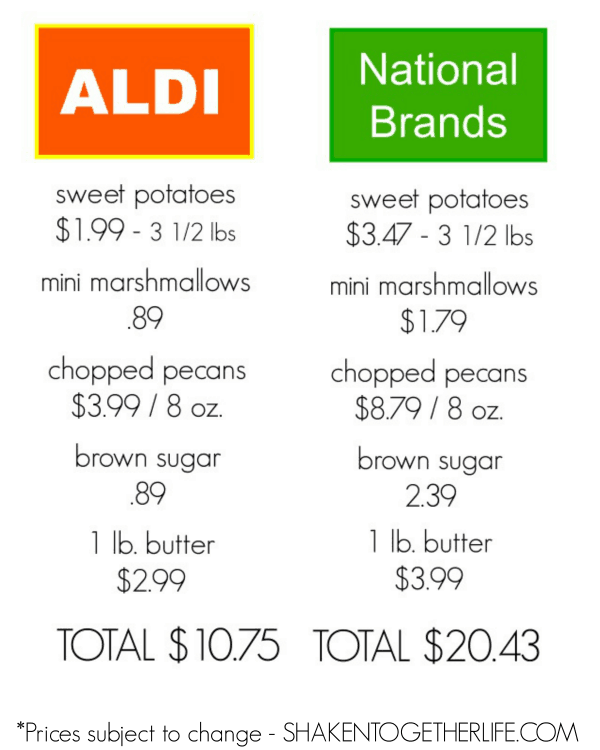 Seriously … I saved almost 50%! That is a big boost to our monthly finances since we are saving for cars and insurance and college (oh my!). ALDI keeps their prices down by going back to basics. That means their stores are only open during peak shopping hours, they shelve products right in their display boxes to make restocking easier and they don't offer non-essential services like check cashing or pharmacies.
Speaking of non-essentials, this recipe cuts down on the time and complexity of traditional sweet potato casserole, so let's put this recipe to the Try & Tell test!
It gets started with 4 big sweet potatoes, peeled and sliced into rounds. I was able to get about 30, half-inch thick sweet potato rounds divided between two baking sheets.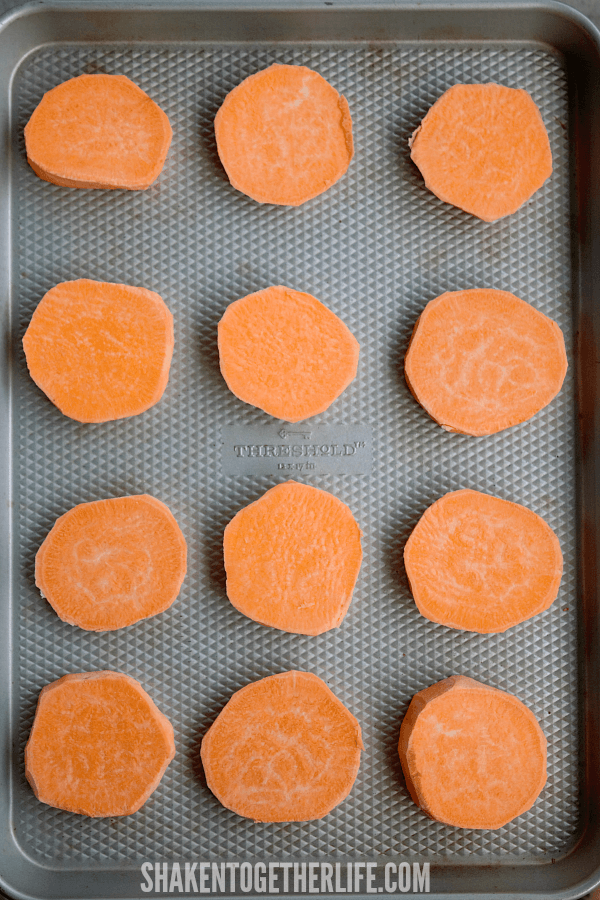 Once they are roasted, each sweet potato round is topped with a generous spoonful of butter, brown sugar and pecans.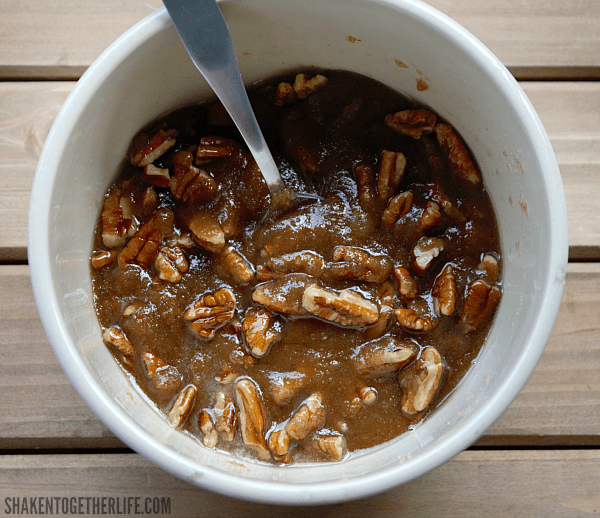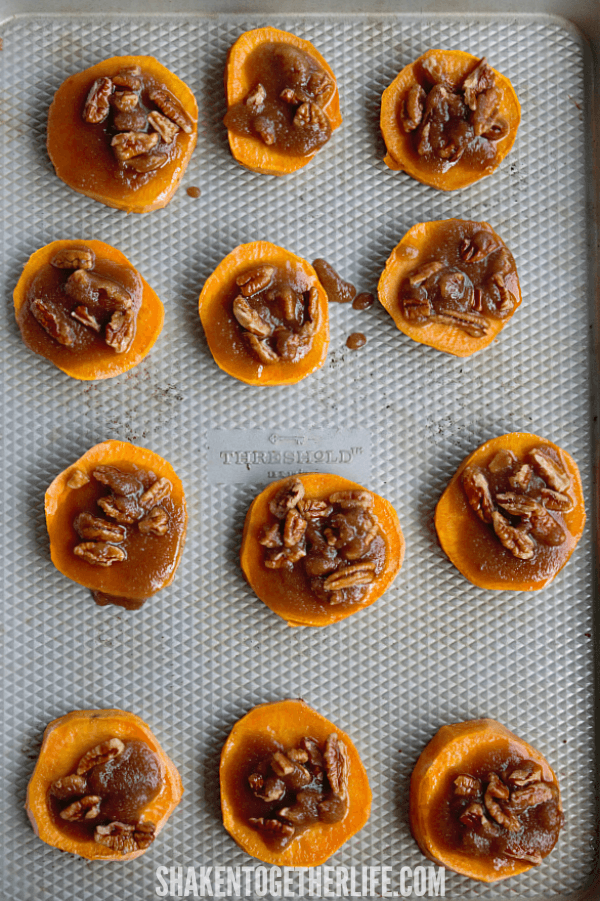 No self-respecting Southern girl can make any sweet potato casserole recipe without marshmallows.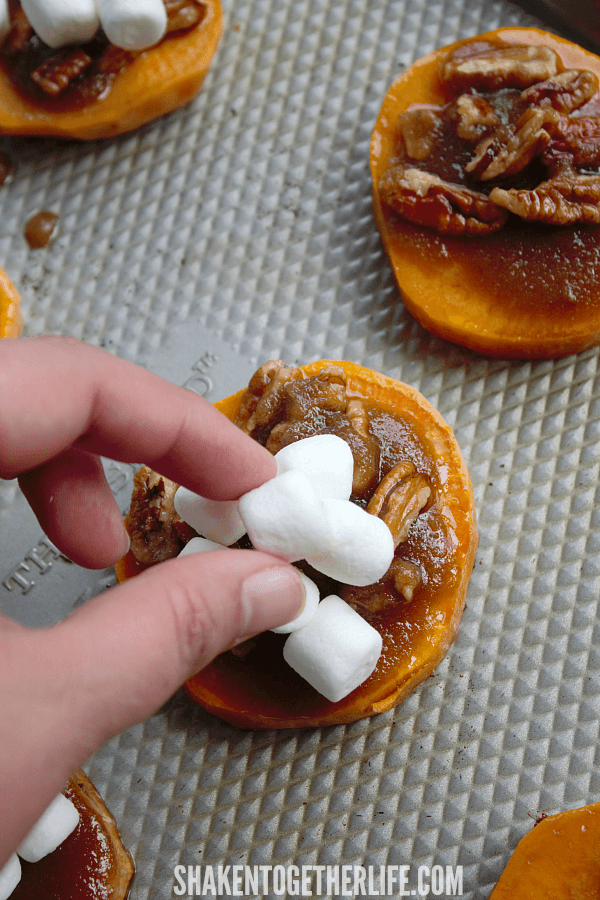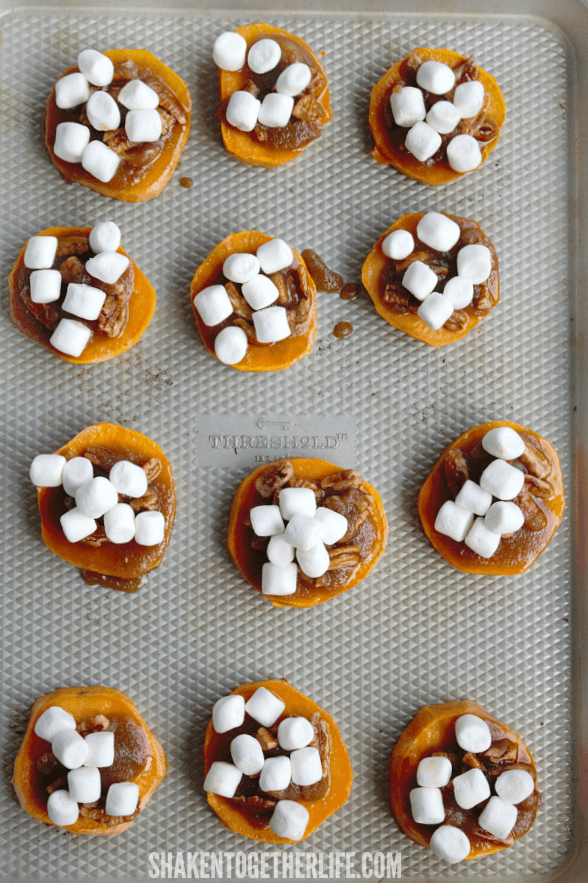 Soft, sweet mini marshmallows bake up puffy and pillowy and then melt into a sticky puddle covering that brown sugar and pecan goodness …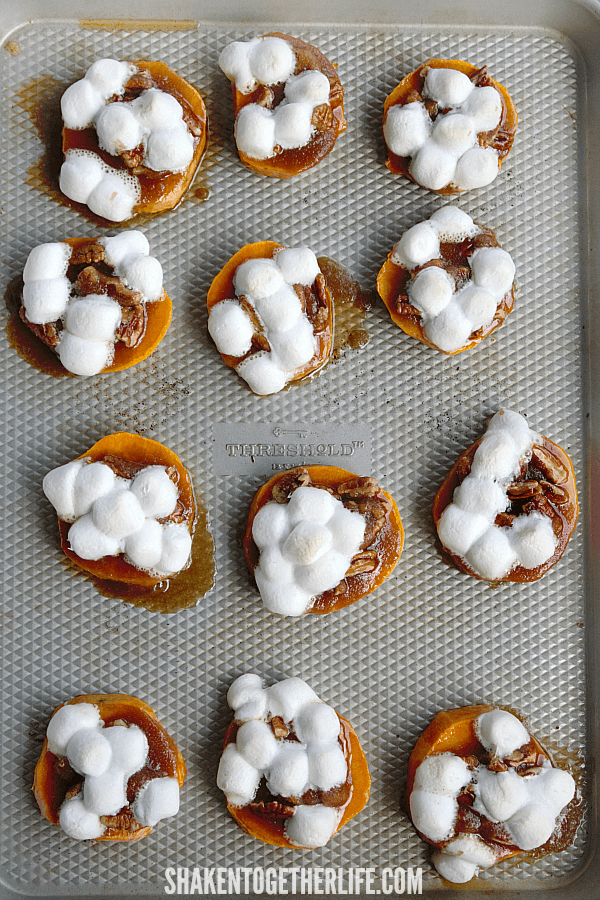 Print Sweet Potato Casserole Bites
---
Scale
Ingredients
4

large sweet potatoes (about

3 1/2

pounds)
Carlini Olive oil

1 cup

Baker's Corner light brown sugar

1 cup

Southern Grove chopped pecans

1/4 cup

1/2 stick Countryside Creamery unsalted butter
Baker's Corner Mini marshmallows
---
Instructions
Preheat oven to 375 degrees F.
Spray two baking sheets with non-stick cooking spray.
Peel sweet potatoes and slice into 1/2 inch rounds.
Place sweet potato rounds on baking sheet, drizzle lightly with olive oil and roast until the rounds are fork tender but not TOO soft. Mine took about 10 minutes.
While potatoes are roasting, melt butter in a microwave safe bowl.
Stir together butter, brown sugar and pecans.
Divide brown sugar pecan mixture over the tops of the roasted potato rounds.
Add 5 or 6 mini marshmallows on top of the brown sugar pecan mixture.
Return pan to the oven until marshmallows are melted.
---
Want my honest download after my ALDI Try & Tell experience? I honestly was pleasantly surprised with the price, taste and quality of every single ingredient I purchased at ALDI. I love that they taste test their own products several times a year to ensure that they are providing high quality products. ALDI has also made a big push to get rid of added MSG, synthetic colors and partially hydrogenated oils from their products. So, their products are better for me and my wallet 😉
The sweet potatoes from ALDI were firm and actually bigger than the potatoes at my local grocery store. The unsalted butter tasted and melted just like the national/store brand I usually buy. The pecans were fresh and crunchy (and SO reasonably priced!). The brown sugar was soft and the mini marshmallows, perfectly plump. Which means there are more of these in store …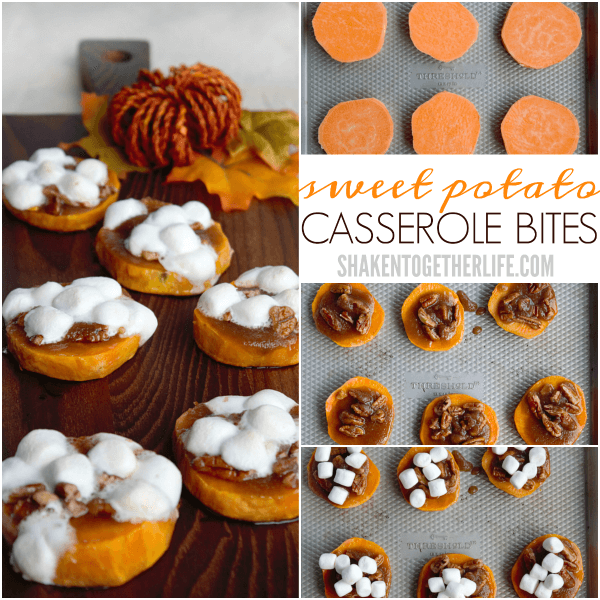 Friends and family, fair warning: Wherever we end up this year for Thanksgiving, these Sweet Potato Casserole Bites are 100% going on the menu. Have sweet potatoes, will travel!

Have you visited your local ALDI? I would love to hear about your Try & Tell experience: What did you purchase? How much did you save? Did you make one of your family's favorite holiday recipes? Let's dish in the comments. Or better yet, snap a quick photo (or take a video) of your ALDI haul, your savings, your finished recipe or your Try & Tell experience in general and share it!
And now, you can enter to win a $200 ALDI gift card!!
 A BIG thanks to ALDI for making this sponsored post possible!