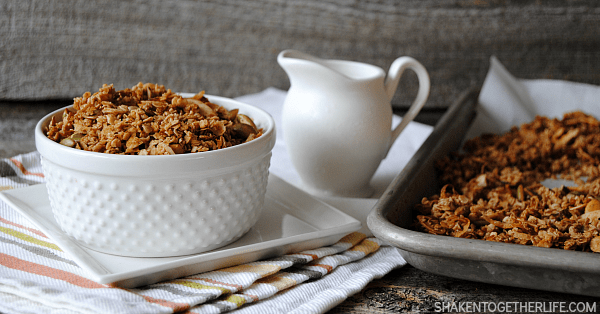 My favorite granola recipe got Fall-ified, ya'll!!  There is just something about this crispy, toasted, pumpkin spiced blend of oats, coconut, almonds and pepitas (pumpkin seeds) that I just can't quit!  This Pumpkin Pie Granola is delicious tossed over fruit, sprinkled on yogurt or ice cream, eaten in a bowl with really cold milk or pack it up for a thoroughly tasty on-the-go snack!
Pumpkin Pie Granola
Just look at all that golden brown goodness … freshly baked in my oven, no preservatives, no crazy additives.  I love the roasted salty flavor that the pepitas bring to balance out the sweetened coconut and maple syrup.  But don't worry, with only ⅓ cup of maple syrup spread over the entire pan of granola, it's definitely not overly sweet!
For this pumpkin pie version, I tweaked my original recipe for Nutty Coconut Granola a little by using coconut oil instead of olive oil and pumpkin pie spice instead of the blend of spices.  This recipe is pretty forgiving so feel free to change it up to fit your family's taste:
Substitute pecans or walnuts for the almonds.
Try honey instead of maple syrup.
Use unsweetened coconut if that is what you have on hand.
If you don't have pumpkin pie spice, use cinnamon or apple pie spice.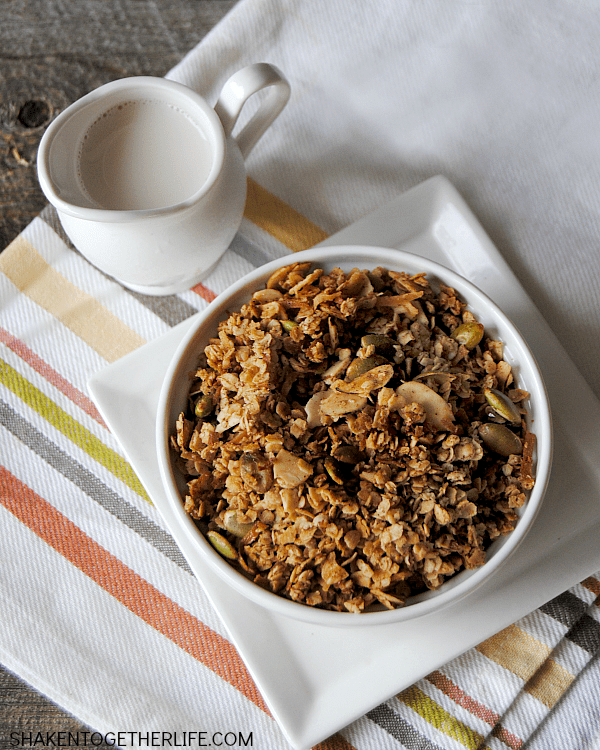 One batch of this Pumpkin Pie Granola filled two whole pint mason jars.  So that means you have just about 4 cups of this glorious granola.  And you could gift it to friends and neighbors – divide it into 4 half-pint mason jars, add a handwritten tag with the contents (and recipe!) and a pretty ribbon.  OR you can tuck away in the pantry behind the dried beans and canned tuna and other things that the kids don't eat … you know, for safe keeping 😉
Print Pumpkin Pie Granola
---
2 cups

quick cooking oats

⅓ cup

sliced almonds

⅓ cup

sweetened coconut

⅓ cup

roasted pepitas

⅓ cup

coconut oil

⅓

real maple syrup

2 teaspoons

pumpkin pie spice
---
Instructions
Preheat oven to 350*.
Line a large sheet pan with parchment paper.
In a bowl, mix oats, almonds and coconut.
Mix all spices in a small bowl.
If your coconut oil is solid, microwave it until it is liquified.
Drizzle oat and nut mixture with coconut oil and maple syrup and mix thoroughly.
Sprinkle 1 teaspoon of the pumpkin pie spice over the oat mixture and stir.
Sprinkle remaining teaspoon of pumpkin pie spice over the oat mixture and stir.
Spread granola in a thin layer on the sheet pan.
Bake 10-12 minutes – stir granola, spread it back out and rotate pan half way through baking.
Add roasted pepitas for the last 3-5 minutes of baking time.
Allow granola to cool and store in an airtight container.
---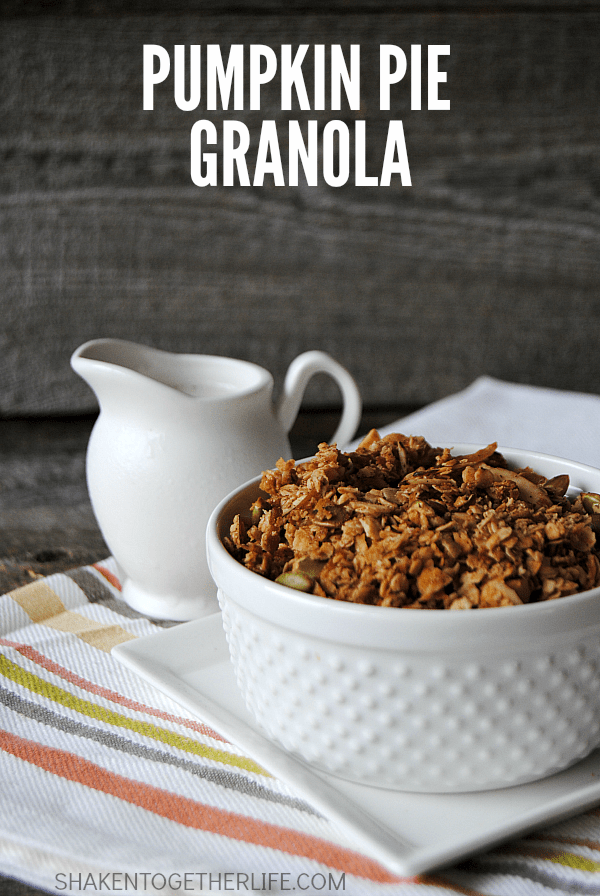 Got Breakfast?