Soft, chewy and loaded with strawberry flavor, these one-bowl Double Strawberry White Chocolate Chip Cookies are as easy as they are delicious!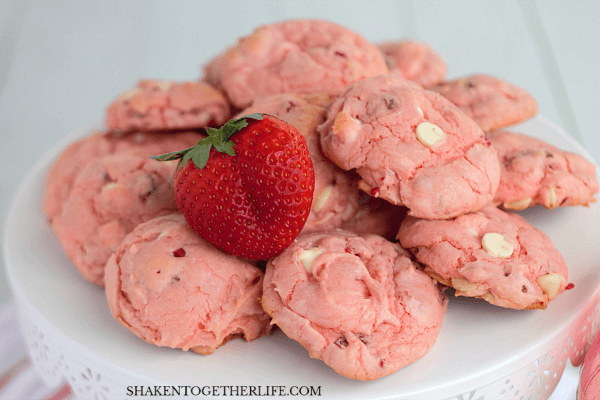 I have decided that there are not nearly enough baked cookie recipes here at Shaken Together. I mean there are a handful - like these, and these - oh! and don't forget these. But from that skeleton crew of cookies, you would think that I have an aversion to soft warm cookies straight from the oven just waiting to be dunked in a cold glass of milk. And that is most definitely NOT the case. So, today is the first step to remedy the cookie situation ...
Double Strawberry White Chocolate Chip Cookies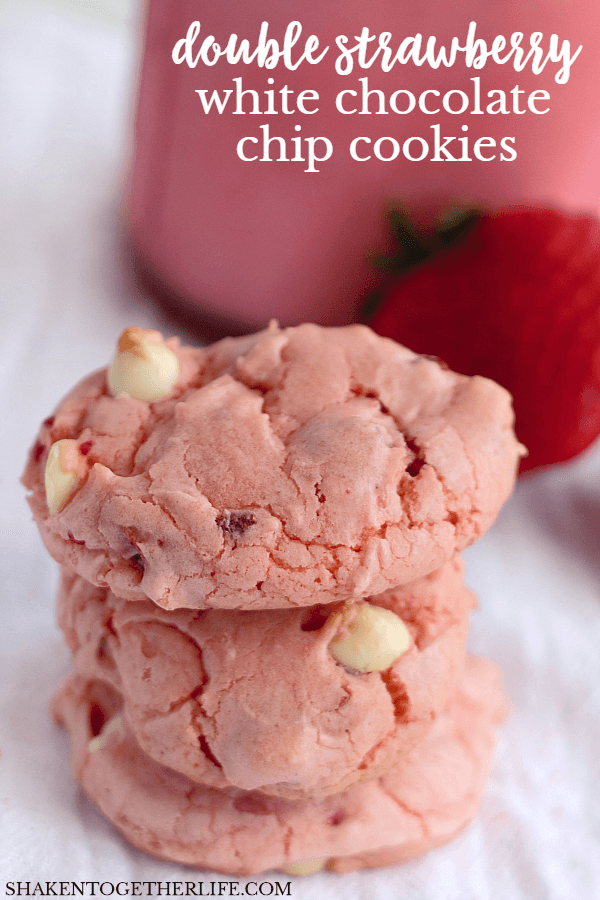 With Valentine's Day just under a month away, I thought a pretty pink, red and white cookie was the perfect way to start the cookie baking-palooza. And I think I was right!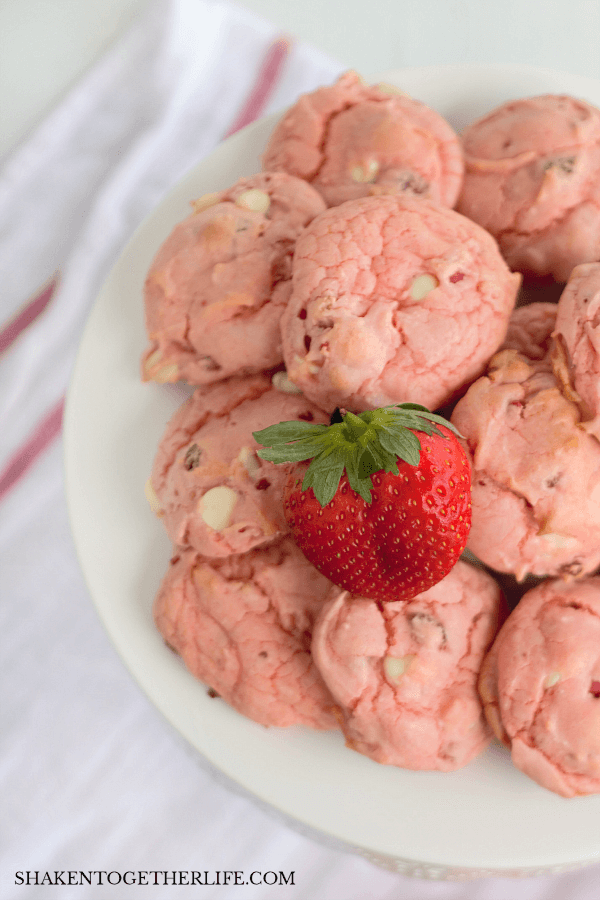 Now, to keep these cookies as 'easy to make as they are delicious', they start with a cake mix. A strawberry cake mix to be exact. That is the first strawberry in our double strawberry cookies.
If you have never made cake mix cookies before, they are SO so easy. Cake mix + two eggs + oil (or melted butter) ... stir, scoop and bake.
For these pretty in pink cookies, I stirred in white chocolate chips AND freeze dried strawberries! Yep, they are the 'double' in these double strawberry white chocolate chip cookies! Freeze dried strawberries are basically just sliced strawberries that have the water removed which leaves delightful, tangy - crunchy! - strawberries. I like to add them to snack mixes and cereal or just munch on them for a snack. I've found them at Target, ALDI and of course, Amazon 🙂
Just look at all those white chips and red bits of berry ...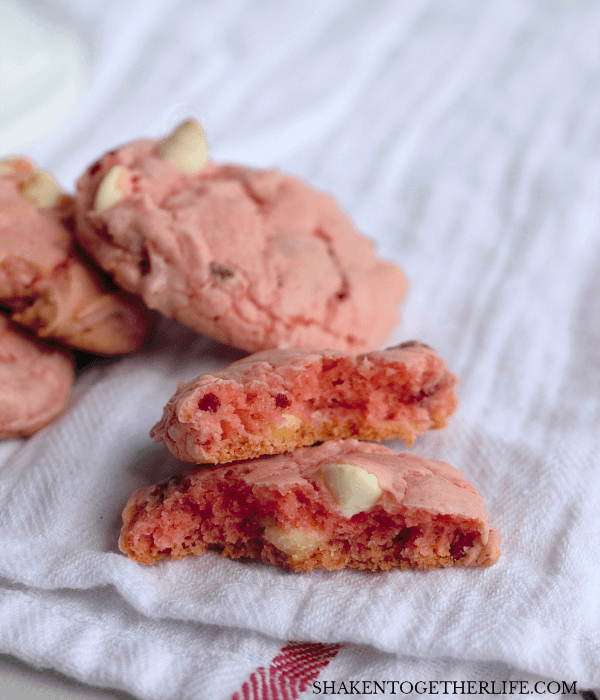 I love that one batch of cake mix cookies makes about 3 dozen cookies, give or take a few depending on how big you scoop them. (I use a 1 oz cookie scoop for uniform sized cookies.) That means there are plenty to keep at home and plenty to give away!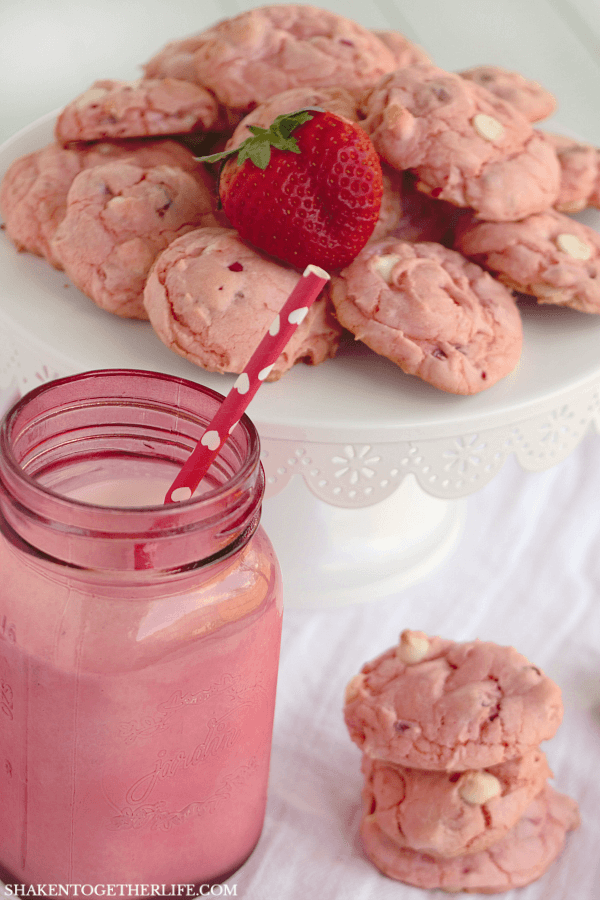 Never mind that give away nonsense. That is a BIG glass of milk 😉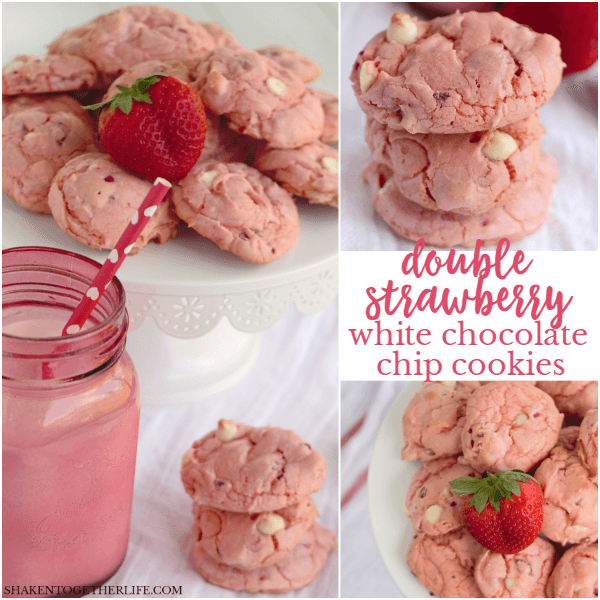 Print Double Strawberry White Chocolate Chip Cookies
Yield:

0

About 35 cookies

1

x
---
One strawberry cake mix

2

eggs

⅓ cup

vegetable oil

2 tablespoons

milk

½ cup

white chocolate chips

½ cup

freeze dried strawberries (chopped)
---
Instructions
Preheat oven to 350 degrees F.
Prepare baking sheets with parchment paper or non-stick cooking spray.
Mix cake mix, eggs, milk and vegetable oil - stir until thoroughly mixed. (Batter will be thick.)
Fold in white chocolate chips and freeze dried strawberries.
Use a 1 oz. cookie scoop to portion dough and place 2 inches apart on baking sheets.
Bake 11 - 13 minutes or until cookies are just beginning to brown.
---
Feel free to add semi-sweet chocolate chips (chocolate covered strawberries!) if you don't have white chocolate chips. Or stir in ½ cup Valentine's Day M&Ms. And did you see those CHEESECAKE flavored M&Ms?! Yes, that required caps and italics, ha ha. I get excited about my candy, folks.
These were taste tested at home (naturally) and a big ol' bag sent with the boys to youth group. Needless to say, nothing in that bag made it home. I'll let you draw your own conclusions ...
Who am I kidding? These were AH-MAZING! Make them today! Fill those cookie jars, my fellow home bakers!