An appetizer doesn't get easier than this! Almond & Blue Cheese Stuffed Olives are totally addictive and the perfect combination of salty, crunchy – and let's be honest – a little funk from the blue cheese!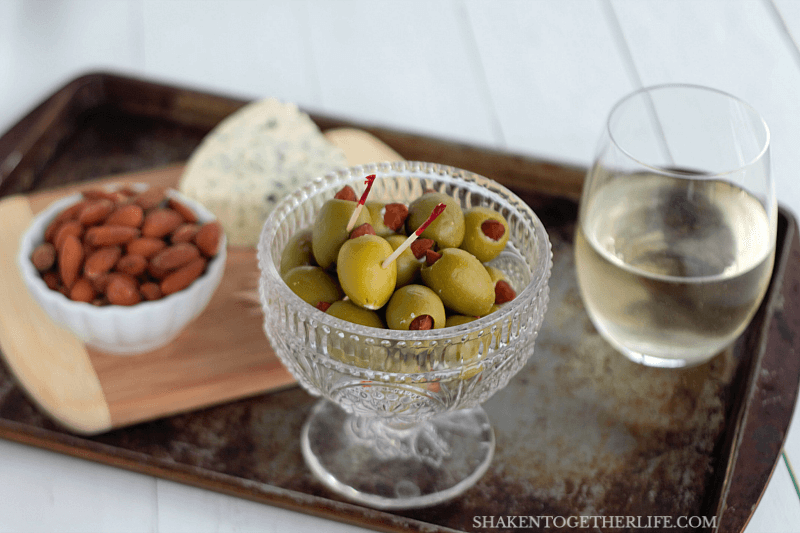 Oh appetizers! You get me every.single.time. Whether it is litl smokies, queso, meatballs, cheesy bread or roll ups, if there is a party, you can find me by the appetizer spread. Unashamedly, I might add!
Almond & Blue Cheese Stuffed Olives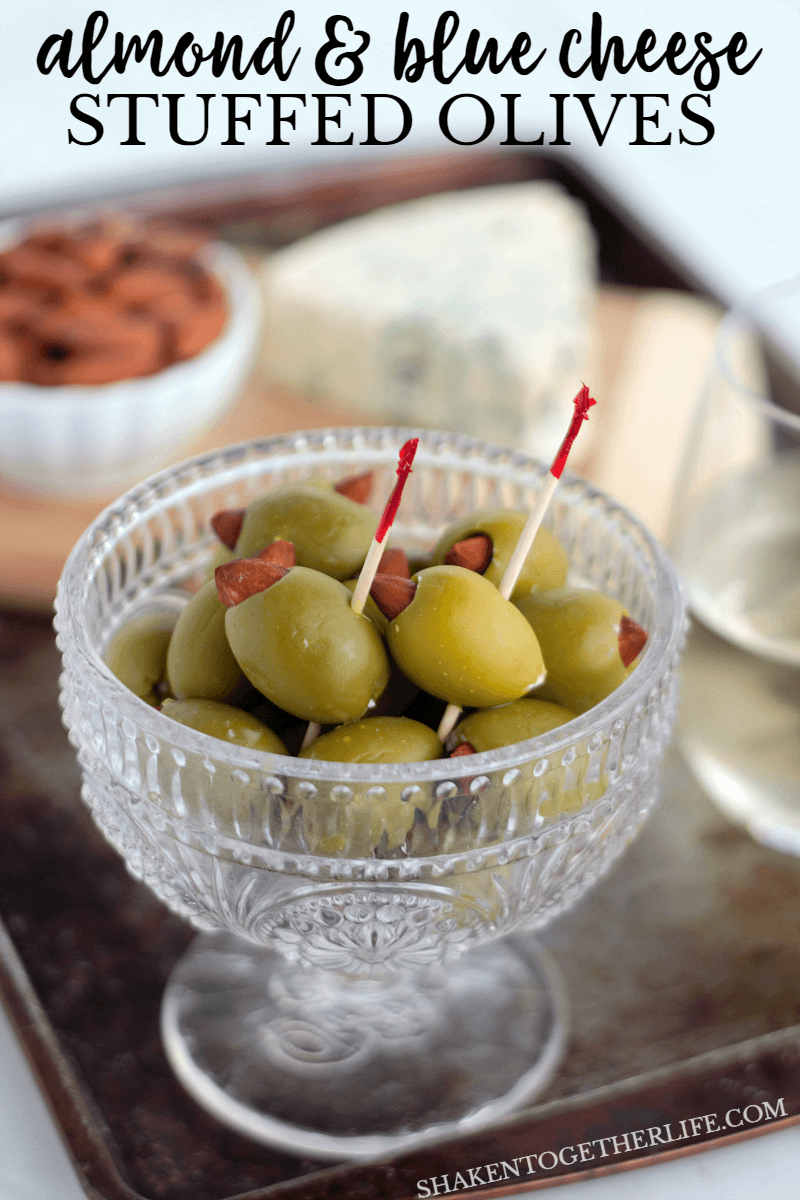 Now, obviously you have to like olives. And almonds. And blue cheese. Because this easy appetizer combines all three in a crazy good mash up that is surprisingly delicious!
Salty olives.
Crunchy, nutty almonds.
Funkified blue cheese.
This is good stuff people.
In order to have room for both an almond and blue cheese, you will need to buy the large green olives. Mine were called queen olives … loved that! Anyway, the green olives I found were stuffed with pimentos, so I used a bamboo skewer to push them out from the bottom of the olive.
I bought a wedge of blue cheese from my local grocery store's fancy cheese counter for about $4 but feel free to use the blue cheese crumbles that you can find by the shredded and sliced cheese. My 'fancy' blue cheese definitely brought the funk, ya'll!
Anyway, just stuff the hole left by the pimento with some blue cheese and pop in an almond. Done and done!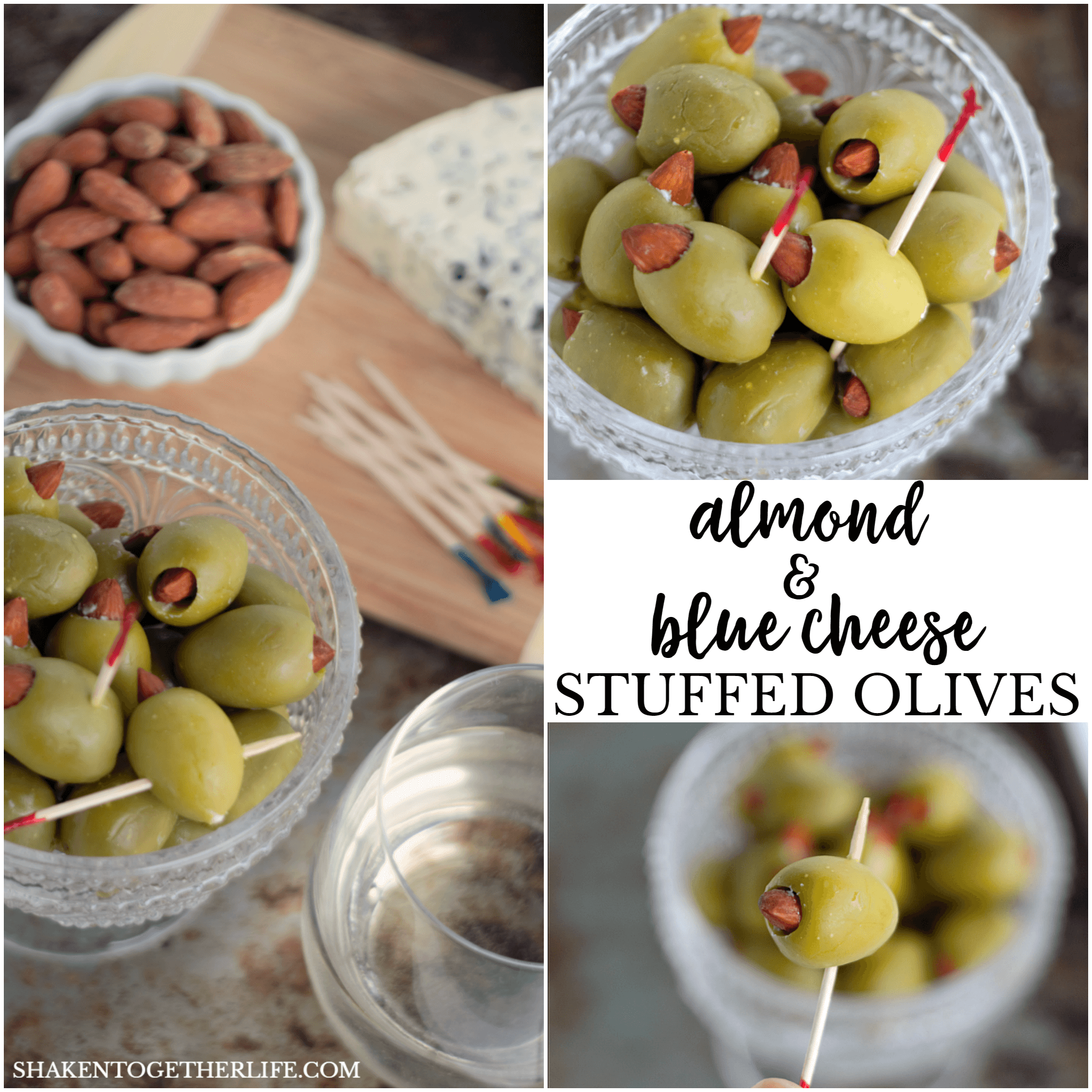 Almond & Blue Cheese Stuffed Almonds
Ingredients
One jar of large green olives

drained & pimentos removed

One wedge of blue cheese

or blue cheese crumbles

Lightly salted roasted almonds
Instructions
Drain olives well and remove pimentos.

Cram a small crumble of blue cheese into the hole left from the pimento.

Add an almond and push into the hole just until it stops. (Be careful that you don't split the olive or push all of the blue cheese out of the other end of the hole.)

Refrigerate until serving.

Can be made a day or so ahead.
If you really can't do blue cheese, you can try feta, cream cheese or even garlic & herb spreadable cheese. I can't imagine any of those would be awful … I mean, c'mon … cheese!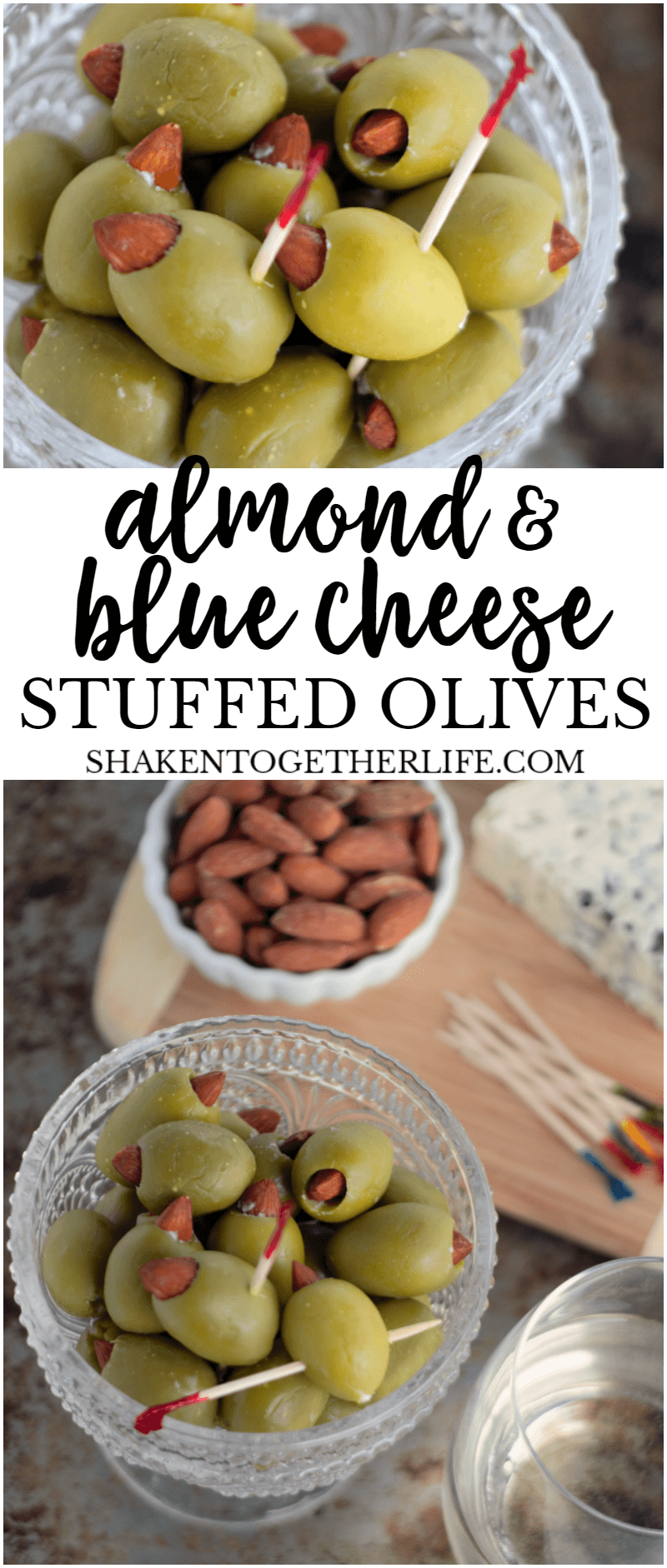 Add these Almond & Blue Cheese Stuffed Olives to your game day spread, pile them in a bowl for your cheese tray or charcuterie board or toss them on a salad for a burst of salt, crunch and blue cheese goodness!
More SUPER Easy Appetizers & Game Day Grub!