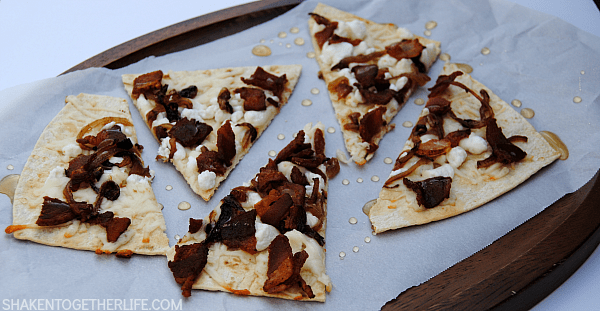 I love to entertain.  My stash of pretty trays and plates and bowls and all manner of food serv-y things are evidence of that.  And when I entertain or am the entertainee, my very favorite part of any get together or party are the appetizers!  I love dips and cheese and bite-sized anything.  Crispy toast points and a soft baguette with a delicious spread of any sort.  Crisp veggies and nuts.  It is just fun to graze and nibble a little of this and a little of that.  That is, until you see this guy in the appetizer line up.  You will definitely want more than a little!
Bacon, Goat Cheese & Caramelized Onion Flatbread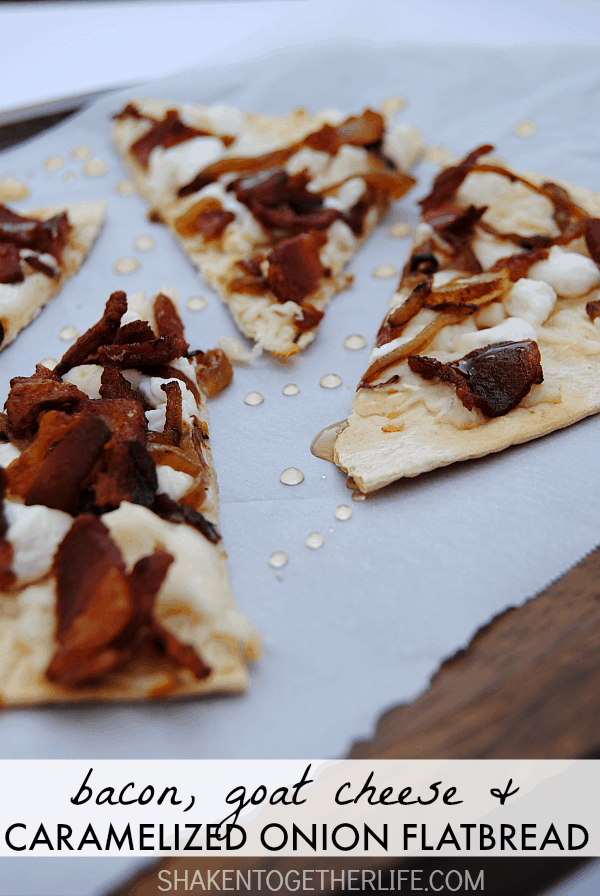 A crisp flatbread is sprinkled with mozzarella cheese, bright tangy goat cheese, salty crisp bacon, sweet caramelized onions and popped in the oven.  When the cheese has just melted, this appetizer is sliced, served and drizzled with golden honey.  Friends, you have no idea what you are in for!!
Print Bacon, Goat Cheese & Caramelized Onion Flatbread
---
2

Rustic White Flat Out artisan pizza crusts

1

small sweet onion (sliced into thin rings)

1 tablespoon

olive oil
Worcestershire sauce
Balsamic vinegar

5

slices thick sliced bacon

2 oz

. goat cheese crumbles

½ cup

shredded mozzarella cheese
honey
---
Instructions
Preheat oven to 350*.
While the oven is preheating, add the onion, olive oil, a few shakes of the Worcestershire sauce and balsamic vinegar to a saute pan. Cook the onion until they are dark but still tender.
In another saute pan or skillet, cut the bacon into small pieces and cook until crispy. Drain on paper towels.
Place flatbread pizza crusts onto a baking sheet and pre-bake for 5-7 minutes until the crusts are slightly crisped.
Remove the flatbreads from the oven.
Divide the goat cheese, mozzarella cheese, bacon and onions between the two flatbreads.
Place the flatbreads back in the oven until the mozzarella cheese is melted.
Remove flatbreads, transfer them to a serving board and cut each flatbread into 5 or 6 pieces.
Drizzle with honey just before serving.
---
This flatbread was inspired by an appetizer we had at Carraba's.  I don't see it on their online menu anymore and I just vaguely remember some of these same flavors.  I think it had a drizzle of honey.  But go ahead and trust me on the honey.  It makes this flatbread.
And you don't have to wait for a party to make these.  I mean, don't get me wrong ... these are amazing party appetizers!  But if there isn't a festive shindig on the calendar this week, no worries!  You can make this any day at home in the comfort of your PJs.  Or maybe that's just me 😉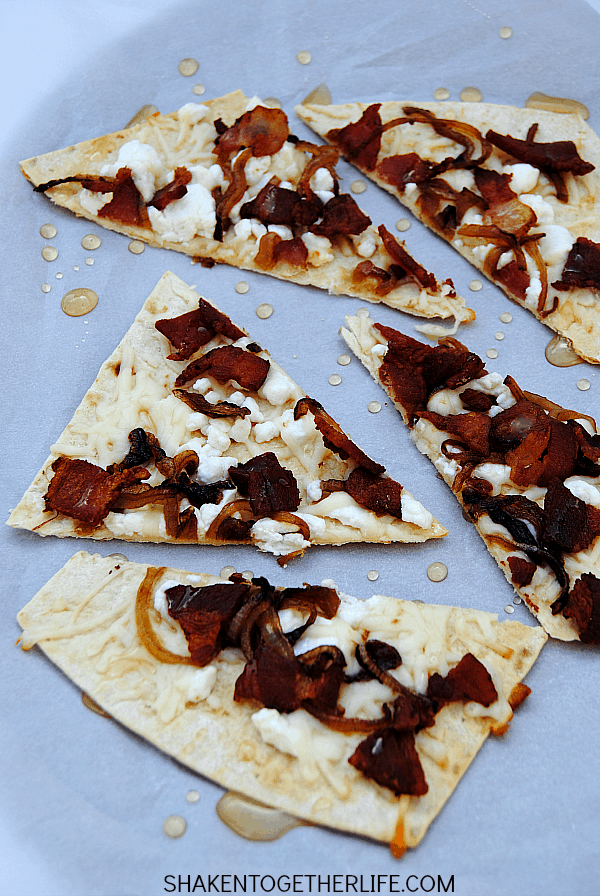 Regardless of when you make this, just promise me you'll make it, k?
Oh, and if you're wondering what to do with the rest of the flatbread pizza crusts in your package, we would highly recommend homemade flatbread pizzas.  We are obsessed with them in our house!  We have been making basic sauce and cheese pizzas with them at least once a week.  Each crust only has 120 calories so they are a great way to splurge on pizza without a bazillion calories for the crust.  This post is not sponsored, by the way.  These flatbread crusts are just one of our new favorite finds!!  Mainly because we can make this again ...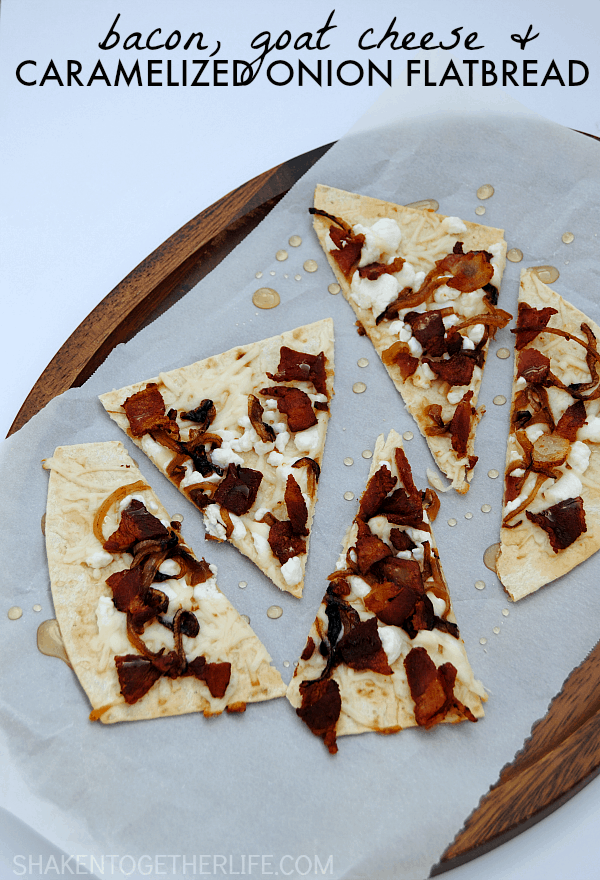 More Awesome Appetizers!
Cheesy French Onion Soup Bread
Our Bacon, Goat Cheese & Caramelized Onion Flatbread recipe may be shared here: