Everything Bagel Overnight Breakfast Casserole – perfect for a crowd & easy to prep the night before! Just pull it out of the fridge & pop it in the oven!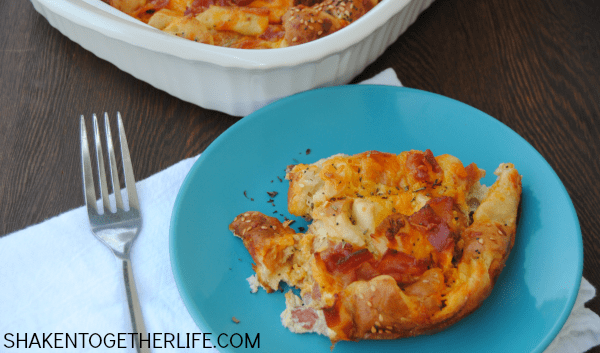 Breakfast is the most important meal of the day. And I think it deserves so much more than cereal tossed in a bowl and drenched in milk. But who is going to haul out the skillets, toaster, baking sheets and 20 ingredients before the first cup of coffee has kicked in on a school day? Not even this early riser! But I will prep this ridiculously delicious breakfast casserole the night before and pull off a gold medal breakfast!
Easy, Cheesy Everything Bagel Overnight Breakfast Casserole!!
Can I Make Breakfast Casserole Ahead of Time?
Yes! That's right … you can make this overnight breakfast casserole the day before you are going to wow your family and friends.  For this recipe, instead of using sliced bread to soak up the eggs, I chopped up everything bagels.  I love the little boost of flavor that you get from the onions, garlic, sesame seeds and salt on the bagels.  Then, I poured a seasoned egg mixture over them, added chopped bacon AND cheddar cheese and popped it in the fridge so everyone could get to know each other a little better.
In the morning, I popped it in the oven and waited for my sleepy heads to wander down the hallway, following their noses … this thing smells awesome as it bakes!!