Coconut is one of those flavors that you either LOVE or hate.  I love it.  I mean LOVE.IT.  So recently, I was baking up these cream of coconut mini bundt cakes … I only had one mini bundt pan and a serious lack of patience.  So into my summery cupcake papers the batter went.  And these coconut cream poke cake cupcakes were born!!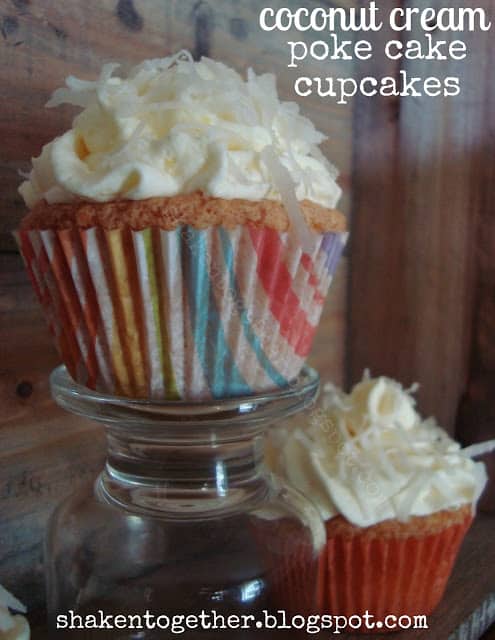 coconut cream 'poke cake' cupcakes
Yield: 18 – 24 cupcakes
Before we get started, hop over to this post for the batter recipe for these cupcakes.  Make sure that you reserve the 6 oz. of cream of coconut.
Because these are poke cake cupcakes!!  What is a poke cake?!  Basically, you poke holes in the top of a cake/cupcake and pour some sort of liquid over the top of the cake/cupcake so it soaks in.  There are lots of variations … pour liquid jello in your favorite flavor over a white cake, pureed strawberries into a strawberry cake and in this case, cream of coconut over a yummy coconut cake!
So … while the cupcakes are still warm, use a skewer or a fork to poke several holes in the top of each cupcake.  Then, drizzle the cream of coconut slowly over the cupcakes, allowing every last drop to soak into the cupcakes!  Allow the cupcakes to cool and onto the topping!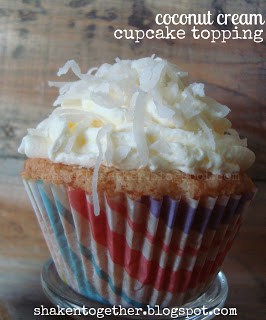 coconut cream cupcake topping
I'm pretty sure you won't be surprised that I made my absolute FAVORITE topping/frosting for cupcakes!  Let's see … I have used some variation of this topping for my dreamy creamsicle cupcakes, the tres limones cupcakes, and the cookies & cream guilt free cupcakes.
Mix together 1 small box of coconut cream instant pudding mix and 1 cup of cold milk.  Gently fold in 1 small tub of Cool Whip until it is incorporated.  If you frost your cupcakes before you serve, refrigerate them.  Otherwise, refrigerate this topping until you are ready to pipe/frost and serve!!  Add some fresh or toasted coconut flakes to the top of your cupcakes.  I mean, can you ever have too much coconut?!