Once you try our Roasted Vegetables with Garlic Dijon Sauce, your dinners will never be the same! I'm thrilled to share this flavorful side dish with you as part of a sponsored series for French's and Socialstars™. #FrenchsCrowd #FrenchsMustard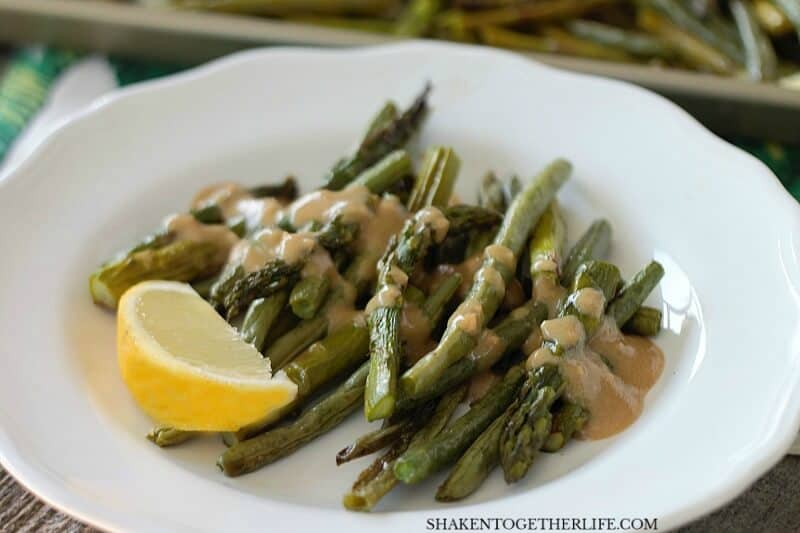 We are a veggie loving family. We haven't met many vegetables that we don't like. Chris' favorite restaurant is the one with a salad bar. Kaleb will mow down some broccoli and Cam will eat an entire pan of roasted veggies in one sitting. So all Summer long, while the grill is full of our favorite chicken, steaks or sausages, I put our oven to work making this simple, flavorful side dish!
Roasted Vegetables with Garlic Dijon Sauce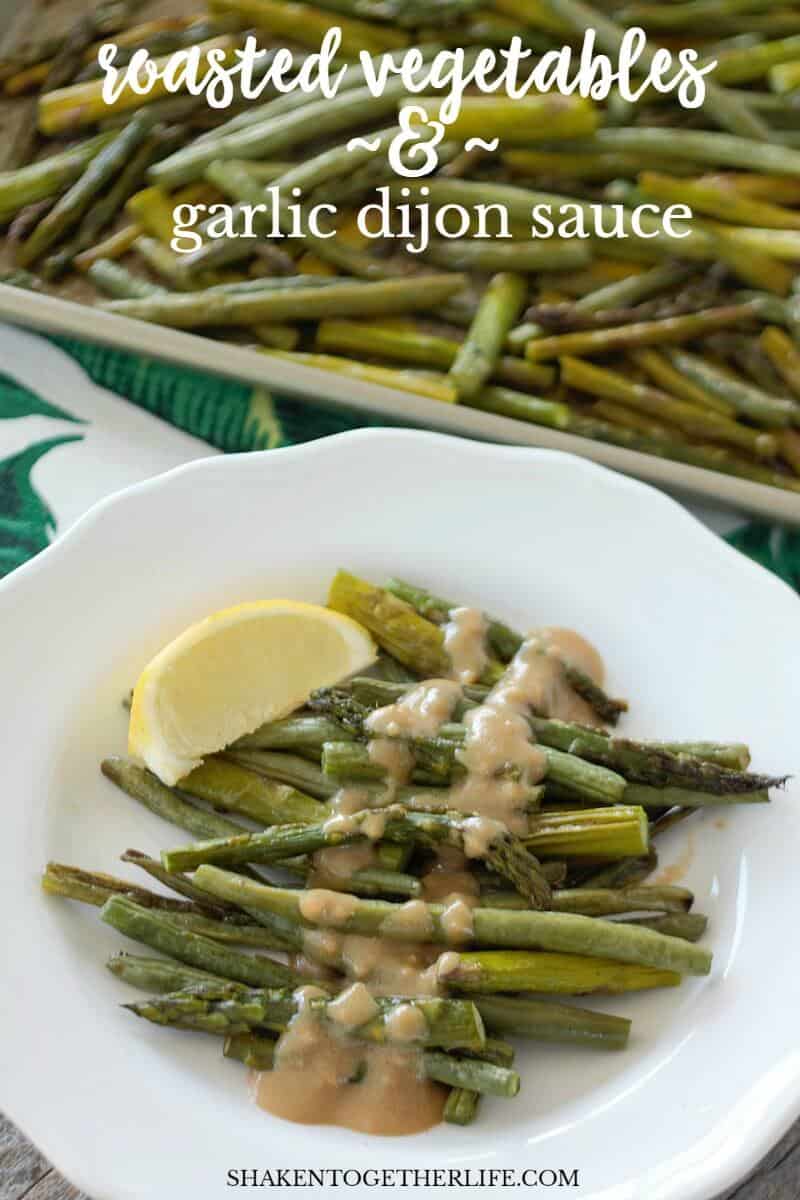 Naturally, there are vegetables involved. Since swimsuit season and pool parties are right around the corner, roasting or grilling vegetables is my favorite way to amp of the flavor of veggies without adding lots of butter or cheese. For this batch of roasted vegetables, I used vibrant green asparagus and fresh green beans.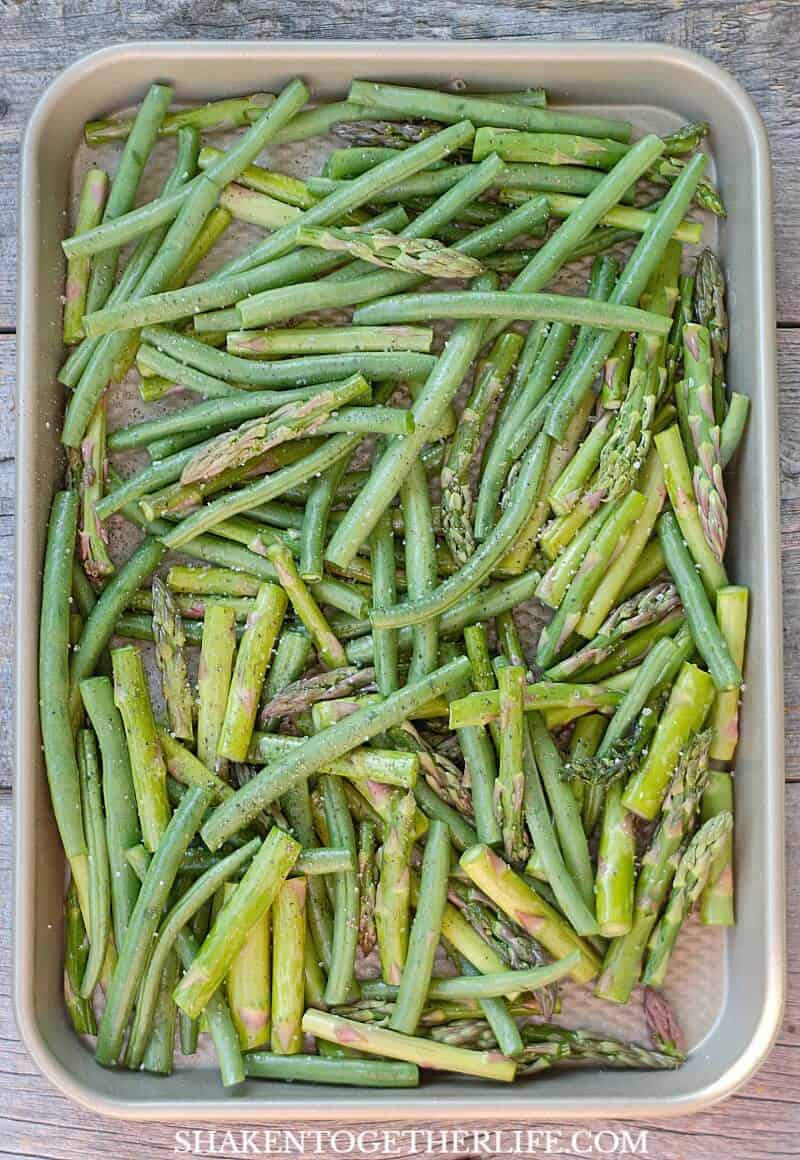 From experience – and we've made this sauce A LOT – this Garlic Dijon Sauce is amazing over potatoes, carrots, brussel sprouts, broccoli and even roasted tomatoes, so feel free to roast or grill whatever vegetables are in season and drizzle them with this super flavorful 4-ingredient sauce.
Just like with the homemade honey mustard sauce on these gloriously glazed Grilled Honey Mustard Drumsticks, every ingredient in the sauce plays an important part in big flavor. The star of this sauce is French's Dijon.
French's Dijon is made with Chardonnay, so it is an easy way to gourmet all Summer long. Squeeze it on burgers for a little more character, add it to your charcuterie board for dipping and spreading and whisk it into your homemade vinaigrette for all your Summer salads!
You probably already recognize French's Classic Yellow Mustard, but now say hello to their smooth creamy Dijon and bold Spicy Brown mustard! For more information and recipes, you can connect with French's on Facebook and Pinterest, too 🙂
With just four ingredients, each one adds character to the sauce:
French's Dijon mustard makes the sauce creamy and adds depth of flavor
Soy sauce adds the salty component and that great savory 'umami' flavor
The oil gives the sauce its smooth pourable consistency
Garlic adds a punch of tang and a little bite
Now, once your vegetables are roasted, just whisk the 4 ingredients together – no heating or chilling required – and the Garlic Dijon Sauce is ready for your veggies!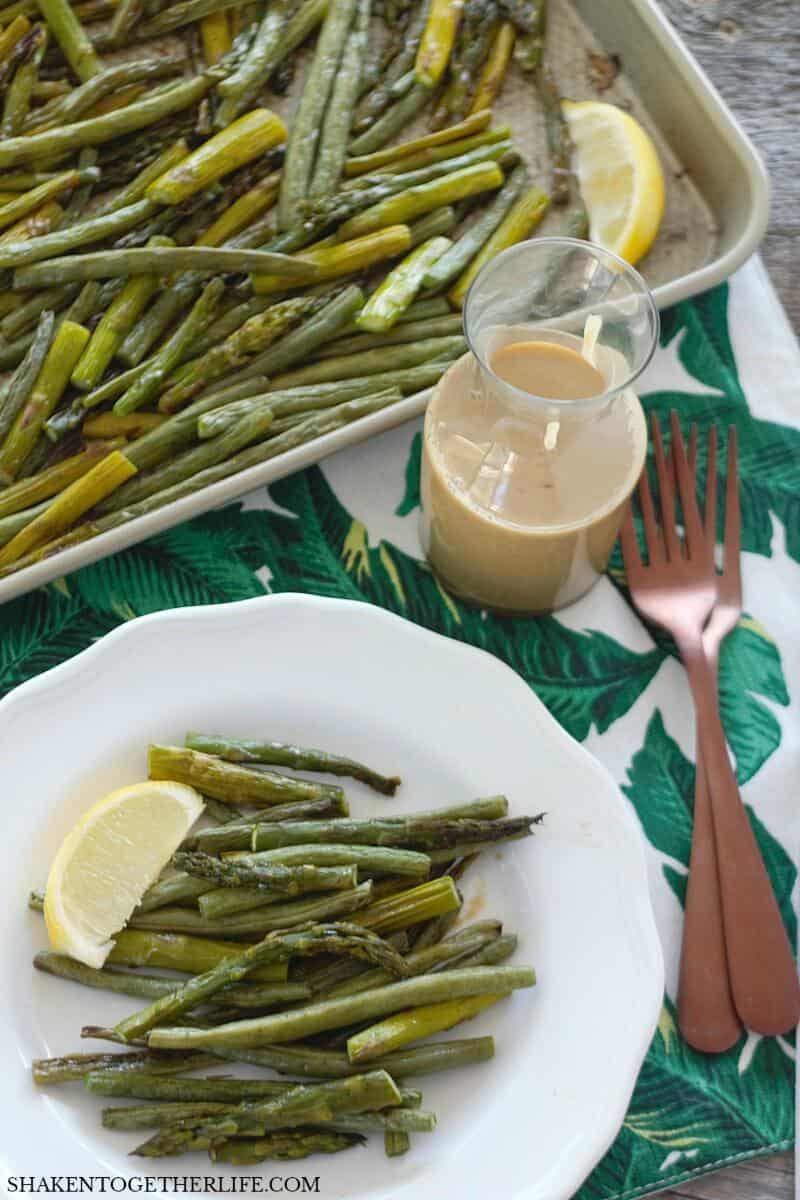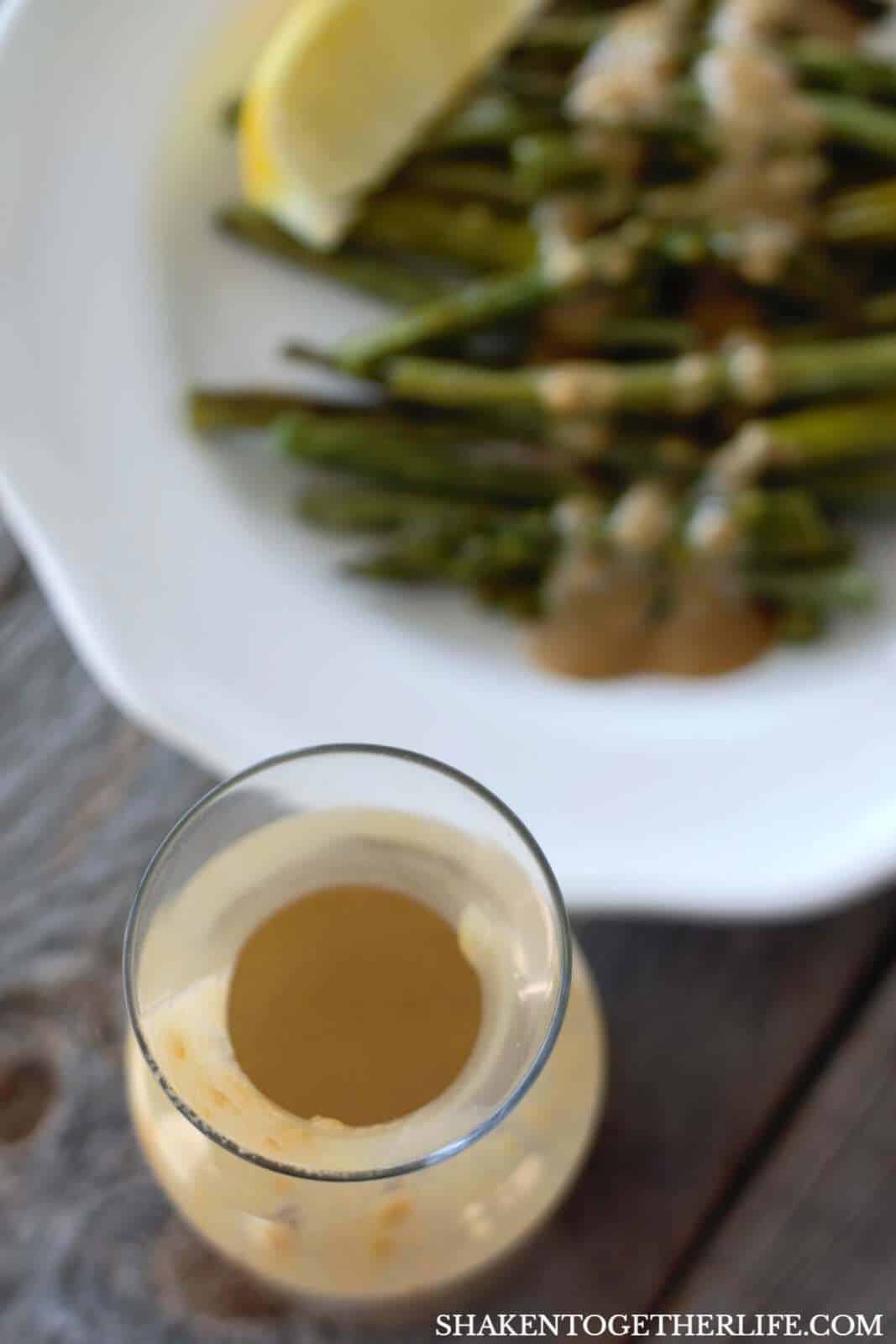 Give those roasted beauties a good drizzle and dig in!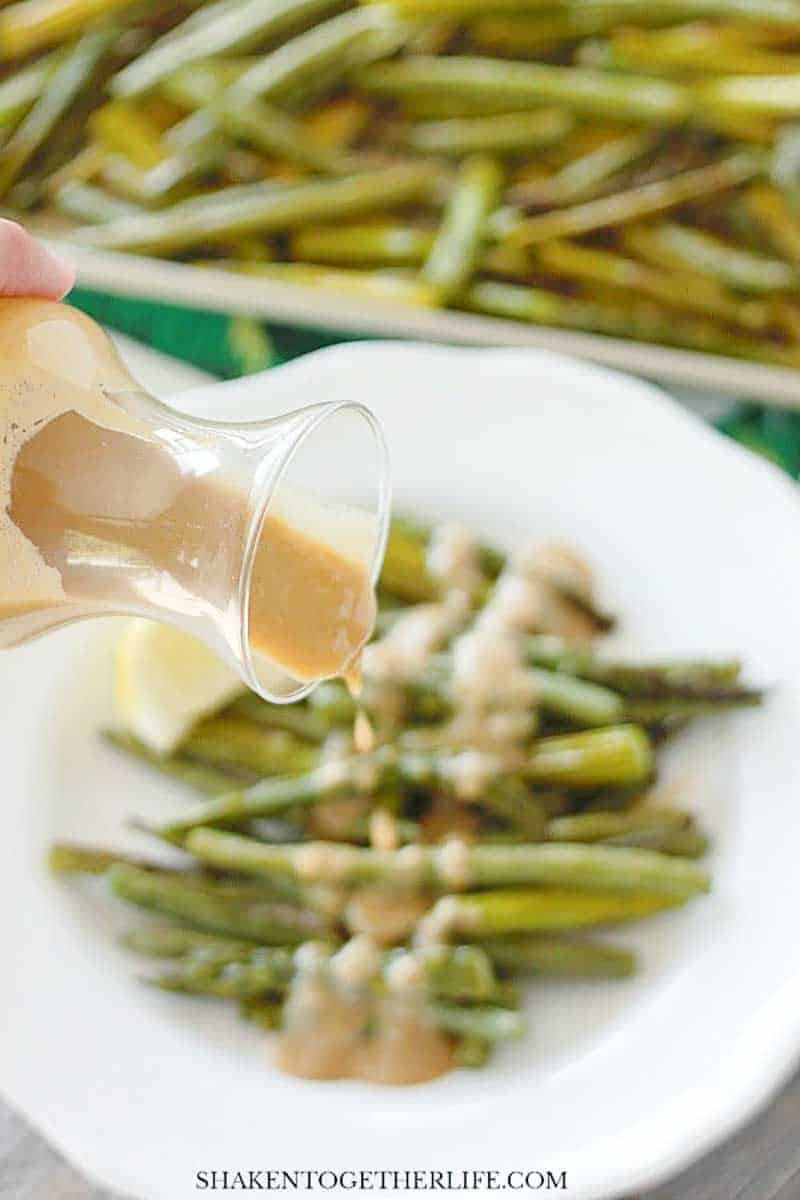 I love to serve a few lemon wedges on the side to add a little pop of bright citrus flavor … just a little squeeze will do!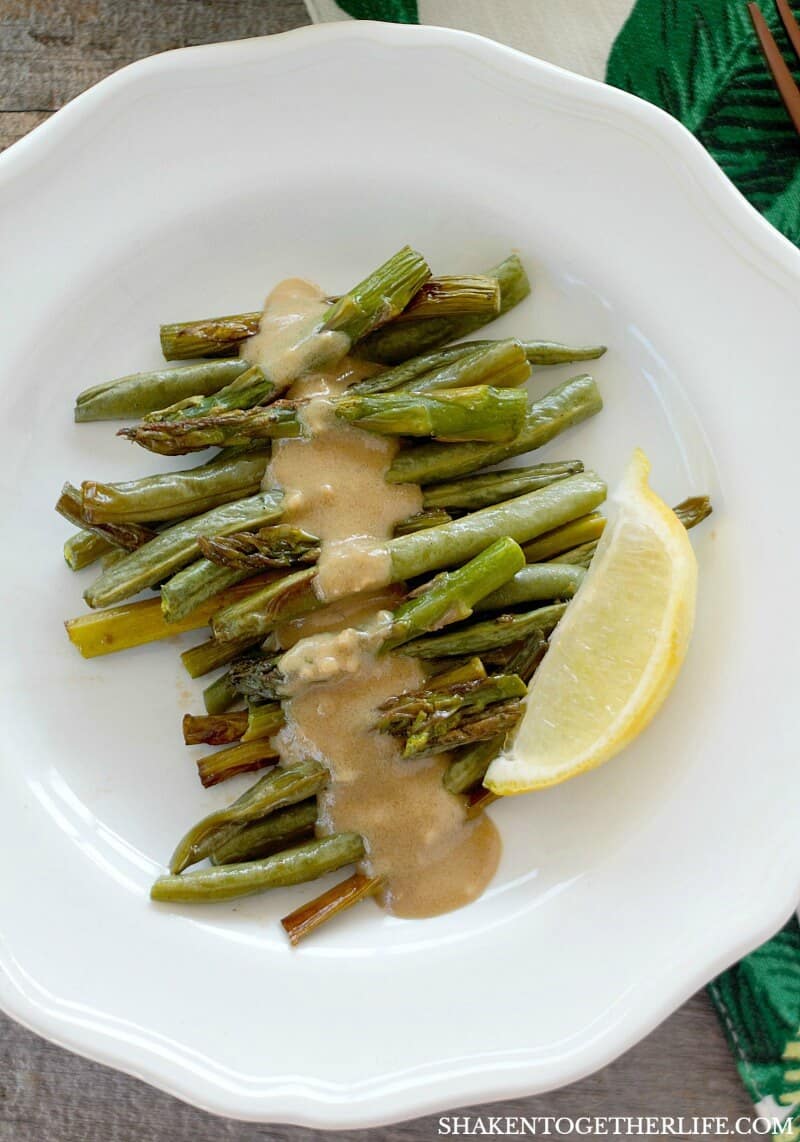 Roasted Vegetables with Garlic Dijon Sauce
Ingredients
One pound fresh asparagus

trimmed

One pound fresh green beans

end removed

One lemon cut into wedges

optional
Garlic Dijon Sauce
2

tablespoons

oil

olive oil or grape seed oil

2

tablespoons

soy sauce

low sodium soy sauce & liquid aminos work as well

2

tablespoons

French's Dijon mustard

2 - 3

teaspoons

minced garlic
Instructions
Preheat oven to 375 degrees F.

Spritz a large sheet pan with non-stick cooking spray.

Spread trimmed asparagus and green beans on the baking sheet.

Mist or toss with olive/grape seed oil and sprinkle with salt and pepper.

Roast vegetables for 10-15 minutes or until fork tender.

While the vegetables are roasting, whisk together the garlic Dijon sauce.

Serve roasted vegetables with sauce and lemon wedges.
If you would rather serve this dish as an appetizer, just spoon some of the garlic Dijon sauce into the bottom of a tall shot glass and place your roasted veggies on top of the sauce in the glass standing up. It makes for a beautiful presentation and there are no forks required!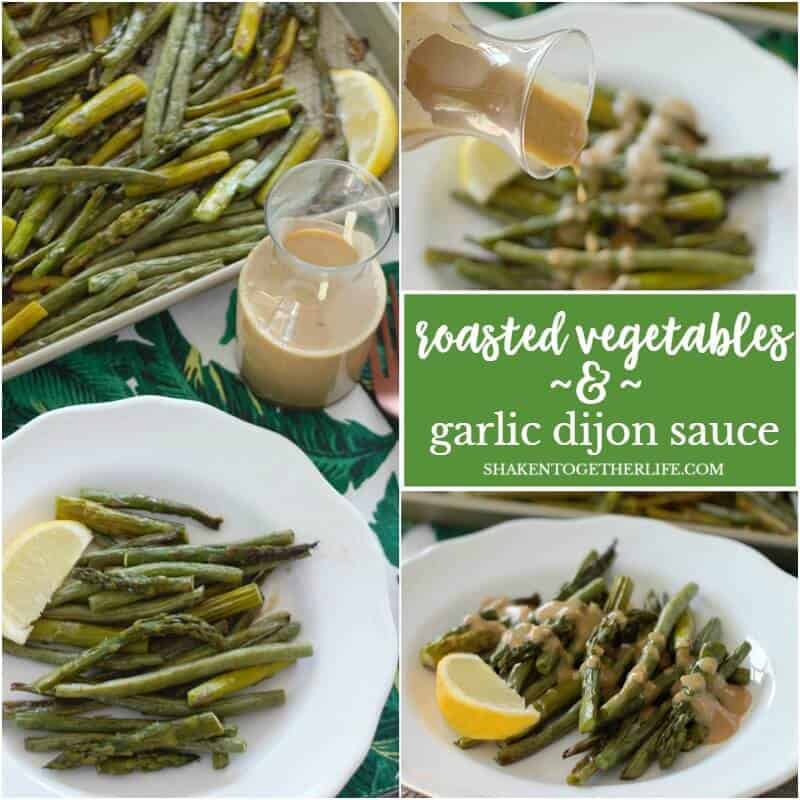 Weigh in … what is your favorite way to use French's Dijon? Do you have a delicious Summer recipe that needs to move to the top of my menu plan? Chime in in the comments or on social media – I'd love to connect!
While I'm waiting, I'll just get prepping another pan of our Roasted Vegetables with Garlic Dijon Sauce!