If you're looking for an easy meal or a delicious and easy appetizer to serve at your next party, look no further than little smokies! These bite-sized sausages are a crowd-pleaser and are sure to be a hit among your guests on game day or your whole family for dinner. I put together a list to help you decide what to serve with little smokies to complete your meal or your appetizer spread.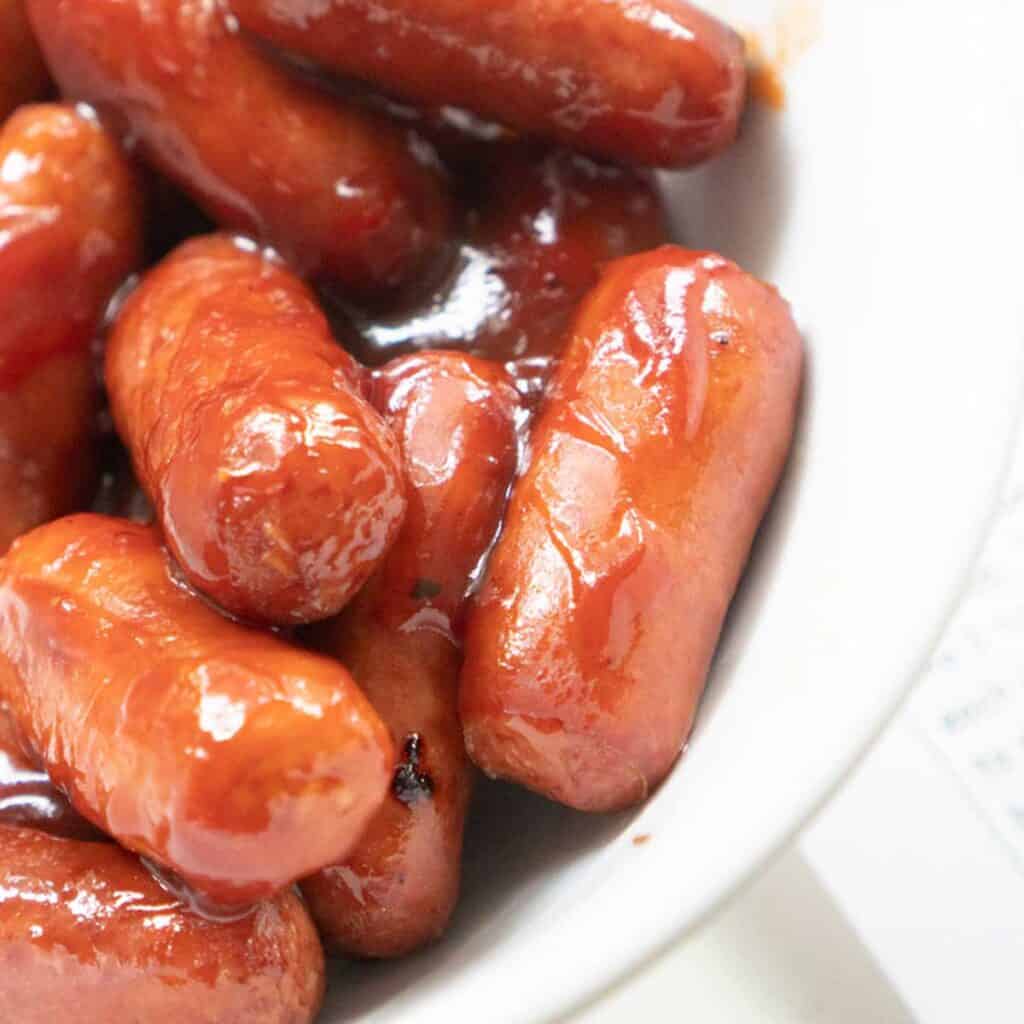 Little Smokies are small, bite-sized cocktail sausages that are smoked with a sweet and savory flavor. They're usually served as an appetizer, combined with barbecue sauce, grape jelly, and brown sugar or served as pigs in a blanket. This orange bbq little smokies recipe is a delicious and super easy slow cooker appetizer!
Are you looking for something savory to pair with the smokies or something sweet to balance out the flavor? Are you looking for something hearty or something light? Don't worry; I've got you covered. Below are some great ideas for what to serve with little smokies.
What to Serve With Little Smokies
1. Sweet Potato Wedges
Sweet potato fries or wedges are a perfect side dish with little smokies sausages if you want to keep it super simple. They can be deep-fried or air fried until they're golden and crispy. They are typically served with ketchup, mayonnaise, or other dipping sauces, and you can season them with herbs, spices, or any of your favorite flavorings.
2. Grape Jelly Meatballs
Grape Jelly Meatballs are a classic party appetizer made with ground beef, grape jelly, and chili sauce. It's really common to see these meatballs served next to little smokies in an appetizer spread. You could also try apple jelly meatballs for something a little different!
3. Crescent Rolls
Crescent rolls are an easy go so well with crock pot little smokies. Whether you keep them plain and serve them as pigs in a blanket or cook them in a delicious sauce and serve crescent rolls on the side, the flavor combo is perfect!
4. Pasta Salad
Pasta salad and little smokies make a great pairing. The smokiness of the little smokies contrasts nicely with the creamy texture and tangy sauce of the pasta salad. It's an easy, tasty combination that is sure to please. Serve macaroni salad, Tuscan pasta salad, or try a tangy Italian pasta salad with your smokies.
5. Potato Salad
Potato salad and the smoky flavor of these tiny sausages are a great flavor combo sure to please your taste buds! Whether you serve them a the dinner table or at a cookout, cocktail franks, and potato salad will be a hit. Deviled egg potato salad is a fun twist on classic potato salad that is always a hit!
6. Mashed Potatoes
If you're serving little smokies as a main course, mashed potatoes make are one of the best side dishes to serve alongside them. Cheddar cheese and chive mashed potatoes would be a hit, or even classic mashed potatoes with just butter and salt.
7. Baked Beans
Baked beans or calico beans will taste great with these mini sausages. Actually, they would be great with the little smokies added right in the recipe. Whether you combine them or serve them side by side, the pair is perfect.
8. Onion Rings
Crispy baked onion rings can be served with a variety of dips or sauces and are a great accompaniment to delicious little smokies in a tangy bbq sauce.
9. Cheese and Crackers
A cheese and crackers tray is a great appetizer to serve next to crockpot little smokies. The tangy flavors of the cheese and the smoky flavor of the cocktail weenies will be amazing together!
If you want a spread of finger foods to go with cocktail wieners, jalapeño poppers should be on your list! They make a perfect appetizer for those who like a little kick, so you have something for everyone!