London Broil is a delicious main dish that always goes over well with anyone I serve it to! Sides for London broil are traditionally creamy mashed potatoes and another vegetable, which is great, but there's so much more you can serve with this classic dish.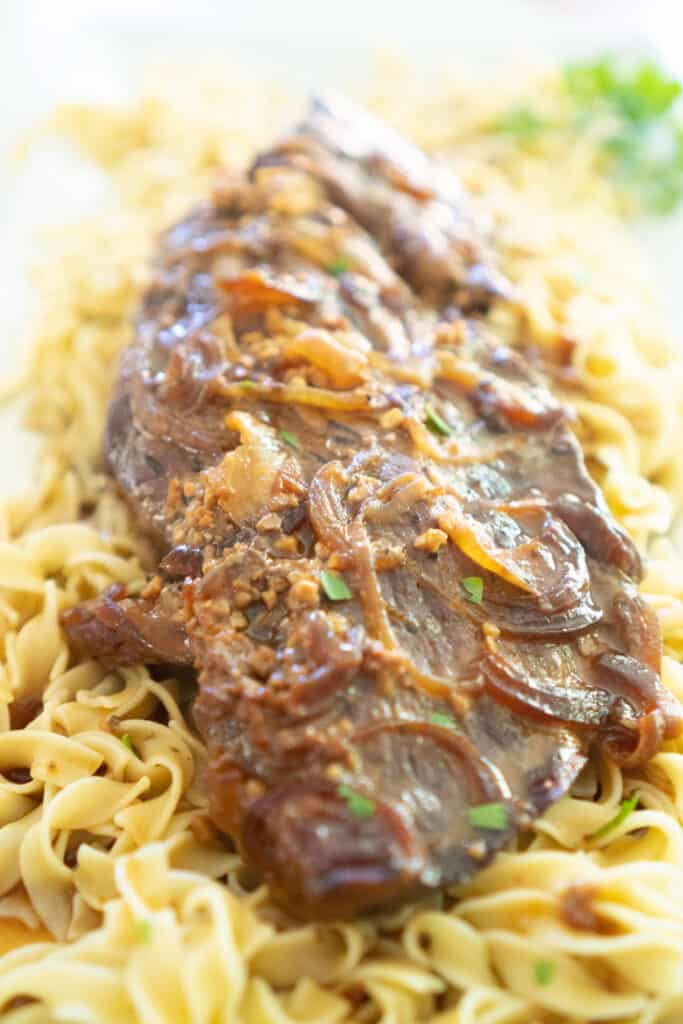 A London broil recipe is made with a lean cut of beef, usually a flank steak or top-round steak, soaked in a delicious marinade of herbs and spices in an airtight container and then broiled or grilled.
There are so many options for side dishes that will go perfectly with your London Broil. Really, any side you like will pair well with this dish because it has a pretty neutral beefy flavor. I put together a list of ideas to help you get started!
Sides for London Broil
If you're sitting down at the dinner table for a flavorful steak dinner, you're looking forward to a delicious meal that is filling at satisfying.
Whether your London broil is paired with a healthy side dish or something more indulgent for special occasions, you will seriously enjoy its tender perfection and simple ingredients! Find the perfect side dish for what you have in mind from the list below!
Thinly sliced potatoes baked in cream and cheese for a delicious side dish. Perfectly seasoned London Broil has a rich, savory flavor, and paired with the creamy gratin, the flavors are perfectly balanced!
2. Sweet Potato Skins
Roasted sweet potato skin strips filled with melted cheese and bacon for a salty and savory dish. This will be one of your new favorite ways to eat sweet potatoes!
3. Roasted Brussels Sprouts
Crispy roasted Brussels sprouts with butter and brown sugar for a healthy and flavorful accompaniment when you want to make sure you get a green vegetable in your meal. Brussels sprouts take on a whole new flavor when they're roasted, especially with a little sea salt added. These will be a big hit!
4. Baked Mac & Cheese
Creamy macaroni and cheese with cheese and butter is the perfect choice for a decedent side to serve with a juicy steak dish like London broil, in my opinion. This is always a great option if you have kids at the table too!
5. Roasted Asparagus
Roasted asparagus with olive oil, garlic, and chopped tomatoes for a flavorful twist to this veggie. You can also make slow cooker asparagus for an easy option.
6. Quinoa Salad
A hearty and healthy quinoa salad with feta cheese, black olives, and chopped cucumber in a balsamic vinaigrette. This is a nice, light and healthy option to serve with your skirt steak.
7. Cranberry Sauce
Cranberry sauce is a sweet and tart side dish that's made from fresh or frozen cranberries cooked with sugar, orange juice, and other spices. You can make homemade cranberry sauce or take it right out of a can for a quick side dish for a weeknight dinner!
8. Garlic Roasted Potatoes
Fingerling potatoes roasted in olive oil and garlic powder for a buttery and flavorful side for your delicious London broil.
9. Baked Yams
Sweet, buttery, and fluffy baked sweet potatoes with cinnamon and nutmeg is one of my favorite side dishes to serve with a savory meat dish!
10. Bacon-Wrapped Green Beans
Crispy bacon-wrapped green beans for a salty addition to this dish. This simple recipe will add to the rich and heavy flavor of the London broil steak for a really satisfying meal.
11. Roasted Sweet Peppers
Roasted bell peppers tossed in olive oil and garlic are a great way to add flavor to vegetables. These make a nice light side for any meal!
12. Roasted Acorn Squash
Delicious roasted acorn squash with butter and honey or brown sugar makes a sweet side dish that's still light and not too filling.
13. Lemon Rice Pilaf
A lemon rice pilaf made from basmati rice and cooked with butter and lemon zest will bring a nice bright flavor to your meal paired with tender London broil.
14. Homemade Slaw
Homemade slaw of red cabbage, carrots, and red onion in a tangy vinaigrette is the perfect side for a London broil cookout! This is one of the best side dishes for a summer meal to keep it light and refreshing but still satisfying.
15. Roasted Butternut Squash
Roasted butternut squash and rosemary in a balsamic vinegar glaze for a burst of flavor.