If you're serving up meatloaf tonight and looking for side dishes, you've come to the right place! We're covering what to serve with meatloaf in this post with some delicious side ideas!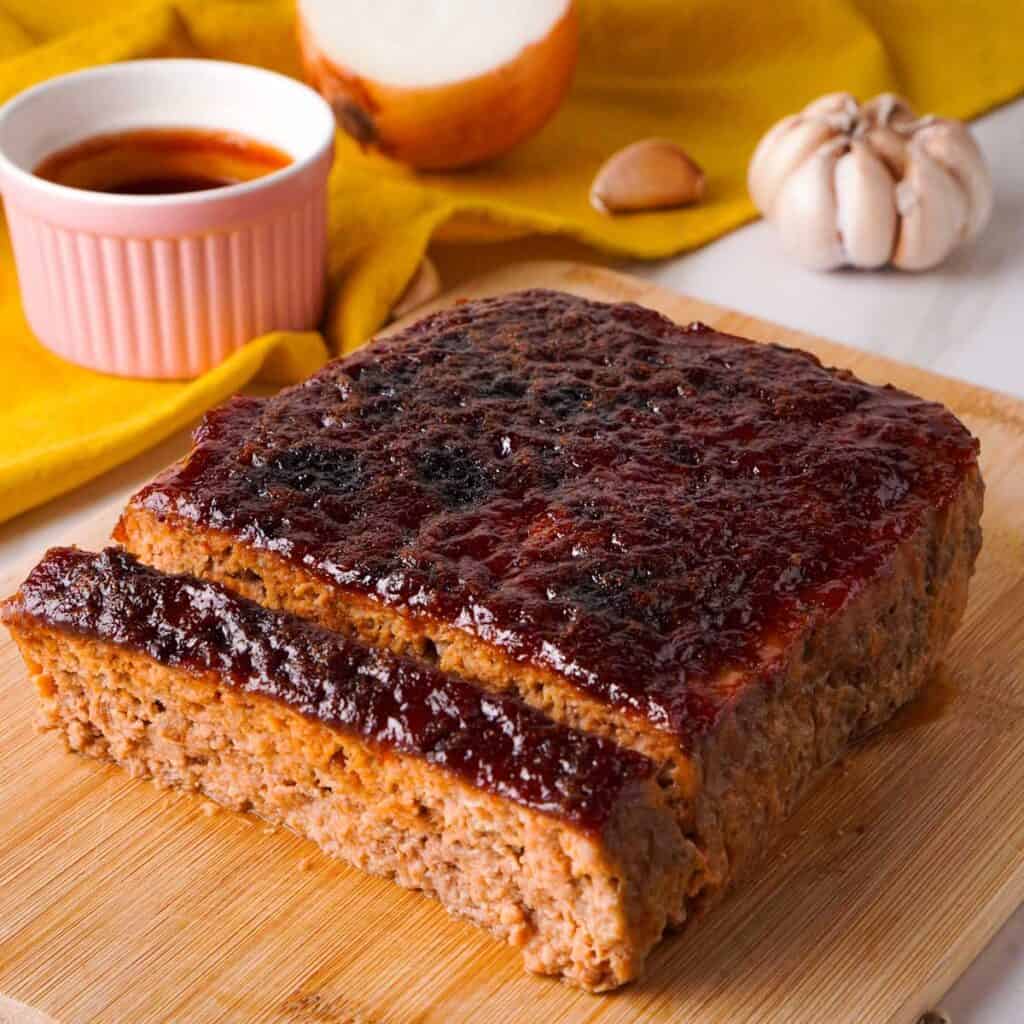 Homemade meatloaf is the perfect comfort food and a family favorite at my house. Of course, what makes it even better are the delicious sides that you can enjoy with it. From creamy mashed potatoes to crunchy roasted vegetables, there are plenty of tasty side dishes to choose from when serving up a delicious meal of meatloaf.
Meatloaf is a savory dish typically made with ground beef, onions, bread crumbs, eggs, and seasonings like garlic, salt, and pepper. The mixture is shaped into a loaf, placed in a baking dish, and baked in the oven. The final product is a flavorful and moist dish that can be served for dinner and is perfect for leftovers as a meatloaf sandwich.
I could have made this list of side dishes even longer, but this is a great place to start finding the best side dishes for your meatloaf dinner. Whether you want something light and healthy or something indulgent and comforting, there is a side dish that will pair perfectly with your meatloaf. Grab your favorite meatloaf recipe and choose a couple of sides from these options!
20 Ideas of What to Serve With Meatloaf
1. Mashed potatoes
There's something about mashed potatoes and meatloaf that makes them a match made in heaven. Cheddar chive mashed potatoes are a perfect side dish for a meatloaf meal.
Roast pretty much any veggies you want, and they'll fit in perfectly with this meal. Roasting vegetables is easy, just take your pick, chop them in bite-size pieces, add your favorite seasonings, and mix them on a sheet pan. Roast them in the oven until they are all cooked to your desired doneness.
3. Baked beans
Baked beans are a perfect combination with meatloaf. Their flavors complement each other so well, and beans make the meal even more filling and satisfying. For an even heartier option you could also serve calico beans which are baked beans with ground beef and sausage!
4. Macaroni and cheese
Creamy mac and cheese is just such a classic side dish with a meat and potatoes meal. Grab a simple recipe like this "almost homemade" mac and cheese, and let the cheesy goodness cook while you're making the rest of your meal.
5. Baked sweet potatoes
Talk about an easy side dish recipe, baked sweet potatoes are so easy to make. Add a little butter and brown sugar for a sweeter flavor, or butter and salt for a more savory, delicious side dish.
6. Sauteed mushrooms
Sauteed mushrooms make a great side dish for meatloaf if you want something flavorful but light to add to your meal.
Cook them in a skillet with butter or oil. They are usually cooked until they are brown and tender, and you can serve them as a side dish or even topping on your meatloaf.
7. Coleslaw
This simple side dish is a crunchy, slightly sweet, and tangy salad typically made with shredded cabbage, carrots, and onions, mixed with a creamy dressing. Seasoned with salt, pepper, and other spices like celery seed, caraway seed, and mustard, it has tons of flavor.
8. Baked apples
Baked apples might be made for dessert, but they can also be a tasty side dish! Serve them plain or topped with cinnamon, butter, honey, or brown sugar.
9. Cornbread
Whether you choose a classic comfort food cornbread recipe or spice it up a little bit with something like bacon jalapeno cheddar cornbread from The Happier Homemaker, cornbread makes a great side for meatloaf!
10. Rice pilaf
Rice pilaf is a flavorful dish made with cooked rice, herbs, and spices. It has a nutty and savory flavor with hints of garlic and onion. It's a delicious option that can be served with so many different meals.
11. Brussels sprouts
Your whole family can love brussels sprouts if you make them right. These little vegetables are so delicious roasted, especially in this brown sugar brussels sprouts recipe.
12. Pasta salad
Classic pasta salad with simple ingredients and a tangy sauce will pair perfectly with rich meatloaf! The flavorful dressing in this Italian pasta salad gives you the perfect balance of flavors.
13. Fried okra
Fried okra is a popular Southern dish with battered and deep-fried okra slices. It's an American classic and an easy vegetable side dish that can be made the good old fashioned way in oil or in the air fryer for a healthier option.
Speaking of a classic, this southern classic side dish is made by frying unripe tomatoes in cornmeal batter. These tomatoes are usually served as a side dish or appetizer and are known for their crunchy texture and tart flavor.
15. Creamed corn
Creamed corn is a dish made from corn kernels that are cooked in a cream sauce. It's a more savory corn side dish than regular corn with butter.
16. Scalloped potatoes
Potatoes make one of the best sides for meatloaf. These are made with thinly sliced potatoes layered in a baking dish and topped with a creamy sauce. The dish is usually finished off with cheese and baked until golden brown and bubbly.
17. Broccoli
Broccoli is a common side dish for meatloaf. our favorite broccoli recipe is this simple Italian broccoli that takes just 15 minutes to prepare so it can easily be made while your meatloaf is baking in the oven.
18. Green bean casserole
Classic green bean casserole always works with a meat and potatoes kind of meal. This creamy dish is rich and comforting, the perfect addition to a meatloaf meal.
19. Potato salad
This potato dish is another easy recipe that works really well with meatloaf. The creamy texture of the potato salad complements the hearty texture of the hearty meatloaf, and the flavors of the two dishes balance each other out.
20. Grilled onions and bell peppers
Grilled onions and bell peppers as a side dish is a delicious and flavorful combination. The sweetness of the bell peppers combined with the savory taste of the grilled onions creates a wonderful balance of flavors. This side dish is great as a side dish or even a topping for your meatloaf.