Are you ready to elevate your dinner game with a delicious and flavorful roast duck breast? If you've never tried it, you may be wondering what to serve with roast duck to create the ultimate dining experience. Here are some great combinations for the best side dishes that will make a complete, delicious, and satisfying meal.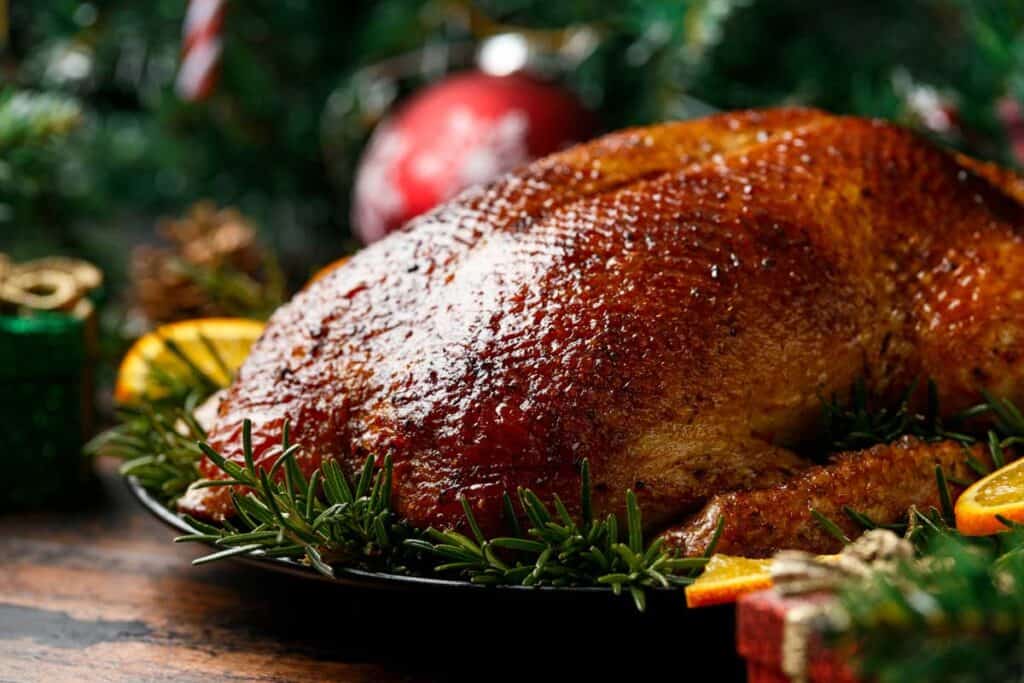 What Does Roast Duck Taste Like?
If you're cooking roast duck for the first time, knowing what to pair with it might be a challenge since you don't know the flavor. Duck's flavor is closer to red meat than chicken and it's on the fattier side, so depending on how you prepare it, it can have a really rich flavor.
Duck meat is like a flavor explosion in your mouth, with crispy skin and tender and juicy meat that practically melts in your mouth. The flavor is savory and depending on what you season it with, you can create an extremely flavorful dish.
What to Serve With Roast Duck
The zesty combination of orange and ginger pairs well with the rich taste of a duck recipe. Roast carrots and glaze with an orange sauce made with orange juice, ginger, and honey for a bright and flavorful side dish.
2. Cranberry Sauce
This traditional side dish is a great choice for a roast duck dinner. The tart and sweet flavors of cranberry sauce pair well with the rich and savory taste of duck.
Thinly sliced potatoes that are crispy on the outside and tender on the inside make a great side dish to pair with roast duck. Top with garlic, herbs, and parmesan cheese for added flavor. Hasselback potatoes are similar to potatoes au gratin, but with much crispier texture.
The tangy sweetness of balsamic vinegar pairs perfectly with the gamey flavor of roast duck. Roast Brussels sprouts until crispy and toss with a balsamic glaze for a delicious side dish.
The creamy texture of mashed potatoes is a classic side dish for any roast dinner, including duck. Add minced garlic and a touch of rosemary for an extra punch of flavor. For a twist on this popular dish, you can make smashed potatoes in the oven or air fryer for a crispy side.
The nutty flavor and chewy texture of wild rice make it an ideal pairing for the richness of the duck. Cook it with chicken broth and added herbs for a flavorful pilaf.
The crispy texture and earthy flavor of roasted asparagus is a great complement to the gamey taste of duck. Coat with olive oil, salt, and pepper and roast until tender.
8. Green Bean Almondine
Tender green beans tossed with butter, lemon juice, and toasted almonds is a light and fresh side dish to serve with roast duck. The crunch of the almonds adds a nice contrast to the tender duck. This is a fancier way to make green beans for a special occasion.
This protein-packed grain is a great alternative to traditional starchy side dishes. Toss with roasted vegetables, feta cheese, and a light citrus dressing for a refreshing addition to your delicious duck main dish.
The tangy, sweet, and spicy flavors of plum chutney make it a perfect side dish for roast duck. Serve it as a topping or dip for added flavor and texture, it's the perfect pairing!
This simple dish is a great way to bulk up your roast duck meal. Tender, caramelized root vegetables make the perfect accompaniment to rich and savory roasted duck. A mix of carrots, parsnips, and sweet potatoes is a perfect choice for a colorful and flavorful side dish.
Sweet and tangy braised red cabbage is the perfect balance to the rich and savory taste of roast duck. Cook it with apples, red wine, and spices for a delicious side dish.
This creamy corn-based dish is the perfect match for roast duck. Cook with chicken broth and cream for a rich, savory side dish.
The sweetness of glazed baby carrots is the perfect contrast to the robust flavor of roast duck. Cook with a honey and brown sugar glaze for a delicious sauce over this side dish.
If you're looking for an easy recipe, serve a succulent grilled corn on the cob with your roast duck. Brush with herb butter and grill until lightly charred for a delicious addition to your meal.