Tuna casserole makes an easy and delicious meal for any night of the week and is always a favorite with my family. Below I'll help you decide what to serve with tuna casserole, whether you're hosting a dinner party or just want something different to serve with your weeknight dinner.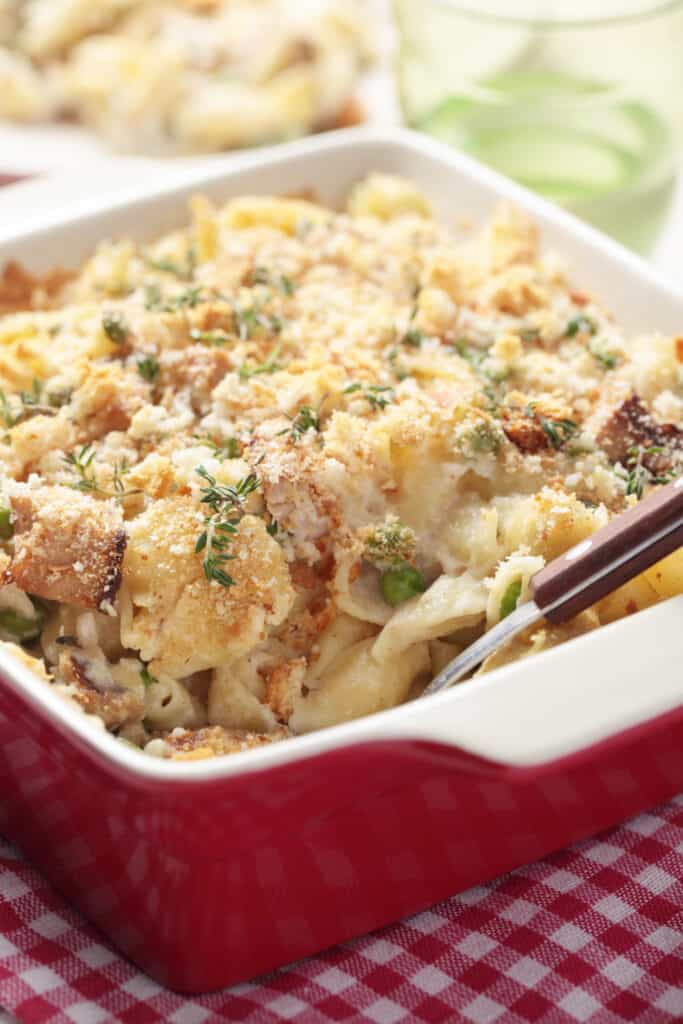 Tuna casserole is made with pasta, albacore tuna, and a creamy sauce made of cream of mushroom soup, milk, and parmesan cheese or cheddar cheese, topped with bread crumbs or crushed potato chips.
This meal is rich and hearty and pretty easy to pair a lot of different side dishes with. Let's look at some good ideas for the best side dishes below.
What to Serve With Tuna Casserole
Fresh green beans tossed in olive oil, garlic and seasoned with salt and pepper, then roasted for a crispy and flavorful side dish make a great addition to your tuna casserole. This is an easy side dish that doesn't require a lot of time or effort.
2. Creamy Coleslaw
Refreshing and creamy coleslaw made with shredded cabbage, carrots, and a tangy dressing is a great way to bring a lot of flavor to a meal and, in this case, much-needed crunchiness in comparison to the creamy casserole. Coleslaw pairs perfectly with a hearty tuna casserole as a light side side.
3. Baked Sweet Potatoes
Serve your tuna casserole with a twist by topping baked sweet potatoes with a scoop of the casserole mixture. I know this probably sounds so strange to many people, but the sweet and savory flavors make for a delicious combination.
Another easy, excellent side dish for tuna casserole is a simple, classic, and comforting loaf of garlic bread to dip into the warm and creamy sauce of the casserole.
Grilled asparagus is a good choice for a light side if you want to add some fresh vegetables to your meal. Thin and tender asparagus spears, lightly grilled and drizzled with lemon juice, add a touch of freshness to your tuna casserole.

A light and refreshing green salad with a mix of leafy greens, citrus fruits, and a zesty vinaigrette dressing, compliments the rich and creamy flavors in a tuna casserole. This side salad adds a healthy touch and the best part is, it's easy and quick to throw together.
Who doesn't love casseroles? A cheesy and creamy squash casserole is a hearty side dish that pairs really well with the flavors of tuna casserole. This classic side dish will make your meal super hearty, filling, and satisfying.
Another healthy side option, diced avocado, chopped red onion, and cherry tomatoes tossed in a simple dressing of olive oil, vinegar, and herbs, create a colorful and delicious side to serve with a tuna pasta bake.
If you don't have much time to throw dinner together, toss that casserole in the oven and saute some spinach on the stove top for a complete and easy meal. Tender spinach leaves sautéed with garlic with a little squeeze of lemon on top makes an easy and healthy side dish for any casserole.
We love cornbread or cornbread muffins in my house. They're such a great side for almost any meal. Serve your classic tuna casserole with a batch of delicious, homemade cornbread muffins for a comforting and filling dinner.
If you want something different to serve with tuna casserole, try fluffy and flavorful couscous mixed with Mediterranean-inspired ingredients like olives, feta cheese, and roasted red peppers. This makes a delicious side dish for a tuna casserole.
I love serving potato salad with dinner, especially on busy weeknights because it can be made ahead of time. In fact, so can the tuna casserole and it can be frozen until you're ready to cook it. Just take your frozen casserole out and put it in the frigde the night before and you'll have a super easy meal with your already prepared potato salad the next night.
Caesar salad is a great pairing for this classic dish. The creamy tuna casserole's flavor is a great contrast to the salty, tangy flavor of caesar salad dressing.
14. Baked Beans
A classic and tasty side, baked beans add a touch of sweetness and more protein to your tuna casserole meal. Baked beans are another classic recipe that will add some bulk to the meal, making it very filling and satisfying. For an even heartier option try calico beans instead.
Brussels sprouts roasted with brown sugar perfectly complement the savory flavors of a tuna casserole. They will get a little sweeter when they're roasted and the flavor gives a great balance to the tuna casserole.