Are you thinking about spicing up your next party with a nacho bar? I've put together the ultimate guide for what to serve with a nacho bar and with just a few easy steps, you can make your own nacho bar that will have your guests talking about it for weeks. From the best toppings to the perfect condiments, let's make sure your nacho bar will be the star of the show!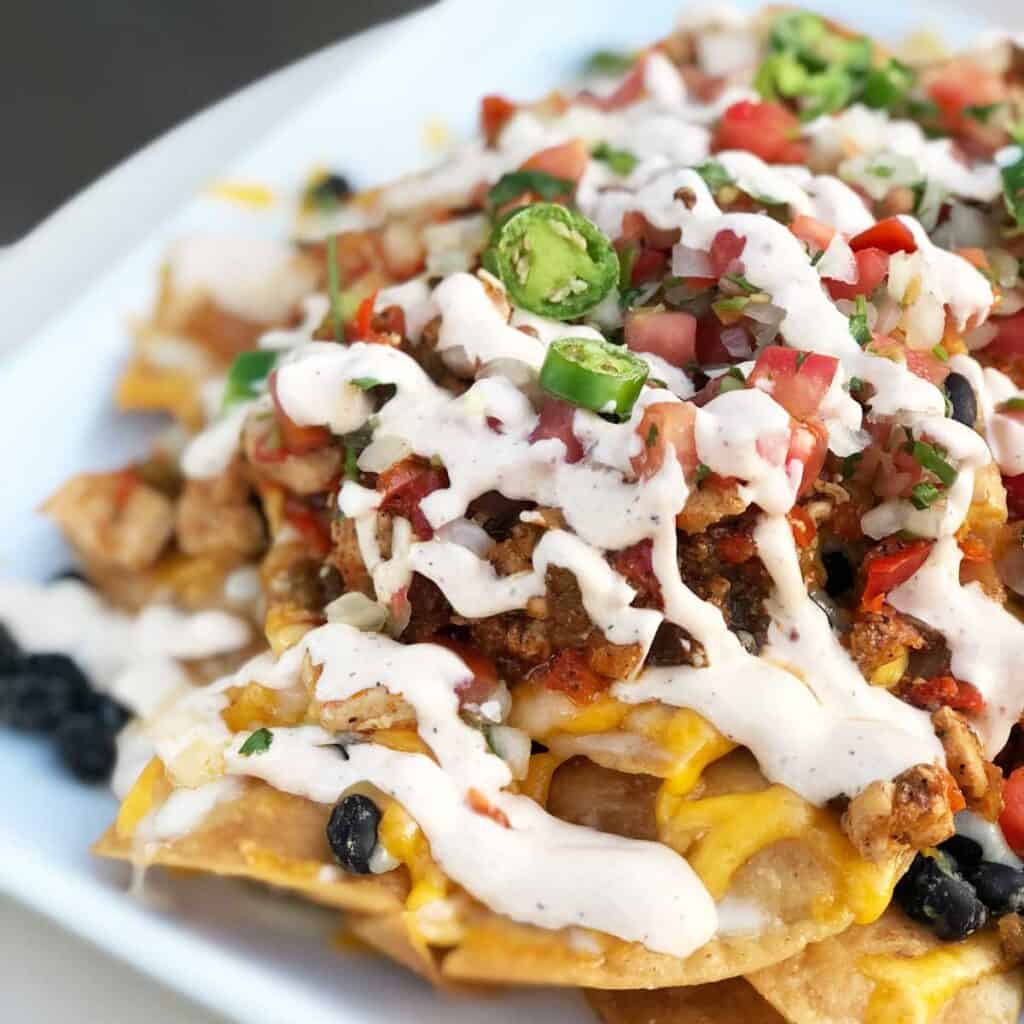 The Fun of a Nacho Bar
A nacho bar is such a cool way to make an appetizer spread or even a buffet-type dinner. It works for gatherings of different sizes, from a small get-together to a large group. It's interactive and lets everyone customize their nachos in whatever way they want.
You can cater to a variety of different dietary needs, which means everyone can enjoy delicious food and fun! Plus, it also serves as a conversation starter and brings people together.
Building Blocks of a Nacho Bar
The building blocks of a nacho bar are the foundation for creating the ultimate nacho experience. First and foremost, you'll need a base of tortilla chips.
Choose a variety of flavors and textures to cater to different preferences. You can have white corn tortillas and yellow corn tortillas if you want to offer some variety in the base of the nachos. You can even make homemade tortilla chips!
Next, don't forget the cheese! Opt for a combination of shredded cheddar and Monterey Jack for that ooey-gooey goodness, and a nacho cheese sauce option is always a good idea.
Choosing Toppings
Choosing a variety of toppings for your nacho bar is where you can get really creative and let your guests personalize their nacho creations with their favorite toppings.
You'll want to have a combination of flavors like spicy, cool and refreshing, salty, and savory toppings. Let your guests mix and match to their heart's content making their own nacho masterpiece.
Fresh Toppings
Diced tomatoes
Red Onion
White onion
Minced garlic
Fresh cilantro
Jalapeno peppers
Black olives
Green onions
Condiments
Salsa
Guacamole
Sour Cream
Vegetarian and Meat Options
For those looking for vegetarian options at your nacho bar, there are plenty of delicious choices to satisfy their taste buds. Add some extra heartier options for those who won't be adding meat to their nachos to make them more filling.
Vegetarian Options:
Black beans
Corn
Diced bell peppers
Sautéed onions for the extra flavor that may be missing when you don't add meat
Grilled veggies like zucchini and mushrooms
Meat Options:
Seasoned ground beef
Steak
What to Serve with a Nacho Bar
No nacho bar is complete without some tasty side dishes to complement the star of the show. Here are some of the best side dishes to serve with nachos.
Spanish Rice
This classic dish is perfect for keeping with the Mexican theme. It's a great option because it's inexpensive and easy to make in bulk.
Refried Beans
Another traditional Mexican side dish, refried beans are not only a great side for nachos, they can even be included with the nacho toppings.
Side Salads
Having an option like side salads available is a great idea for those who want something healthier and lighter to eat. Guests can choose some of the fresh ingredients from the nacho toppings to top their salads too, which makes it even easier to include this side option. Offer a few different salad dressings to choose from and you're good to go.
Corn salad is made with cooked or grilled corn kernels, mixed with other ingredients like chopped onion, chili peppers, tomatoes, lime juice, and cilantro. It can also be served with mayonnaise or queso fresco for added creaminess. This is another great side dish that can also be used as a topping for nachos.
Mexican Slaw
This traditional Mexican side dish is made with shredded cabbage, carrots, and other vegetables mixed with a tangy dressing like lime juice, vinegar, and cilantro. It usually also includes ingredients like chopped onions, tomatoes, and jalapeños for added flavor and spice.
Avocado Salad
This simple salad is fresh and healthy! It's made from diced avocados, mixed greens, and other vegetables and herbs. It can also be topped with a light vinaigrette dressing for extra flavor. This is another one that would also double as a nacho topping!
Jalapeño cornbread is a huge hit in my house and always a crowd pleaser when I make it for anyone else! It makes a great side dish for nachos with that spicy kick from the jalapeños and tangy flavor from the sharp cheddar cheese.
Tips for Serving Nachos at a Party
Planning a nacho bar party? Here are some tips to ensure that your nacho bar is a success.
Make sure to have plenty of serving utensils and plates for your guests to create their nacho masterpieces. Make sure the plates are a good size so the guests are making a huge mess with their nacho plates spilling over.
Serve your nacho cheese in a slow cooker on warm so the cheese stays warm and delicious and guests can keep going back for more.
Arrange the toppings in an organized and accessible manner, making it easy for guests to navigate the bar.
Consider having separate containers for hot and cold toppings to maintain their desired temperature.
Keep a close eye on the nacho bar throughout the party, restocking as needed and ensuring that everything remains fresh.
Don't forget to have fun and enjoy the process of creating a delicious nacho experience for your guests!