If you're looking for a unique and easy way to feed your family and friends, you should try a baked potato bar! Since this option is so great for parties and get-togethers, I created an ultimate guide to what to serve with a baked potato bar for you to create your own!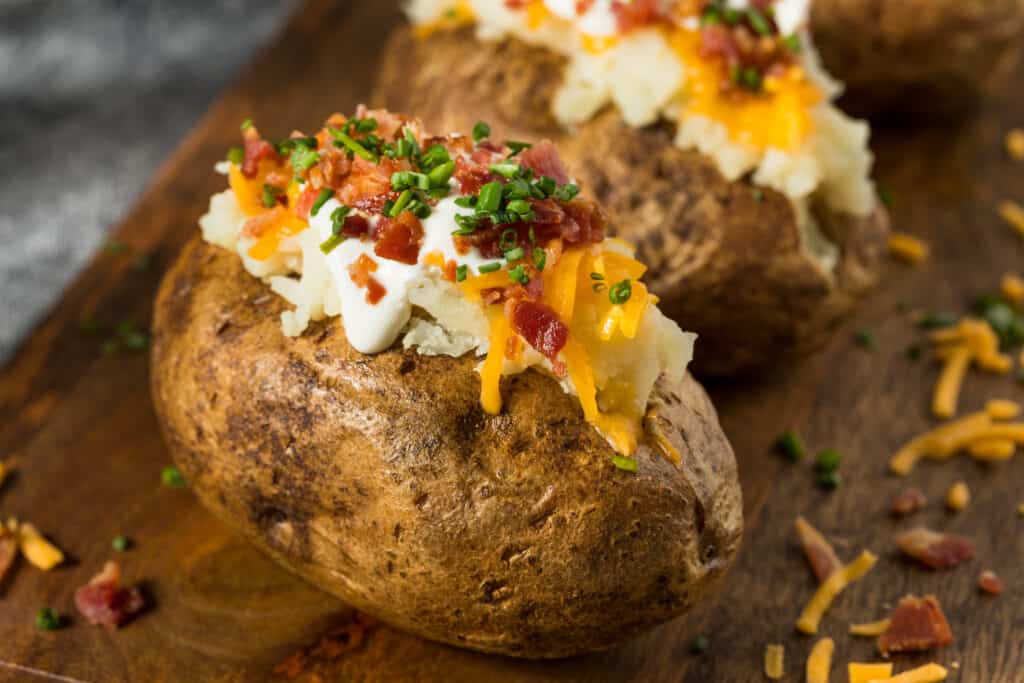 Not only is it delicious, but it's also customizable so everyone can get just the toppings they love. It's crazy how easy it is to take a humble potato and turn it into a filling, satisfying, complete meal and a really fun way to impress party guests or just make your family really happy with an easy weeknight dinner!
Let's get into all the tips and tricks you need to build a successful baked potato bar!
Choosing the Perfect Potatoes
When it comes to creating the ultimate DIY baked potato bar, choosing the right potatoes is the most important part since they are your foundation. You want to find potatoes that have a nice balance of fluffiness and sturdiness, so they hold up well to all those delicious toppings.
Russet potatoes are a popular choice for baked potatoes, as their high starch content makes them light and fluffy on the inside. However, if you prefer a more waxy texture, you can opt for Yukon Gold or red potatoes. Just make sure to select potatoes that are firm and free of blemishes for the best results.
Depending on your guest list, including sweet potatoes in your potato bar might be a really good move. Not only are they delicious, but they can easily be made sweet or savory with the toppings that are chosen. This opens up a whole new world of flavor possibilities if you want to offer more variety and even dessert type options.
Preparing the Potatoes for Baking
Preparing the potatoes for baking is the first step in creating the ultimate baked potato bar.
Scrub the potatoes to remove any dirt or debris, and then pat them dry.
Poke a few holes in each potato with a fork or knife to allow steam to escape while they bake. For extra crispy skin, lightly coat the potatoes in olive oil and sprinkle with salt before placing them in the oven.
Bake at 400°F for about an hour or until the potatoes are tender when pierced with a fork. Now, your potatoes are ready to be loaded with all those delicious toppings!
Keeping your potatoes warm on the serving table in really important for the most delicious experience possible. A great option for this is a crock pot/slow cooker. You could also use a chafing dish if you have one. A chafing dish is a great way to dress up your baked potato bar and make it a little fancier if the occasion calls for it.
Toppings Galore: Choosing a Variety
When it comes to creating the ultimate baked potato bar, the toppings are where you can get really creative! The possibilities are endless, and you can cater to everyone's taste preferences.
One of the best things about a baked potato buffet is giving your guests as many options as possible and letting them choose their own toppings from a huge variety. It's actually really fun to see what flavor combinations people come up with!
Potato Toppings
Sautéed onions
Green onions
Black beans
Fresh herbs
Steamed broccoli
Roasted red peppers
Sautéed red onion
Sautéed mushrooms
Crushed tortillas
Diced avocado
Roasted corn
Meat Toppings
Bacon bits
Taco Meat
Rotisserie chicken
Ground beef
Meat or bean chili
Condiments
Sour cream
Butter
Hot sauce
Buffalo sauce
A1
Cheddar cheese
Goat cheese
BBQ sauce
Cream cheese
Cheese sauce
Ranch dressing
Marinara sauce
Sweet Topping Ideas
Here's where the sweet potatoes can really shine! Sweet topping ideas for your ultimate baked potato bar are endless.
You may have guests who opt for sweet potatoes over regular baked potatoes or some who have both, one for dinner and one for dessert. A warm baked potato with a sweet flavor may seem weird if you've never tried it, but be prepared to fall in love!
Sweet Toppings
Warm strawberry sauce with whole strawberries
Blueberries
Chocolate chips
Shredded coconut
Candied almonds
Mini marshmallows
Condiments
Butter
Brown sugar
Honey
Cinnamon
Fruit jam
Whipped cream
Supplies You'll Need for a Baked Potato Bar
You don't need much in the way of supplies for a baked potato bar, which is another upside to this party approach. If you have a casual party theme, your set up and clean up just got even easier!
Baking sheet for cooking the potatoes, or you can put them straight on the oven rack. You can also make them in the air fryer if you're not making a large amount of them.
Small bowls: These can be disposable if your party isn't fancy, as long as they are thick and sturdy. I recommend bowls for containing all the many toppings!
Serving utensils: Tongs for the potatoes and spoons and forks for all of the different toppings. These can also be disposable if it's that kind of party!
Eating utensils: Forks and knives, can be disposable, but make sure you buy the good sturdy ones.
Napkins