Isn't fried chicken everyone's favorite comfort food? Whether you're planning a family meal, a backyard barbecue, or just a weeknight dinner, all you need is fried chicken and some good side dishes for fried chicken, which is why we're sharing our top picks for the best side dishes to serve with fried chicken. So get ready to satisfy your taste buds with some delicious and easy-to-make sides for your next fried chicken feast.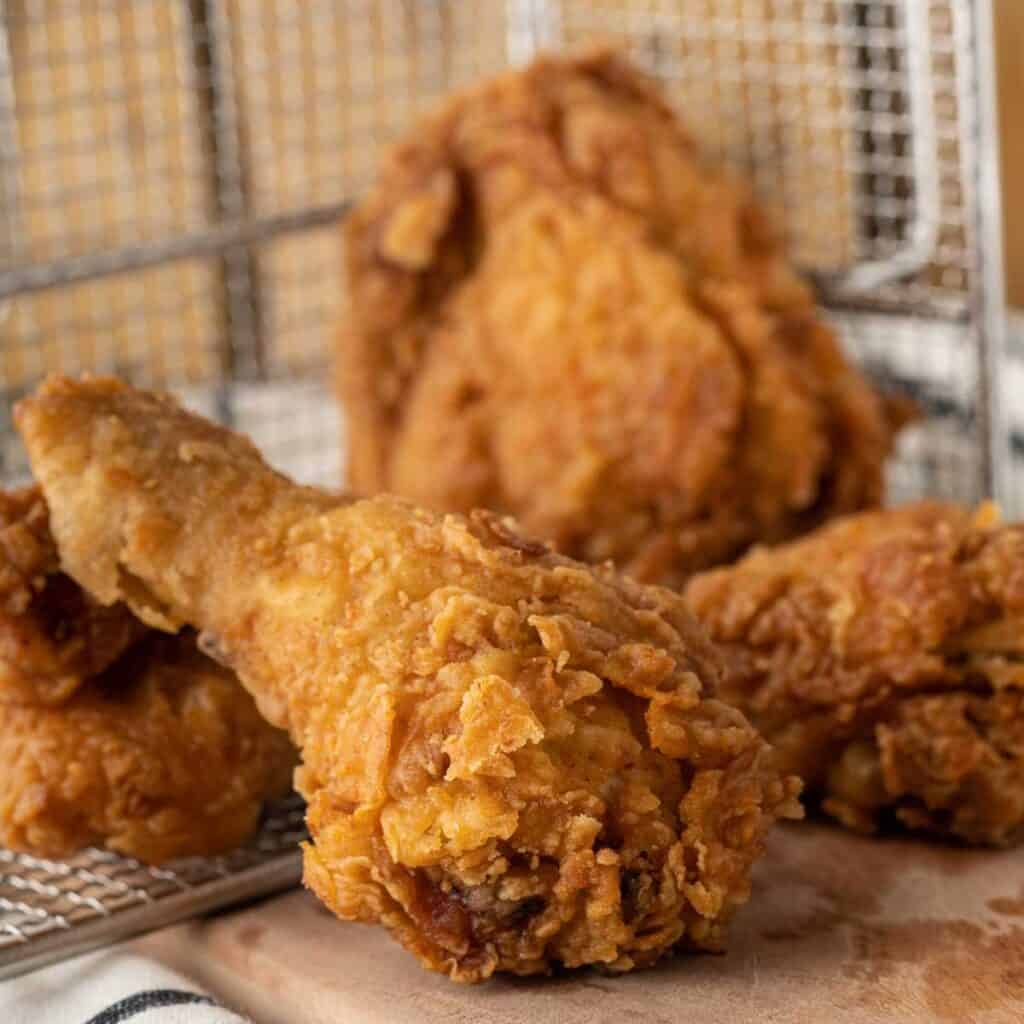 Mashed potatoes are the ultimate comfort food, especially with cheese and garlic! Velvety smooth potatoes make the perfect side for crispy chicken. These are a must have at the dinner table with a crunchy fried chicken meal if you're looking for a simple side dish that is always satisfying.
Colorful and full of flavor, roasted root vegetables like carrots, sweet potatoes, and parsnips add a healthy twist to any meal. Add olive oil and garlic powder or whatever seasonings you like. You can even make these in the air fryer for an easy side dish that will be a family favorite!
3. Broccoli Salad
Cool, crunchy, and tangy, this classic side dish is the perfect complement to hot and crispy fried chicken. This is a great option if you're looking for healthy side dishes to serve with crunchy chicken.
4. Hush Puppies
These deep-fried balls of cornmeal batter are crispy on the outside and soft on the inside, making them the perfect pairing for juicy fried chicken. These golden brown crispy bites will be a big hit with everyone, but especially with kids!
5. Macaroni and Cheese
Is there anything more satisfying than this popular side dish? Creamy mac and cheese with crispy juicy chicken is a perfect way to satisfy a comfort food craving. Check out how to fake homemade mac and cheese with an easy trick.
6. Buttermilk Biscuits
Warm, flaky, and buttery biscuits are the perfect vehicle for sopping up the delicious juices and sauces from fried chicken.
Another Southern staple, cornbread adds a touch of sweetness and heartiness to any meal. The subtle sweet corn flavor pairs perfectly with the savory flavors of fried chicken and other comfort foods.
Crisp green beans smothered in creamy sauce and topped with crispy fried onions make for a delicious and comforting side dish. 
Creamy, tangy, and packed with fresh veggies, macaroni salad is a classic side dish that adds a refreshing touch to any fried chicken meal. If you're having a cookout, a macaroni salad side dish is always a great idea!
10. Grilled Vegetables
Healthy and flavorful, grilled veggies like zucchini, squash, and bell peppers add a nice balance to a fried chicken meal. Grilled corn is my personal favorite.
11. Baked Beans
Sweet and smoky baked beans are a classic side dish that pairs perfectly with fried chicken. For an even heartier option try calico beans which are baked beans with ground beef and sausage.
12. Sweet Potato Fries
Swap out regular fries for crispy, seasoned sweet potato fries for a tasty and slightly healthier side option.
Fried okra is a classic Southern side dish that's crispy and delicious! It has a slightly crunchy texture on the outside, but it's soft and tender on the inside with a nutty and slightly earthy flavor and a subtle sweetness.
These hearty greens are a traditional side dish in many Southern households and are a great way to add some greens to your fried chicken meal.
15. Loaded Baked Potato
Upgrade your basic baked potato with melted cheese, crispy bacon, and tangy sour cream for a decadent and delicious side dish. You can even set up a baked potato bar if you are feeding a lot of people.