Chicken broccoli casserole is a classic comfort food! This hearty dish is perfect for any weeknight dinner or potluck gathering and if you're wondering what to serve with chicken broccoli casserole then read on! I have both innovative and traditional options, but they are all tasty options to take your dinner to the next level.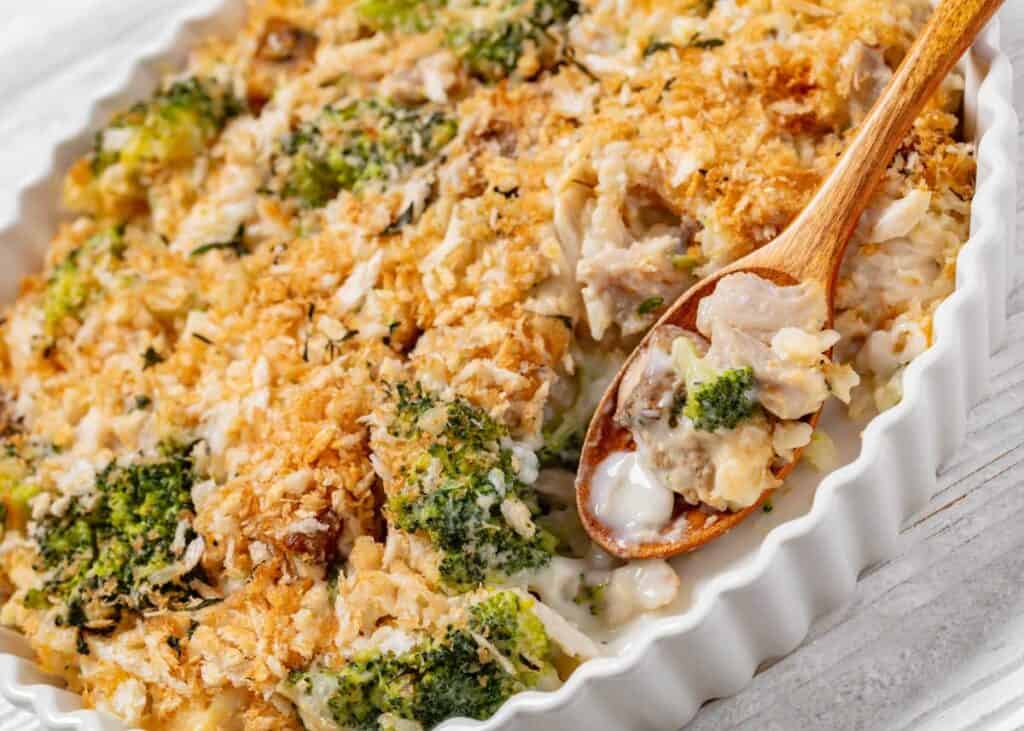 Chicken broccoli casserole is a family favorite and easy-to-make dish made of layers of cooked chicken, roasted or steamed fresh broccoli florets, and a mixture of creamy sauce, usually made with condensed cream of chicken soup or a combination of milk and cheese. It's usually topped with bread crumbs, stuffing, shredded cheese, or crushed ritz crackers before being baked in the oven until hot and bubbly.
I love making this dish with leftover chicken or rotisserie chicken to make it even easier! This is a hearty and comforting meal that's common in American cuisine and is typically served for anything from holidays to special occasions or everyday meals. Let's take a look at the best side dishes to make a complete meal from this casserole dish.
Velvety and smooth, a side of buttery rice pilaf pairs perfectly with the savory and cheesy chicken broccoli casserole. This is a simple side dish and each bite is a play on textures and flavors, with the delicate grains of rice melting in your mouth and the rich taste of butter lingering on your taste buds.
A crunchy, golden exterior and a warm, garlicky interior - that's what makes a side of garlic bread an ideal complement to your chicken broccoli casserole. This classic and beloved side dish delivers the perfect balance of crunch and softness, with a punch of garlic in every bite, perfect alongside any main course. For extra flavor try pesto garlic bread.
3. Baked sweet potatoes
For a healthier option, try pairing this main dish with some baked sweet potatoes. These naturally sweet and creamy root vegetables provide a satisfying contrast to the savory flavors in the casserole, making for a well-rounded and nutritious meal. Add butter and brown sugar for a sweet side or add salt and butter for a savory and rich flavor.
4. Sautéed green beans
Take your taste buds on a journey with a side of sautéed green beans. Cooked to perfection in a mix of rich butter and fragrant garlic, these crisp and fresh vegetables add a burst of flavor and texture to your plate. In a pinch you can sauté canned green beans too.
Looking for a hearty and earthy side to complement your casserole? Look no further than a plate of roasted root vegetables. The vibrant colors and robust flavors of carrots, parsnips, and turnips make for a delicious and satisfying addition to your meal with simple ingredients.
Crispy, golden, and irresistible - that's what you can expect from a side of roasted potatoes with your chicken broccoli casserole. These hearty potatoes soak up the creamy goodness of the casserole, delivering a perfect blend of textures and flavors with every bite.
Indulge in a classic comfort food combination with a side of baked mac and cheddar cheese. Creamy, cheesy, and oh-so-satisfying, this delicious side dish adds an extra layer of indulgence to your casserole dinner.
Bring a touch of smokiness to the table with some grilled corn on the cob. This is one of the best sides for almost any dish. It's so easy and versitile! The charred exterior and sweet kernels of corn make for a delicious and flavorful side dish to enjoy alongside your casserole.
9. Garden salad
A garden salad is a great way to balance out the richness of the casserole. Not only is it a super easy recipe to add to any meanl, its fresh greens, crisp vegetables, and a light dressing like our Greek vinaigrette or poppy seed salad dressing create a simple and healthy option for your meal. 
No casserole dinner is complete without a side of creamy mashed potatoes, it's the perfect side dish for this meal, in my opinion. Fluffy, buttery, and oh-so-comforting, these mashed potatoes are the perfect foundation for soaking up all the delicious flavors in your casserole. Add some garlic powder and parmesan cheese, sour cream, or even cream cheese for extra flavor.
Looking for a protein-packed side dish to accompany your casserole? Look no further than a quinoa and edamame salad. The nutty and hearty quinoa, combined with the crunch of edamame beans, makes for a tasty and nutritious addition to your plate.
12. Steamed asparagus
If you want to add some healthy food to the meal, for a light and fresh side option, try steamed asparagus with your chicken broccoli casserole. Vibrant, tender, and flavorful, this vegetable adds a pop of green to your meal and complements the rich casserole nicely.
Add a unique twist to your meal with a side of vegetable fried rice. This fusion dish combines Chinese flavors and textures, with an array of vegetables and a hint of spice that perfectly complements the casserole's flavors.
Tangy, refreshing, and crunchy - that's what you can expect from a side of sweet and sour coleslaw. This vibrant and flavorful salad provides a delicious change of pace alongside the savory and creamy casserole.
Top off your meal with a slice of warm, homemade cornbread. This is a great side dish for this hardy meal that the whole family will love! With its perfect balance of sweet and savory flavors, this classic Southern bread is the ideal way to round out your chicken broccoli casserole experience.