Move over chips and salsa, there is a new snack in town: Mexican Street Chips with hot sauce and lime!
Based on the popular street food, these crispy salty chips are sprinkled with hot sauce and a hearty squeeze of lime and make a delicious addition to any Mexican meal!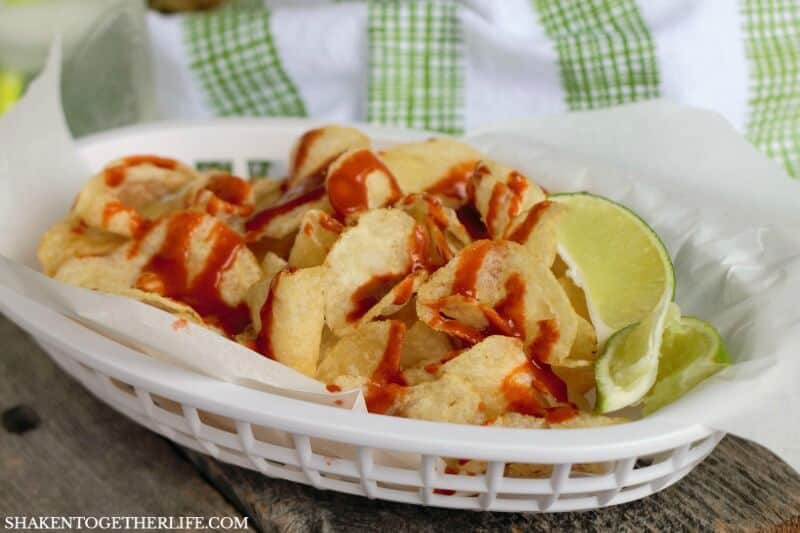 We have a pretty strong food scene in Orlando. So the half hour or so leading up to lunch in our office is normally a heated discussion on which lunch spot to head to. One of our faves is a food truck turned brick & mortar restaurant - Hunger Street Tacos - that makes amazing tacos and baskets of these simple but flavorful Mexican Street Chips!
I have made it very clear that I am a wimp when it comes to spicy food. So I was just as shocked as you are that I l-o-v-e-d these chips!
The combination of salty chips, mild hot sauce and lots of tangy lime juice were surprisingly delicious.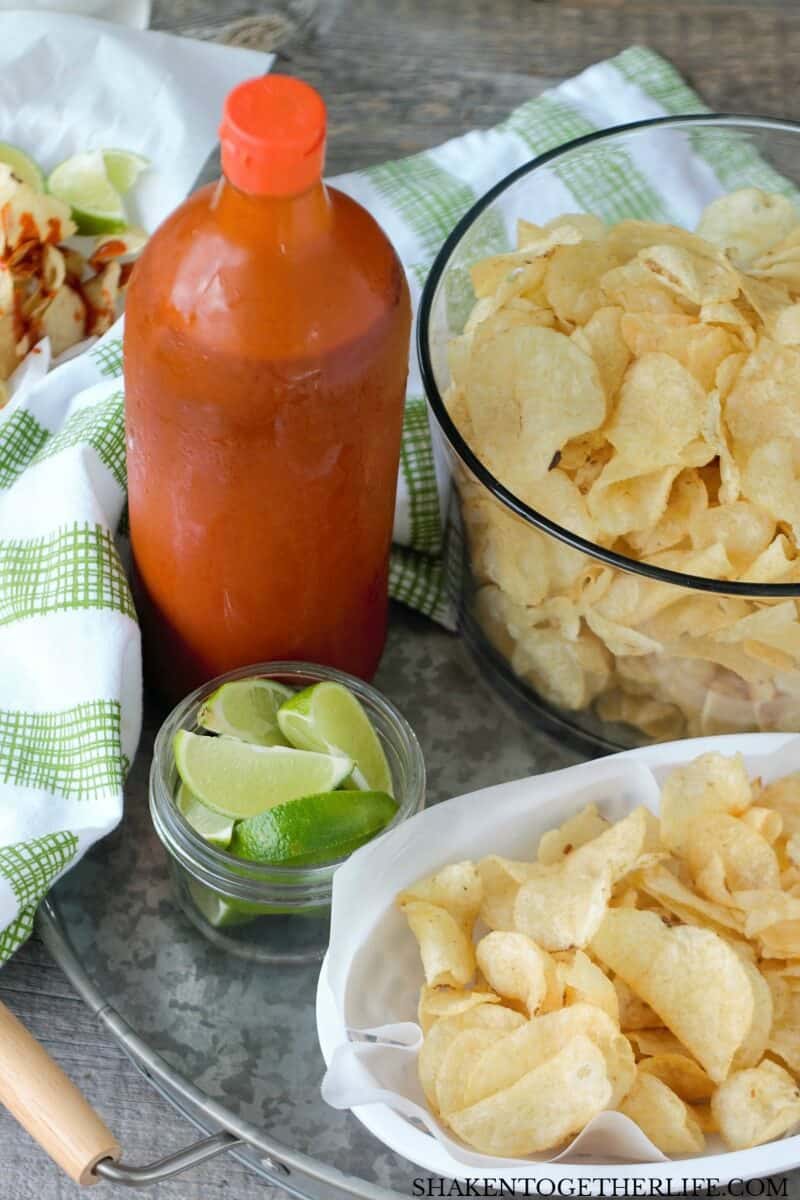 There really isn't a 'recipe' for this snack and there are only 3 'ingredients:
Potato chips - I used super crispy kettle chips from the grocery store but you could make your own if you want to be more authentic
Hot sauce - I used traditional Valentina hot sauce - it is a mild hot sauce with a little kick but great vinegar flavor
Limes - lots of limes!
I like to serve these Mexican Street Chips DIY style. Grab a big bowl for the chips (or line plastic food baskets with parchment paper and fill them with chips), a big bottle of hot sauce, lime wedges and let your family or guests help themselves. This is easy entertaining at its finest!
Don't you love food like this? I mean, fill a basket, drizzle on some hot sauce and squeeze the heck outta a couple of lime wedges and get your crunch on!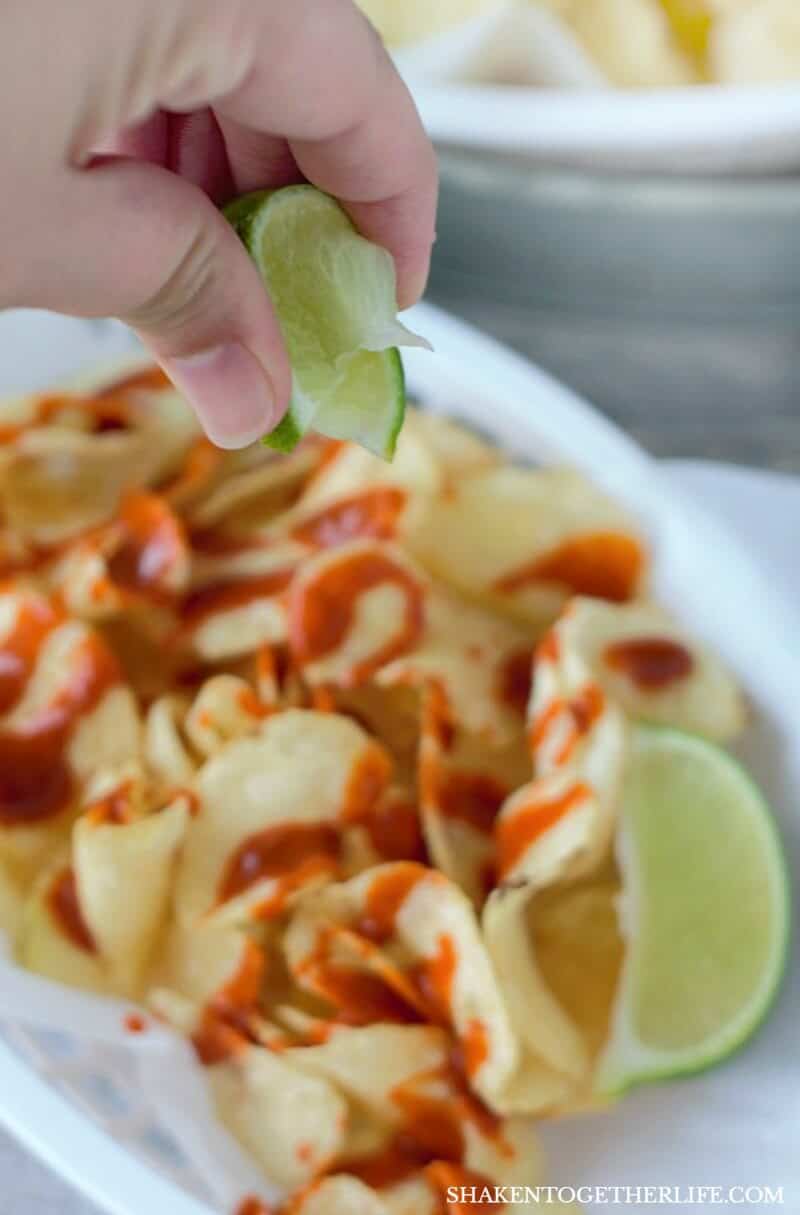 Since I used kettle chips (which are made in batches, take a little longer to cook and therefore get caramelized and crispier), they keep their crisp longer when drenched in hot sauce and lime.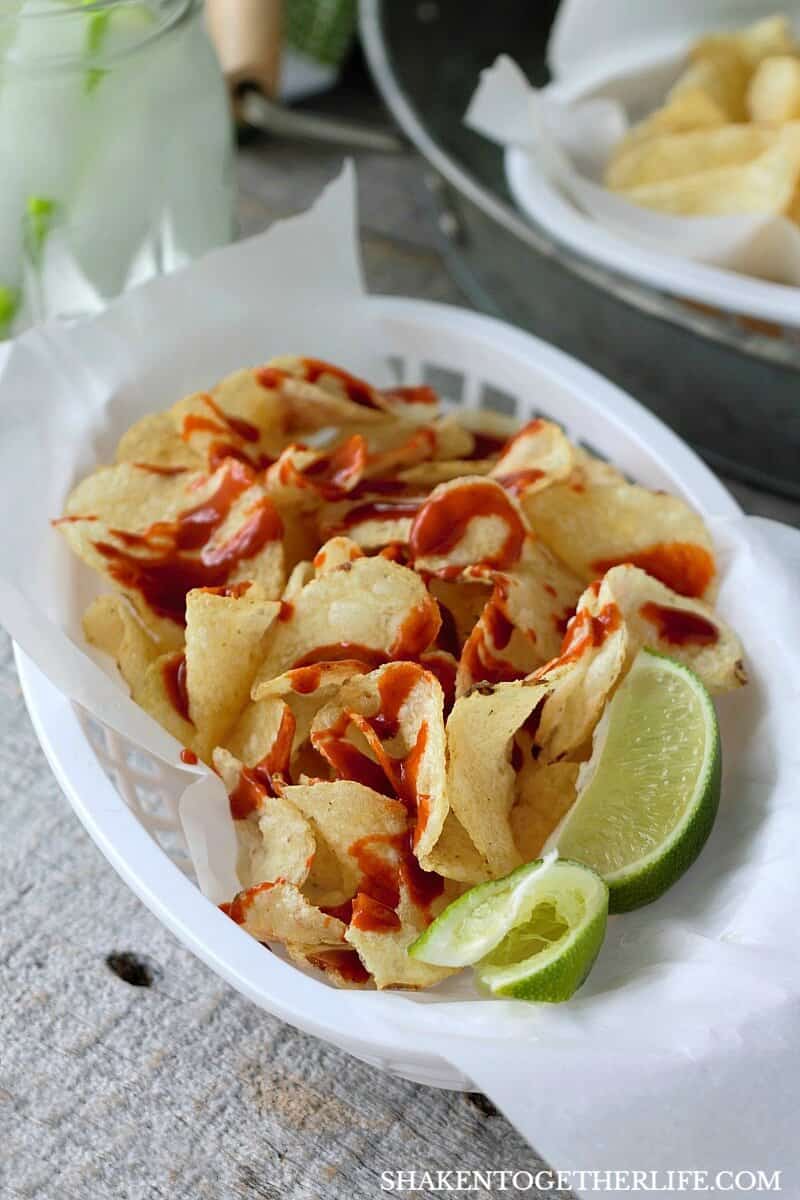 Variations
Feel free to try any of these creative ways to add your own twist to Mexican Street Chips:
Use lemons instead of limes
Use flavored kettle chips
Up the heat with a HOT sauce
Or tone the heat down with a sweet chili hot sauce
Better yet, set up a hot sauce bar so guests can make their chips as hot - or not - as they want!
Wanna hear a secret? Because I am a nacho addict, I made Mexican Street Chips into nachos. I melted Mexican blend cheese over the chips and then doused them in hot sauce and lime. Verdict? AMAZING.
Okay, who is going to give this super easy snack (or appetizer) a try this Summer?!
More Delicious Recipes for Taco Night!