This Pumpkin Patch Dessert Pizza is an easy, Fall or Halloween dessert for the chocolate lover that is almost too cute to eat!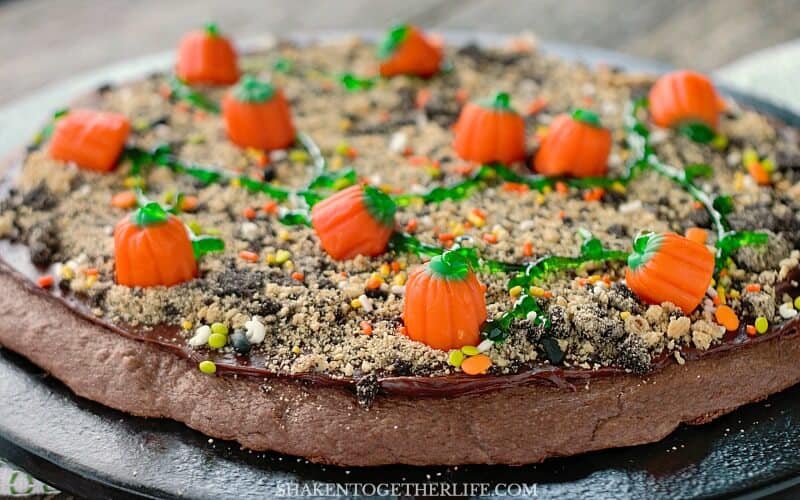 I believe I may have expressed my love for pizza here at Shaken Together. Is it too much to say pizza is my love language? My hubby knows that if I've had a really rough day or just don't feel like cooking, he just has to mention the word pizza and I am allll over it. So, a Fall themed dessert pizza should come as no surprise. And truthfully, I'll take any excuse to use those adorable mellowcreme pumpkins. (If you've been around a while, you may remember this pumpkin patch mason jar gift I made with them.)
Pumpkin Patch Dessert Pizza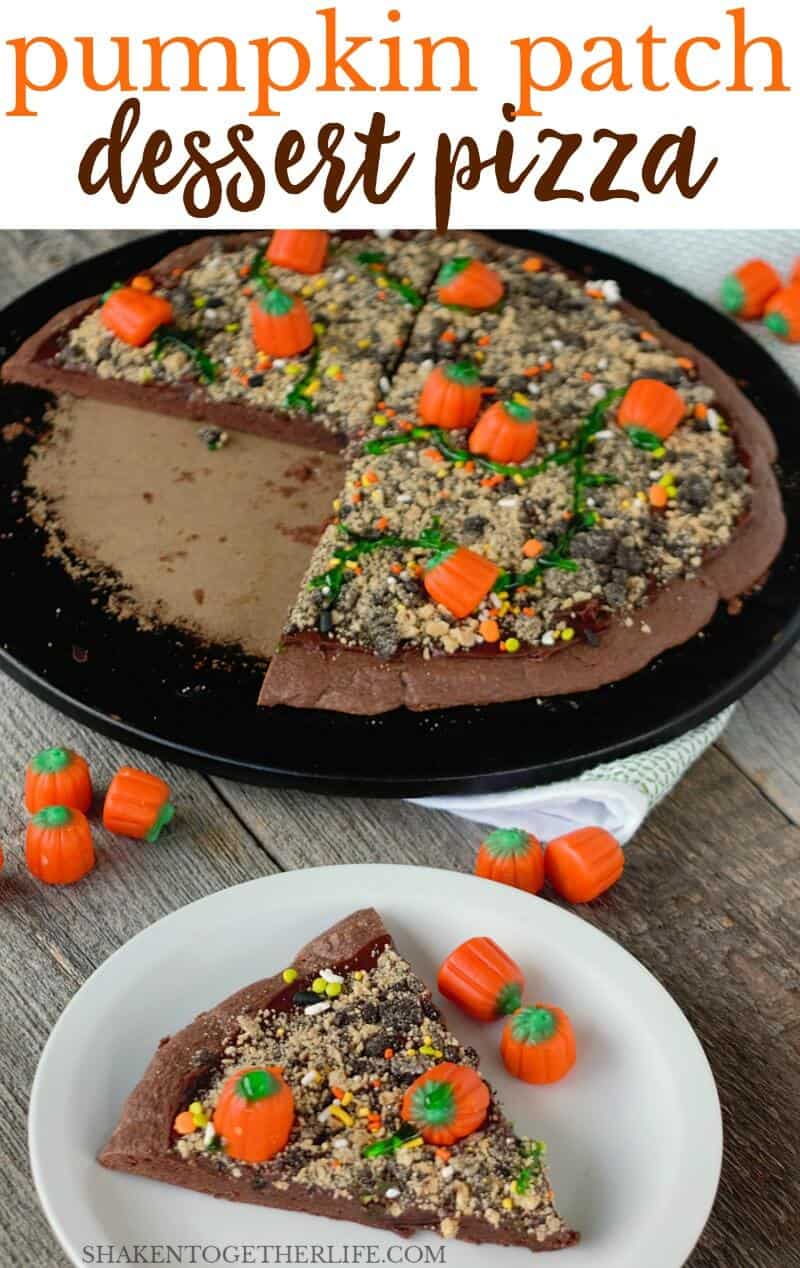 Every good dessert pizza starts with a sweet crust. It is the base for frosting or caramel or fruit or sweetened cream cheese. It should be firm but still slightly soft in the center. Oh the possibilities!
Like a chocolate chip cookie crust
Or a triple chocolate cookie crust
Or a snickerdoodle cookie crust
The crust for this Pumpkin Patch Dessert Pizza is rich, chocolately brownie. Did you know that you can make cookies from a brownie mix? I used that same technique for this dessert and just spread the entire mix out into a crust!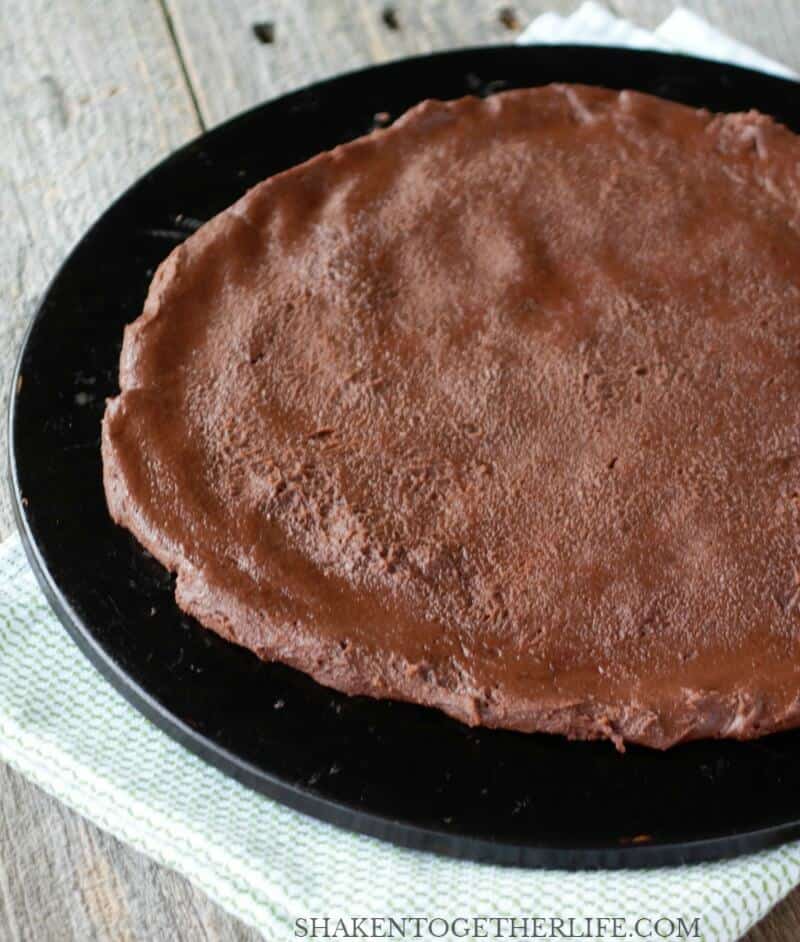 Once it has baked, allow the brownie crust to cool. (Important: resist the temptation to just cut this brownie crust up right now and just eat it plain. Believe me, this is going to get even better!)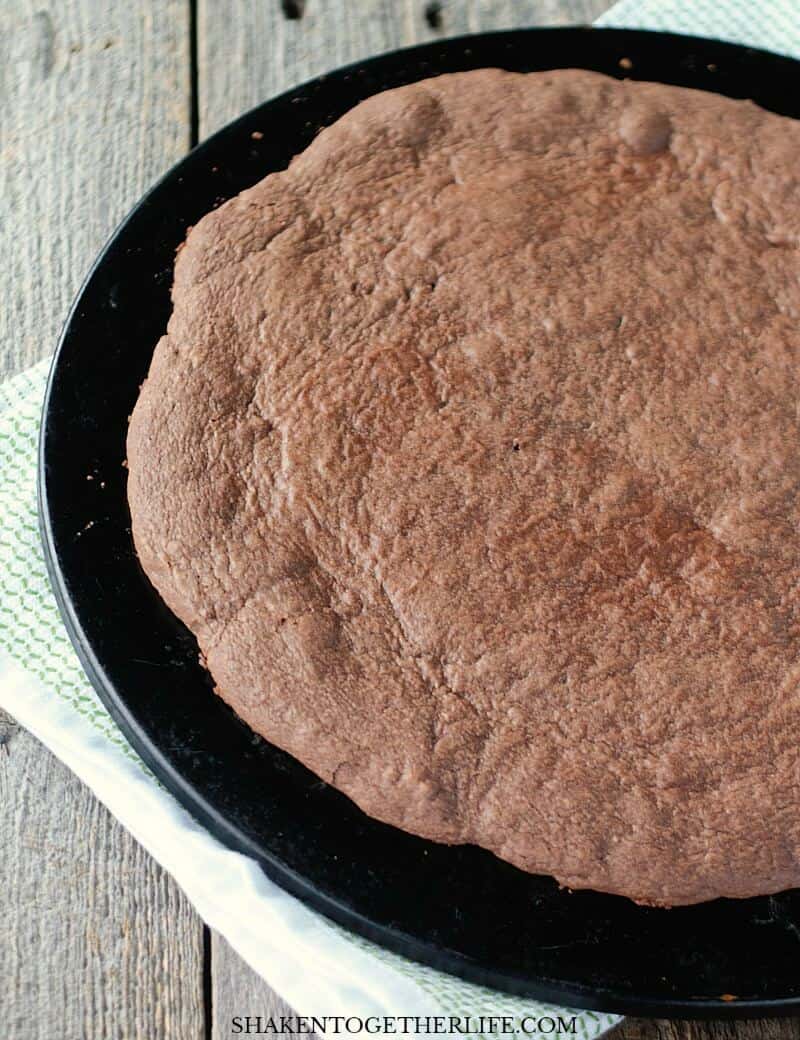 The next step is to add a layer of chocolate frosting. (See? Better!) This keeps the cookie crumble soil in the field 🙂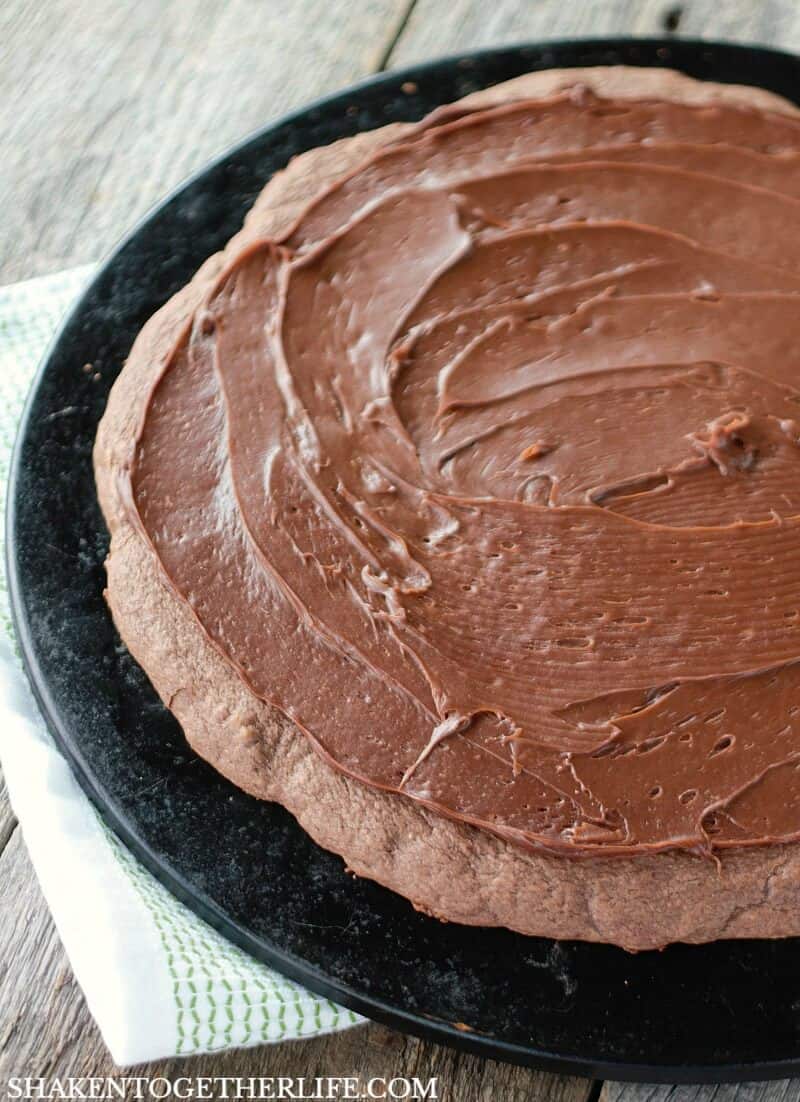 Speaking of cookie crumbs, I used a mixture of crushed Oreos and graham crackers to make the 'soil' for the pumpkin patch. What could be better for growing candy pumpkins? 😉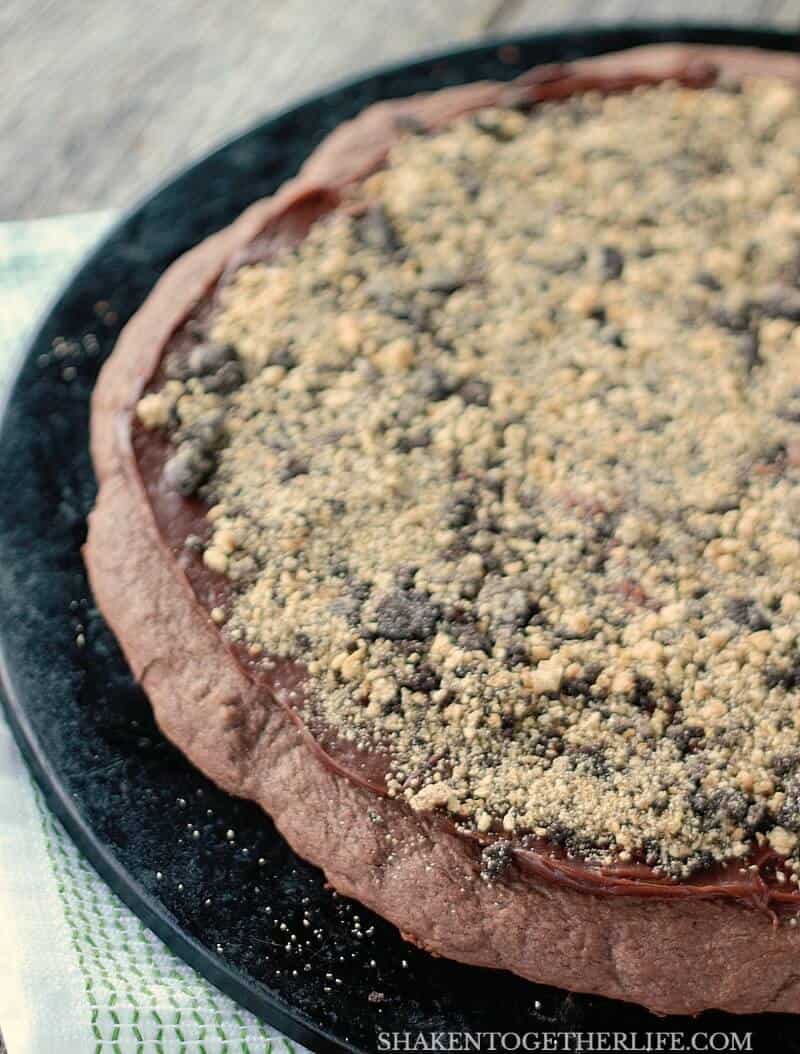 So, since this is my world and my candy pumpkin patch, it totally gets a dusting of Halloween sprinkles. I honestly don't want to live in a world without sprinkles.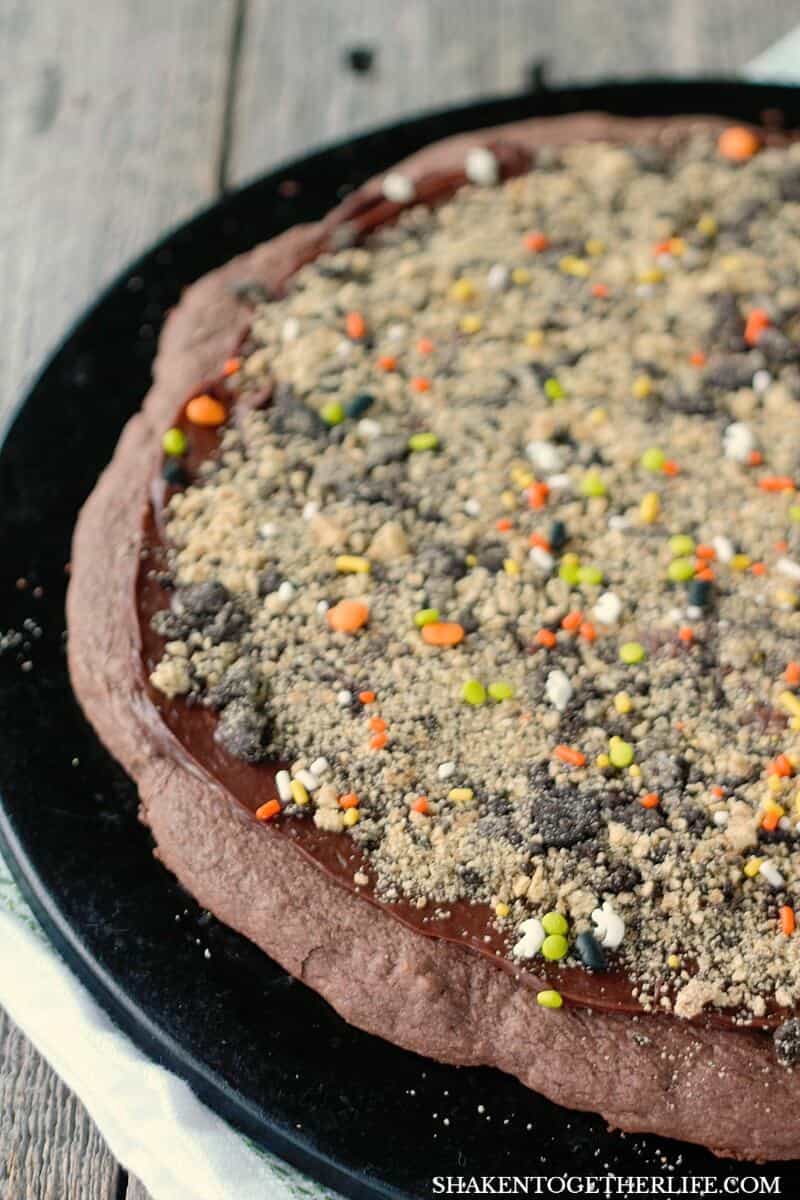 Finally, once the patch is ready, it is PUMPKIN TIME! Place the mellowcreme pumpkins all over the pizza. Some growing straight up and down, some on their sides, some with a pumpkin buddy ...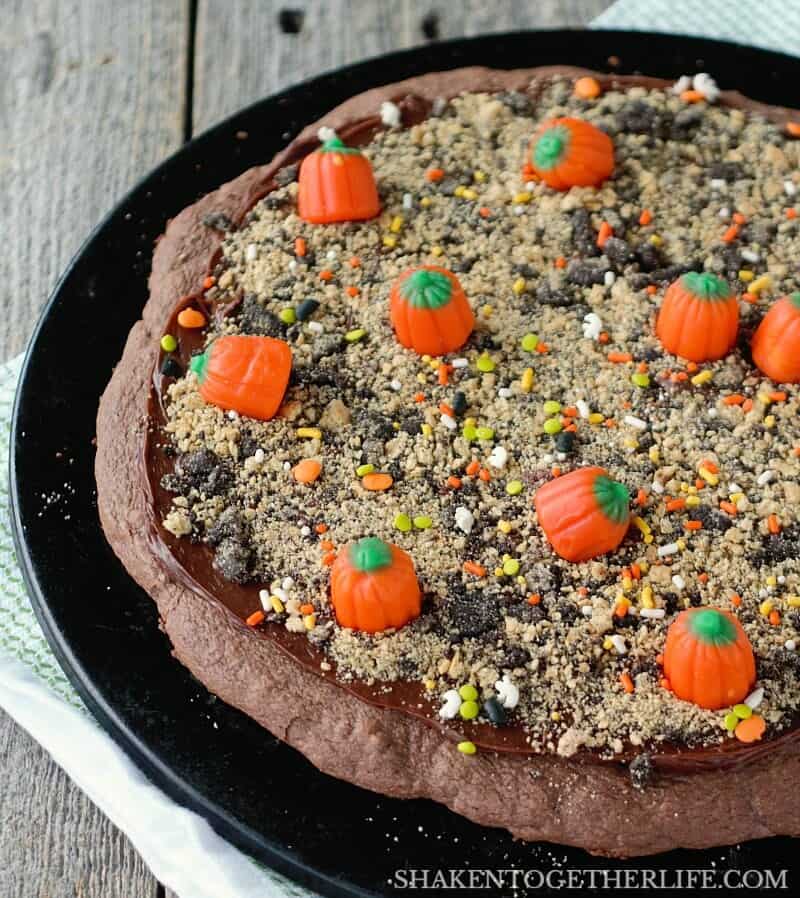 The final step is to add the pumpkin vines and leaves. I grabbed a little tube of green gel icing and made curly vines to connect the pumpkins, added a few leaves on each little pumpkin and added tiny leaves along the vines.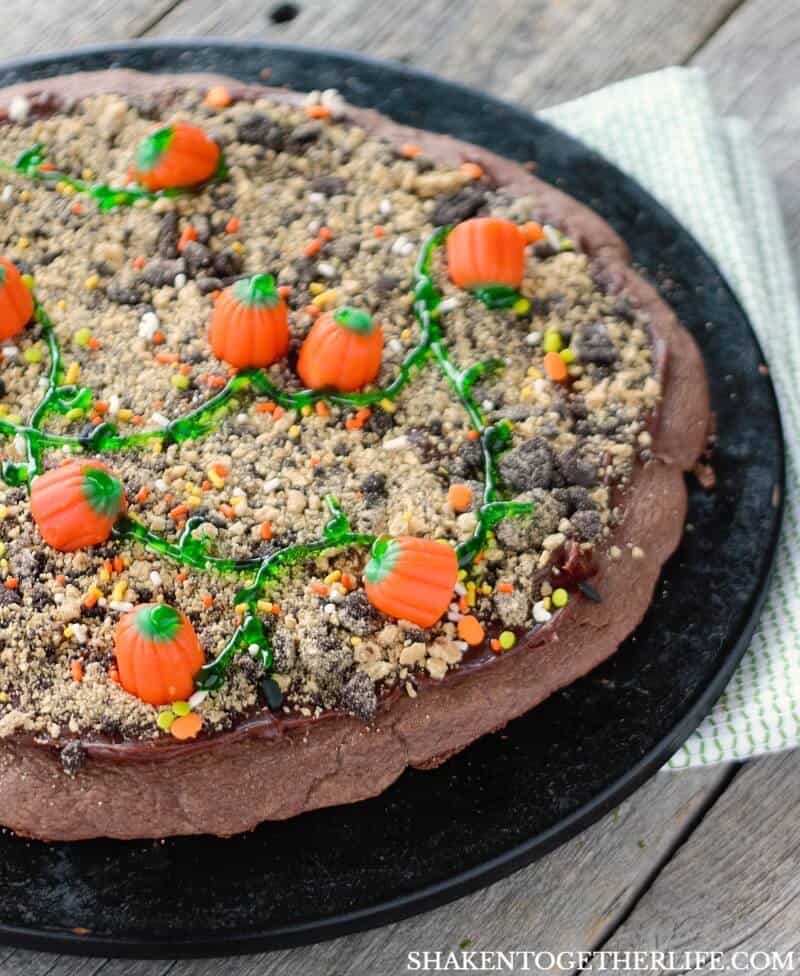 Could this fun Fall dessert be any cuter?!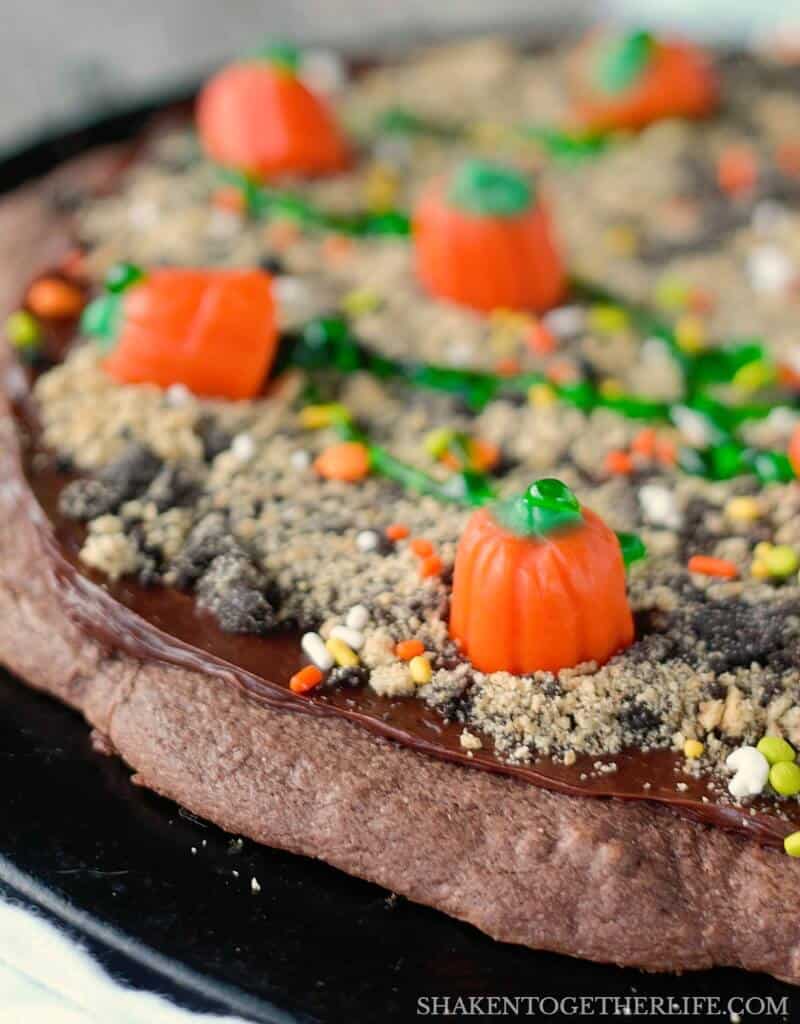 When your ghouls and guests are ready to dig in, use a large sharp knife to cut the dessert pizza into wedges. And it's never a bad idea to garnish each plate with another pumpkin or two.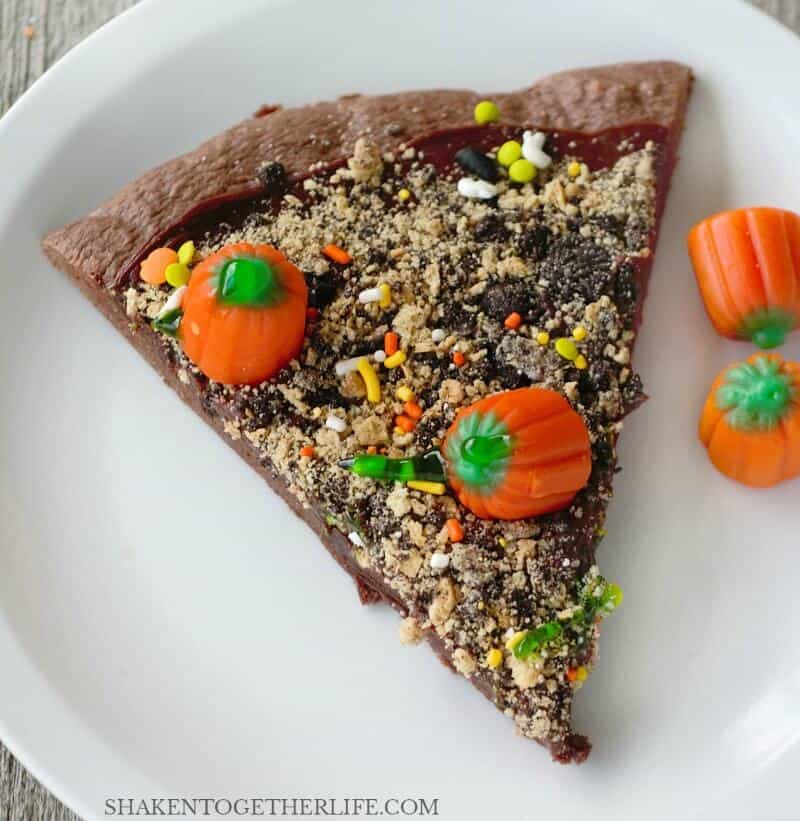 Are you ready for your shopping list? I've included affiliate links to some of the products and ingredients I used to make it easy for you to bake this yummy dessert in your kitchen. Any purchases you make - at no additional charge to you - help keep the Shaken Together kitchen stocked and more no-fuss food coming your way. So ... thanks!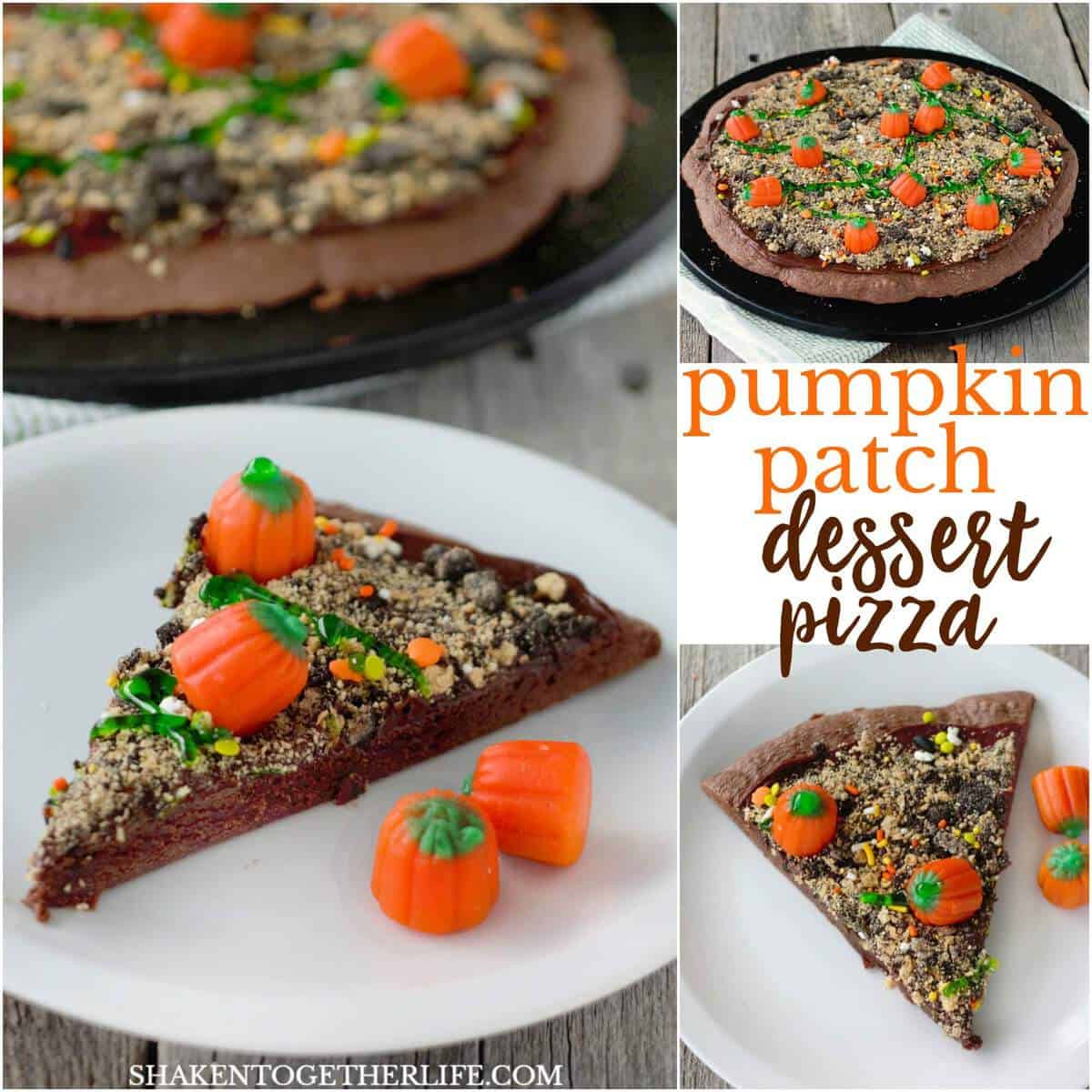 Print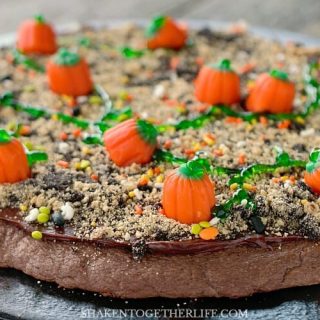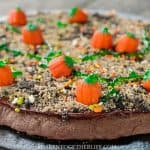 Pumpkin Patch Dessert Pizza
---
For the brownie crust
One

22.25 oz

brownie mix (this size box makes a 9x

13

pan of brownies)

1 ¼ cup

all purpose flour

2

eggs (beaten)

½ cup

1 stick melted butter or ½ cup oil (I prefer butter but either works)

3 tablespoons

water (or milk)
For the dessert pizza
One tub of prepared chocolate frosting.

One cup

mini Oreo cookies

3

graham cracker sheets
Halloween/Fall sprinkles
Mellowcreme pumpkin candies
Green gel icing
---
Instructions
To prepare the brownie crust dough
In a large bowl, stir together the dry brownie mix and all purpose flour.
Add the beaten eggs, water and butter (or oil).
Stir until thoroughly combined - the dough will be thick
Refrigerate the brownie dough for at least an hour or up to 24 hours.
To make the dessert pizza
Preheat oven to 350 degrees F.
Prepare a round baking stone or use a large baking sheet lined with parchment paper.
Turn brownie dough out onto baking sheet and use your hands to press it into a even circle.
Bake for about 13-15 minutes or until there is no liquid/raw batter in the center of the brownie crust. (Bake times may vary depending on your oven and the thickness of your crust.)
Once the crust has cooled, frost with chocolate frosting.
Crush Oreos and graham crackers together and sprinkle over frosting for the "soil".
Add Halloween/Fall sprinkles.
Press mellowcreme pumpkins into the "soil" all over the surface of the dessert pizza.
Use green gel icing to connect the pumpkins with "vines" and add leaves to the vines and to the tops of the pumpkins.
Slice into wedges and serve!
---
Don't forget to pin this easy Fall dessert idea to your Pumpkin, Fall or Dessert Pinterest board!


More Delicious Festive Fall Desserts!