Pumpkin Spice Eclair Cake is an easy no-bake dessert that packs a BIG pumpkin spice punch! Soft, cake-y layers of cinnamon graham crackers divide two layers of fluffy pumpkin spice filling and the whole thing is topped with pumpkin spice cream cheese frosting!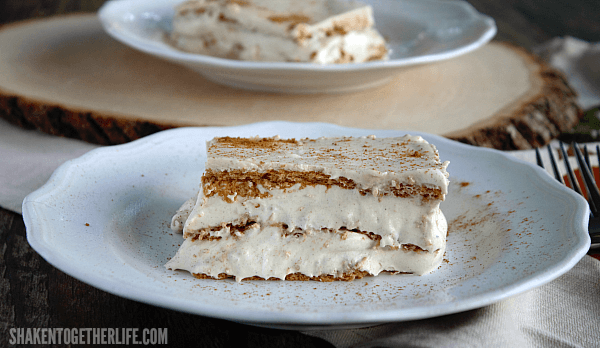 I think I've done it!
Created the perfect dessert to ease from Summer to Fall!
See, this no-bake 'cake' is cool and creamy, light and fluffy. No oven required. And that just screams Summer.
BUT, with cinnamon sugar graham crackers, pumpkin spice packed pudding layers and a spiced cream cheese frosting, this dessert has Fall written all over it.
It's the best of both worlds and it is AMAZING!
Pumpkin Spice Eclair Cake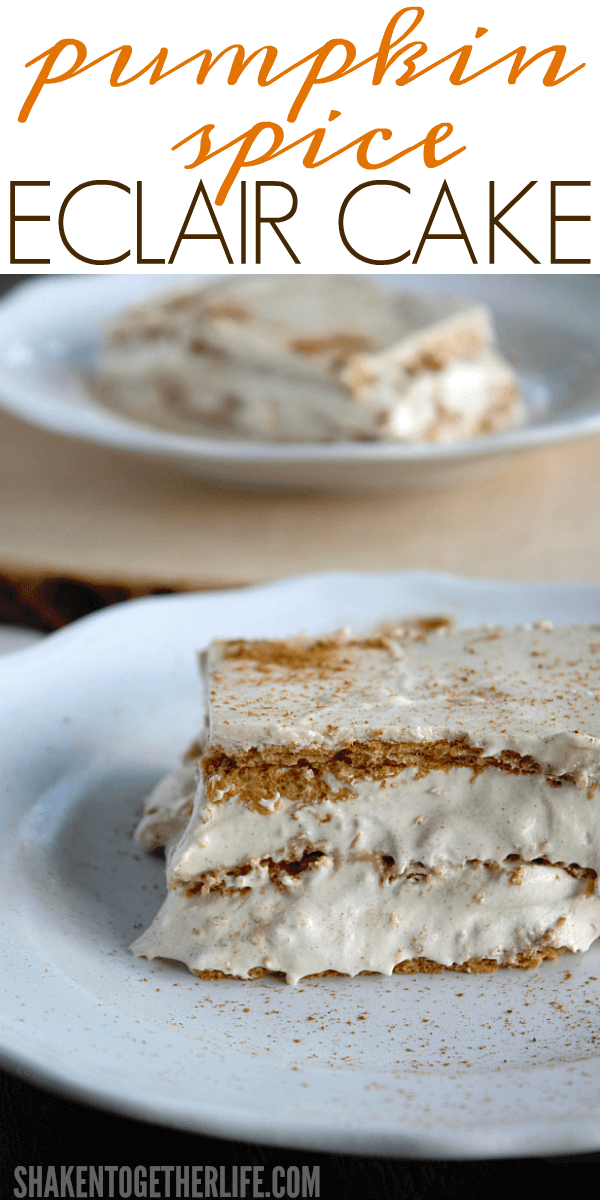 Once I realized how easy the Iced Mocha Eclair Cake from a few weeks ago was to make, I've had eclair cakes on the brain. (You know I'm a sucker for no bake desserts!) So when I saw pumpkin spice coffee creamer hit the shelf at my grocery store, I knew that a pumpkin spice version of an eclair cake was in order.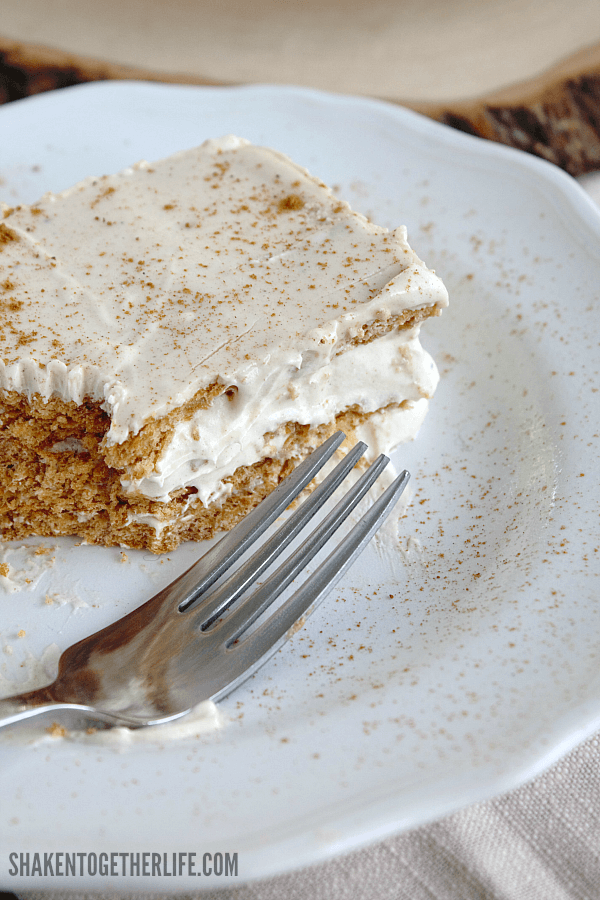 And since pumpkin + cream cheese are Fall BFFs, I decided to say bu-bye to chocolate frosting and cover the whole pan in a pumpkin spiced cream cheese frosting.
That my friends, was a delicious decision!!
Every bite is the perfect combo of graham crackers (that magically turn into a soft, cake like layer), ridiculously delicious pumpkin spice fluff and that thick layer of cream cheese frosting.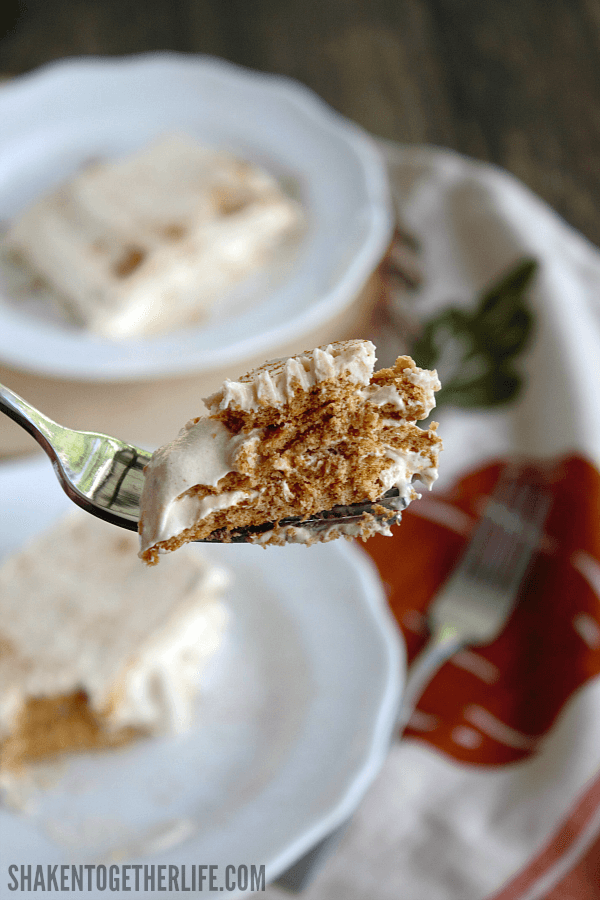 In my usual "oh man I have to get this out of our house quick" moment of panic that sets in when a dessert is even better than I anticipated, I packed up to-go containers and handed them over to friends who were going to visit their family.
Just a few hours later, I got the text that basically said, "Delicious … enjoyed by all … we need this recipe STAT."
Ask and you shall receive.
Print
Pumpkin Spice Eclair Cake
---
Scale
Ingredients
3 cups

of cold pumpkin spice coffee creamer
Two small boxes of vanilla instant pudding

3/4 teaspoon

pumpkin pie spice

16 oz

.of whipped topping (thawed)

2

boxes of cinnamon graham crackers
One tub of prepared cream cheese frosting

1/2 teaspoon

pumpkin pie spice
---
Instructions
First, whisk together pudding mixes and coffee creamer.
Allow pudding to set for 1-2 minutes so it thickens slightly.
Fold in the thawed whipped topping and 3/4 teaspoon pumpkin pie spice and mix until just combined.
In a 9×13 baking pan, cover the bottom with a layer of cinnamon graham crackers.
Spread 1/2 of the pumpkin spice pudding mixture over the crackers.
Add another layer of cinnamon graham crackers.
Spread the remaining 1/2 of the pumpkin spice pudding mixture over the crackers.
Add the final layer of cinnamon graham crackers.
Remove the lid and silver seal from the tub of frosting.
Microwave the frosting at 50% power for 30 second intervals until the frosting is warm enough to be poured.
Stir 1/2 teaspoon of pumpkin pie spice into the frosting and combine.
Pour the frosting over the graham crackers and spread it evenly to cover the top of the 'cake'.
Cover and refrigerate for 4 hours or overnight.
Cut into squares and serve!
---
Notes
Depending on the depth of your 9×13 pan, you may want to reduce the amount of pudding filling that you use between graham cracker layers. Any leftover pudding filling is delicious in trifles, with granola or just enjoyed with a spoon.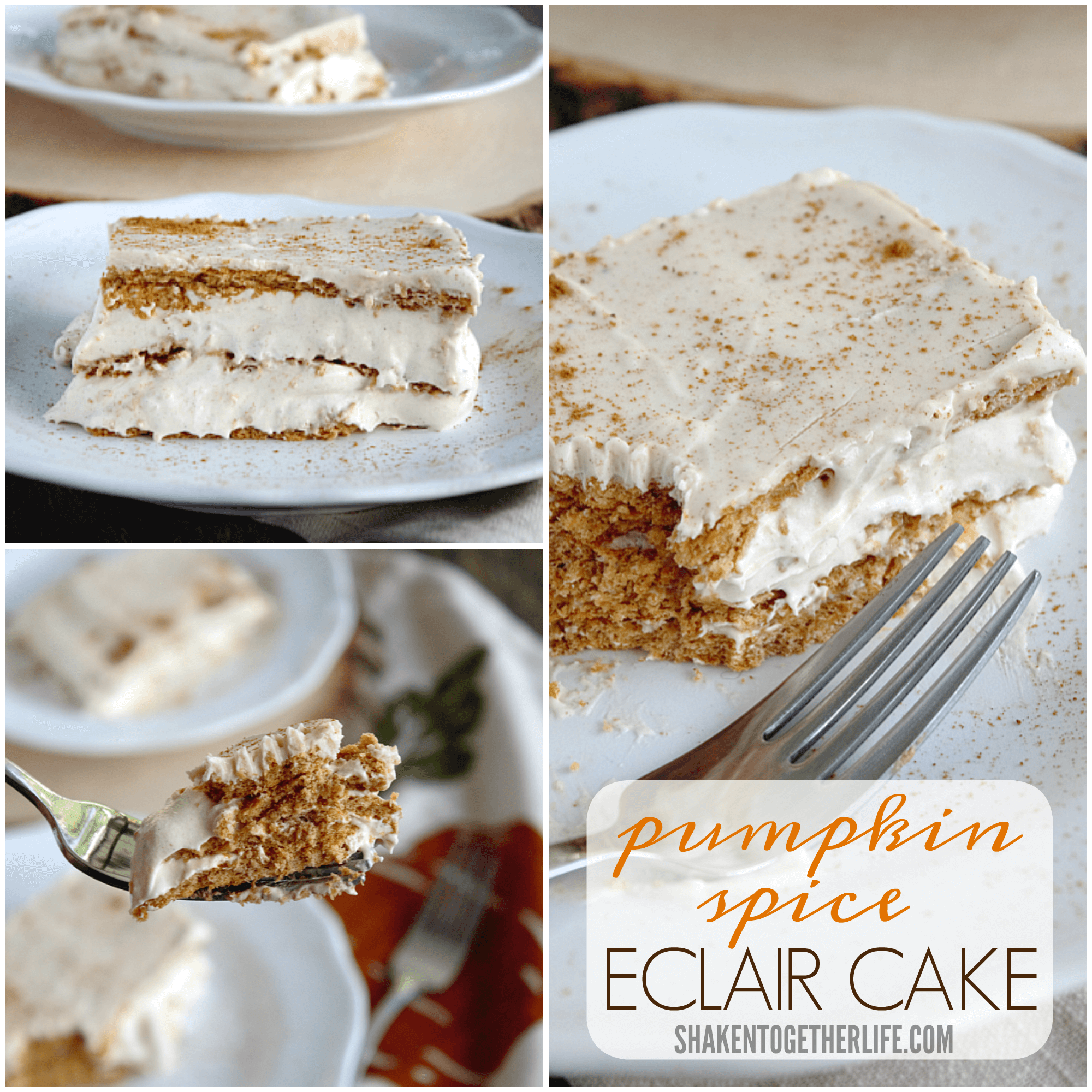 Now, while I have enjoyed every sun-soaked, 100% humidity day of Summer in Florida, this Pumpkin Spice Eclair Cake is the perfect way to say a big H-E-L-L-O to Fall, all things pumpkin and hopefully, some better hair days!! 😉

Popular Pumpkin Recipes!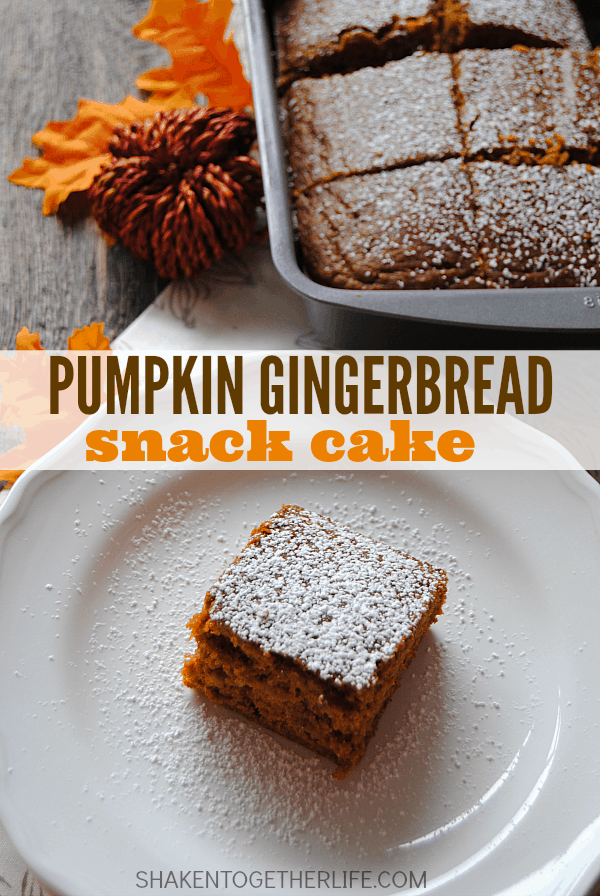 Pumpkin Gingerbread Snack Cake – only 4 ingredients!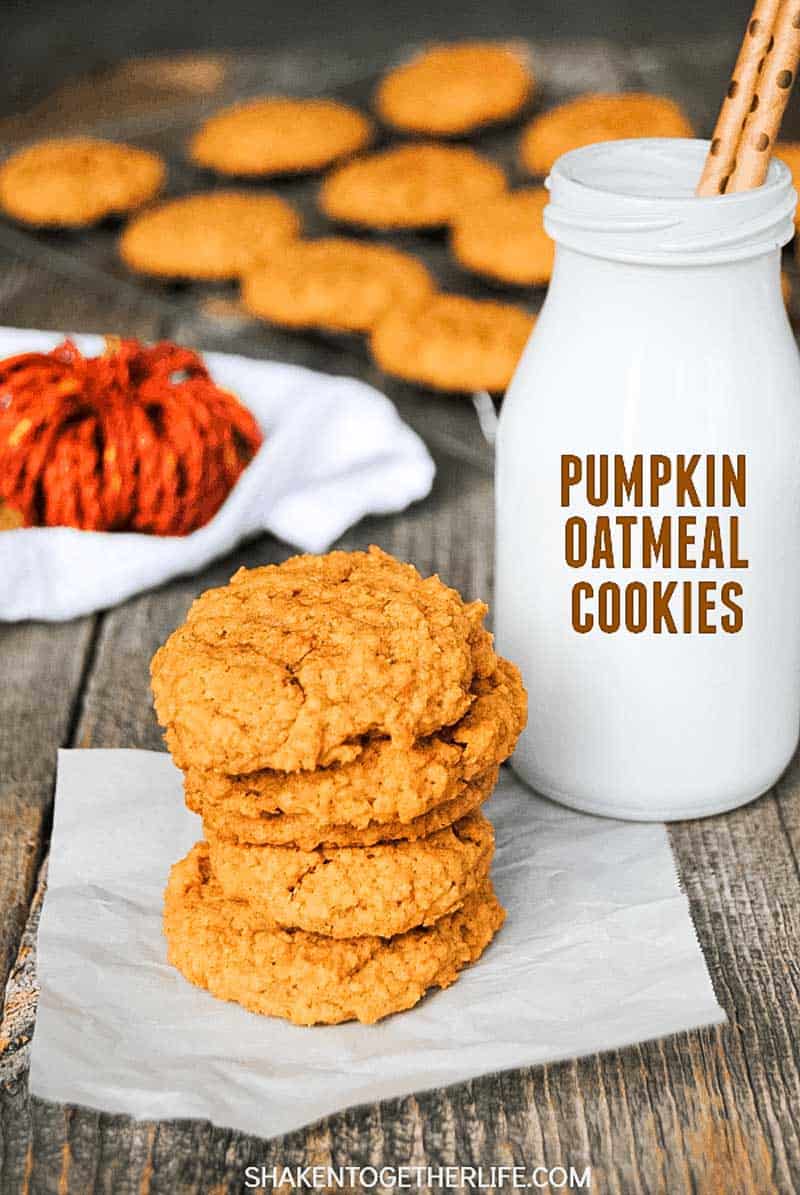 Pumpkin Oatmeal Cookies – these start from a cookie mix!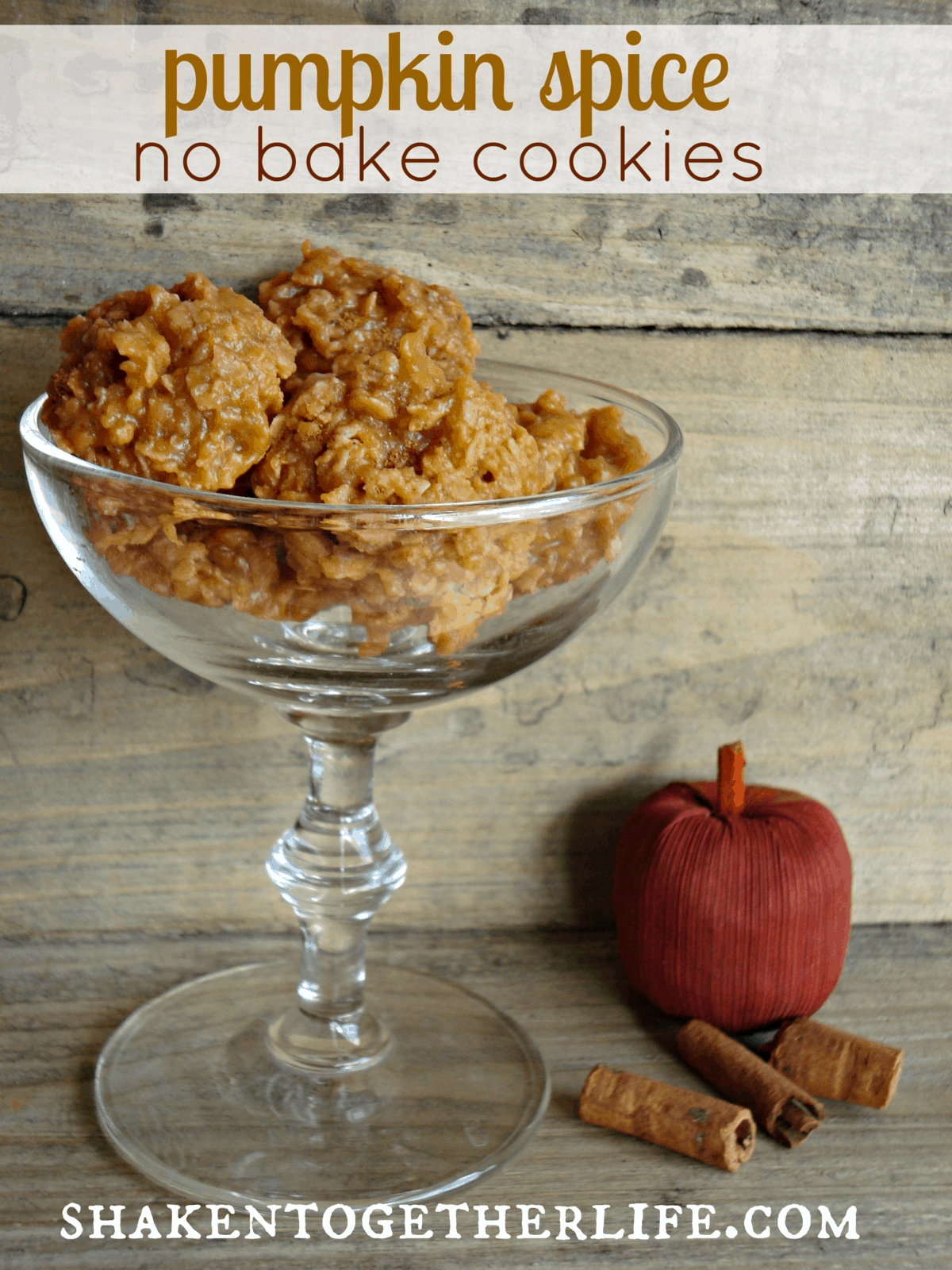 No Bake Pumpkin Spice Cookies – just stir & scoop!