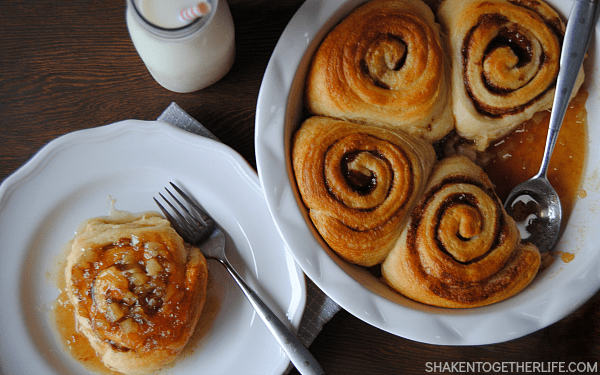 I have been on a breakfast kick lately.  First, it was these Pull Apart Raspberry Sweet Rolls.  Total cinnamon-y berry heaven.  But ... surely, those sweet things were not the only way I could use refrigerated dough or cinnamon rolls, right?   As I perused my pantry, my eyes hit on a small, inconspicuous can of crushed pineapple.  Oh, come to momma!!  If cake can get a buttery caramel topping with tangy pineapple, then so can cinnamon rolls!
Pineapple Upside Down Cinnamon Rolls
These little guys are performance artists.  See, from the top, they just look like plain ol' cinnamon rolls.  But when you slide a spatula under one of these cinnamon rolls and give it a little flip onto the plate ... TA DA!! Ooey gooey buttery caramel and pineapple slide over the edges of perfectly flaky cinnamon rolls.  This was a very good idea!
Print Pineapple Upside Down Cinnamon Rolls
---
8 oz

. can of crushed pineapple (drained well with liquid pressed out)

3 tablespoons

butter

½ cup

brown sugar (packed)
One

5

count package of Grands! Flaky Supreme Cinnabon Cinnamon Rolls
---
Instructions
Preheat oven to 375*.
Prepare a pie plate or 8x8 baking dish with non-stick cooking spray.
When oven has reached temperature, place butter in baking dish and place in the oven until the butter is melted.
Sprinkled brown sugar over melted butter.
Sprinkle crushed pineapple over brown sugar and butter.
Place cinnamon rolls in the baking dish.
Bake for about 35 minutes.
Check the middle of the cinnamon rolls - if they are still doughy, use a teaspoon to remove some of the butter/caramel liquid, cover the edges of the cinnamon rolls with foil (like you would a pie crust) and pop them back in the oven for a few minutes.
When rolls are baked through, remove from oven.
Place a plate (that is slightly larger than your pie plate or baking dish) on top of the pie plate and invert to remove rolls from pan.
Alternately, you can flip each roll over as you serve them and spoon extra topping over each roll.
---
Why should cake get all the fun!!?  I mean, I love cake as much as the next person, but everyone needs to eat breakfast, right?  More specifically, everyone needs pineapple upside cinnamon rolls for breakfast.  My bottomless pits boys even bypassed quick and easy cereal to wait for these cinnamon rolls.  There was definitely a hefty serving of, "Are they done yet?" and "Mom, the oven beeped, are they done?!" and a few, "Jeez, how many pictures do you need?"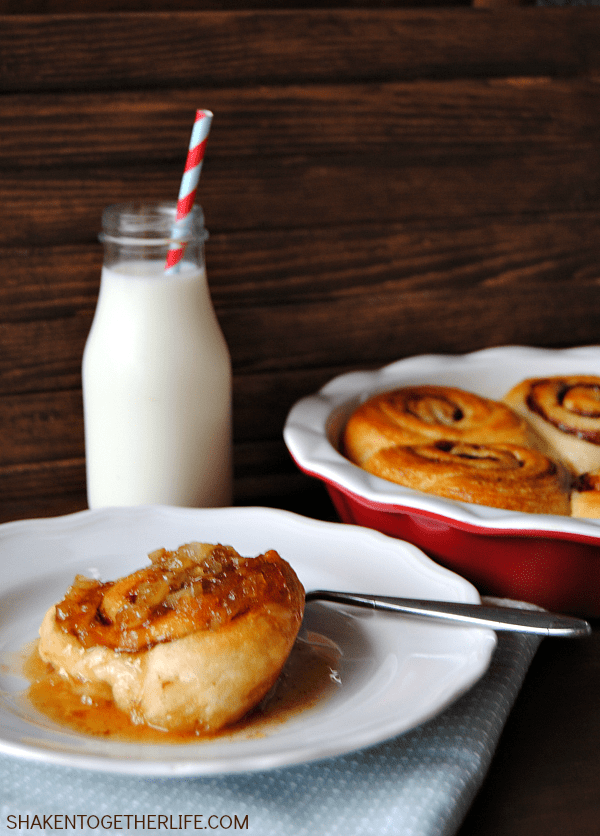 But in the end, it was all worth it.  Needless to say, these 5 cinnamon rolls were no match for 2 teenaged boys.  Literally, 10 minutes after these came out of the oven, THIS is what I was left with 🙂
Come to think of it, you could make this breakfast even easier! In a small sauce pan, stir together the butter, brown sugar and drained pineapple while you are baking your cinnamon rolls according to package directions. Once the cinnamon rolls are baked, top with the pineapple caramel sauce and dig in!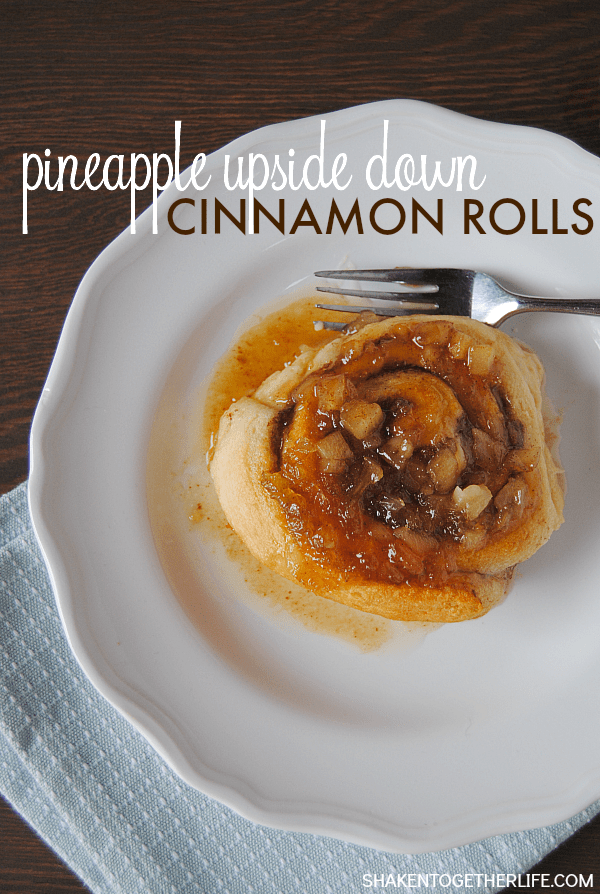 Breakfast IS the Most Important Meal of the Day!!
Cinnamon Roll Monkey Bread
Bacon Mushroom Cheddar Egg Bakes
Our pineapple upside down cinnamon rolls may be shared here: