Chicken and rice casserole is a hearty, delicious, and filling meal. This rich and flavorful casserole is a surefire hit. But are you wondering what to serve with chicken and rice casserole? It can be served with a variety of side dishes to make a full meal, and I've put together a list of ideas for you below.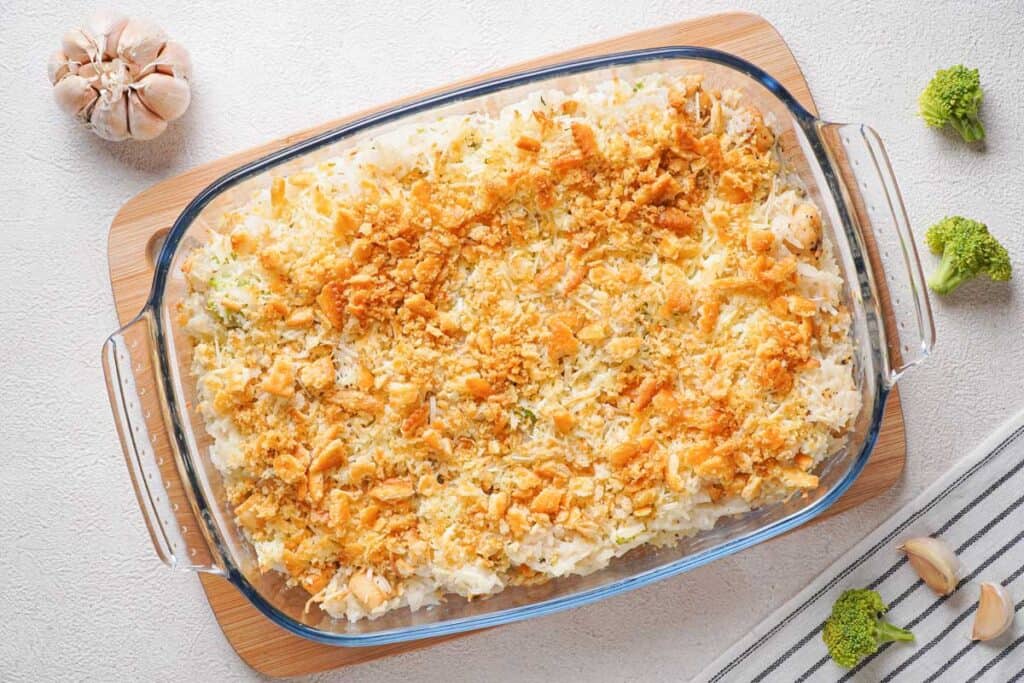 Chicken and rice casserole is a classic dish that's a lot like chicken casserole. It's made in a casserole dish with tender chicken pieces, cooked rice, diced vegetables — like carrots, onions, and celery— condensed cream soup, usually cream of celery soup or cream of chicken soup, and sometimes cheddar cheese.
It can be made with brown rice or white rice, or you can even make it a wild rice casserole. The ingredients are mixed together, topped with a crispy topping, and then baked until golden brown. This dish is easy to make and is perfect for busy weeknights. Read on to learn about the best sides to serve with your Chicken and Rice Casserole.
What to Serve with Chicken and Rice Casserole
There are tons of side dishes you can make with chicken and rice casserole! These ideas will help you get started making this family favorite and some side dishes made with simple ingredients and easy recipes. I'm sharing light and healthy ideas and comfort food sides that are filling and satisfying. 
Roasted Brussels sprouts are great because they are incredibly flavorful when they're cooked, especially roasted! When they're roasted, Brussels sprouts develop this intense nutty sweetness and an unbeatable crunchy texture. Plus, they can be served with other vegetable dishes and are great with heavier dishes like chicken and rice casserole.
2. Sautéed Green Beans
Sautéed green beans are a delicious and healthy side dish that is easy to make and pairs well with basically any main dish. The sautéing process brings out so much flavor from their natural sweetness and tenderizes them perfectly, which gives you a flavorful and satisfying side dish.
3. Creamed Spinach
The creamy spinach is a great combination with the savory flavors of the casserole. The rich and creamy sauce in creamed spinach just takes the flavor of this whole meal to another level. It's a perfect complement to the hearty and comforting flavors of chicken and rice casserole.
4. Steamed Broccoli
Steamed broccoli is a healthy and super easy side dish that pairs perfectly with chicken and rice casserole. The mild flavor and firm texture of steamed broccoli make it a perfect complement to the bold flavors and creamy texture of chicken and rice casserole, which helps balance out the richness of the casserole while adding more nutrition.
If you prefer to sauté your broccoli, this Italian broccoli is a great flavorful alternative that is very easy to make.
5. Roasted Peppers and Onions
Roasting peppers and onions together creates a great sweet and savory flavor that is hard to beat. The natural sweetness of the peppers is complemented by the caramelized onions making a mouthwatering combination. Roasting these vegetables makes them a tender and juicy, delicious, and nutritious side dish that perfectly complements the comforting flavors of chicken and rice casserole.
6. Baked Sweet Potato
Baking sweet potatoes, unlike frying them, helps to retain their natural nutrients and flavors. The natural sweetness of sweet potatoes gets even more flavorful when they're baked. Baked sweet potatoes are easy to make and can be customized with different toppings, from butter to brown sugar to cinnamon.
7. Spicy Coleslaw
The combination of creaminess, crunchiness, and spiciness of this coleslaw makes it a great side dish. The best part about it is how easy it is to make this great recipe, and you can make it ahead of time and store it in the fridge for convenience. It's a lighter option that's great for summer or just to keep the meal on the lighter side if you pair it with a heavy main dish like chicken and rice casserole.
8. Fresh Fruit Salad
Fruit salad is a nice light and refreshing side to counteract the rich flavor of a casserole. Fruit salad typically contains a variety of fruits such as apples, bananas, oranges, grapes, strawberries, blueberries, raspberries, melons, kiwi, mango, and papaya. Some variations also include nuts, yogurt, or granola.
9. Sautéed Mushrooms
Sautéed mushrooms are savory but still light which makes a great side dish that can complement any meal. They are really easy to make and only require a few ingredients. You could add other sautéed veggies with the mushrooms if you want to add more bulk to this side dish.
10. Mashed Sweet Potatoes
Mashed sweet potatoes are a great side dish if you want something other than regular mashed potatoes. They are creamy and slightly sweet, with a rich flavor.
11. Colorful Salads
Sometimes there is nothing better than a fresh salad. A side salad is always a great choice to add to pretty much any meal. Plus, it's a healthy option and a perfect way to get some greens into your meal. They're easy to throw together, and you can have a variety of toppings out for everyone to customize their own salads. 
Caesar salad or a salad with Greek dressing are two of our favorite options.
12. Quinoa Salad
Quinoa salad is an easy and quick side dish option that can be made with whatever ingredients you have in your pantry. It can be served hot or cold, and it's easy to customize with a variety of vegetables, proteins, spices, and sauces.
13. Baked Beans
Baked beans are made from navy beans that are mixed with a variety of spices to create a savory flavor. The beans are made in the slow cooker and end up with a rich and bold flavor that will pair perfectly with chicken and rice casserole.
14. Creamed Corn
Creamed corn is an easy-to-prepare side dish that combines kernel corn with a creamy sauce. The creamy sauce is typically a combination of butter, cream, and spices. This side dish is a good way to introduce more veggies to kids, but everyone enjoys it!
15. Dinner Rolls
Dinner rolls are a great option to serve with any meal, but they'll be a perfect side dish with chicken and rice casserole. This simple side dish will help make a complete meal and fill everyone up easily!