It just wouldn't be St. Patrick's Day without an easy green dessert! Our Lime Poke Cake is a simple but stunning dessert that is sure to be a new family favorite!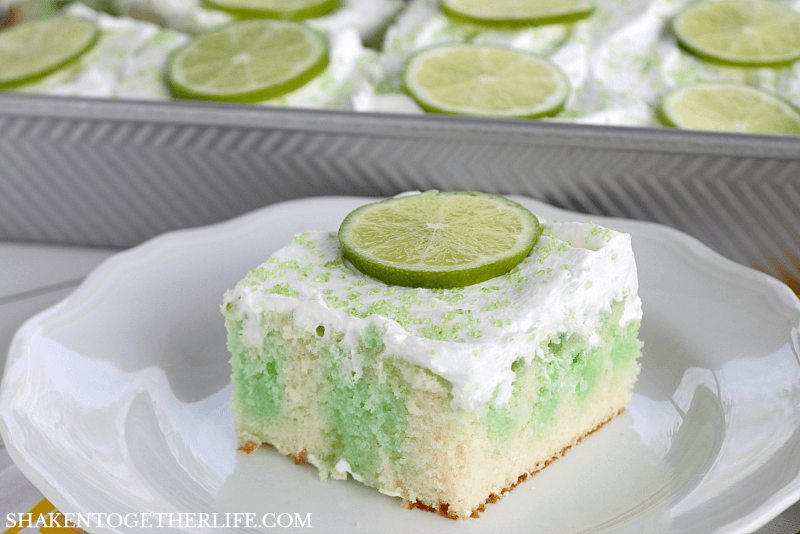 Surprise ... it's another poke cake! Guys, this poke cake train has left the station and there is no telling when it will stop! Poke cakes are easy. They are a crowd pleaser. And there are so many creative ways to make them. Use pudding or use Jell-O. Change up the flavor of the cake. Switch up the frosting. Make cupcakes instead of a cake. See? Poke cakes for the win! This lime version is a big win, for sure!
Lime Poke Cake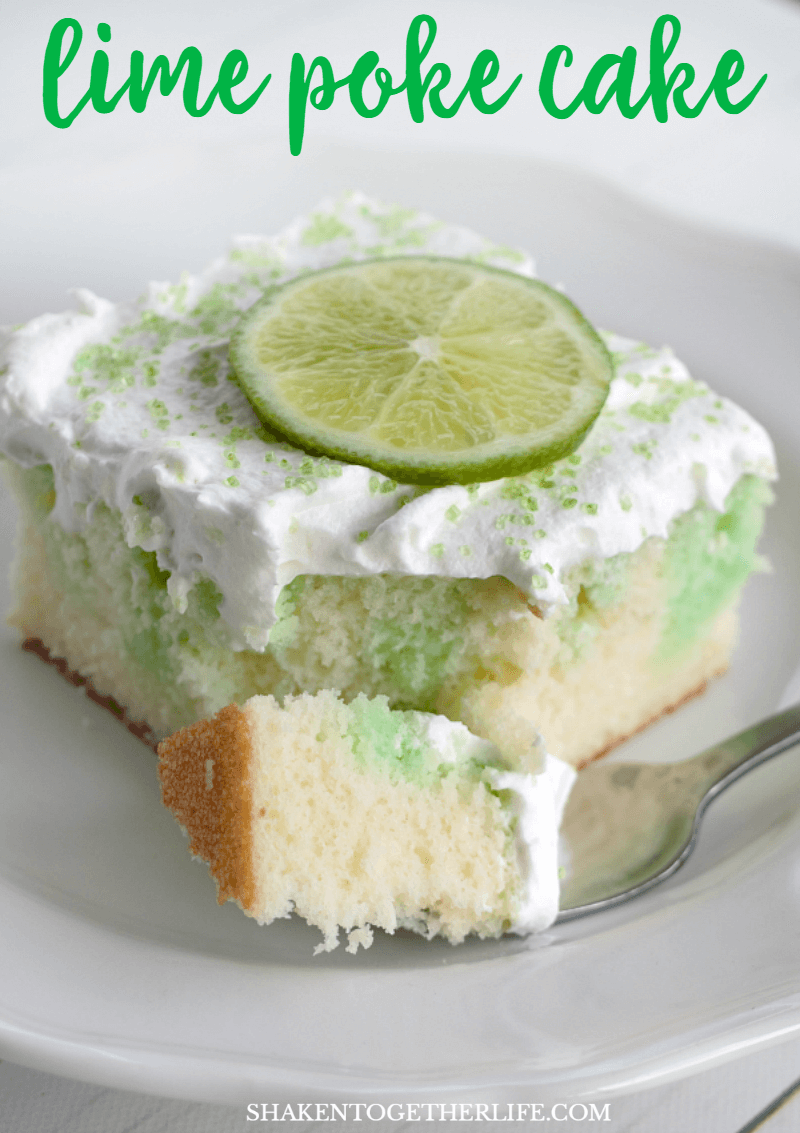 Soft white cake is drenched in bright, tangy lime jell-o and topped with fluffy whipped topping. That's it. If you want to wow your family and friends, add sprinkles and some pretty little lime slices. If not, the cake is delicious without them. This dessert really couldn't get much easier.
Once your 9x13 white cake is baked, poke holes all over the surface of the cake and drench the cake in lime Jell-o. I know it looks a little sad in this step, but the Jell-o will soak into the cake, keeping it moist and flavorful.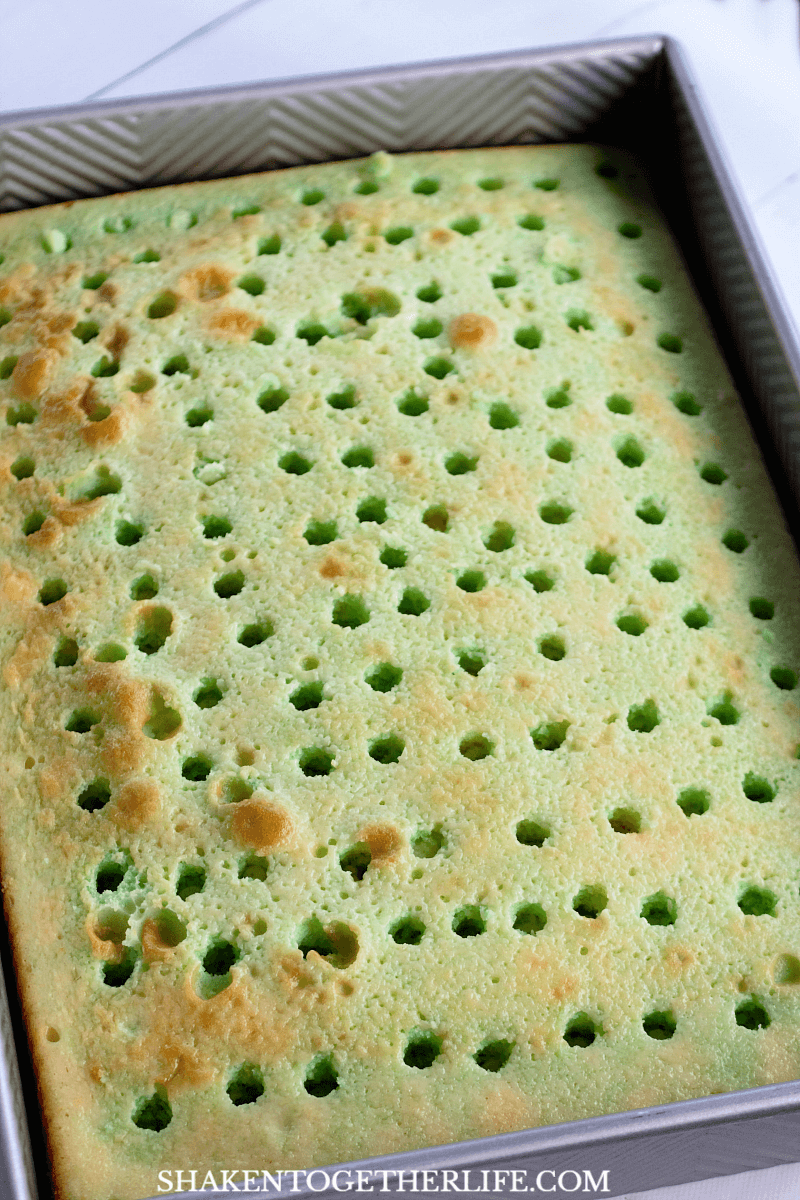 After the cake has been refrigerated for a few hours or even overnight, spread whipped topping over the cake and add lime green sprinkles. Instant pretty 🙂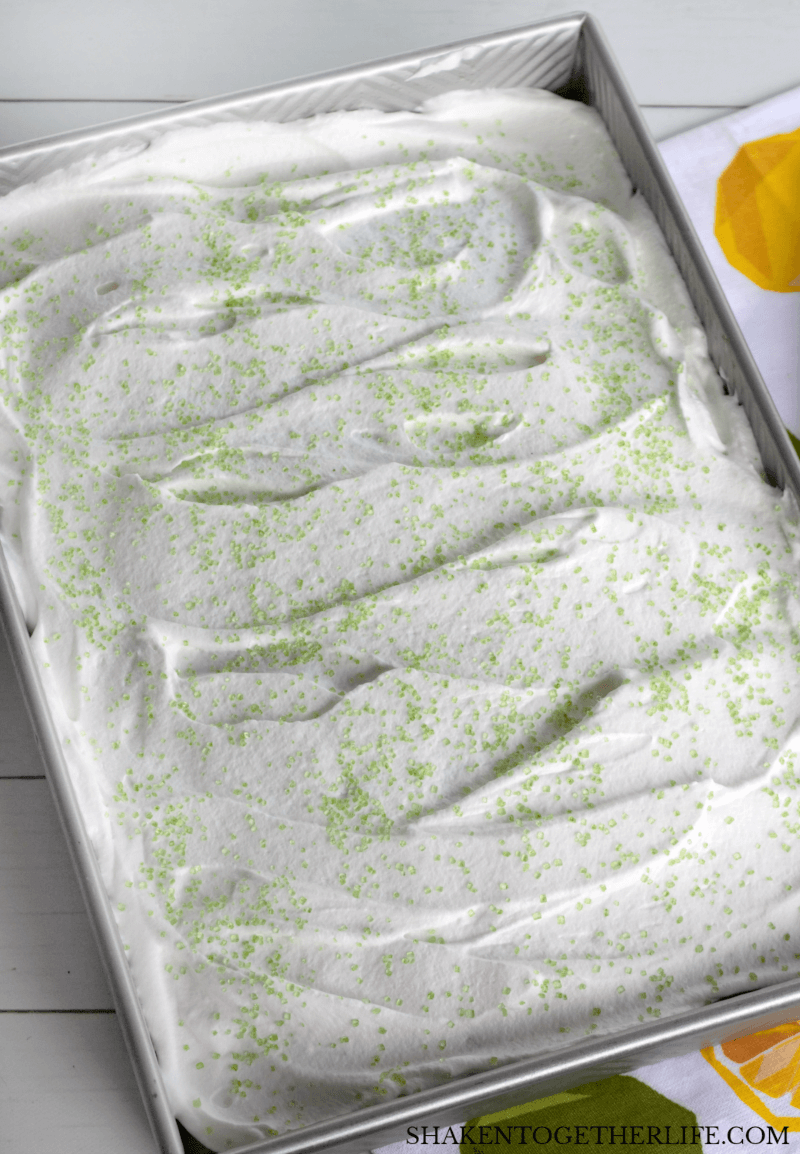 You can serve it at this step and everyone will love it, trust me. But if you have a minute and a few limes, top the cake with bright green lime slices for a beautiful presentation!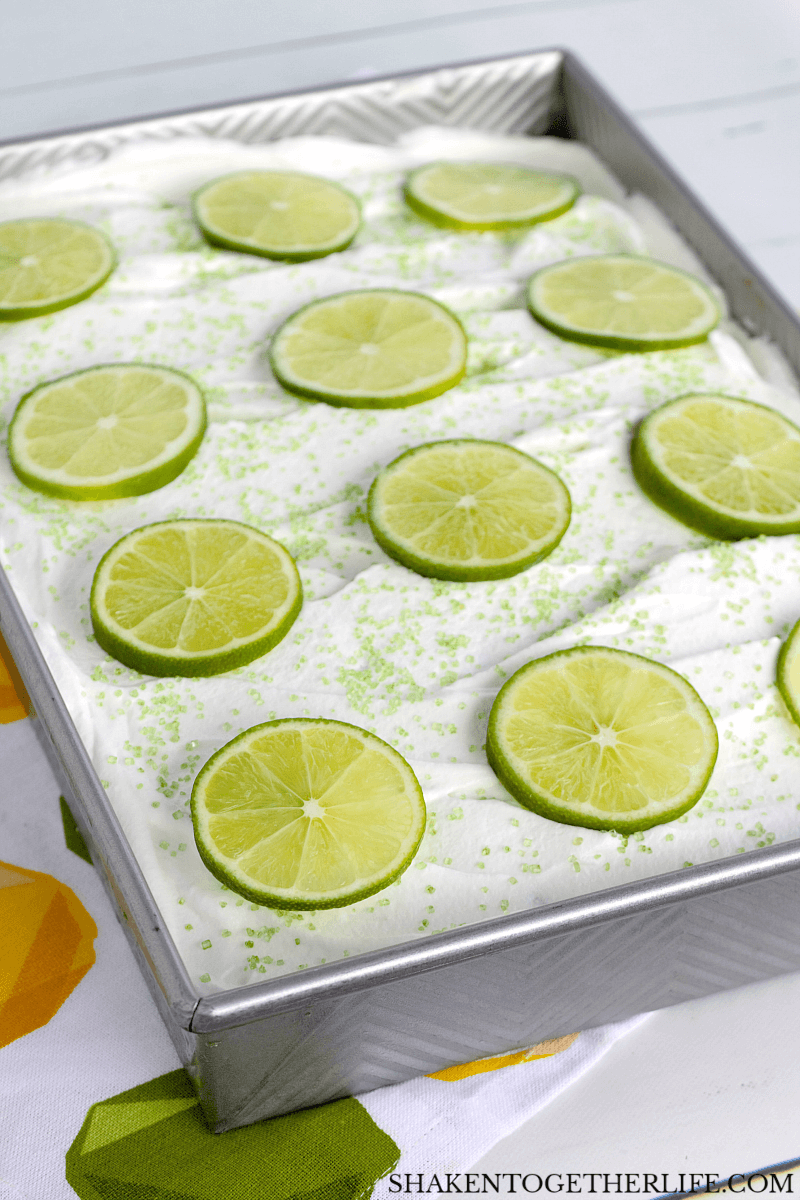 Just wait until you cut generous slices of this Lime Poke Cake ... I love the bright green pops of lime against the soft white cake. Jell-o poke cakes make for such a pretty presentation, don't they?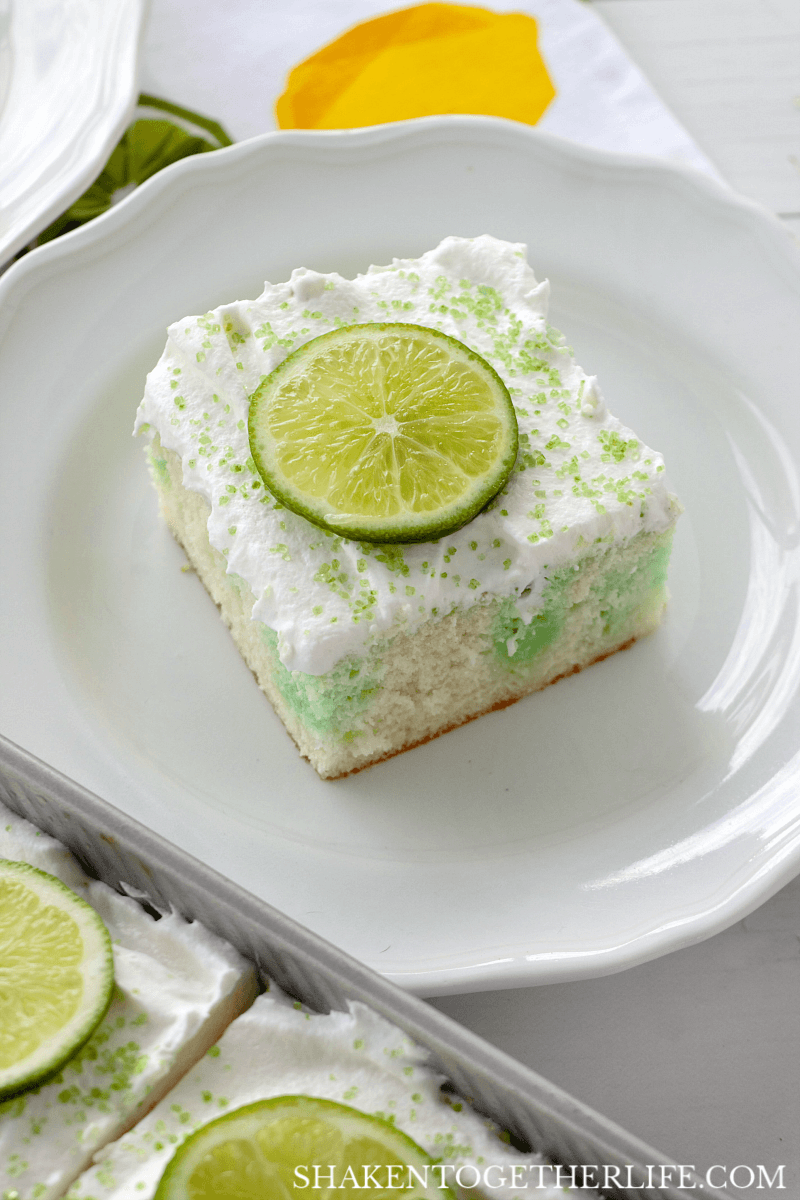 Don't tell lemon, but lime has sort of stolen my heart lately. And this Lime Poke Cake just might be the reason why! Citrus just screams Spring to me, so maybe this bright citrusy dessert will be just the thing to welcome Spring once and for all!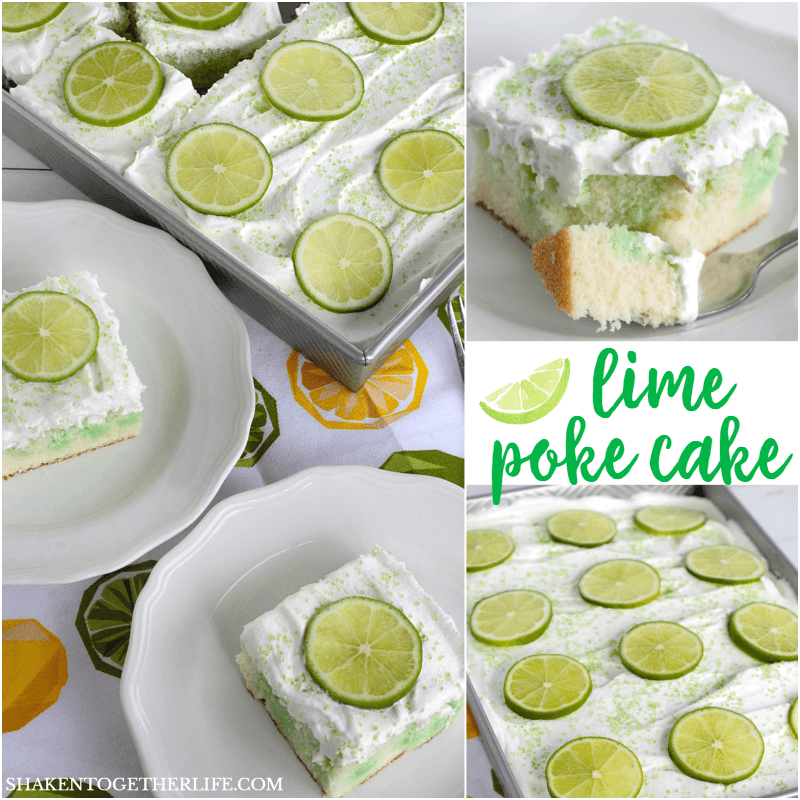 Print Lime Poke Cake – An Easy Springtime Dessert!
---
One

9

x13 white cake (from scratch or from a box mix, baked and cooled)
One small box lime Jell-O
One

8 oz

. tub of whipped topping (thawed)
Sprinkles and lime slices for garnish (optional)
---
Instructions
Use the handle of a wooden spoon or a large drinking straw to poke holes over the entire surface of the cooled cake.
Prepare Jell-o with 1 cup boiling water and ½ cup cold water. (This is ½ cup less water than the directions on the box.)
Pour Jell-o over the cake - making sure to get some in every hole and over the surface of the cake.
Refrigerate overnight or at least three hours.
Frost with whipped topping and add sprinkles and lime slices for garnish just before serving.
---

More Easy Poke Cake Recipes!