Are you ready for some football?  Well, if you're like me, you are ready for the football food!  Or "the feast" as we call it in our house.  Now, sometimes I can get away with a few veggies and dip.  Occasionally I can sneak in some fruit.  But on game day?  My guys want manly football food.  And lots of it. Wings and meatballs and lil smokies!!  It has to be hearty and require extra napkins!  Today's recipe?  Touchdown AND the two point conversion!
Crock Pot Queso with Beef & Sausage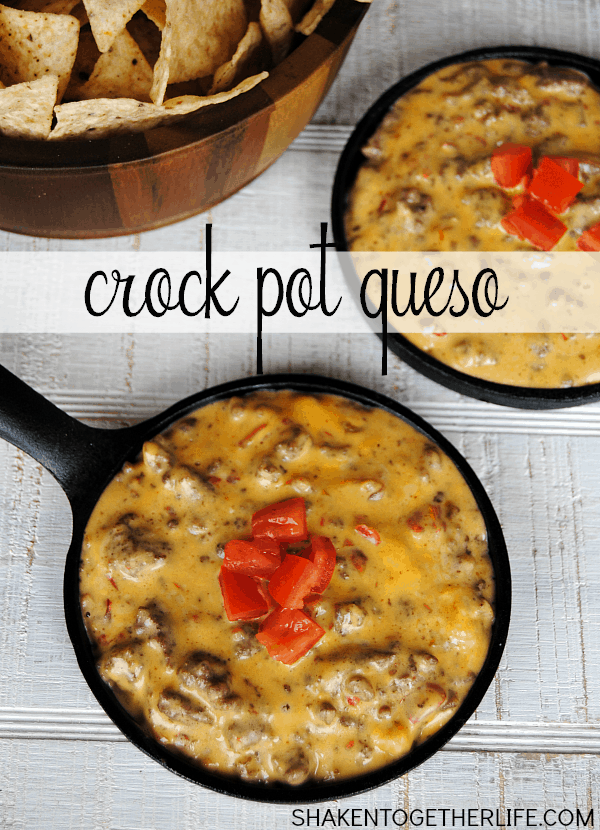 Now, I know there are a lot of queso recipes floating around on the big ol' Internet.  But, I'm telling you today that you can stop your searching!  This recipe was generously shared with my by my friend, Lauren after she volunteered to make it for reception after we renewed our vows.  It's good enough for weddings, ya'll.  And I might have begged her for it via Facebook message … see how much I love you?  😉
Crock Pot Queso with Beef & Sausage
Ingredients
1 32

oz.

block of Velveeta

1

lb

of ground beef

browned and drained

1

lb

of pork breakfast sausage

browned and drained

2

cans of Rotel diced tomatoes and green chilies

1

can of cream of mushroom soup
Instructions
Cut the Velveeta up in chunks.

Place Velveeta, both cans of Rotel and cream of mushroom soup in your crock pot set to low.

Once the cheese is melted, stir in the cooked sausage and ground beef.

Stir occasionally and serve with tortilla chips or Frito Scoops!
Pop this in your crock pot in the morning and by game time, this ooey gooey, super cheesy, double meaty queso is ready!  And did you see those mini cast iron skillets?  I die!  They are perfect for individual servings of this awesome dip.  And they're mini.  Anything mini is awesome!  Except for bikinis and bank accounts.  Anyway, QUESO!
If you really like your queso with a kick, you can use the spicy breakfast sausage and the hot Rotel.  Garnish it with fresh jalapenos or even add them to the crock pot.  I am a big fat baby, so we go mild all the way.  Whether you spice it up or not, just make it!
More Game Day Grub!!
Our Crock Pot Queso with Beef & Sausage may be shared here: