Summertime means potato salad is on the menu but you may be wondering what to eat with this classic side dish. Potato salad pairs well with so many foods, read on for 13 of our favorite dishes to serve with it.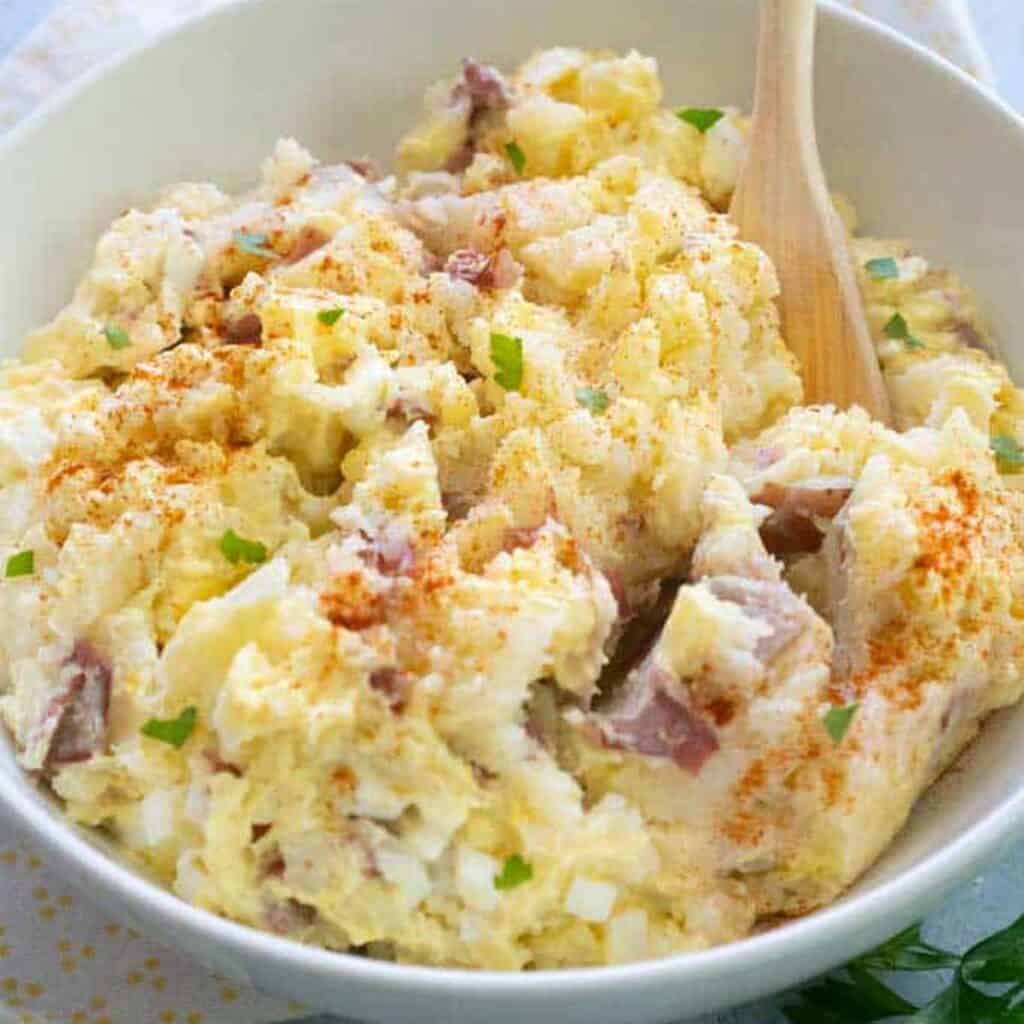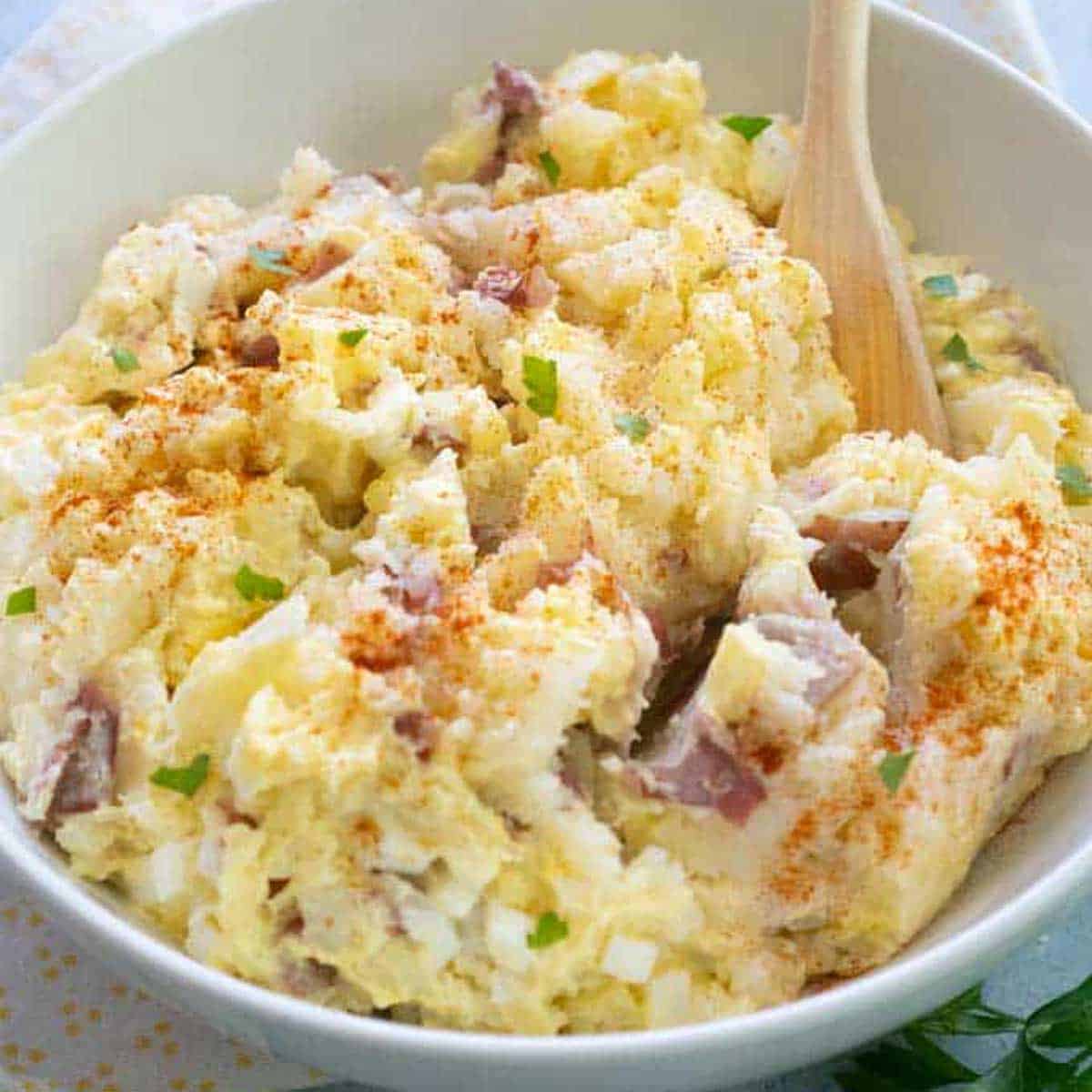 There are many varieties of potato salad, the Southern American classic, the Chinese version with soy sauce and vinegar, greek version with olive oil and lime, or the creamy Amish version. Whichever you like they all pair well with these dishes.
Hamburgers
Whether you cook hamburgers in the oven or on the grill, they are the perfect thing to serve along with creamy potato salad. A steamy, savory burger on a buttery toasted bun is irresistible with a chilled side dish for your summer barbecues.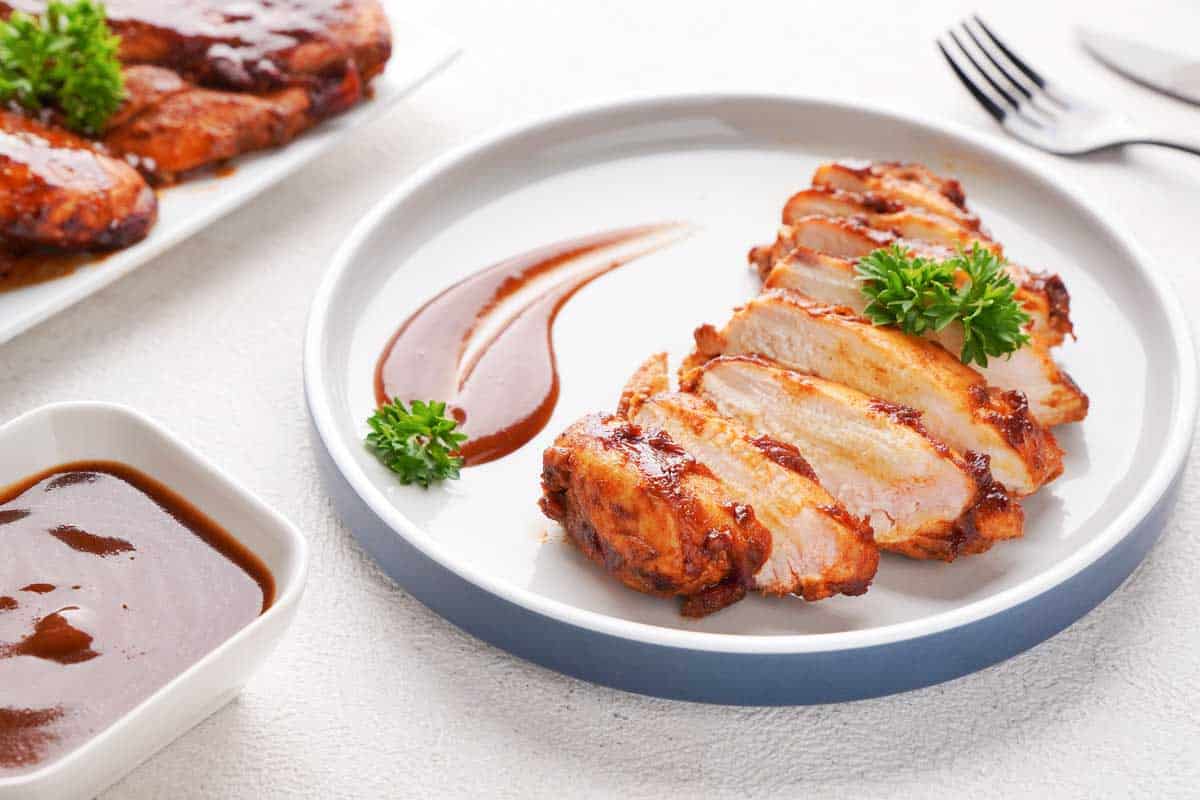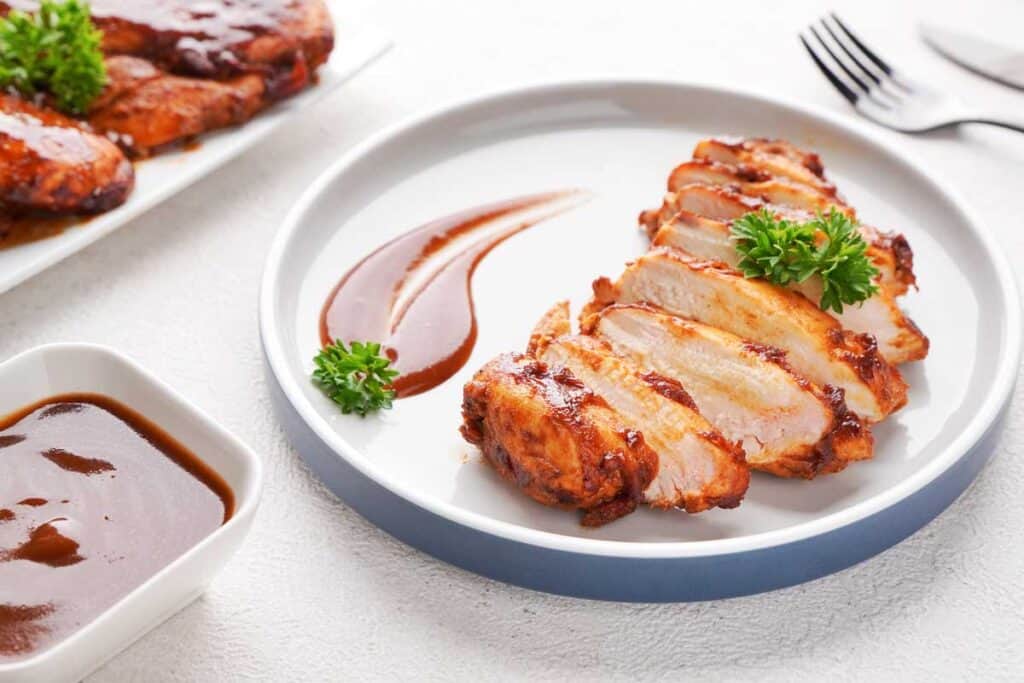 Barbecue Chicken
We like barbecue glazed chicken baked in the oven as one of our favorite summer dishes. It is easy to make and packed with flavor.
Making potato salad ahead of time and letting it chill through the day means its ready to go when you are ready to eat your chicken, making mealtime easy!
Baked Brats
One of our most popular (and oldest) recipes here on this website are our baked brats and sauerkraut. It's my grandma's recipe that people just love!
Serving up a cold, creamy potato salad with the steaming hot bratwurst and warm, tangy sauerkraut is the perfect balance.
Steak
Who doesn't love a good steak? While in the winter I may opt for baked or roasted potatoes, come summer I prefer a cool potato salad as a side for my steak.
The reason why steak and potato salad go well together is because of their complementary flavors. The savory and meaty flavor of steak is a great match for the creamy taste of potato salad.
The seasoning used on the steak, such as salt, pepper, and herbs, can also enhance the flavor of the potato salad. The combination of flavors creates a satisfying and balanced meal that is sure to please your taste buds.
Grilled Sausages
Barbecue glazed grilled sausages are a very easy meal to make and perfect for serving a crowd. Make your potato salad ahead of time and it will be ready to serve with this fast main course.
Ribs
Smoking a few racks of ribs is one of my favorite weekend meals but you can also bake them or even make them in your slow cooker! Ribs and potato salad are a classic combination, especially here in the south.
Ribs are cooked low and slow giving you plenty of time to prep you potato salad and allow it to chill before they are ready to serve.
Ham
Sticking with pork for a moment, glazed ham is another of my favorite main dishes to serve with a side of potato salad. Whether it is a casual Sunday dinner or eating leftover ham from the holidays, a rich side of potato salad is the perfect complement.
Grilled Fish
Grilled grouper is a summertime treat at our house. It is packed with flavor (we like this key lime grilled grouper recipe) and begs for a mellow side like potato salad.
You could also serve potato salad with other types of grilled fish like tilapia, salmon, halibut, mahi mahi, catfish, or trout...whatever you have on hand!
Shrimp
Boiled, fried, or grilled shrimp can be a great main dish for your potato salad as well. In fact, I often top my potato salad with Old Bay seafood seasoning which make it an even better fit!
Want to make it even more interesting? Try this shrimp boil on the grill as an alternative too!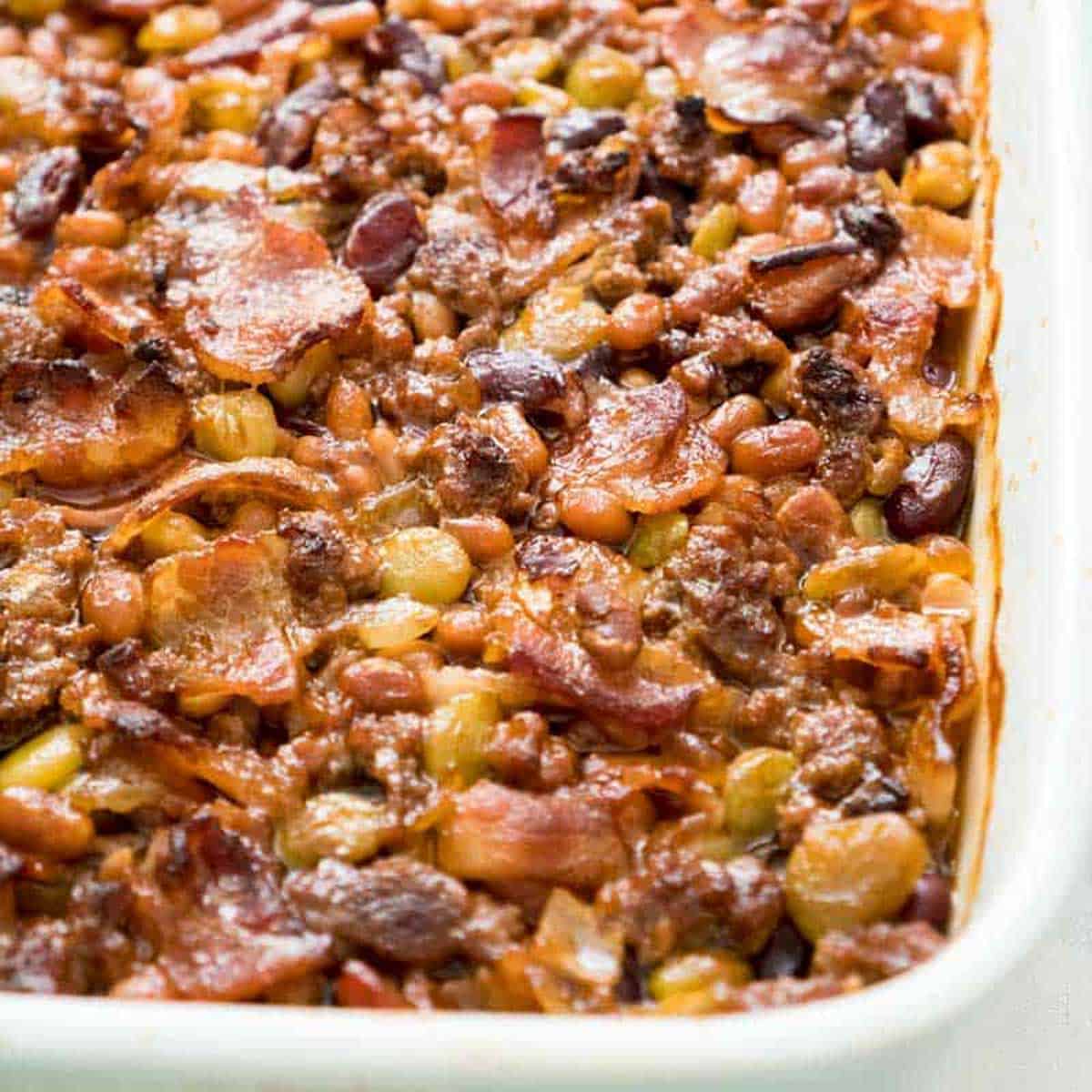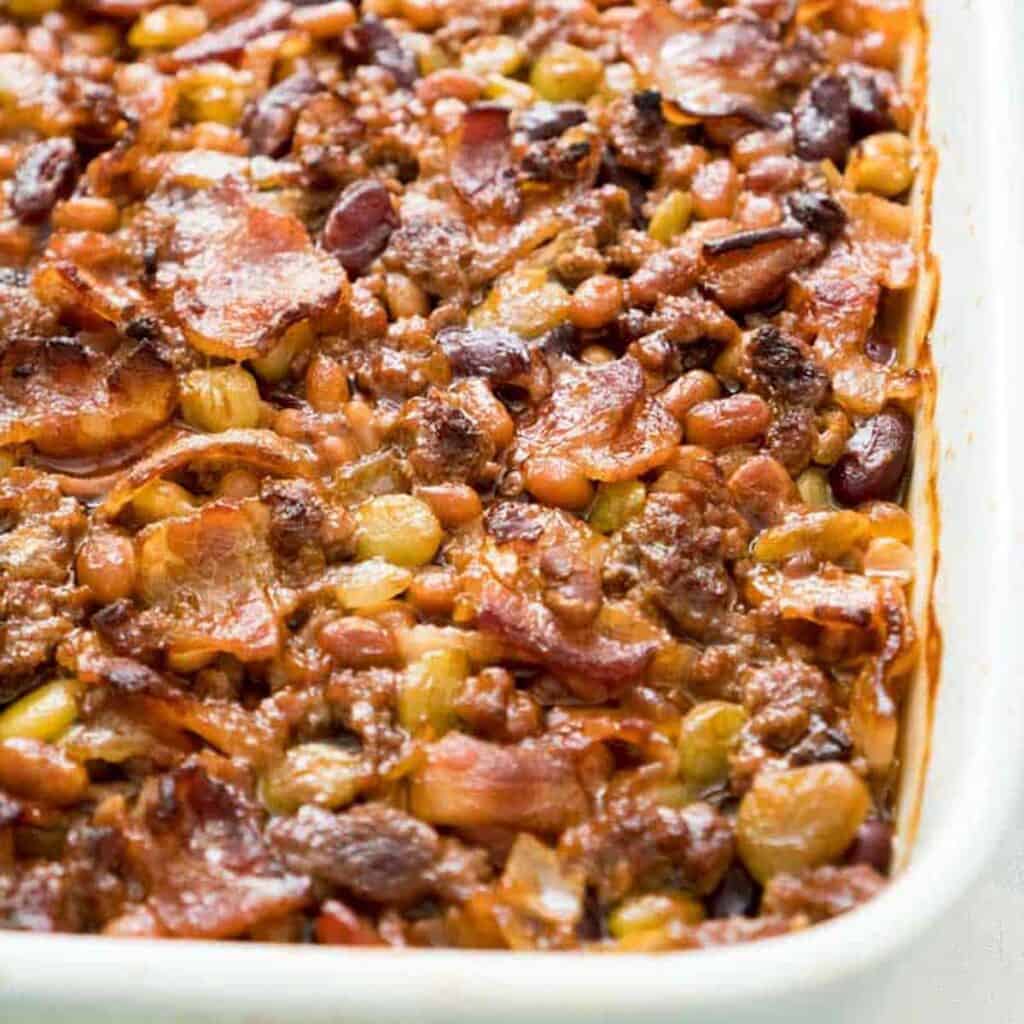 Calico beans
Main dishes aren't the only things great to serve with potato salad, choosing your other side dishes to complement it is useful too. Baked calico beans are one of my favorite hot summer side dishes perfect for serving with potato salad.
Three types of beans are baked up with bacon, ground beef, and sausage in this easy side dish that is hearty enough to serve as a main course when served with potato salad.
Corn on the cob
Nothing says summer like a fresh cob of sweet corn! I like to grill corn on the cob wrapped in foil and serve it up with cool creamy potato salad as the perfect match up! Mexican street corn (elotes) is a delicious alternative as well! Pair these two summer sides with any of the mains listed above for a complete meal.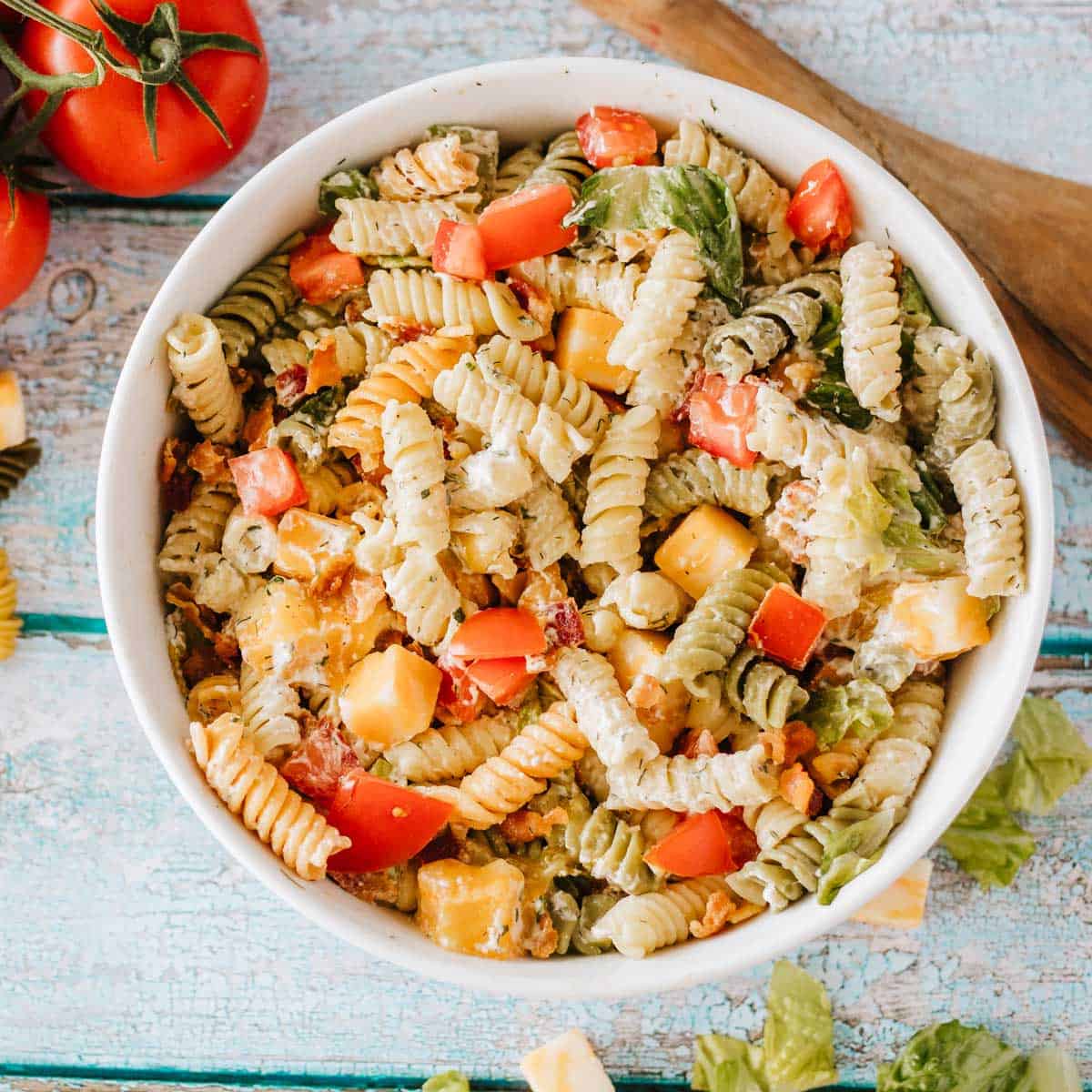 Pasta Salad
I love a good pasta salad and like potato salad it can be made ahead of time, chilled, and served whenever you are ready. Chicken pasta salad, Italian pasta salad, BLT pasta salad, and Tuscan pasta salad are some of my favorite varieties.
Cucumber Salad
Creamy cucumber salad is another cool and creamy make-ahead dish that pairs well with potato salad. This is an easy to throw together recipes thats refreshing and delicious.