Move over boring cold sandwiches! These crispy, cheesy Lunch Box Quesadillas with Dipping Sauces will make lunch time so much more delicious!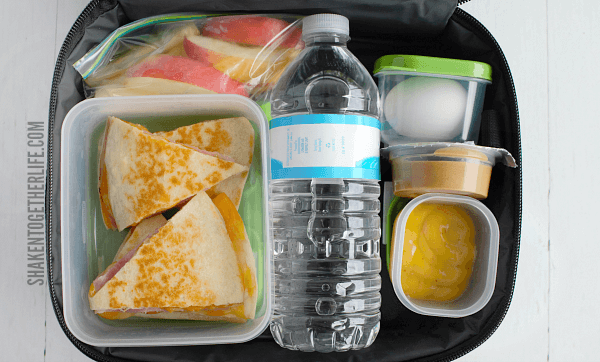 I have been a mom for 5958 days and counting. And for over 4000 of those days, I have had boys in school. That is a LOT of lunches to pack. Truckloads of plain ol' PB&Js, uninspired fruit cups, snack bags of crackers, string cheese and juice boxes. So this year, I have decided to up my lunch box game. With pasta salads, leafy green salads, protein packed wraps, ham & cheese roll ups and these ...
Lunch Box Quesadillas with Dipping Sauces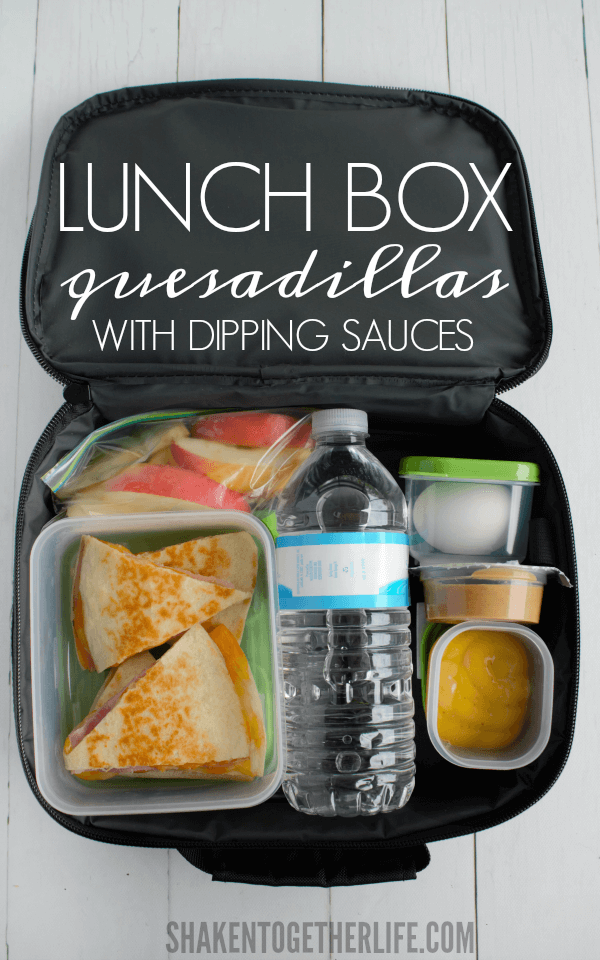 Quesadillas are a great option for lunch boxes since they can be served warm or at room temperature and are an easy make-ahead recipe!
Who wouldn't want to open their lunch box to find yummy meat and cheese layered between tortillas, toasted until the outside is crispy and cheese is melted ... just waiting to be dipped in flavorful pesto or honey mustard?!
Quesadillas for Lunch Boxes
We decided on two different meat and cheese combos for our lunch box quesadillas:
Smoked Ham + Colby Jack cheese + flour tortillas + honey mustard dipping sauce
Oven Roasted Chicken Breast + Provolone + spinach herb tortillas + pesto dipping sauce
In a skillet sprayed with non-stick cooking spray, layer colby jack cheese and ham on one half on a soft flour tortilla.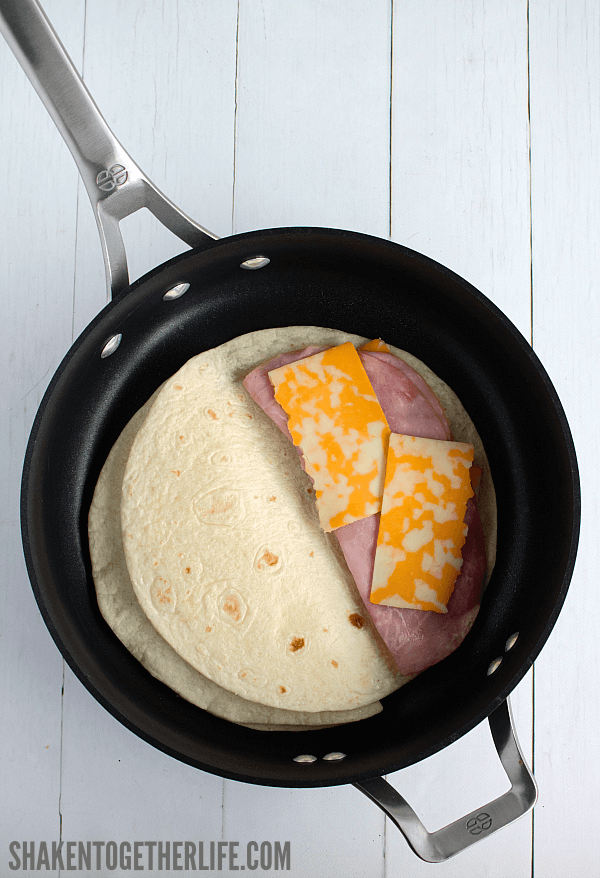 Fold the tortilla over the ham and cheese and spritz lightly with non-stick spray. Cook over medium heat until the cheese is melted and the tortilla is golden brown on both sides. Allow the quesadillas to cool slightly (so all of that amazing melty cheese doesn't run out) before slicing and serve with honey mustard dipping sauce.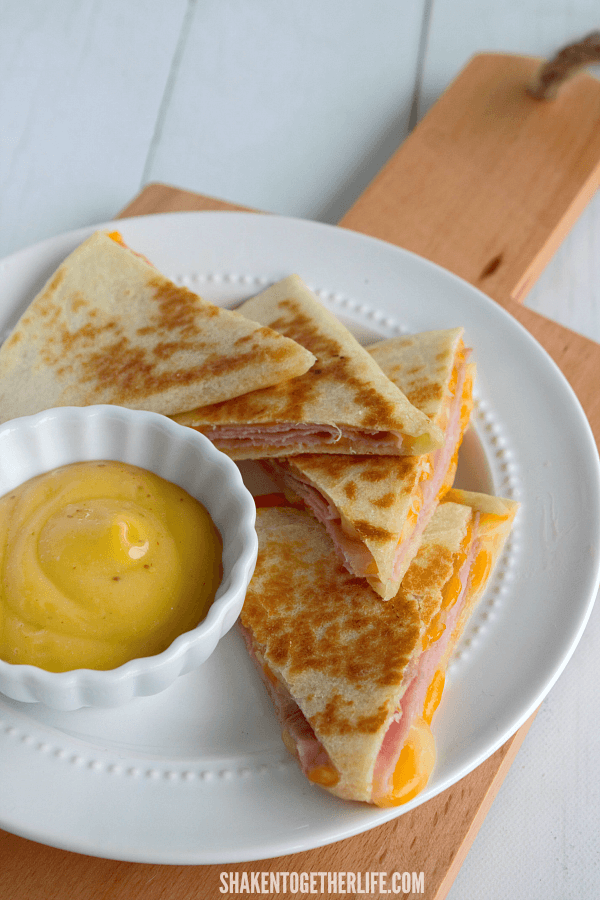 We are big pesto lovers in our house, so we thought the chicken and provolone quesadilla would be delicious dipped in that savory basil based sauce.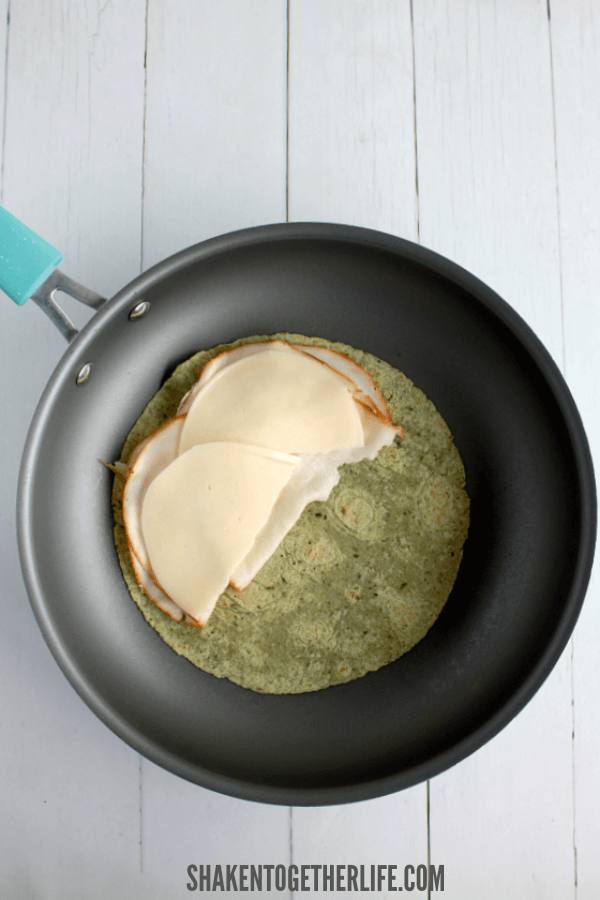 These are going to show up in my lunch box this week. I love the creamy provolone and the roasted chicken tucked in that toasted spinach herb tortilla... and oh, the pesto!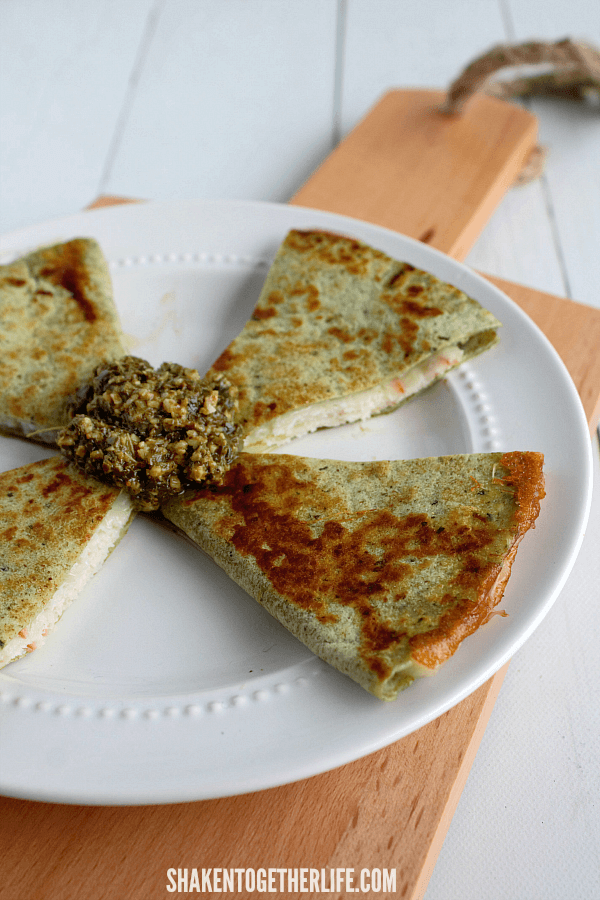 Now, these are called Lunch Box Quesadillas for a reason. Tuck those toasted slices into a lunch box and they are ready for dipping!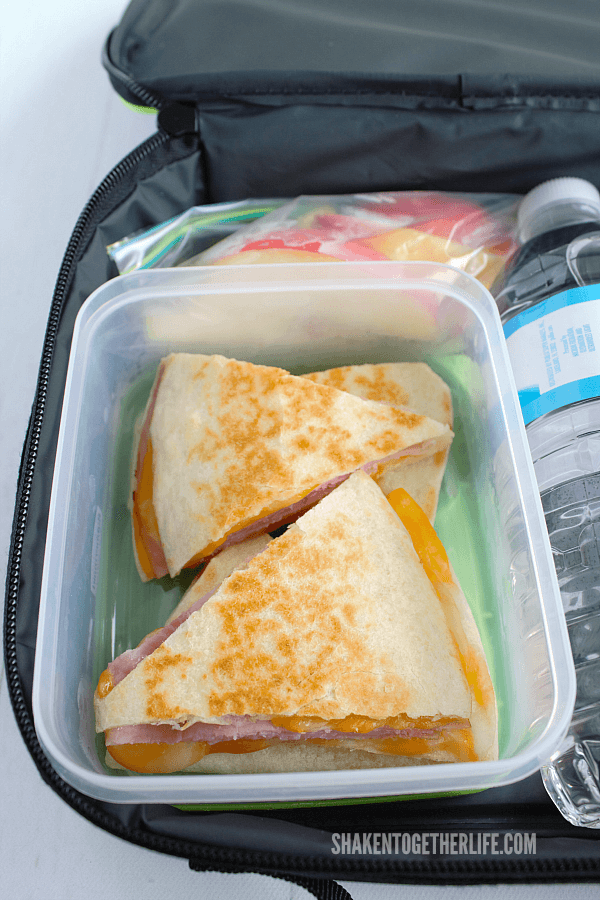 We packed them with the honey mustard dipping sauce, apples + peanut butter, a hard boiled egg and a bottle of water. Since we added 3 slices of ham and 2 slices of cheese, the lunch box quesadillas provide a hearty enough main course for a lunch box. Little kiddos may only need 2 of the 4 slices of the quesadillas. But they may just want all 4 since they are SO good!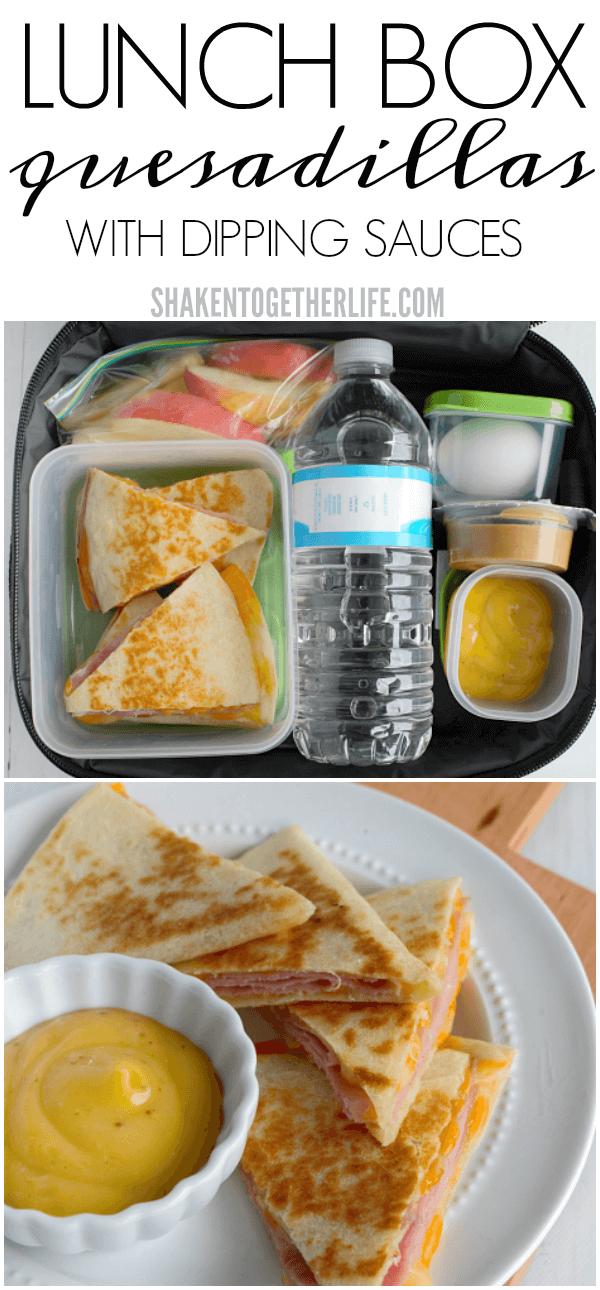 More Ways to up your Lunch Box Game!