If you're wondering what to do with leftover hamburger meat, we've got some great ideas for you! Leftover ground beef recipes are actually pretty easy to come up with as you can see from these 11 tasty ideas.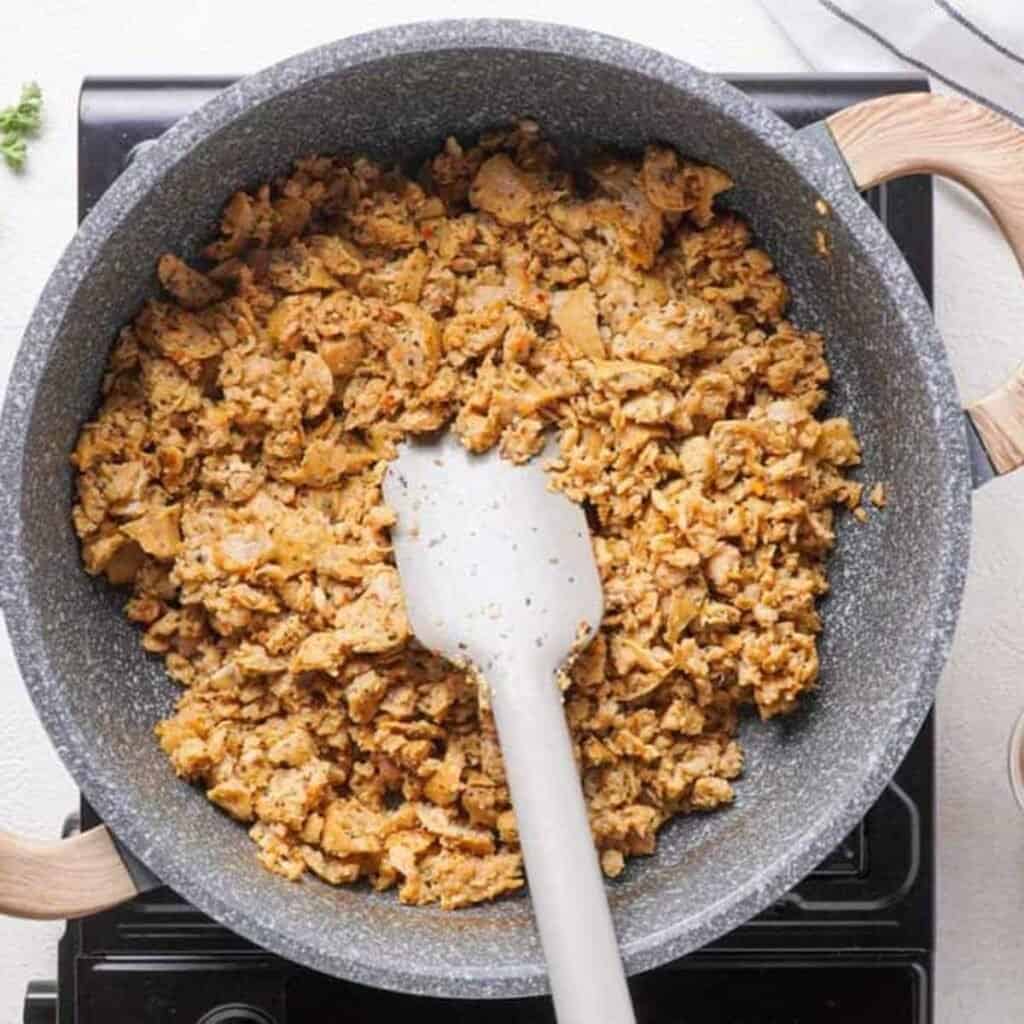 11 Ideas of What To Do With Leftover Hamburger
Hamburger meat is one of the most versatile ingredients that can be used to make all sorts of mouth-watering meals. Find the perfect way to use your leftover hamburger meat in my list below!
1. Taco Salad
Taco salad is so easy, and it's sure to make the whole family happy. Start by preparing your favorite taco seasoning blend or grab a taco seasoning spice pack and add it to the ground beef as your heating it. Then, in a large bowl, combine lettuce, tomatoes, onions, cheese, and other desired toppings. Top with the seasoned ground beef and serve with a side of salsa and guacamole.
2. Chili
Chili is a hearty and delicious meal that can be made with just a few simple ingredients. Start by sautéing onions and peppers in a large pot. Add the ground beef, a can of diced tomatoes, tomato paste, kidney beans, chili powder, and other desired seasonings, and simmer for 30 minutes.
Serve with shredded cheese, sour cream, and jalapeños, or whatever toppings you like.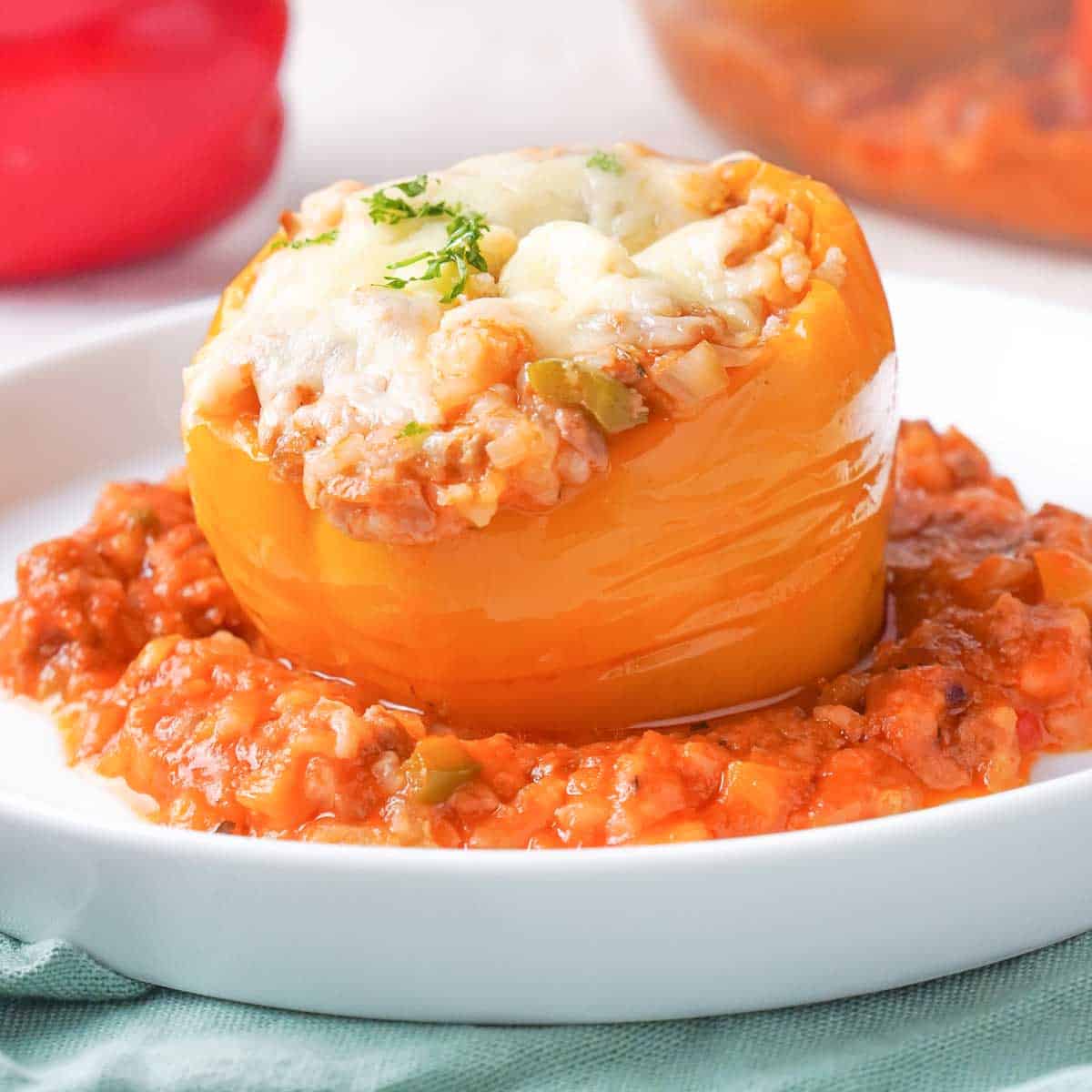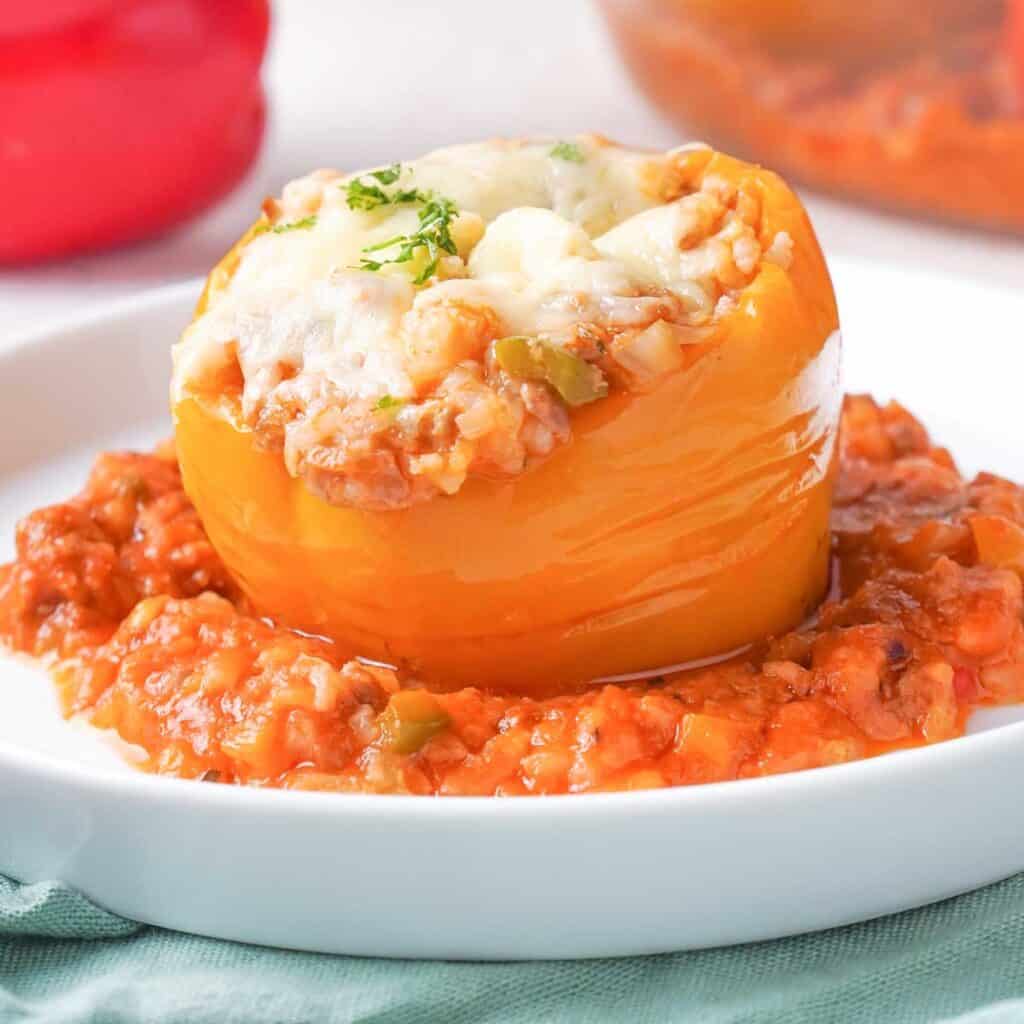 Stuffed peppers are a great way to use up leftover ground beef since it's one of the main ingredients in this recipe! Start by cutting bell peppers in half and removing the seeds.
In a large bowl, combine the ground beef with cooked rice, diced tomatoes, onion, garlic, and seasonings. Stuff the peppers with the mixture and place in a greased baking dish. Sprinkle shredded cheddar cheese on top and bake at 350°F for 30 minutes. You can also make them in the slow cooker too!
4. Lasagna
Lasagna is a classic Italian dish that is sure to please. Start by warming up your leftover ground beef in a skillet and adding your favorite Italian seasoning blend. In a separate pot, cook the lasagna noodles according to the package instructions.
In a large bowl, combine ricotta cheese, Parmesan cheese, and an egg. Spread some of the ground beef mixture in the bottom of a greased baking dish. Top with a layer of lasagna noodles, a layer of cheese mixture, and another layer of ground beef. Repeat until all ingredients are used. Top with mozzarella cheese and bake at 350°F for 30 minutes.
Put that leftover hamburger meat to good use by making quick and easy sloppy joes! As a bonus, kids love this meal, and adults usually do too!
Start by cooking the ground beef in a skillet. Add a can of tomato sauce, Worcestershire sauce, ketchup, brown sugar, and desired seasonings. Simmer for 10 minutes. Serve on hamburger buns with a side of coleslaw or potato chips.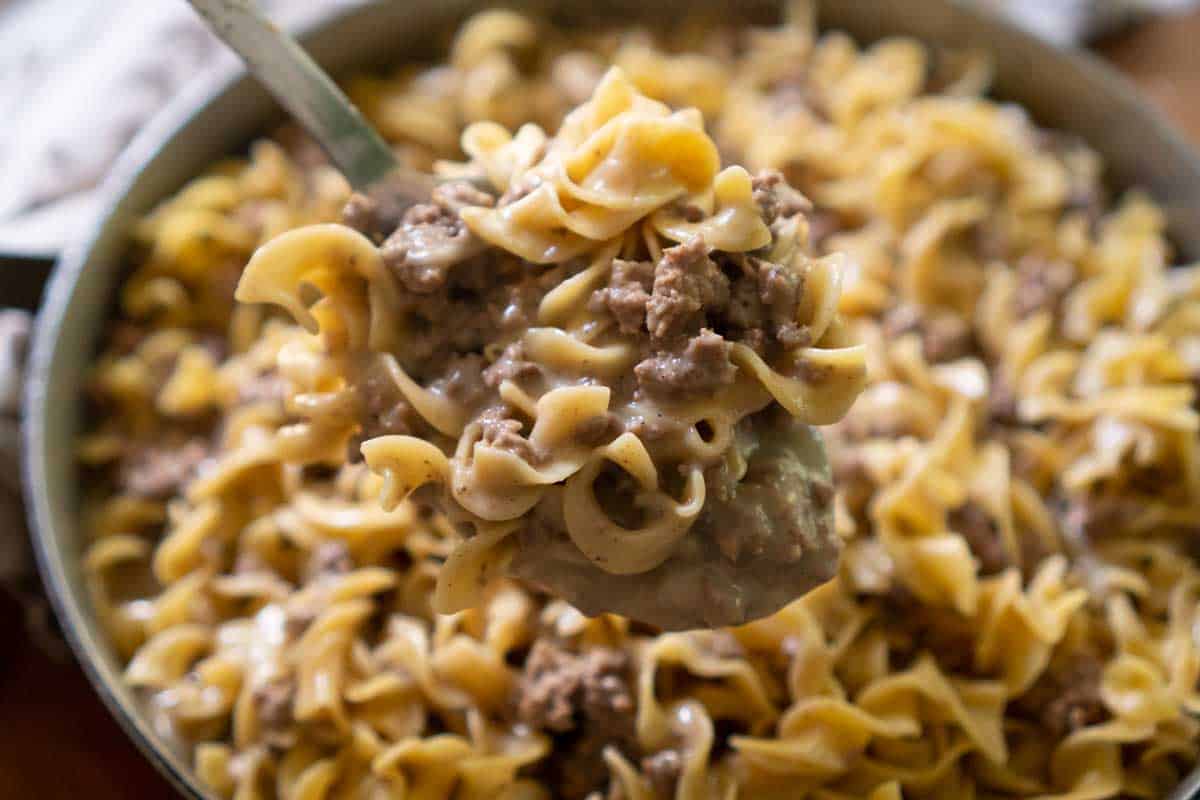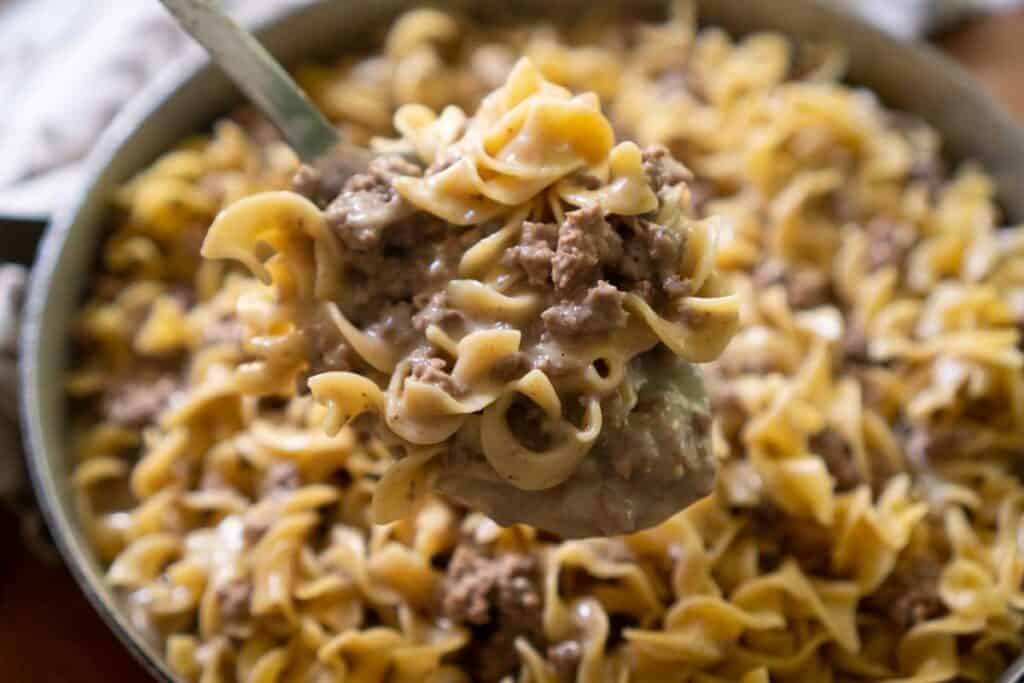 Beef Stroganoff is a classic creamy dish that is sure to please. Start by heating the leftover meat in a skillet and adding onions, mushrooms, garlic, and seasonings. Add beef broth and sour cream and simmer for 10 minutes.
Serve over cooked egg noodles or mashed potatoes. You can serve this in several different ways. If you don't like egg noodles, serve it over white rice or any kind of pasta you like.
7. Beef Nachos
Beef nachos are a great way to use up leftover ground beef. You can serve nachos as an appetizer or a delicious dinner!
Start by preheating the oven to 350°F. Place a layer of tortilla chips on a baking sheet. Top with ground beef, black beans, cheese, tomatoes, jalapeños, green chiles, or other desired toppings. Bake for 10 minutes. Serve with salsa, guacamole, and sour cream.
8. Beef Quesadillas
Talk about easy ground beef recipes! Beef quesadillas are a delicious and easy snack or meal for busy weeknights.
Start by preheating a skillet over medium-high heat. Put a tortilla in the skillet and top with the ground beef, cheese, and desired seasonings. Add another tortilla on top and cook until the cheese is melted. Cut into wedges and serve with salsa.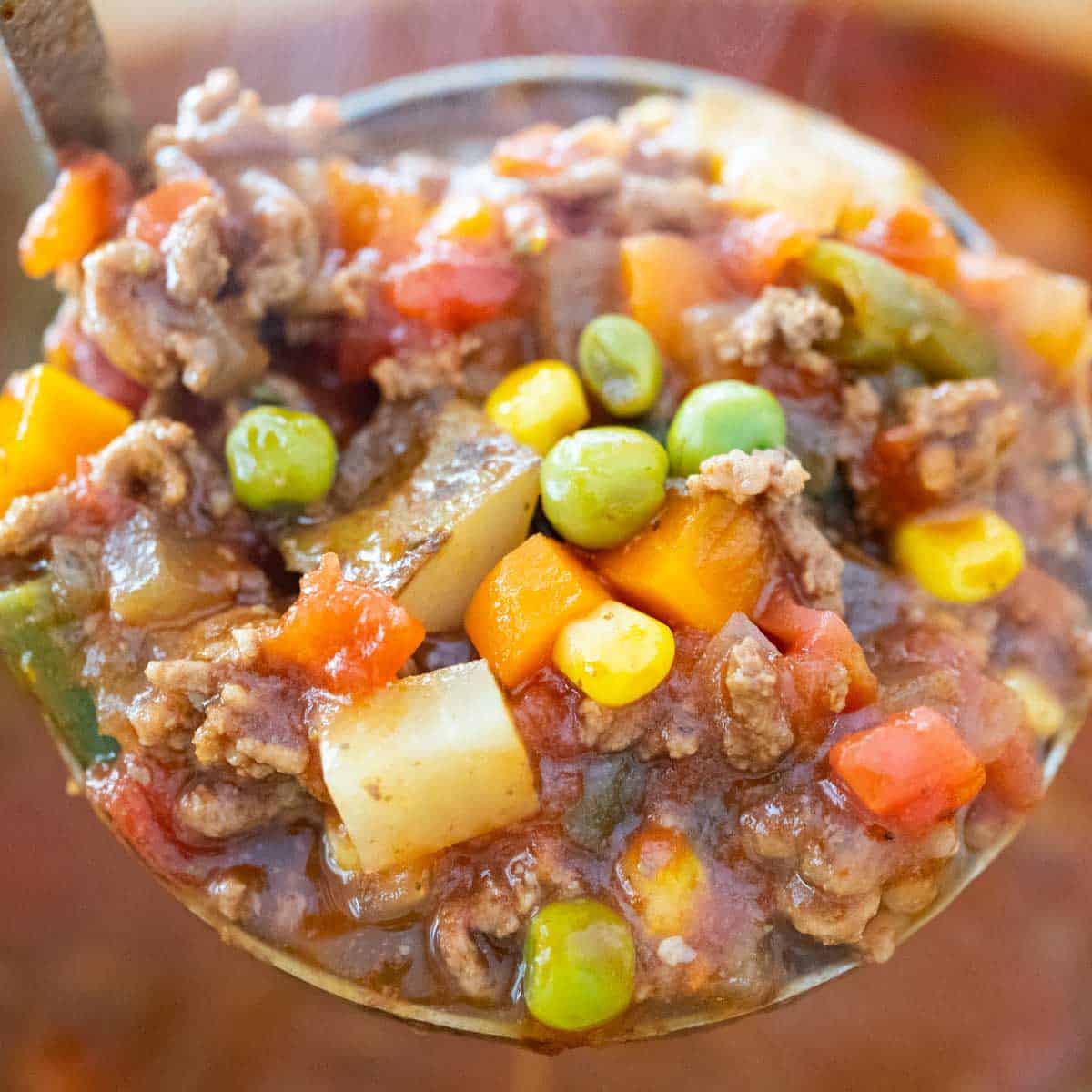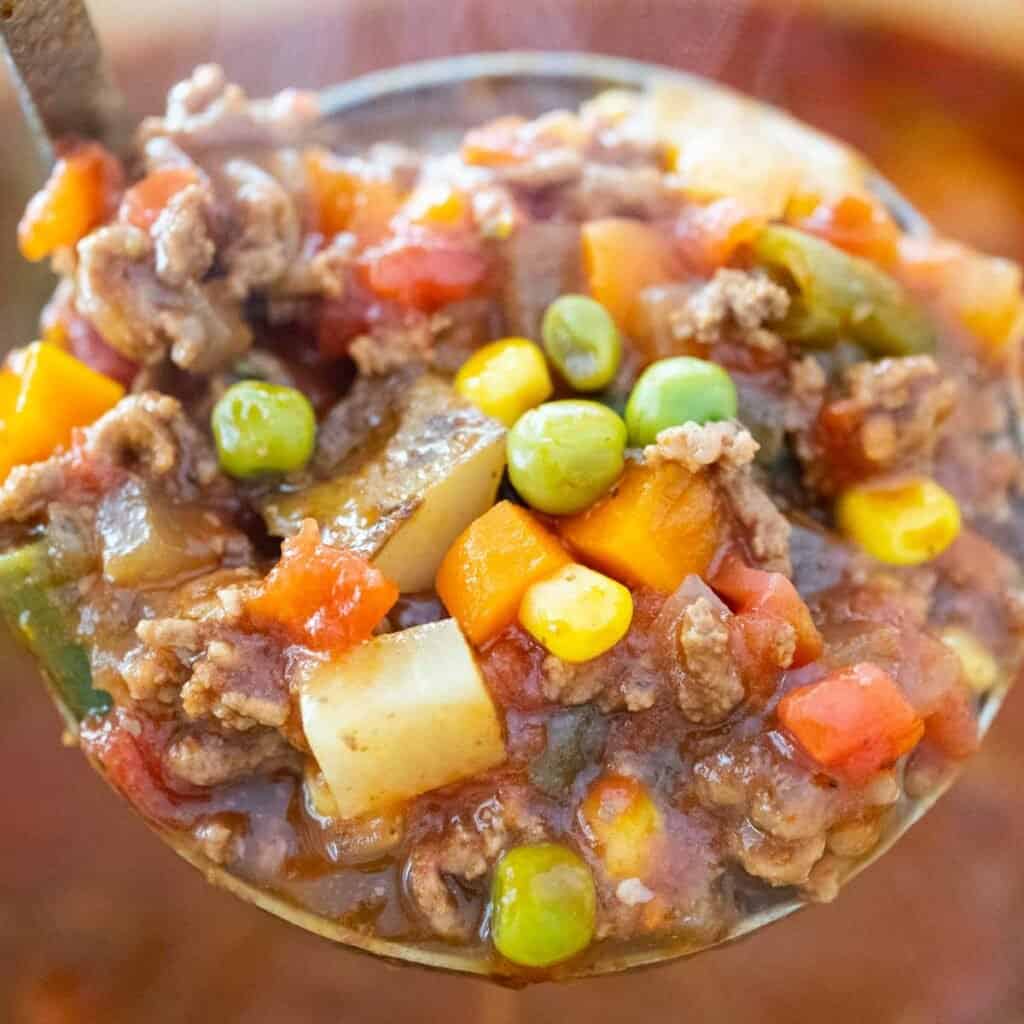 9. Vegetable Soup
Use up leftover hamburger meat and pack in those veggies with a simple but flavorful ground beef vegetable soup. This is an easy recipe that you can easily customize to what you have on hand, making it perfect for leftovers.
10. Cheeseburger Soup
Cheeseburger soup is such a tasty and easy dinner! Especially if you already have the ground beef cooked! Start by adding the ground beef to a large pot to cook if it isn't already cooked. Add diced potatoes, carrots, celery, onions, garlic, and seasonings. Simmer for 15 minutes.
Add chicken broth and bring to a boil. Reduce the heat and simmer for 15 minutes. Stir in cream cheese and shredded cheddar cheese and cook until the cheese is melted. Serve with a side of crusty bread.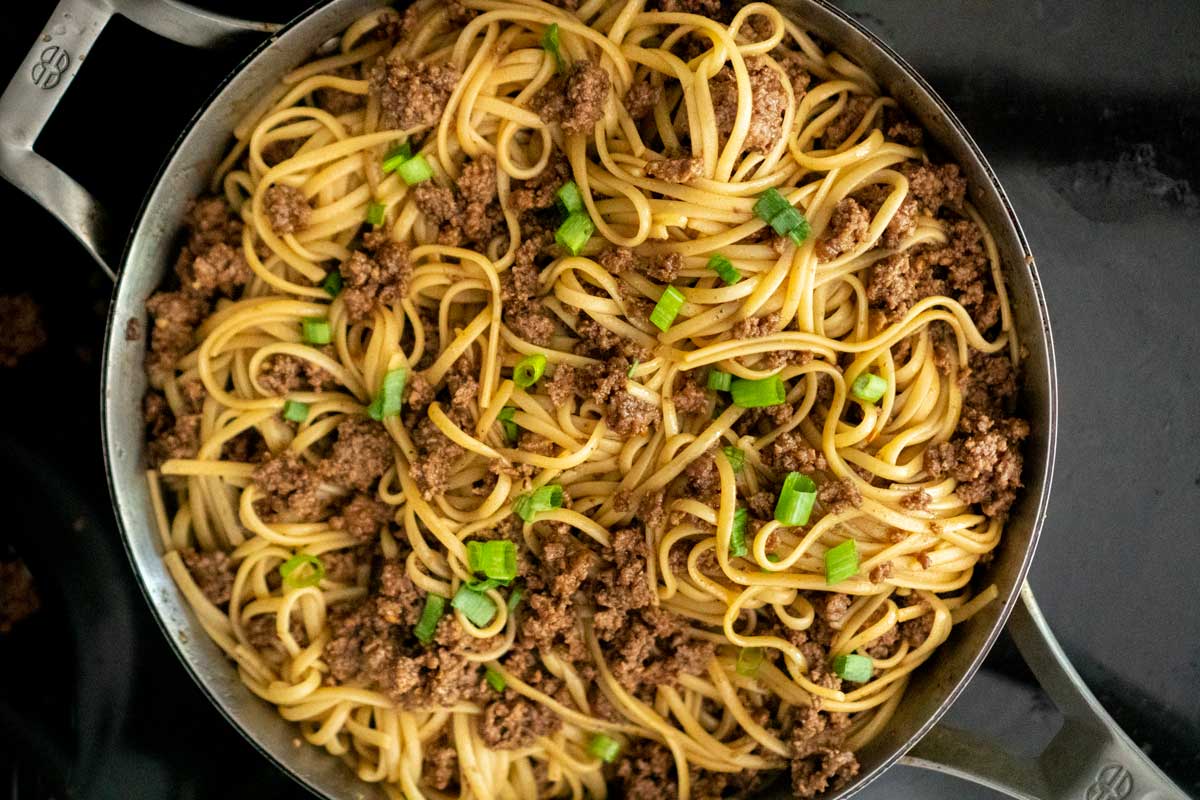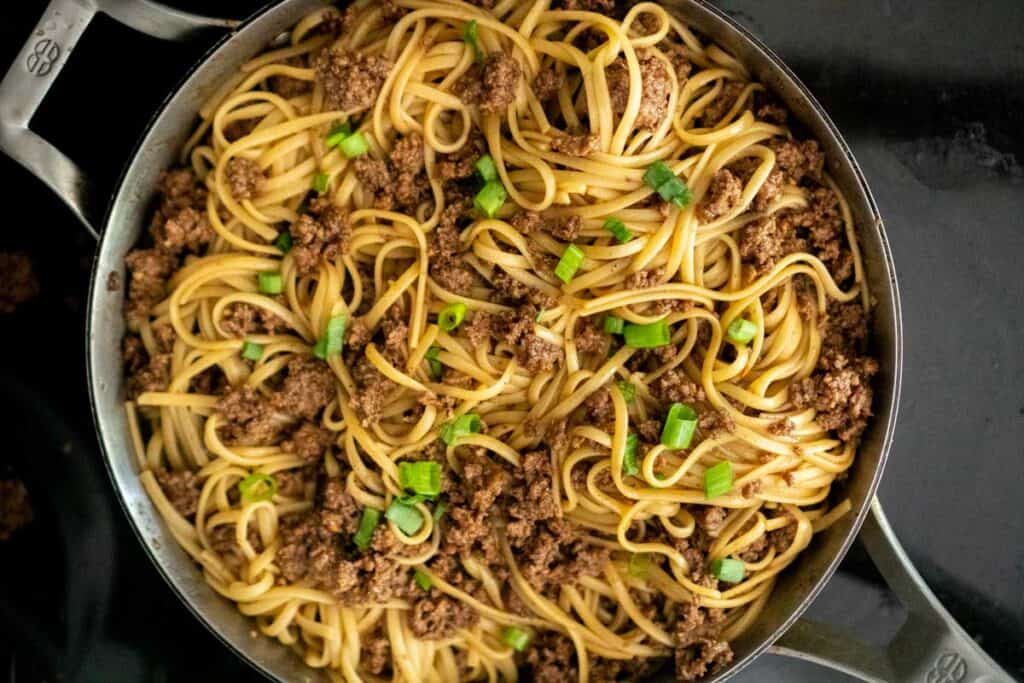 Mongolian noodles with ground beef is a super easy recipe you can get on the table in less than 20 minutes. It's also a great way to use up leftover ground beef because you are adding so much flavor to the beef and you can use an inexact amount without harming the final taste.
Like the tacos we mentioned above, this taco macaroni recipe is a great way to add a ton of flavor to leftover hamburger meat and really stretch it to feed a crowd.
Even better, this taco macaroni is a one pot meal so clean up after dinner is a breeze!
Speaking of tacos, you can also make taco soup to help stretch leftover ground beef to feed your family, even if you don't have a full pound of leftover meat.
Simply add beans, corn, and tomatoes to the beef along with a few seasoning packets and enjoy!
14. Beef Curry 
Beef curry is a really flavorful dish. It's one of the more creative ways to use leftover ground beef, and it's a little spicy, so keep that in mind!
Start by heating oil in a large pot and add onions, garlic, ginger, and curry powder. Cook until fragrant. Add the ground beef and cook until it's heated. Add tomatoes, coconut milk, and seasonings and simmer for 15 minutes. Serve over steamed rice or naan bread.
15. Ground Beef Pasta Skillet
Finally, a simple one pan pasta skillet (think homemade hamburger helper) is an easy way to use up extra meat. Plus, this tasty recipe is super family-friendly and easy to make (and easy clean up!)