I vant to ... eat that cake! This Cherry Vanilla Vampire Poke Cake is a sweetly spooky and devilishly delicious Halloween dessert!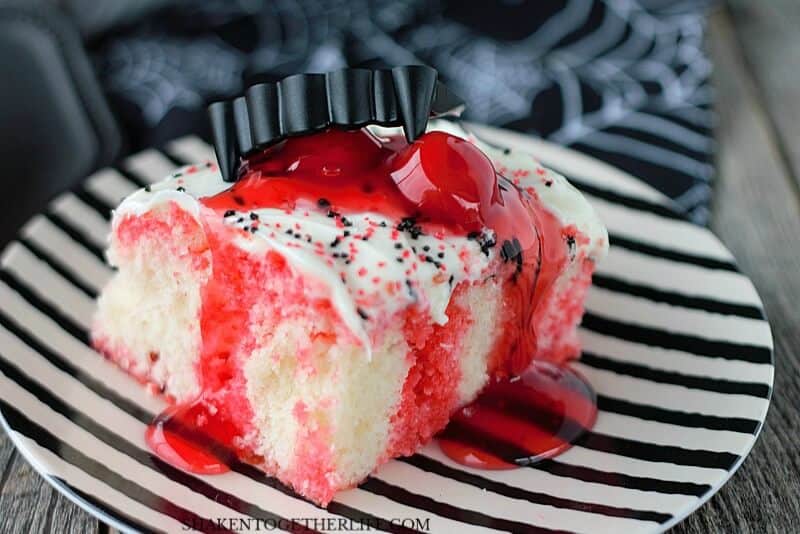 If you follow Shaken Together on Facebook, you may have seen that we live in Central FL and just made it through Hurricane Irma. Honestly, the aftermath looks like something out of the zombie apocalypse. While our fair Sunshine State has a lot of damage, displaced families and devastating losses, the stories that are emerging bolster my hope that we will pull through #Floridastrong. Communities are coming together, businesses are giving out free gas, local YMCA's are opening their doors to non-members for showers and schools are serving free lunch to their local families. While I am supporting out local community in various ways, I also decided that it's okay to get back to what I love ... and that's YOU GUYS! So, let's eat cake. A fun Halloween cake to be exact!
Cherry Vanilla Vampire Poke Cake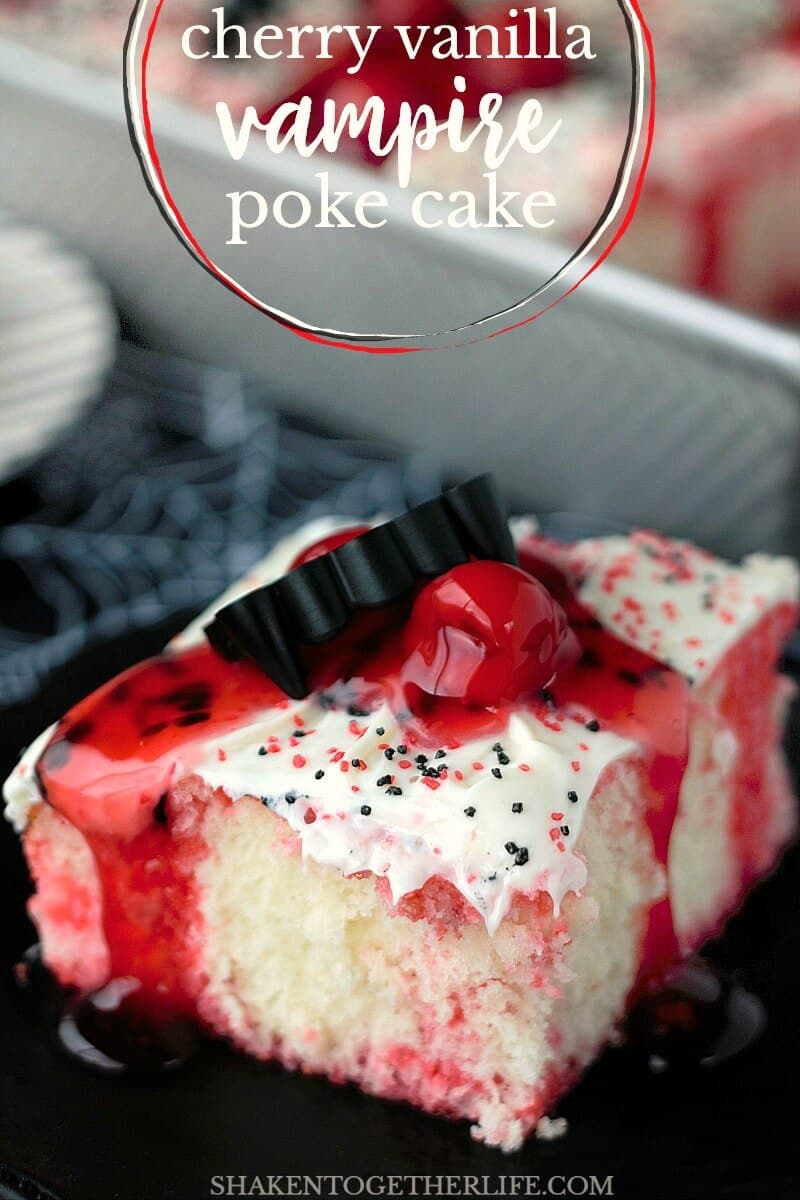 You know I had to do a Halloween poke cake. It's only right to keep up the tradition. A new holiday, a new poke cake. This is poke cake recipe #9! It starts out like every other poke cake:
A baked white cake
Holes poked all over the surface
A good soaking with Jell-O
And here you have it - a white cake drenched in tangy cherry Jell-O! She may not be a stunner yet, but just you wait.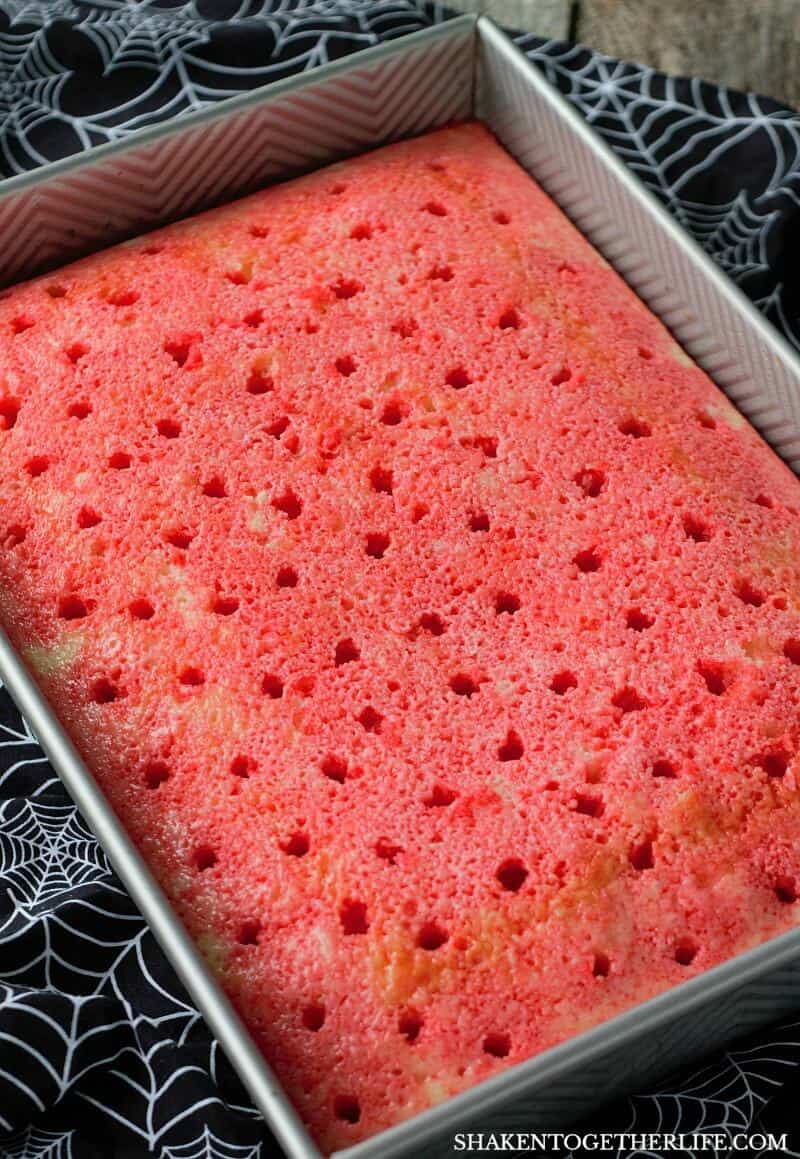 The cake gets a layer of bright white vanilla frosting (or homemade buttercream or whipped topping) ...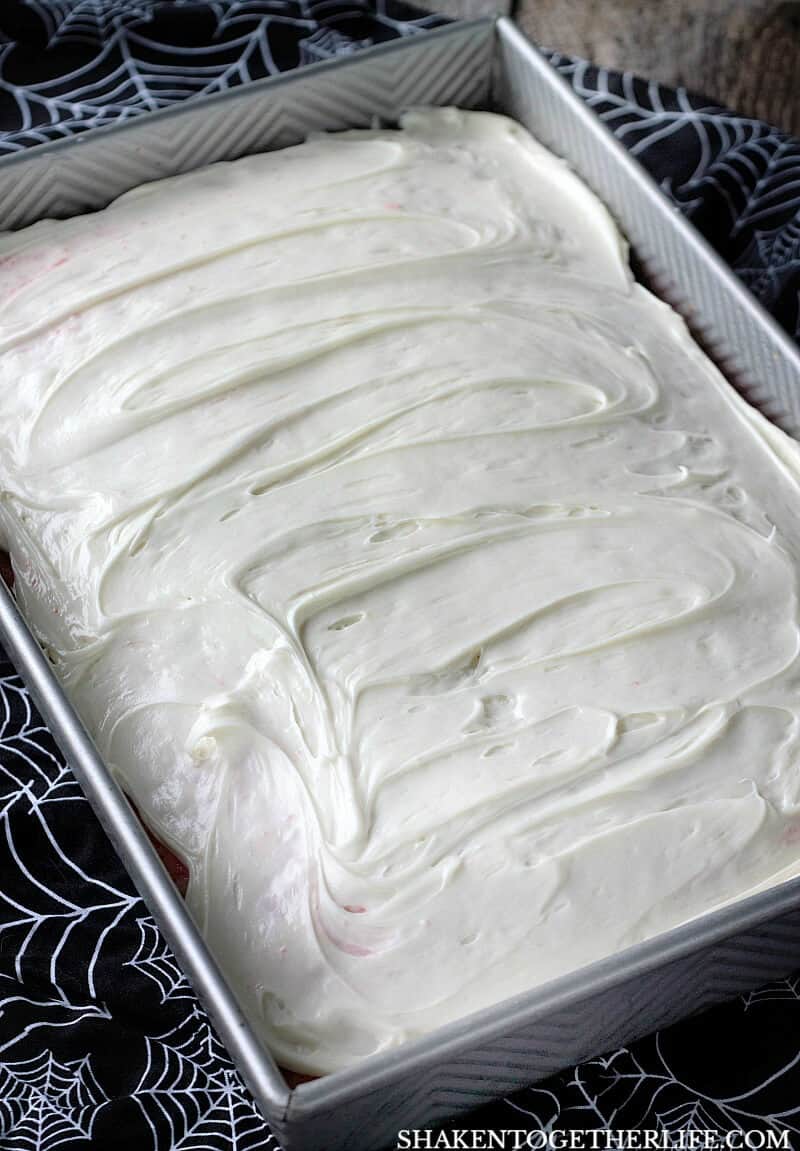 Then sprinkled with tons of red and black sugar!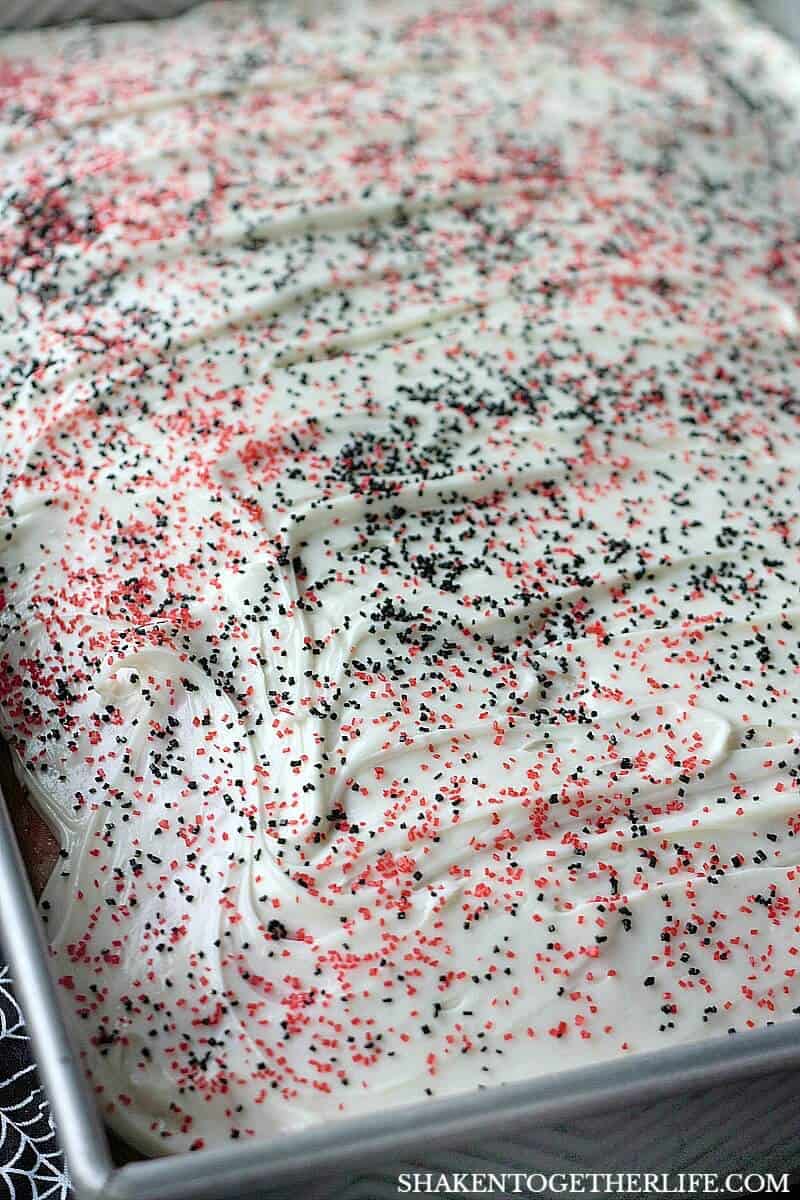 But wait! There's more! Just before serving (otherwise the black sugar will run), the cake gets globs of glossy red cherry pie filling and ominous black vampire fangs. This Cherry Vanilla Vampire Poke Cake just got all kinds of awesome!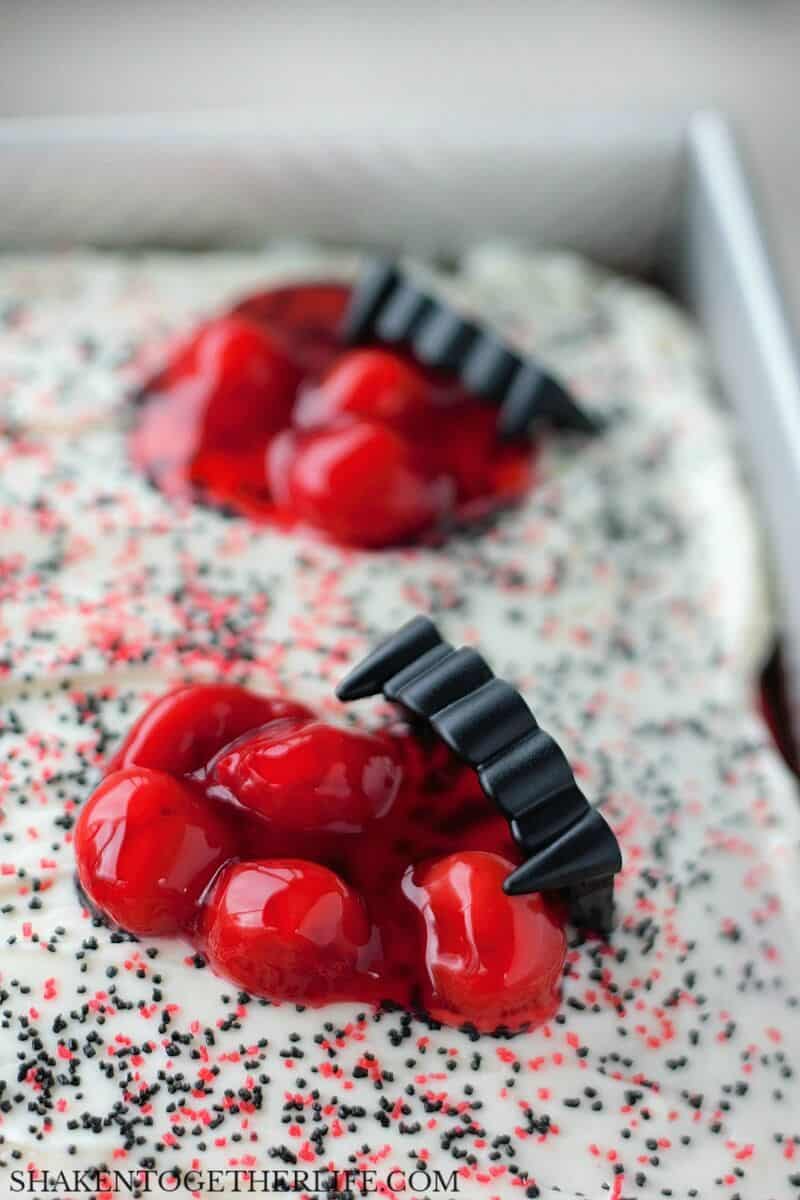 Take a peek inside of this sinister sweet ...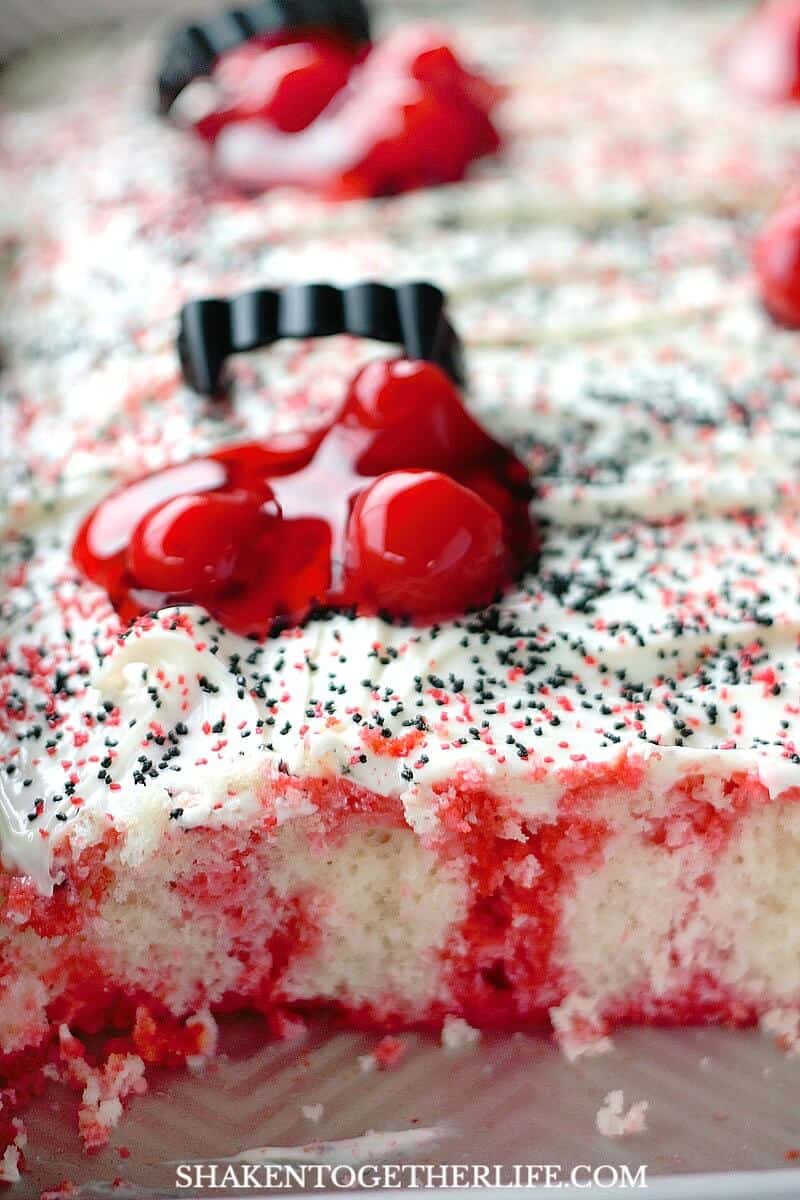 Ribbons of red Jell-O run through the white cake, making this sweet treat look like it met the business end of those fangs, right?! I seriously LOVE Halloween!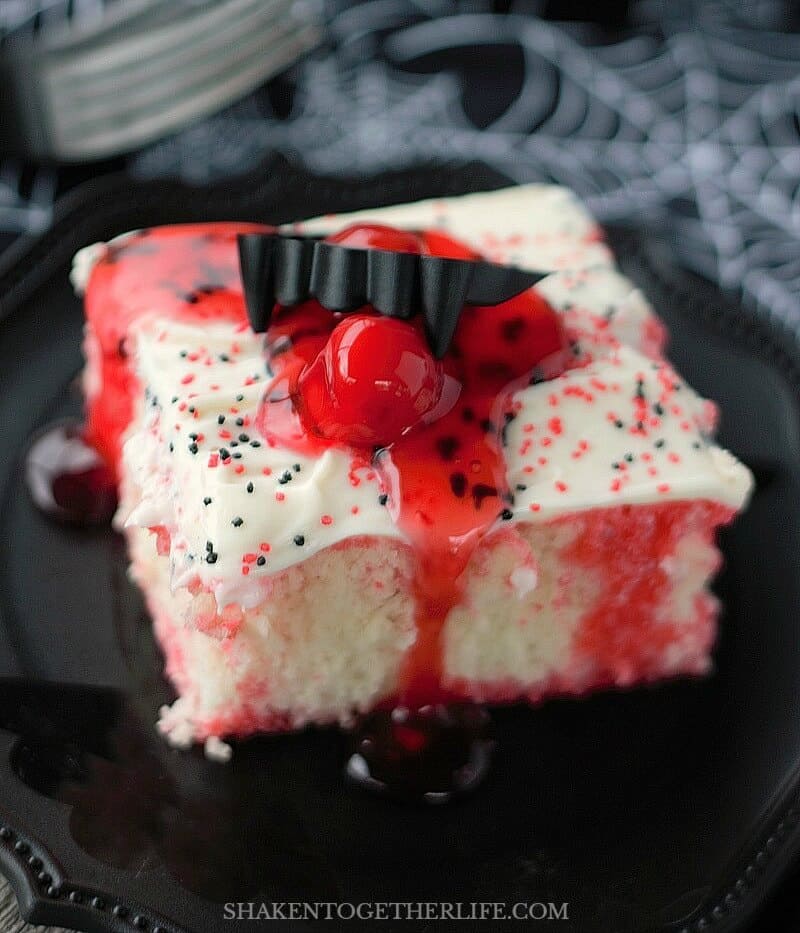 A bit more cherry pie filling to drip over the side of the cake is the perfect touch for a little more Halloween fun. And let me tell you, this Cherry Vanilla Vampire Poke Cake tastes nothing short of AMAZING!
Soft, chilled vanilla cake.
Tangy cherry Jell-O ribbons.
Sweet vanilla frosting.
Tart cherry pie filling.
I'm pretty sure any vampire would bargain away a bite for a big piece of this cake!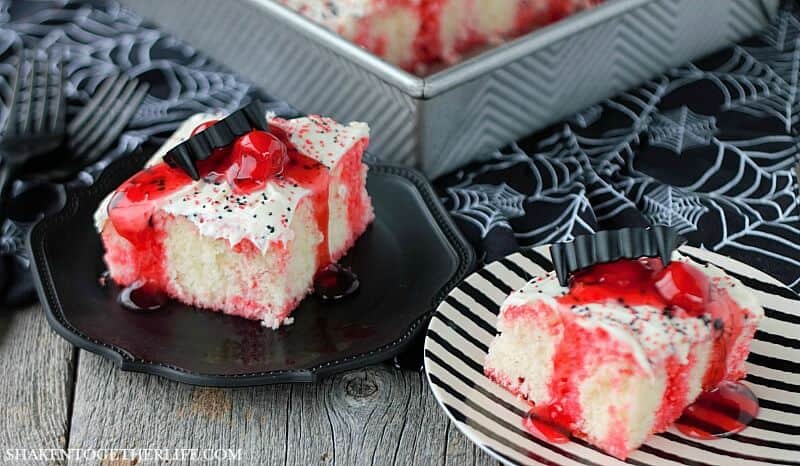 Here are a few fun things to add to your shopping list for this Cherry Vanilla Vampire Poke Cake:
This list includes affiliate links, which means if you click through to purchase anything (at no additional charge to you!), I receive a small commission which helps keep the kitchen stocked here at Shaken Together!
Print Cherry Vanilla Vampire Poke Cake
---
One

9

x13 white cake (baked and cooled)
One

3 oz

box of cherry Jell-O
One tub prepared vanilla frosting (or a batch of homemade buttercream or 8 oz. whipped topping)
Black and red decorating sugar
One can cherry pie filling
Plastic vampire fangs for garnish
---
Instructions
Use the handle of a wooden spoon or a large drinking straw to poke holes over the entire surface of the cooled cake.
Prepare Jell-o with 1 cup boiling water and ½ cup cold water. (This is ½ cup less water than the directions on the box.)
Pour Jell-o over the cake - make sure to get some in every hole and over the surface of the cake.
Refrigerate overnight or at least 3-4 hours.
Just prior to serving, frost cake with vanilla frosting and sprinkle on black and red sugar.
Add dollops of cherry pie filling to the top of the cake and plastic vampire fangs on top of the pie filling.
Serve each piece of cake with additional pie filling to drip down the sides of the cake.
---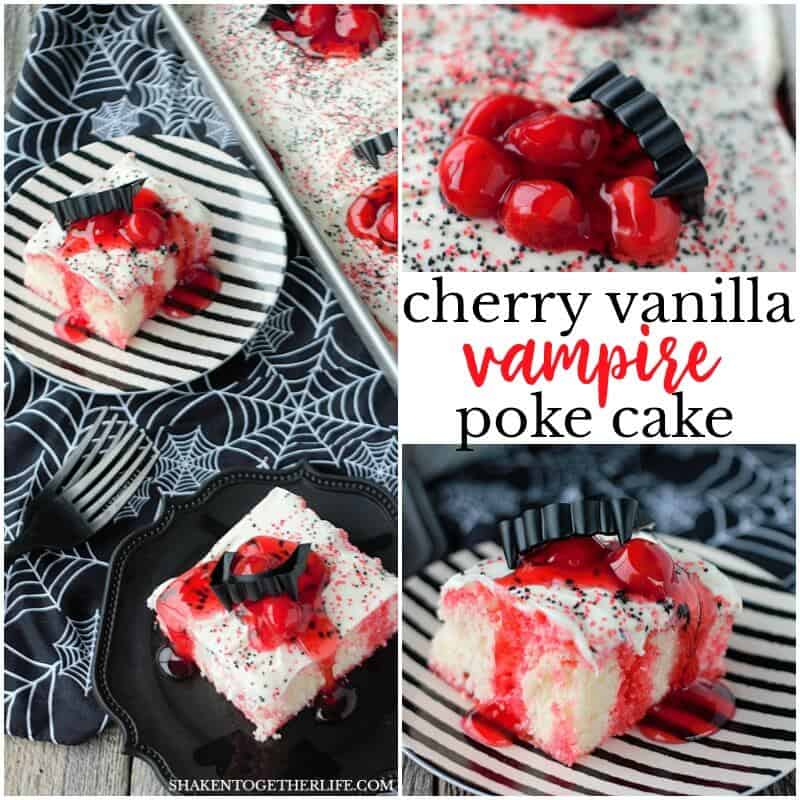 How do you celebrate Halloween? Do you host a party? (Check out this Halloween Dessert Bar!) Lead a group for trick-or-treating? (Cool off with these Vampire Floats!) Or hunker down and pass out candy to the littles? That's my favorite part 🙂
Don't forget to pin this to your Halloween Pinterest board to treat your ghouls and guys!


Here are a few more Halloween Sweets & Treats!