What says Summer more than margaritas? I took a quick break from the kitchen to make these Easy DIY Margarita Scented Candles and you won't believe how simple they are to make! Thanks so much to my awesome local Habitat for Humanity ReStore for letting me pick out some fun finds to use for this Summer DIY project!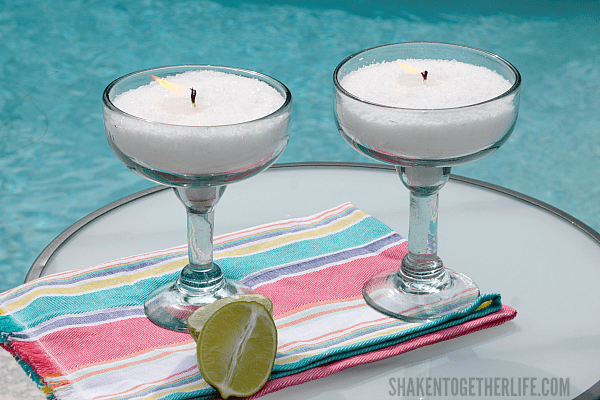 No wait!
Don't be intimidated by making your own candles. With my easy tutorial, you don't have to melt wax (say what?!), monitor temperatures or let these candles cure overnight! Really, these are as easy as mix, pour and light ... you are only minutes from the delectable citrusy scent of margaritas!
Easy DIY Margarita Scented Candles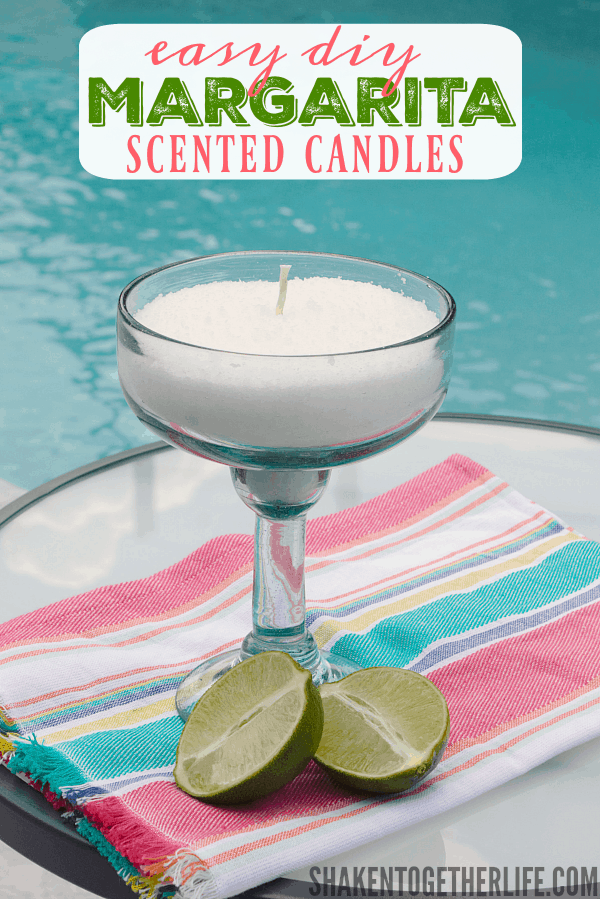 These fun margarita candles started with a trip to my Habitat for Humanity of Greater Orlando ReStore. If you've been around for a while, you may remember the copper Jell-O mold that I transformed into a Spring Wreath ... that was a ReStore treasure, too!
Have you heard of the ReStores? They accept gently used household goods and building materials, including home décor, appliances, furniture and hardware. All proceeds from store sales fund Habitat's mission to help homeowners achieve the self-reliance they need to build a better life for themselves and their families through affordable homeownership. I love supporting a great cause and getting my DIY on!
These are a few pictures from the Baldwin Park location - the store was stocked with great furniture (I really love that dining table and chairs!), awesome home decor items like light fixtures and art work, some building supplies and of course ... kitchenware aka my margarita glasses!!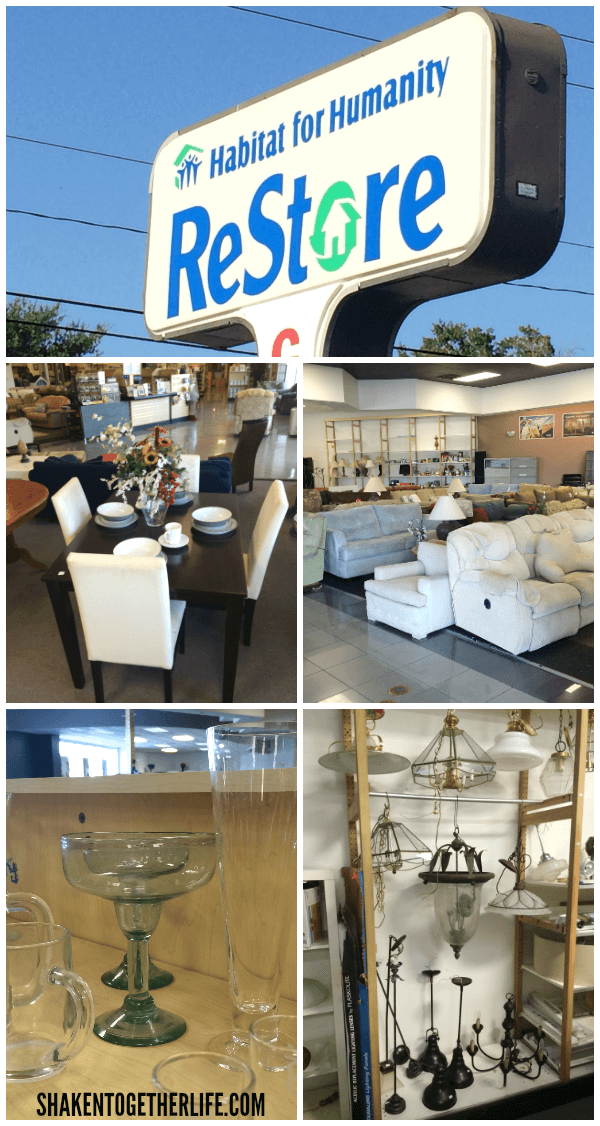 Local Central FL friends:  Both individual and corporate donations are welcomed and the stores offer a free pick-up service through its donation hotline: 407-426-7859. The ReStores are open Monday – Saturday from 9 a.m. to 7 p.m. and Sundays from noon to 6 p.m. Jalisa and Kenny at the Baldwin Park location were SO friendly and helpful! **Mention this blog post and save 15% off your store purchase!!**
Now, let's make some candles!!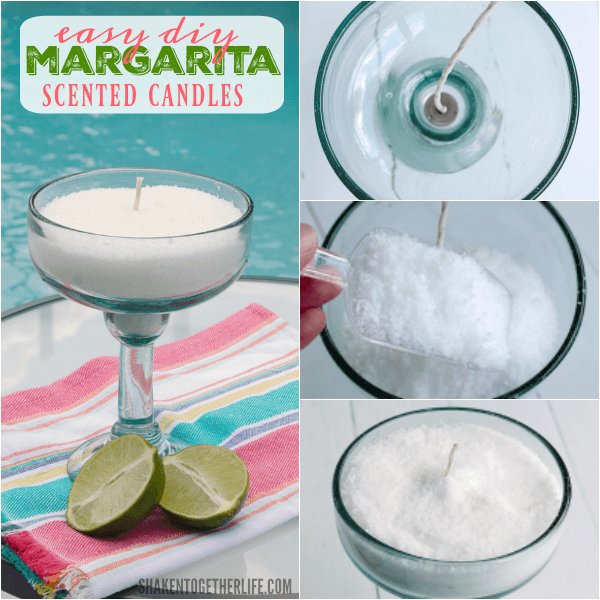 Supplies
**This supply list contains affiliate links, meaning that if you make a purchase after clicking through, Shaken Together may receive a small commission at no extra cost to you.  Thanks for helping to support this site!
Heat safe containers - I used 4 Margarita glasses that I scored at the ReStore for $8!!
8" Candle Wicks (purchased at Hobby Lobby but similar here) - I used thicker wicks since the diameter of the glasses was about 5 inches
Hot glue gun + glue sticks
White Granulated Wax (purchased at Hobby Lobby but similar here) - I used about 30 oz. to fill all 4 glasses
Essential oils - I used Young Living Grapefruit & Lime (more info here)
Scissors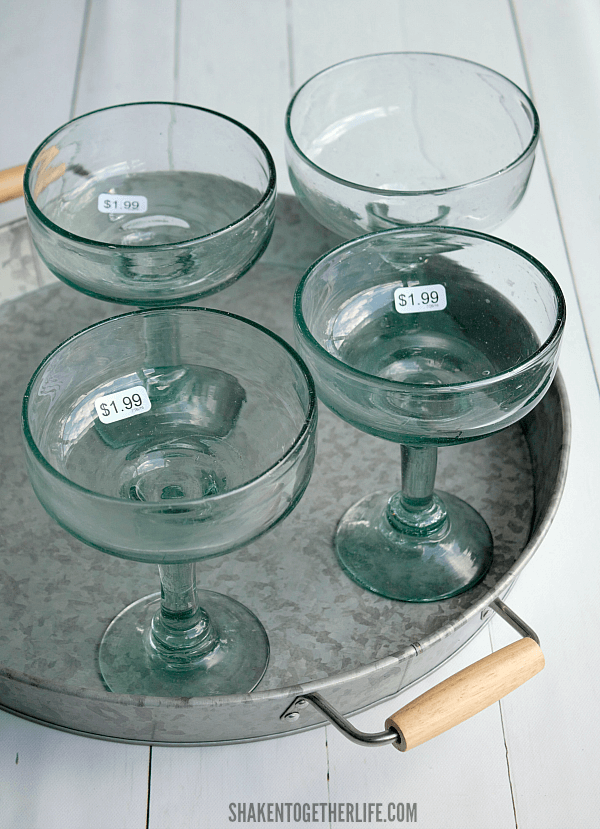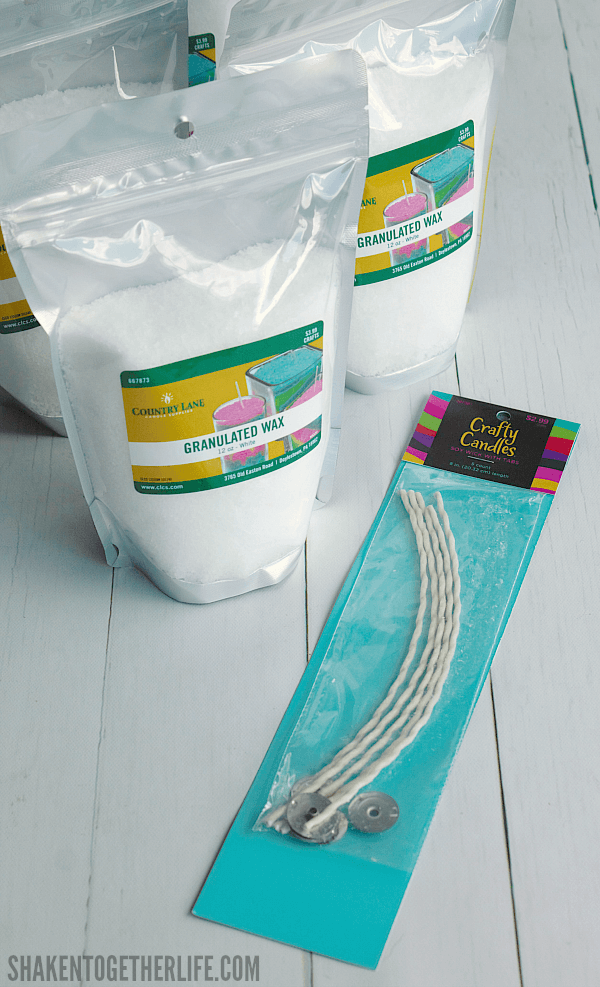 First, I washed and dried the margarita glasses. Then, I used my hot glue gun to affix a wick to the center of the bottom of each glass.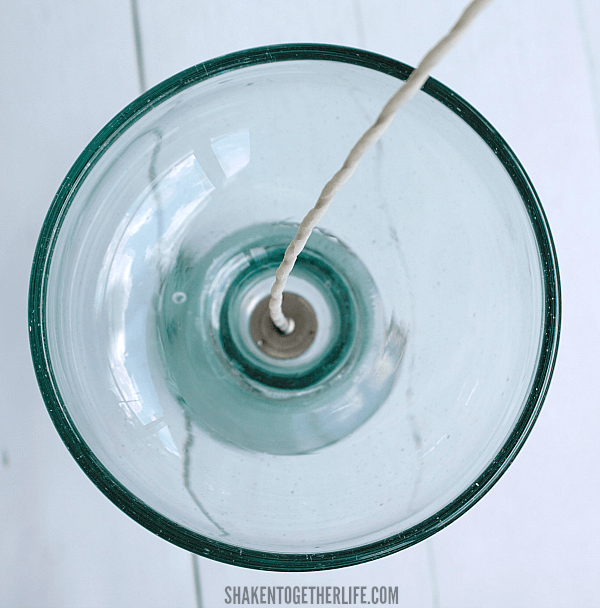 Once the glue was dry, I mixed together one 12 oz. bag of granulated wax with 15 drops each of Grapefruit and Lime essential oils. (If you prefer, you can leave the candles unscented or use a liquid candle scent.) The beauty of granulated wax is that you don't need to melt it to fill your container. The tiny granules will melt as the wick burns.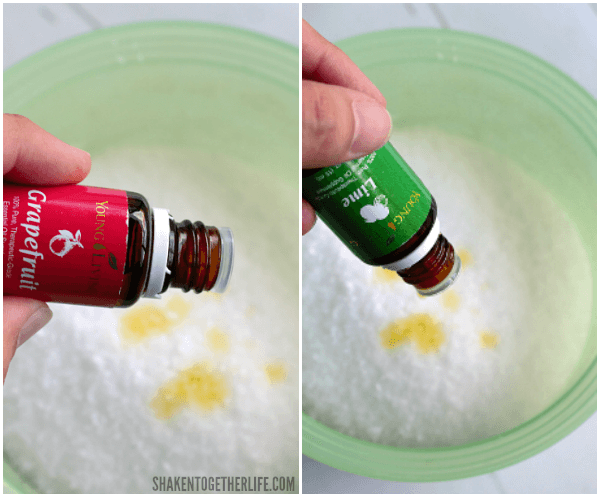 After I mixed the oils into the granulated wax, it is as simple as filling your container! Make sure to keep the wick centered and gently press down the granulated wax to ensure that any air pockets are filled with wax granules. That will make the wax burn more evenly.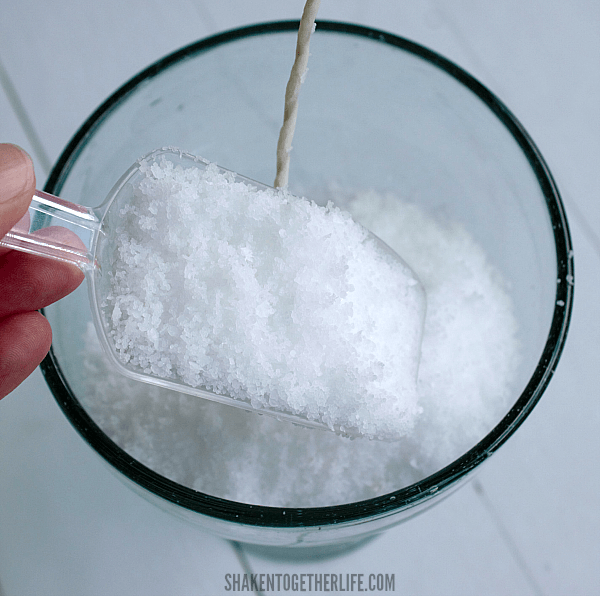 Trim the wick and leave about 1 ½ inches of wick above the top of your container.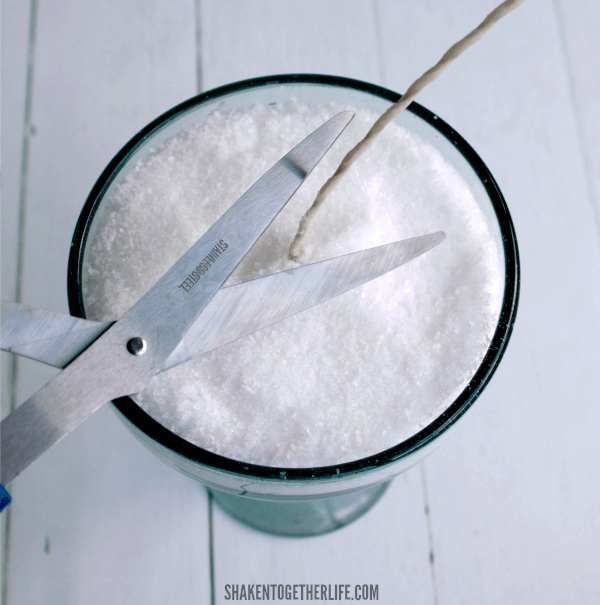 And done!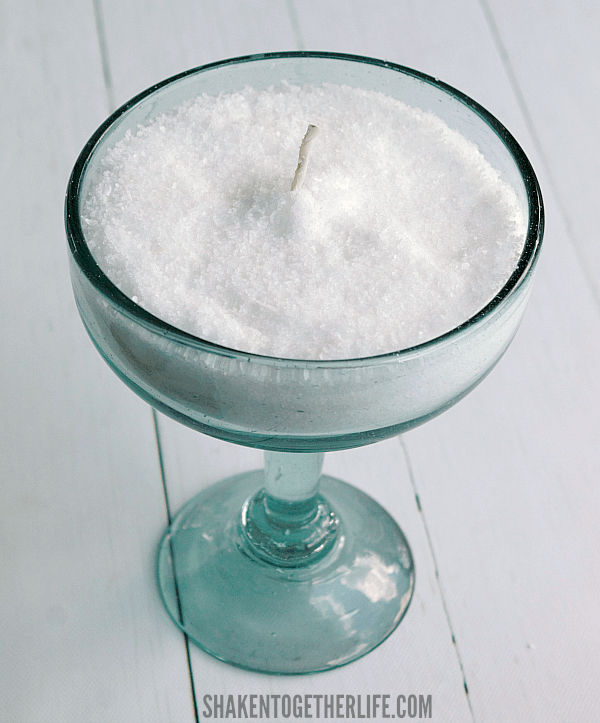 I think all 4 of these Easy DIY Margarita Scented Candles literally took less than 10 minutes from start to finish!!

Happy candle making! Please remember these basic candle safety tips:
Never leave candles burning unattended.
Keep candles out of the reach of children and pets.
Melted wax is HOT - take care around or when moving candles with liquid wax.
Instead of blowing out the flame of a candle (which could cause hot wax to splatter), use a candle snuffer.
I burned my candles for several hours without issue after using the exact supplies noted in my supply list. (See picture below.) Please review the ingredients and follow the specific instructions for the products you plan on using.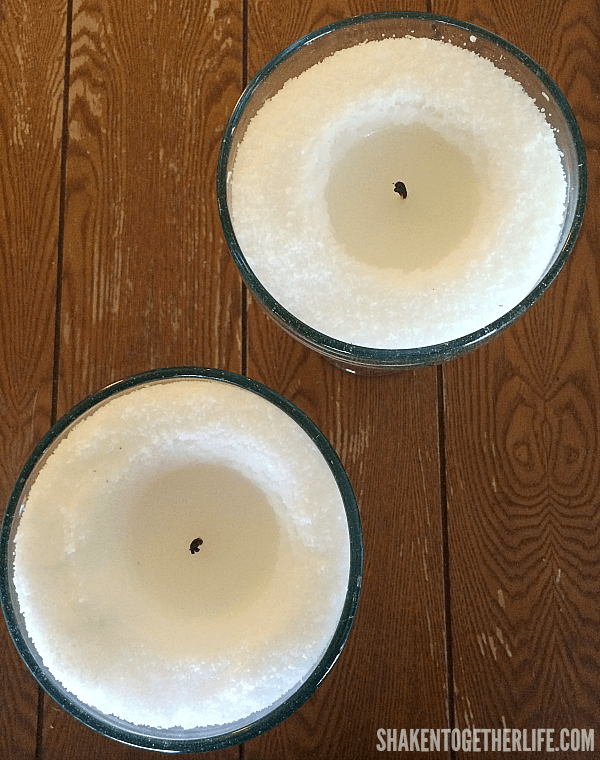 I'm so excited to share that two of my fellow Central Florida bloggers also hit their Habitat for Humanity of Greater Orlando ReStore and made a DIY Summer project, too!
Check out the DIY Garden Planters Using Locker Drawers from Elizabeth at Within the Grove!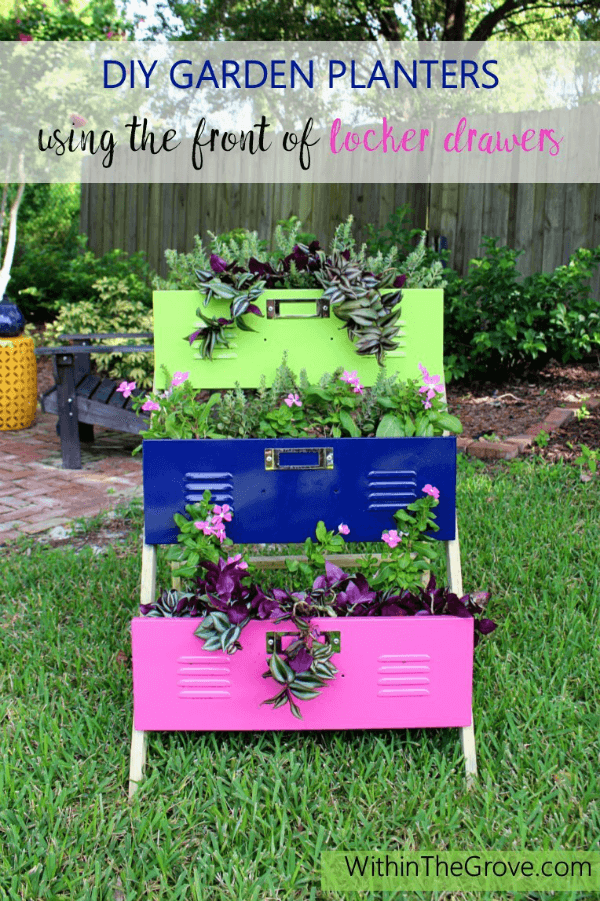 And the Mid Century Bench Made from 2 Chairs that Sarah from While They Snooze DIY'd! While you're at it, check out the DIY Tripod Floor Lamp she made last year! The creative force is strong with this one 😉