Wondering what to do with the leftover gravy from your holiday meal? There are so many options! Here are 15+ ways to use leftover gravy.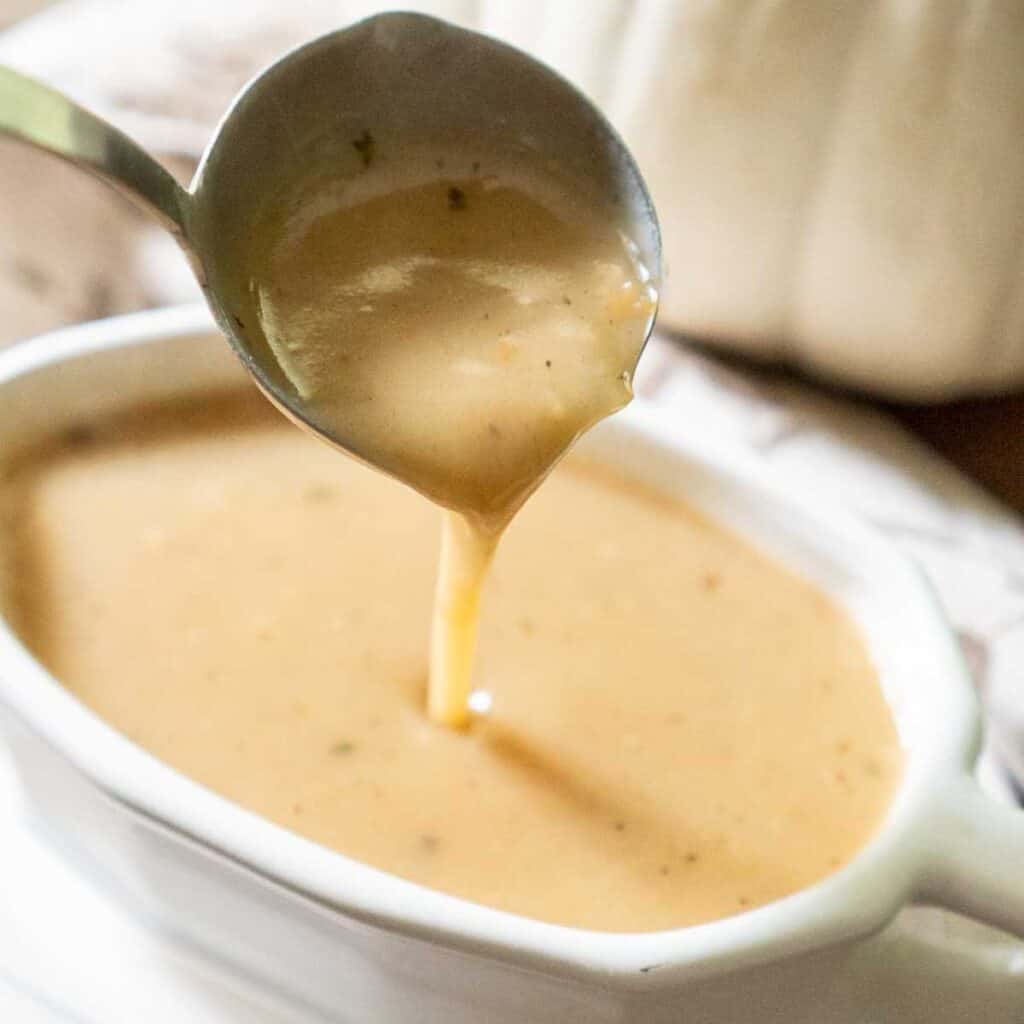 Gravy is one of my favorite parts of any meal. Whether it is traditional gravy made with drippings, gravy without drippings, or cornstarch gravy, I'll take it any way you make it!
Because I love it so much I will often double or triple the recipe, which leaves me at times wondering what to do with the leftover gravy I sometimes in up with. Here are my favorite ways to use leftover gravy.
Chicken Pot Pie
Adding leftover gravy to a chicken pot pie (or Turkey pot pie or beef pot pie!) is an easy way to make it fast. Simply chop up some cooked chicken or turkey and add in some mixed veggies before pouring into a pie crust and topping with a second crust. You can also use it to make a chicken pot pie casserole as well.
Salisbury Steaks
Sauté onions and add to your gravy and serve over cooked cube steaks to make a fast and easy salisbury steak meal. This is a great recipe for leftover brown gravies especially.
Chicken and Dumplings
Thin the leftover gravy with some additional broth and use it to make chicken and dumplings. Simply add chopped chicken and bring the thinned gravy to a boil. Mix up some Bisquik and milk and drop the dough in to make the dumplings. Full recipe here.
Poutine
I had not heard of this dish until we met some Canadian friends through an Army assignment, but poutine is a BIG thing in Canada! According to Wikipedia, poutine is french fries and cheese curds topped with a brown gravy. It emerged in Quebec, in the late 1950s.
It is the perfect way to use up leftover gravy!
Substitute your leftover gravy for the white country gravy in chicken fried chicken (or chicken fried steak!) Add a little pepper to your gravy to give it some spice for this dish.
Meatloaf
Skip the traditional ketchup glaze and serve meatloaf with whatever kind of leftover gravy you have. This is a traditional diner-style meal that is perfect for using leftovers.
Biscuits and Gravy
Depending on the type of gravy you have, biscuits and gravy can be a great option for using leftover gravy. This Southern staple is traditionally served with a white country sausage gravy but biscuits are great for serving with any type of gravy you might have on hand.
Porcupine meatballs are made with ground beef and rice and I usually serve them with a tomato sauce you can easily serve them with a gravy as well. This goes for regular meatballs as well.
Ground beef stroganoff is one of my favorite fast and easy meals but you can make it even faster by substituting leftover gravy for the sauce. Simply add ground beef and egg noodles to make a fast, "cheater" stroganoff!
Dipping sauce
Gravy makes a great dipping sauce for fries, onion rings, tater tots, etc. Skip the ketchup next time you serve one of these sides and see for yourself!
Shepherd's Pie
Just like the pot pie, you can use gravy to make a fast version of shepherd's pie. This is especially easy if you also have leftover mashed potatoes. Simply brown some meat and toss in some veggies (frozen is fine) and mix with the gravy.
Top the mixture with mashed potatoes and bake up until golden brown. Comfort food at its best!
Freeze for later
Gravy freezes well for up to 3 months and you can even freeze it an ice cube tray to have single-serving portions as well! Just transfer frozen gravy cubes to a freezer bag once solid.
Add to soup
Depending on the type of gravy you have it can be a flavorful addition to soup. For example, leftover turkey or chicken gravy would taste delicious in this Copycat Olive Garden Chicken Gnocchi Soup!
The leftover gravy adds a ton of flavor to the soup's base, making it a smart way to use it up!
Thanksgiving Leftover Sandwiches
One of my favorite things to eat after Thanksgiving is sandwiches made from leftovers! Simply chop up leftover turkey, add some mashed potatoes or stuffing, even cranberry sauce, and top it all with that glorious leftover gravy!
These sandwiches are so fun til experiment with, if you haven't tried them you're missing out!
If you have leftover stuffing as well, be sure to make them into muffins and serve with the leftover gravy. This is another fun way to use up Thanksgiving leftovers!
Next Day Breakfast
Use that gravy the following morning by serving it over your hash browns, with your toast, or even over waffles! Trust me, its delicious!