With just 3 ingredients, our Sugar Wafer Pencil Cookies are an deliciously easy way to say hello to a new school year! These no-bake treats will definitely move you to the head of the class!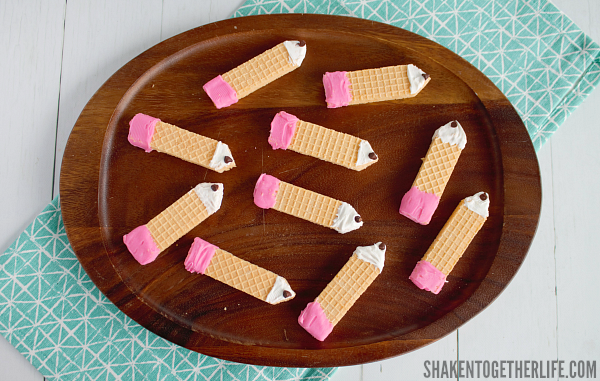 Anybody else l-o-v-e sugar wafers? All those crisp-ety cookie and hurt-your-teeth sweet cream layers ... come to momma! I really don't buy them at the store because it is so easy to eat ten one too many. But darn if I didn't have to buy a package or two to make these super cute, super simple no-bake back to school treats 😉
Back to School Sugar Wafer Pencil Cookies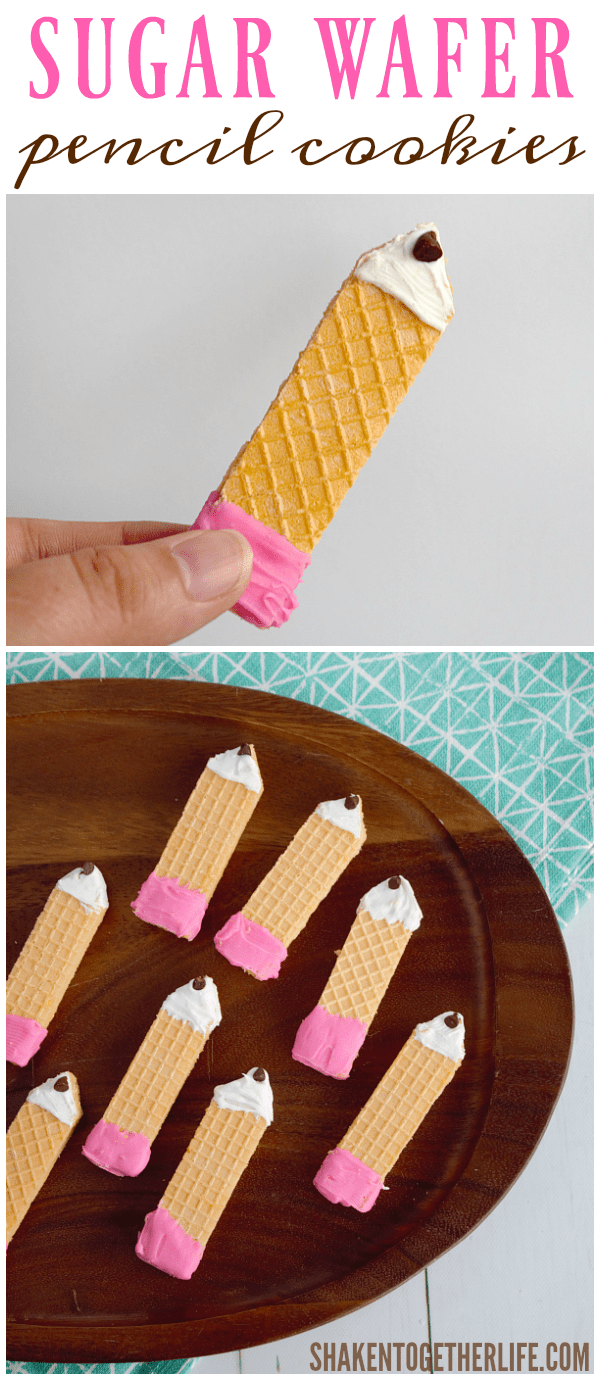 As I do with any dipped treat - Chocolate Pretzel Butterflies, Flower Cookies or Chocolate Dipped Donut Holes - I like to set up a dipping station.
Sugar Wafer Pencil Cookies & Dipping Station Must Haves:
**This supply list contains affiliate links, meaning that if you make a purchase after clicking through, Shaken Together may receive a small commission at no extra cost to you. Thanks for helping to support this site!
Baking Sheet (I like to use a half-sheet jelly roll pan when I have lots to dip.)
Parchment Paper (a non-stick silicon baking mat would also work)
So, I line a baking sheet with parchment paper and put my containers of melted candy melts, sprinkles, chocolate chips, etc. within easy reach so I can dip (or in this case, spread - more on that in a second) and easily decorate whatever I am dipping. Yep, it gets messy and drippy but that parchment paper makes clean up so much easier!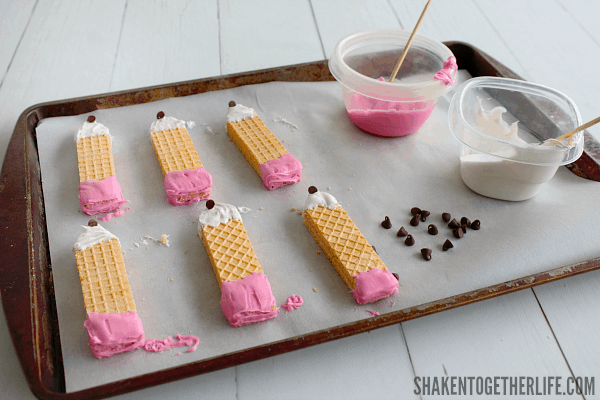 Okay, so now that you have a dipping station ready to go, the next step for these Sugar Wafer Pencil Cookies is to create the pencil shape. With a sharp knife, use a gentle sawing motion and just a teeny tiny bit of pressure to cut one end of each wafer cookie into a point.
To create the pencil eraser, spread the other end of the cookie with melted pink candy melts.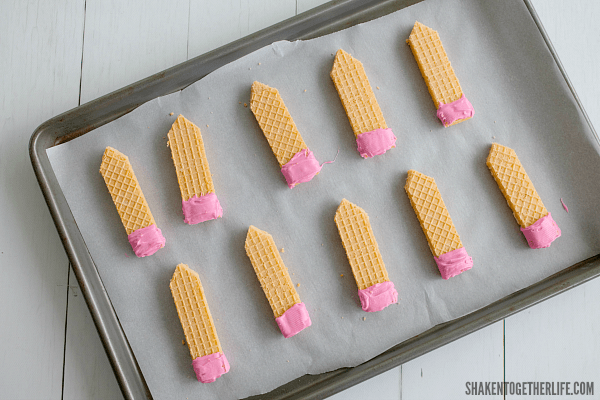 Yes, I said spread. I tried dipping these cookies in the candy melts but the delicate layers made lots of crumbs and the candy melts didn't adhere well to the textured surface of the cookies. So, I grabbed a plastic knife and spread it on. It's not perfect but I'm okay with that 🙂
To create the sharpened pencil point, use white candy melts to cover the pointed end of the cookie. The picture below was mid-spread of the white melts. I went back and smoothed it out as much as I could.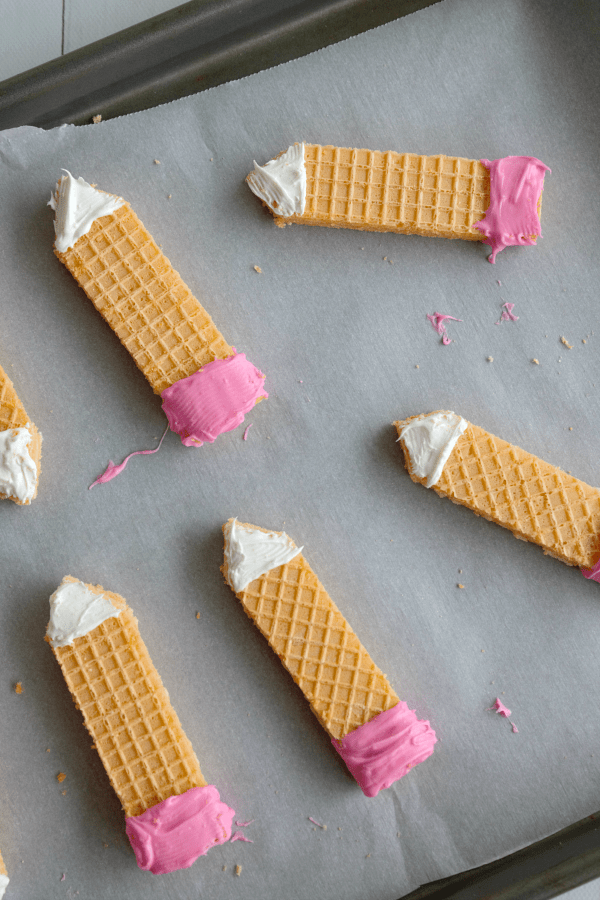 Finally, to create the pencil lead, press a mini chocolate chip on the tip of each pencil. The point of the chocolate chip should align with the point of the pencil 🙂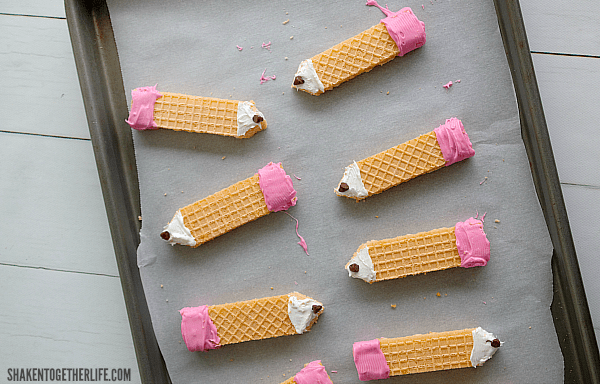 Could these be any cuter?!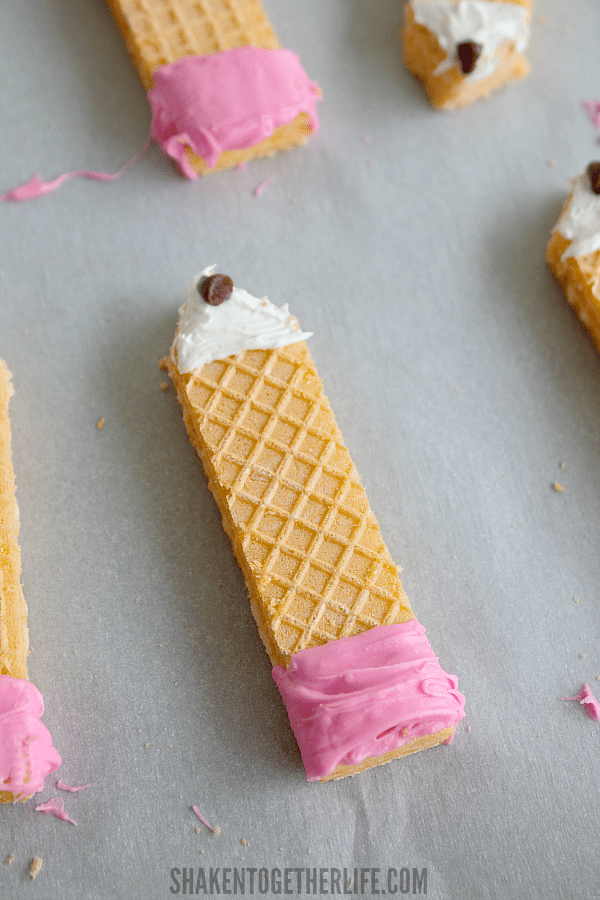 If my boys were younger, I would tuck a few of these Sugar Wafer Pencil Cookies in their lunch boxes or have them waiting as after school snack on the first day of school. For now, I'll have to settle for almost-man hands reaching in to grab them as soon as I was done taking pictures. I guess it's not too bad having a food blogger for a mom 😉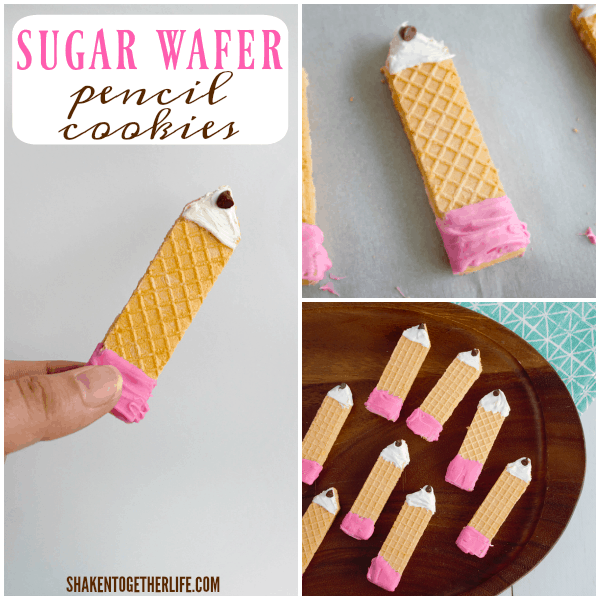 More School Days Fun!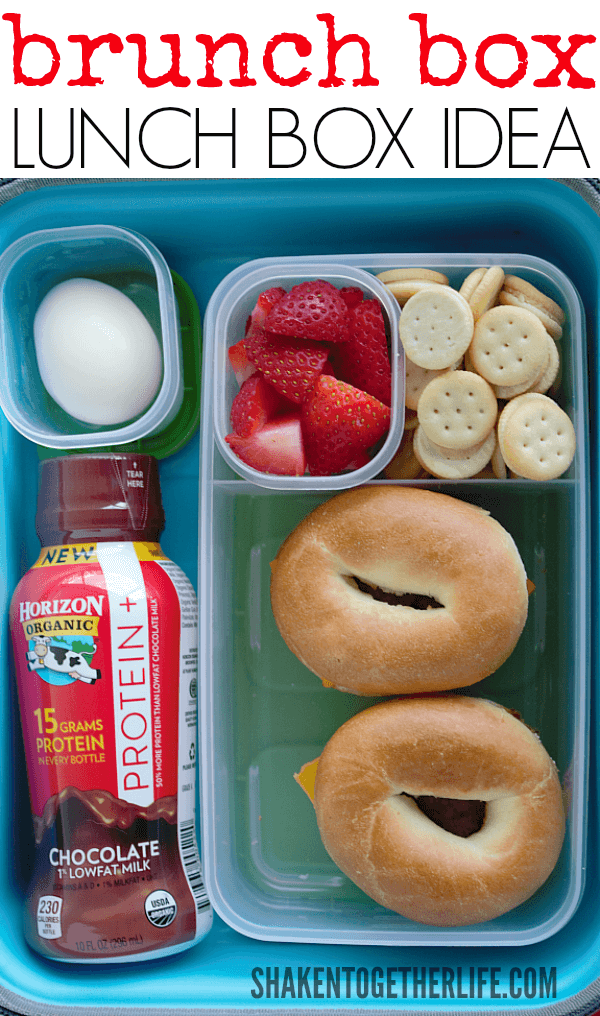 Brunch Inspired Protein Packed Lunch Box Idea - great for active teens!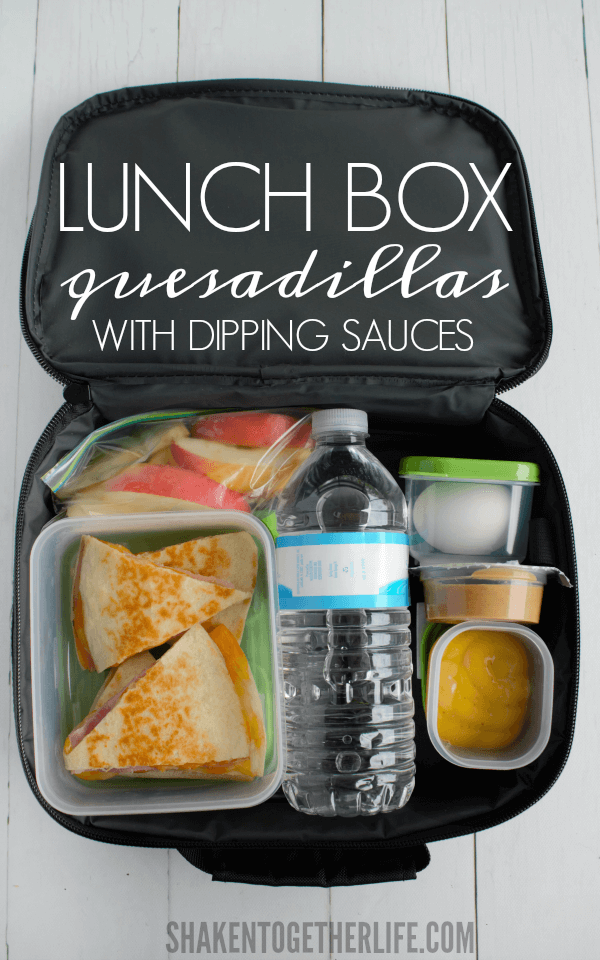 Lunch Box Quesadillas - say buh-bye to those boring sandwiches!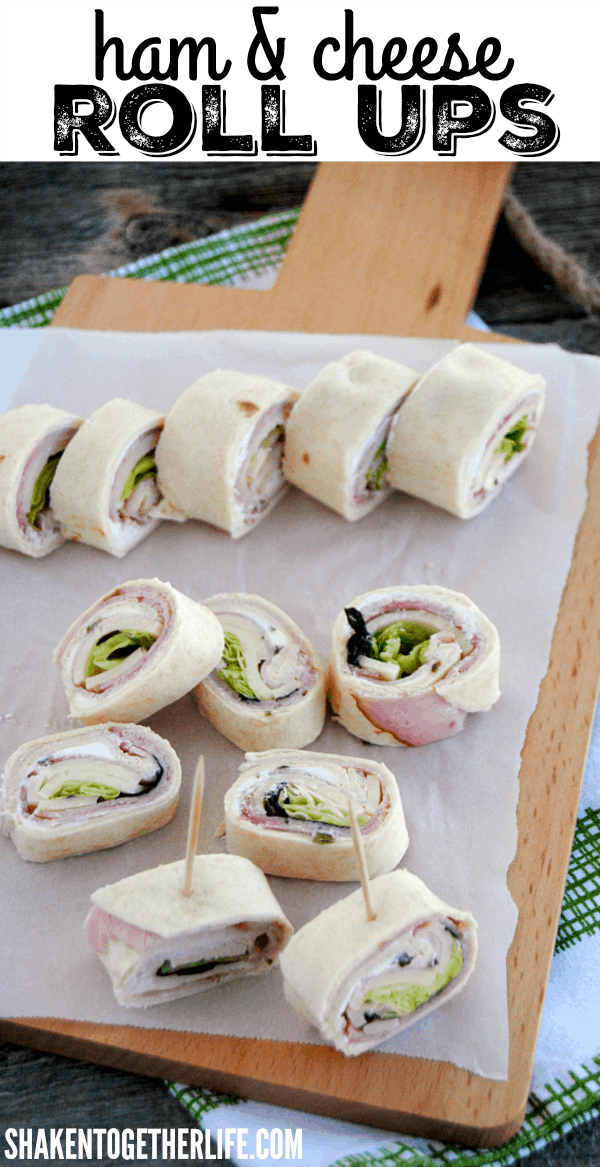 Ham & Cheese Roll Ups - my boys' favorite twist on a plain ol' sandwich!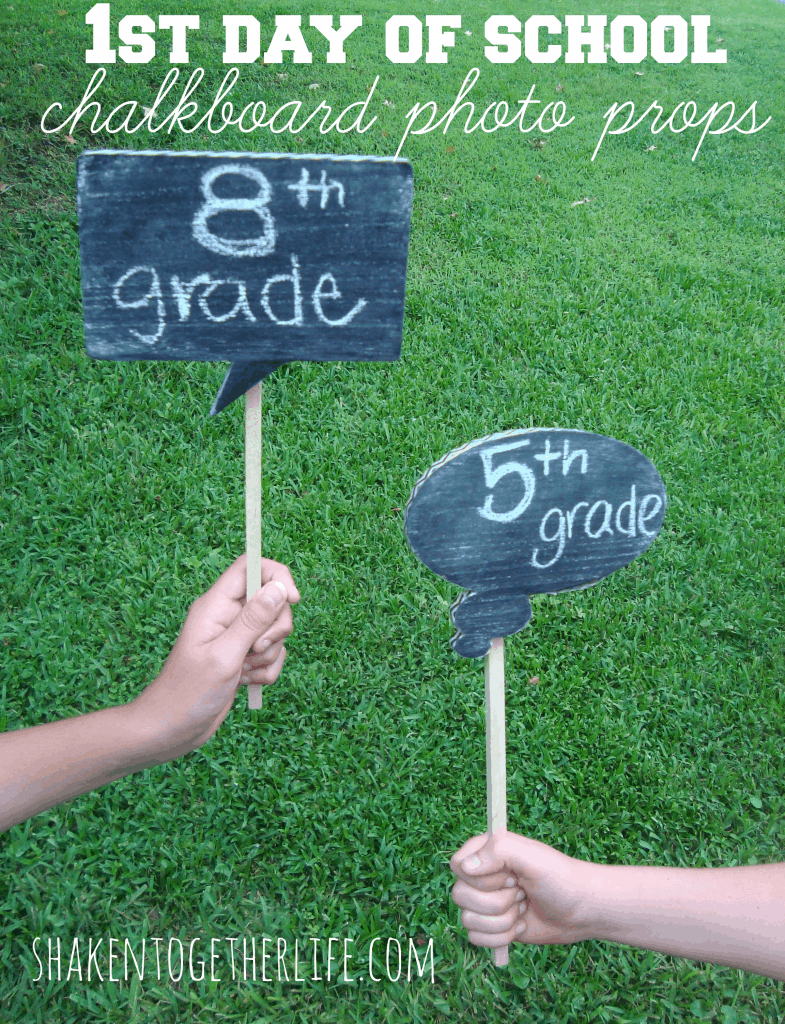 1st Day of School Photo Props - reusable year after year!