Treat your ghouls and guys to a Frightfully Festive Halloween Dessert Bar! No bake treats and no stress decorations are the perfect combination for spectacularly spooky fun!! A big thanks to Oriental Trading Company for providing Halloween supplies to make this Halloween dessert bar so fun!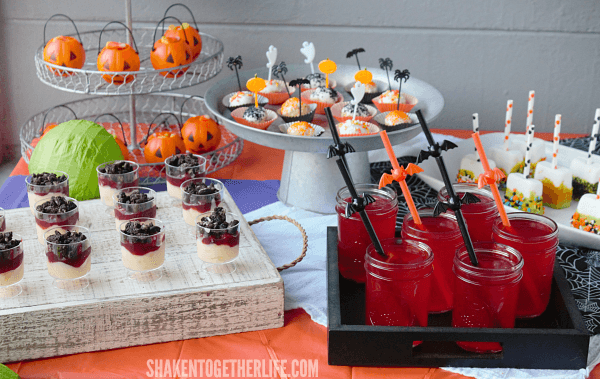 I LOVE a good themed event. A couple times a year, my mom and I throw Pinterest inspired craft parties. Kaleb loved his pizza party themed birthday party. I just threw my mom an "Ah-Mason" mason jar themed birthday brunch - those pics are coming soon so stay tuned. So, for Halloween this year, I figured what was better than a big ol' table full of brightly colored, absolutely delicious no-bake desserts!
Frightfully Festive Halloween Dessert Bar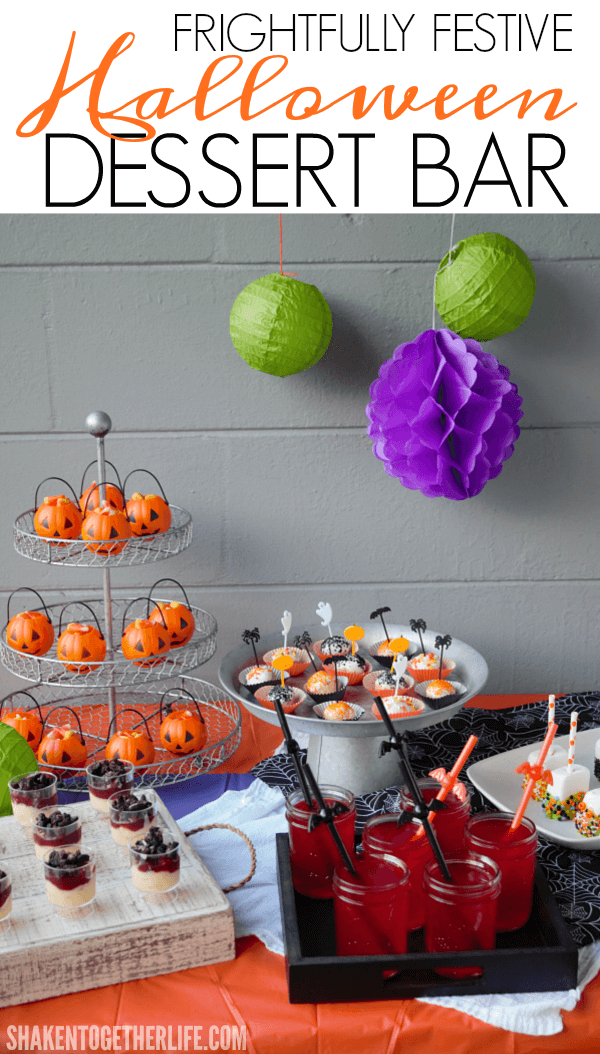 Our homeowners' association provides a pizza dinner for our neighborhood every Halloween. We went every single year when our boys trick-or-treated and it was a great way to see all of the kiddos in their costumes before it got dark. (Halloween is a little bittersweet now since my guys don't dress up anymore, but I do love sitting in our driveway with them as they pass out candy to the neighborhood littles. Check out all of these fun Halloween costumes for adults, kids and pets!)
Anyway, I thought that a Halloween dessert bar was the best possible way to follow a pizza party ... so let's take a look at all of the details that make this sweet stop so frightfully fun!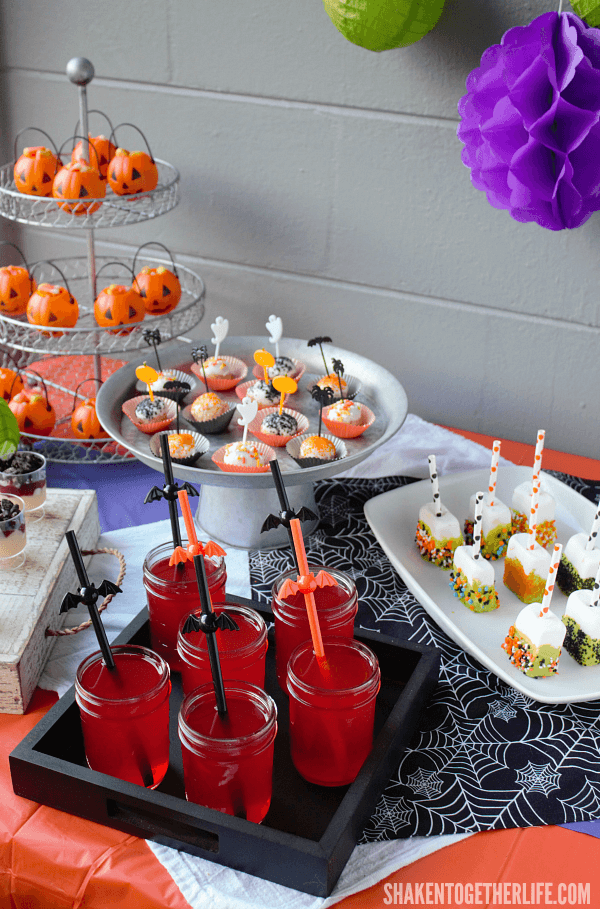 First, I used an orange tablecloth to cover a six foot table. Then, I made a quick and easy 'table runner' by using a folded purple tablecloth placed down the middle of the table. Finally, I layered a white gauzy towel under black and white spider fabric. (You can see the layers in the picture below.)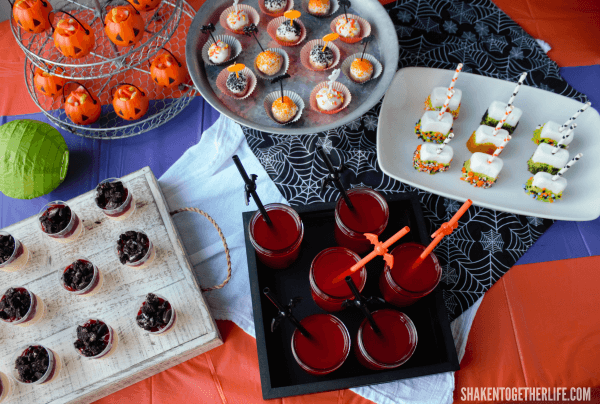 Purple honeycomb balls and green paper lanterns added color and texture ... they are the easiest, no stress decorations for parties and get togethers. String several together and attach them to the corners of the table and on the wall behind the dessert table.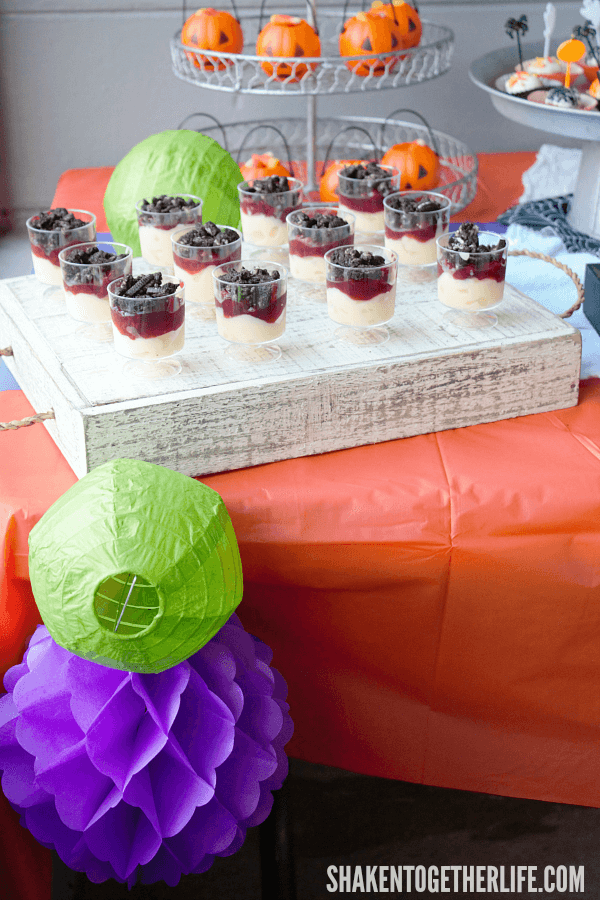 Once the table is covered and the decorations hung, it's time to talk desserts ... YIPPEE!!
Up first are these quick & easy Halloween marshmallow pops!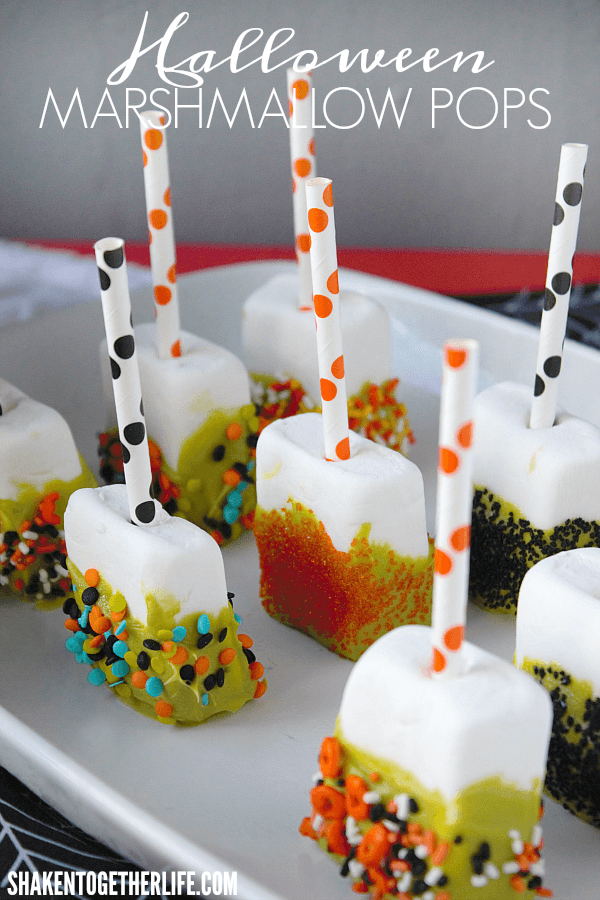 I shared the easy directions to make these marshmallow pops a few days ago. You can easily adjust the color of the candy melts and sprinkles to match the theme of your dessert bar. Soft marshmallows dipped in chocolate and covered in sprinkles are a win at any event!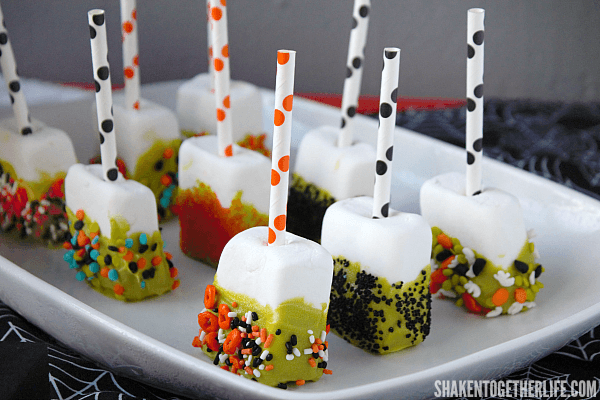 Another easy no-bake treat to make is Halloween chocolate dipped donut holes. I made these for Valentines' Day a few years ago and decided they would be perfect to add this dessert bar with a spooky little twist! Simply dip store bought donut holes in chocolate, add Halloween sprinkles, pop them in a mini cupcake paper and add a Halloween pick!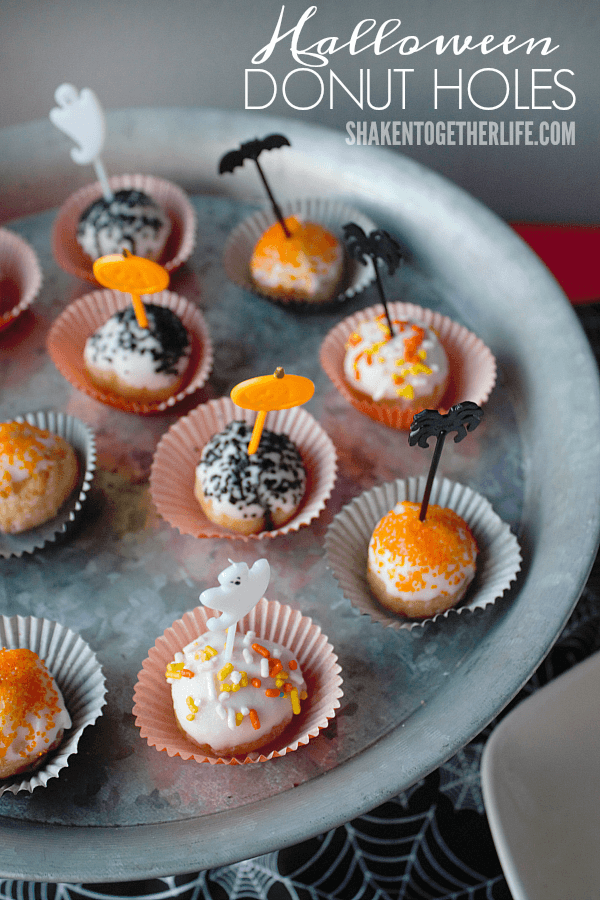 How cute are these?!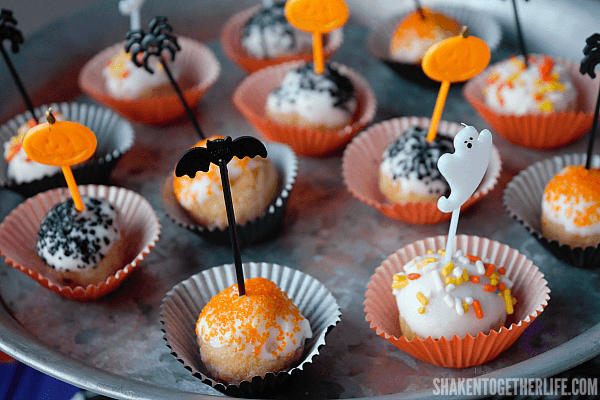 Your guys and ghouls will surely be thirsty after a rousing round of trick or treating ... so Vampire Juice is the perfect spooky sipper!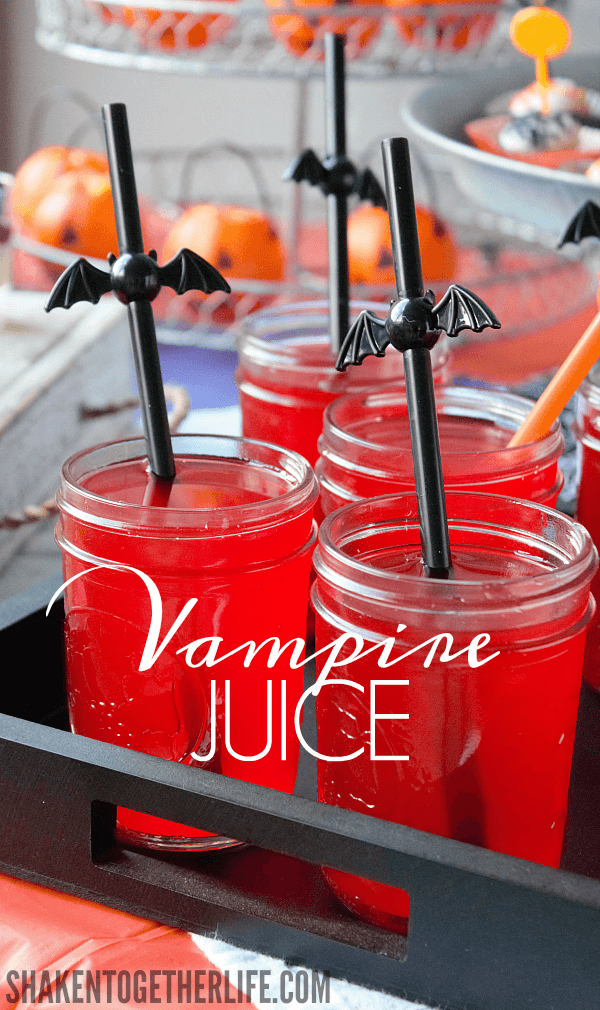 Just fill a mason jar with red Hawaiian punch and don't forget the bat straws! Add a scoop of vanilla ice cream and you have two ingredient Vampire Floats!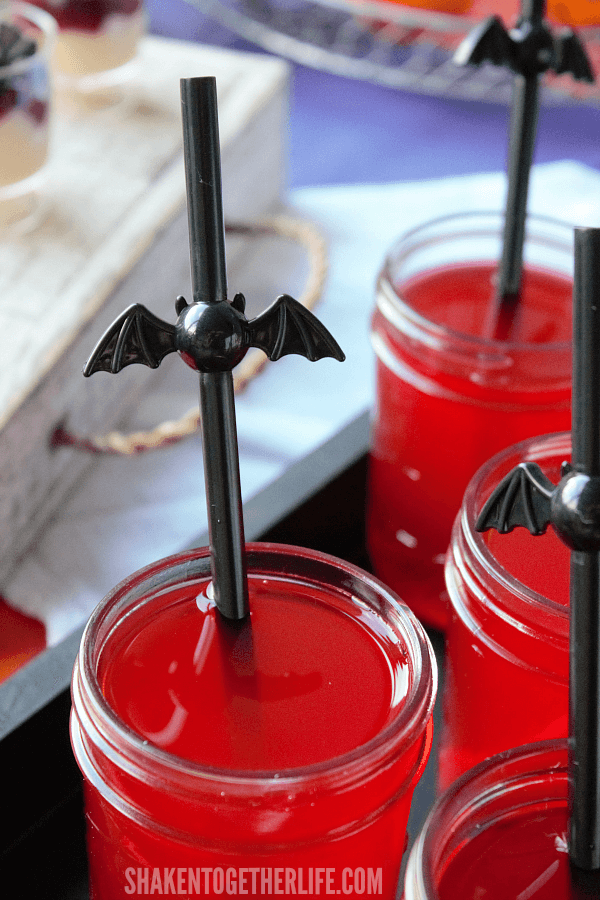 As far as I am concerned, no Halloween party is complete without candy corn. You could make these no bake candy corn crunch cookies or just fill a mini jack-o-lanterns with candy corn!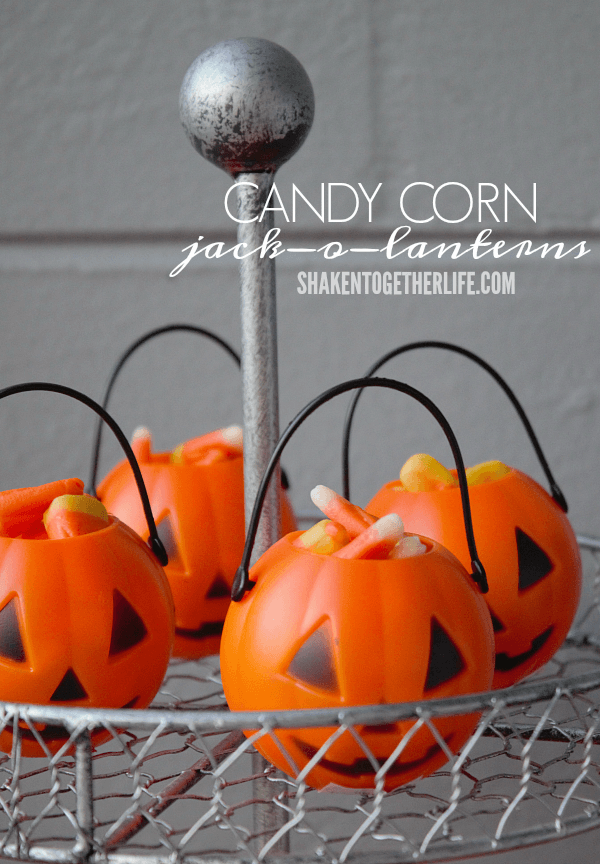 Fill a tiered stand with these cute little guys to add some height and color to your dessert bar!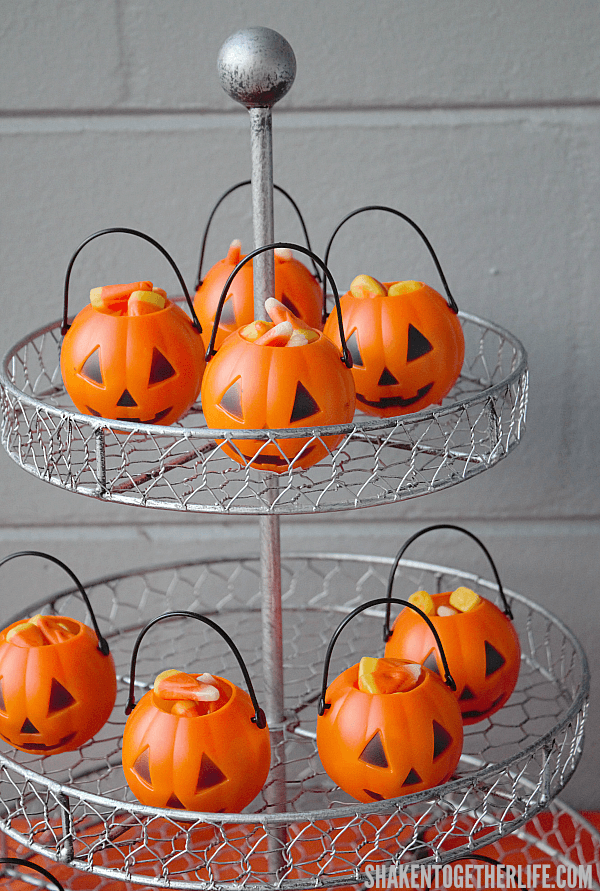 The final no-bake dessert is maybe my favorite. Mini Guts & Gore Parfaits!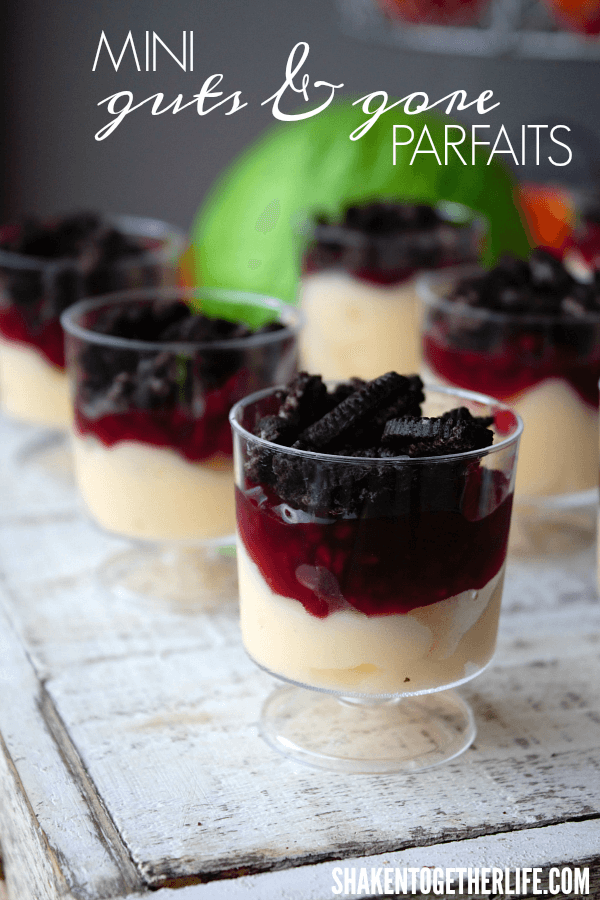 These are the perfect two or three bites ... in small footed cups, layer tapioca or rice pudding (this is your guts), raspberry pie filling (this is the gore) and top with crushed up mini Oreo cookies for graveyard dirt! These are a mini version of my Scary Berry Halloween Parfaits and they are beyond delicious!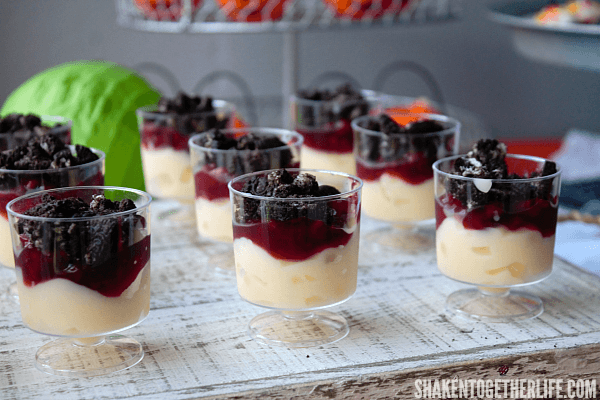 What do you think? This Halloween dessert bar is totally do-able and the no-bake desserts and easy decorations definitely make for a no-stress event!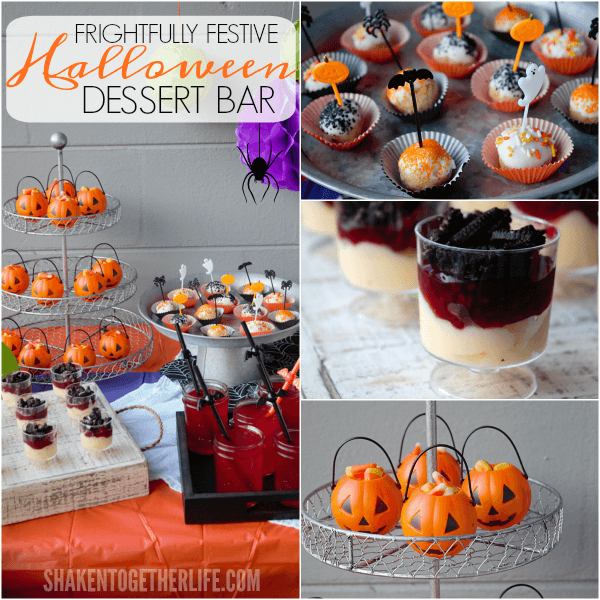 Would you like to see more easy events, simple recipes and party ideas like this Halloween Dessert Bar here at Shaken Together?

More no-bake Halloween desserts!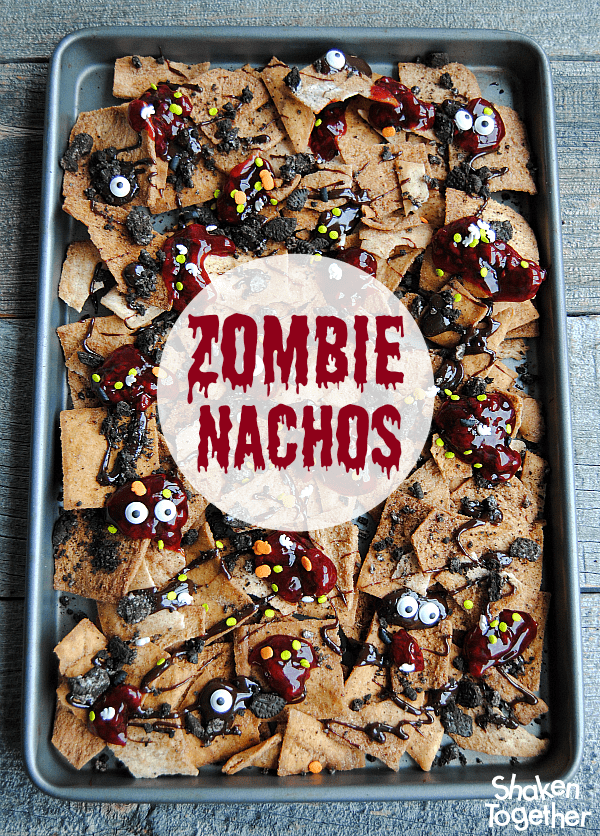 Zombie Nachos ~ Halloween Dessert Nachos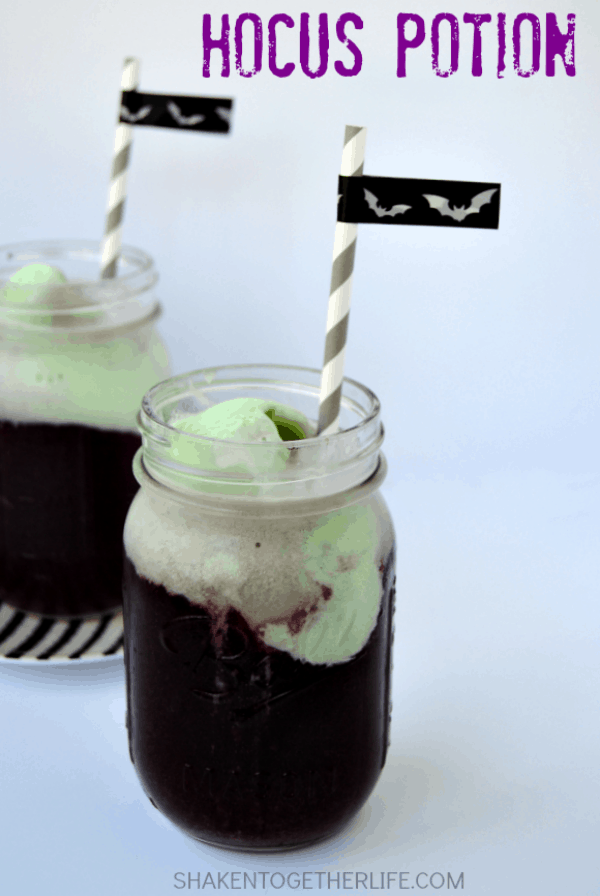 Hocus Potion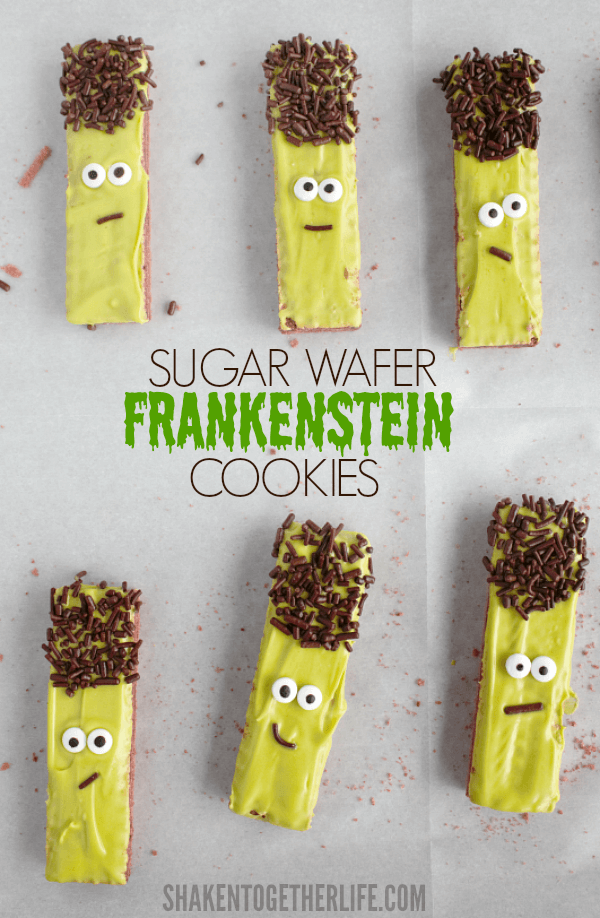 Sugar Wafer Frankenstein Cookies