Save a ton of calories and skip the drive through with our make at home Skinny Frozen Coffee! This slushy coffee drink is a frosty, refreshing way to enjoy your morning cup of joe!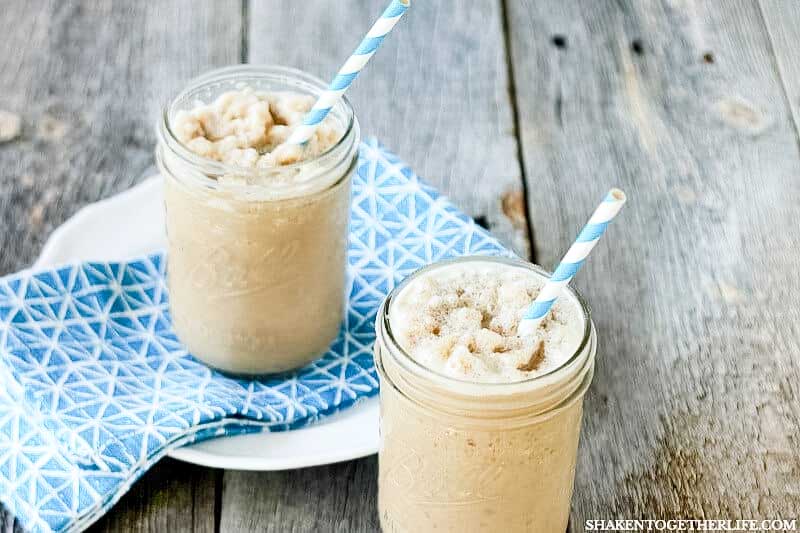 Guys, you have NO idea how excited I am about this post! When my local Dunkin' Donuts debuted their frozen coffee, Cam and I drove through one morning. And. We. Were. HOOKED. Oh, it was bad. Like at least three times a week bad. I would practically dream about a toasted almond frozen coffee. It was really bad for my wallet and – little did I know – really bad for my waistline. (A small frozen coffee has almost 500 calories – eek!) So, I popped some coffee in the freezer, grabbed my blender and now we can all enjoy this slushy coffee drink anytime!
Skinny Frozen Coffee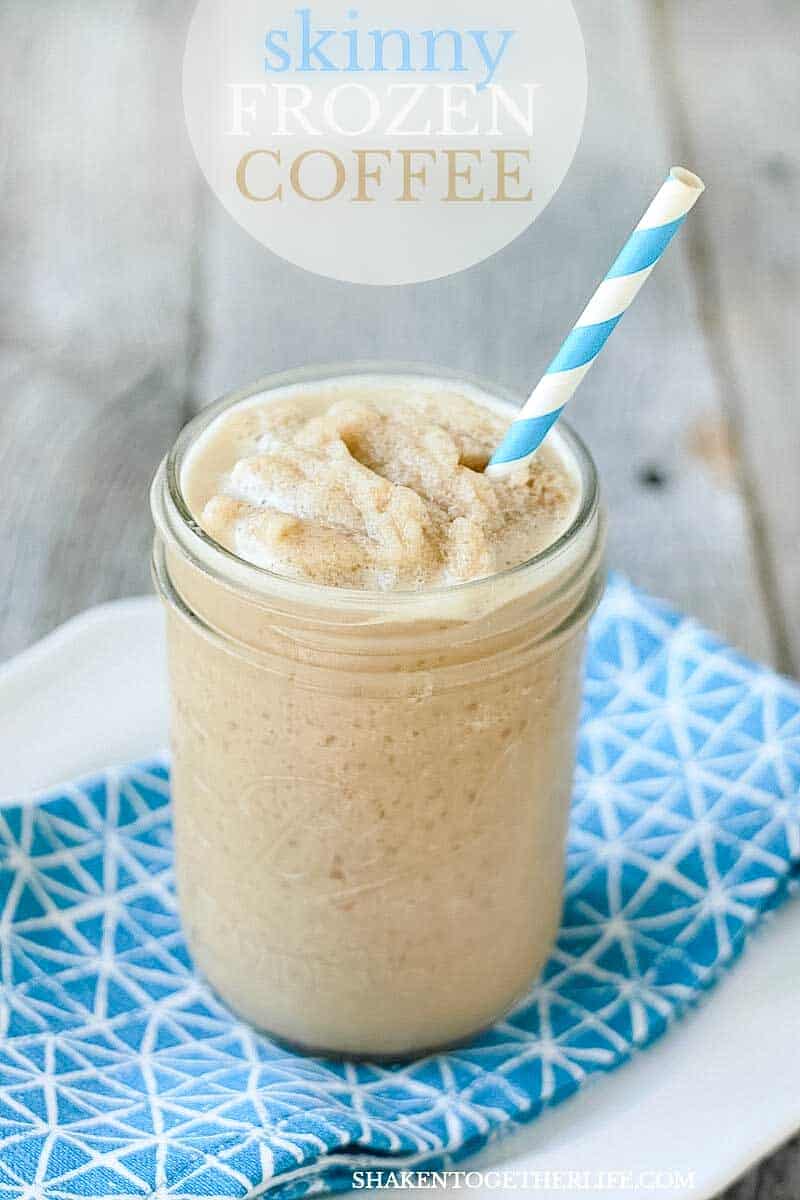 So … what makes this skinny frozen coffee skinny? A couple of simple, key ingredients:
Coffee – there are less than 5 calories (Maybe even just 1 calorie!) in 8 oz. of coffee
Vanilla almond milk – 8 oz. only has 80 calories and just enough sweetness
Almond extract (you can also use vanilla, rum, mint, etc.) – 1/2 teaspoon has about 6 calories
One generous 16 oz. glass of this skinny frozen coffee clocks in at under 90 calories!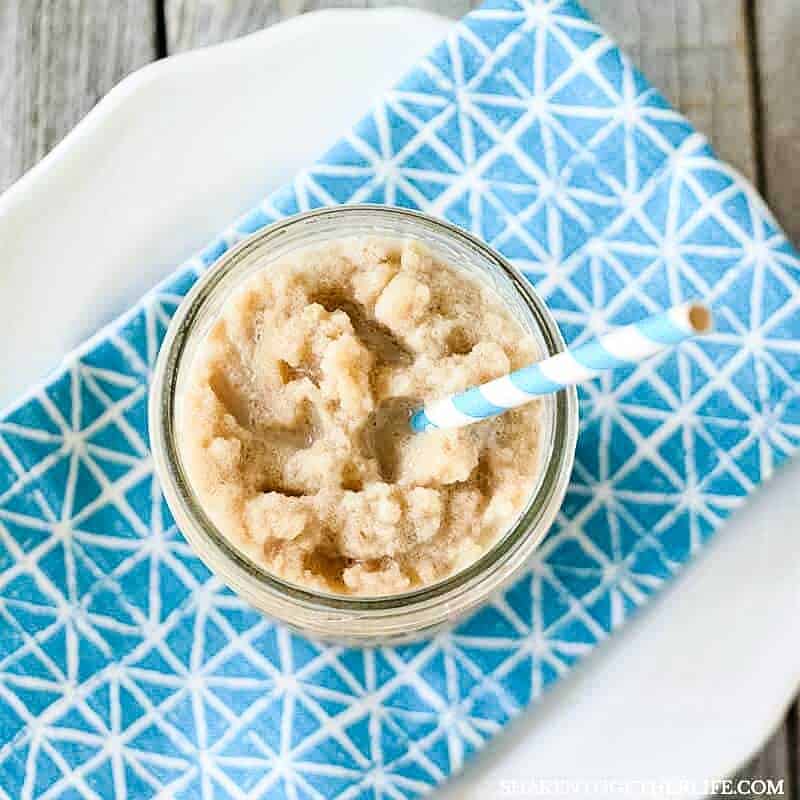 The only 'prep work' for this recipe is to freeze some coffee. I went the super easy route and used purchased black unsweetened iced coffee at the grocery store. If you prefer, you can brew your favorite blend of coffee and allow it to cool. Once you have the coffee cooled, just put in an ice cube tray and let it freeze over night.
That's it! Now, clear off your counter and pull out a few basic supplies (affiliate links):
Blend together some frozen coffee cubes, vanilla almond milk and a splash of almond extract and you are just a whirl away from caffeinated heaven. It looks pretty much like this: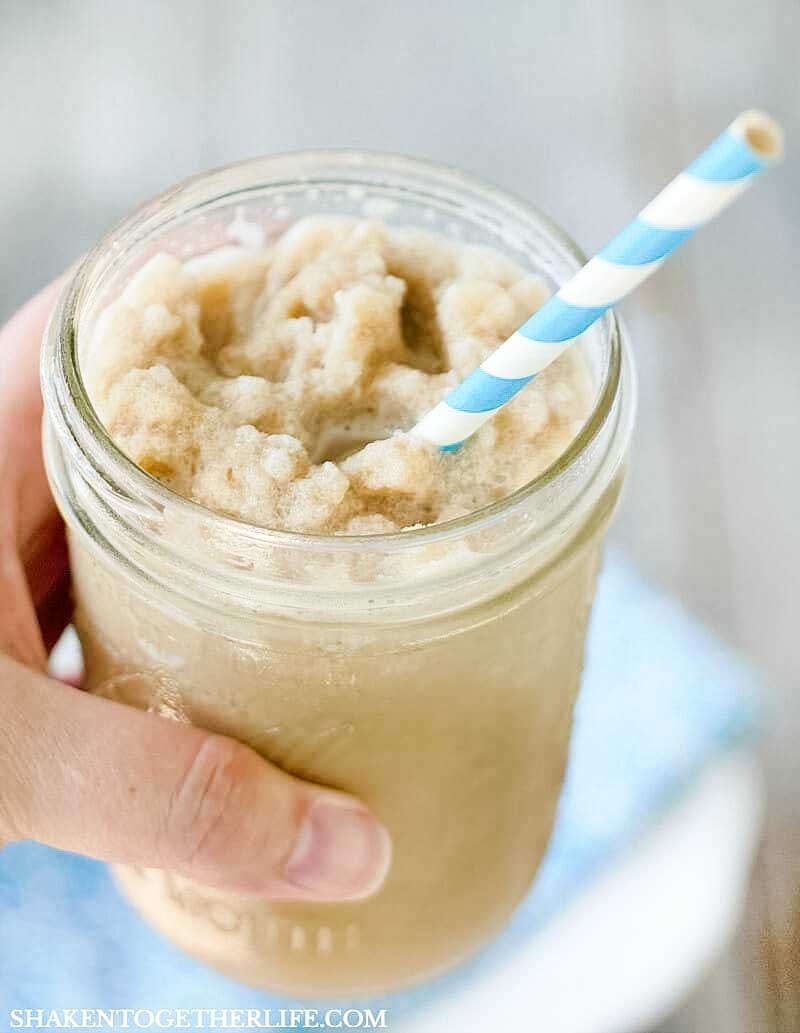 Can you see that glorious, slushy consistency? It is so frosty and refreshing! I don't know about you, but hot coffee during Summer is just wrong. This Skinny Frozen Coffee is oh so right!
Skinny Frozen Coffee (Dunkin' Donuts Copycat)
Ingredients
8

oz

vanilla almond milk

6-8

coffee ice cubes

1/2

teaspoon

almond or vanilla extract
Instructions
Coffee Ice Cubes
Brew your favorite coffee or used purchased iced coffee and fill ice cube trays with coffee.

Allow to freeze completely.
Skinny Frozen Coffee
In a blender, add almond milk, extract and coffee ice cubes.

Blend until smooth and slushy.

Enjoy!
There are tons of ways you can switch up the flavors of this skinny frozen coffee:
Chocolate almond milk + mint extract
Cashew milk + rum extract
Vanilla almond milk + vanilla extract
Coconut soy milk + vanilla extract
With less than 100 calories, you can even splurge on a little whipped cream! This is the perfect frosty, frozen coffee drink for my fellow coffee lovers!
More Delicious Recipes with COFFEE!!