I dug into my family recipe box to share this dessert with you – my Grandma's Apple Cake with Cinnamon Crackle Glaze. This cake is tender, studded with loads of apples and walnuts and it is topped with the most glorious crinkly cinnamon glaze! Thanks for supporting Shaken Together and allowing me to share recipes with you though sponsored partnerships with trusted brands like McCormick®. 
Most of my food memories center around my grandma. Summer was just not Summer without her strawberry shortcake. And many days, I sat on the same stool that my mom sat on a kid eating her cucumber salad out of avocado green bowls. Her chicken salad? Is legendary. Waldo burgers. Brats & Sauerkraut. Hawaiian Rice Pudding. This list goes on and on. Needless to say, she is my foodie inspiration!
Grandma's Apple Cake with Cinnamon Crackle Glaze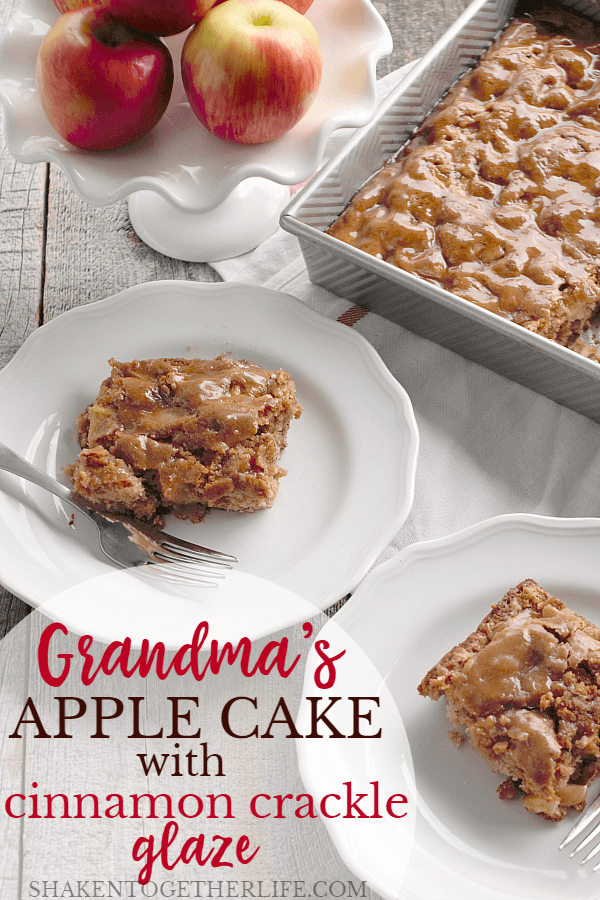 This is one of the few 'from scratch' cakes here at Shaken Together. If I don't default to a box mix, then you know that this is a treasured, tried and true recipe. Just like I know any recipe written in grandma's sloping script is going to be delicious, I know that McCormick spices are going to deliver on quality and flavor in my kitchen. Those iconic red lids have been in our family's pantries for as long as I can remember. For this classic family holiday recipe, both the batter and the glaze get that warm comforting taste of cinnamon thanks to McCormick Ground Cinnamon.
Can't you almost smell it?! The spicy fragrance of cinnamon, the sound of my grandma cutting apples and plunking them into a bowl from the blade of her paring knife, the feel of a nubby rag rug under my feet in her kitchen … those are the memories that come to mind when I bake something that I know came from her home.
I mean, just look at this apple and walnut studded batter … you can see the rich brown flecks of cinnamon and loads and loads of fruit and nuts. This has holiday baking written allllll over it!
This cake bakes up all golden brown with nooks and crannies for the cinnamon crackle glaze to settle into …
You heard that right. This cake does not get all dolled up with a thick frosting. Nope. There is a simple cook and pour cinnamon glaze that gets poured right over the warm cake. Oh, this is my favorite part!
Once cooled, that glaze is going to crackle the second your fork hits it …
If you can wait for it to cool, that is. That's probably my least favorite part 😉
Grandma's Apple Cake with Cinnamon Crackle Glaze
Ingredients
For the cake:
1

cup

brown sugar

3/4

granulated sugar

1

cup

vegetable oil

3

large eggs

2

cups

all purpose flour

1 1/2

teaspoons

McCormick Ground Cinnamon

1/2

teaspoon

salt

1

teaspoon

baking powder

1

cup

walnut pieces

2 1/2

cups

apples

diced
For the glaze
1/4

cup

brown sugar

1/4

cup

granulated sugar

2

tablespoons

unsalted butter

2

tablespoons

milk

1

tablespoon

all purpose flour

1/2

teaspoon

McCormick Ground Cinnamon

1

teaspoon

McCormick Pure Vanilla extract
Instructions
For the cake
Preheat oven to 375 degrees F.

Prepare a 9x13 baking pan with nonstick cooking spray.

With a hand mixer or in the bowl of your stand mixer, cream together sugars, eggs and oil until well blended.

Add dry ingredients and mix well.

Fold in apples and nuts.

Pour the batter into baking pan. (It will be thick with the apples and nuts very visible.)

Bake for 40-45 minutes or until a toothpick comes out clean.
For the glaze
In a medium saucepan over medium heat, stir or whisk together all ingredients.

Allow glaze to thicken slightly - stirring frequently - and pour it over the warm cake.

Use a spatula to quickly and gently, spread the glaze over the surface of the cake.

Allow cake to cool, then slice and serve.
Recipe Notes
A quick tip: Since the cake and glaze have similar ingredients, measure the ingredients for the glaze right into your saucepan as you measure them for the cake.
Trust me when I say that one piece of Grandma's Apple Cake will not be enough. And vanilla (or even butter pecan) ice cream is highly recommended!
A BIG thanks to our friends at McCormick® for sponsoring this post at Shaken Together!