Our Cuban Cobb Salad – loaded with all the flavors of a Cuban sandwich right down to the tangy mustard vinaigrette – is a lighter way to enjoy a classic favorite! This fresh 'sandwich turned salad' was made possible via a sponsored series for Rubbermaid #Freshworks through Socialstars™ .
This was going to be a long shot.
Chris is a HUGE Cuban sandwich fan. If there is a Cuban on the menu, he is going to order it. Every. Single. Time.
The Cuban bread buttered and pressed until crispy, the Swiss cheese melted over sweet ham and savory seasoned pork, tangy pickle slices, that classic blend of mustard + mayo.
So, when I suggested a salad version of his favorite sandwich, I could see the skepticism.
But when I say this was a home run, you can just call me Giancarlo Stanton.
Cuban Cobb Salad with Mustard Vinaigrette


With my efforts to eat healthier this Summer, I am really trying to be intentional and reduce the amount of refined sugars, bread and processed foods that I am eating. (You can see 10 ways I am trying to eat healthier here.) So, I decided to turn one of our favorites sandwiches into a salad.
Ya'll.
This salad. I don't even miss the bread.
It is hearty. Packed with protein and chockablock full of all the delicious components of a Cuban sandwich. And don't get me started on that easy mustard vinaigrette. Just measure into a mason jar and give it a good ol' shake.
Before I get ahead of myself, let's talk lettuce. This salad starts with sturdy romaine hearts. Iceberg lettuce just won't stand up under all the thick cut toppings and will get seriously soggy. So, let's all agree on romaine. Okay? Okay.
I have been using Rubbermaid®'s Freshworks™ Produce Savers to store our lettuce and berries. They really keep our lettuce fresh and crispy so much longer then when I am lazy and leave it in the grocery store packaging. No more wilted, slimy lettuce! The FreshVent™ technology in the lids regulate air flow and the CrispTray™ that elevate the produce away from moisture.
Here are 4 more reasons to love these Rubbermaid® Freshworks™ containers:
Now, back to this Cuban Cobb Salad. Fill a large shallow salad bowl with chopped romaine lettuce. Then, it's topping time!
I had my deli cut thick slabs of good quality sweet ham, seasoned fresh ham and Swiss cheese. I julienned the meat and cheese (cut it into sticks) but you could also cube it. I just felt a little fancy that day 🙂
Since this is a twist on a Cobb salad, I added some quartered hard boiled eggs. And I couldn't forget the dill pickles from a Cuban sandwich, so I added a big pile of chopped pickles, too.
Once the salad was tossed in the bowl, I shook up a tangy mustard vinaigrette in a mason jar and drizzled it all over.
Yes, please!!
Bonus: since it is still a bazillion degrees in Florida, I don't have to even touch my stove or oven to get dinner on the table!
Cuban Cobb Salad with Mustard Viniagrette
Ingredients
Cuban Cobb Salad
2 1/2

romaine hearts

cut into thin ribbons

1/2

lb

sweet ham

sliced thick then julienned/chopped

1/2

lb

cooked fresh ham

seasoned pork, sliced thick then julienned/chopped

1/2

lb

swiss cheese

sliced thick then julienned/chopped

6

small dill pickles

sliced into rounds

3

hard boiled eggs

cut in quarters lengthwise
Mustard Vinaigrette
6

tablespoons

light olive oil

4

tablespoons

apple cider vinegar

2

teaspoons

Worcestershire sauce

2

teaspoons

fresh lemon juice

1

teaspoon

Dijon mustard

1

teaspoon

yellow mustard

Salt & pepper to taste
Instructions
Make the Mustard Vinaigrette
First, measure olive oil, apple cider vinegar, Dijon & yellow mustard, lemon juice, Worcestershire sauce and salt/pepper in a mason jar and shake to combine.

Refrigerate vinaigrette until you are ready to serve the salad.
Make the Cuban Cobb Salad
Fill a large shallow salad bowl with romaine lettuce.

Arrange sliced ham, sliced fresh ham (seasoned pork), sliced cheese, pickle rounds and quartered eggs in rows on top of the lettuce.

Just prior to serving, drizzle dressing over salad and toss to coat.
Our family of four each had a dinner sized portion of this Cuban Cobb Salad and there was still enough for leftovers. BOTH of my boys asked if there was any salad for lunch the next day, so I would say none of us will mind when this shows back up on our weekly meal plan!
If you liked our Cuban Cobb Salad …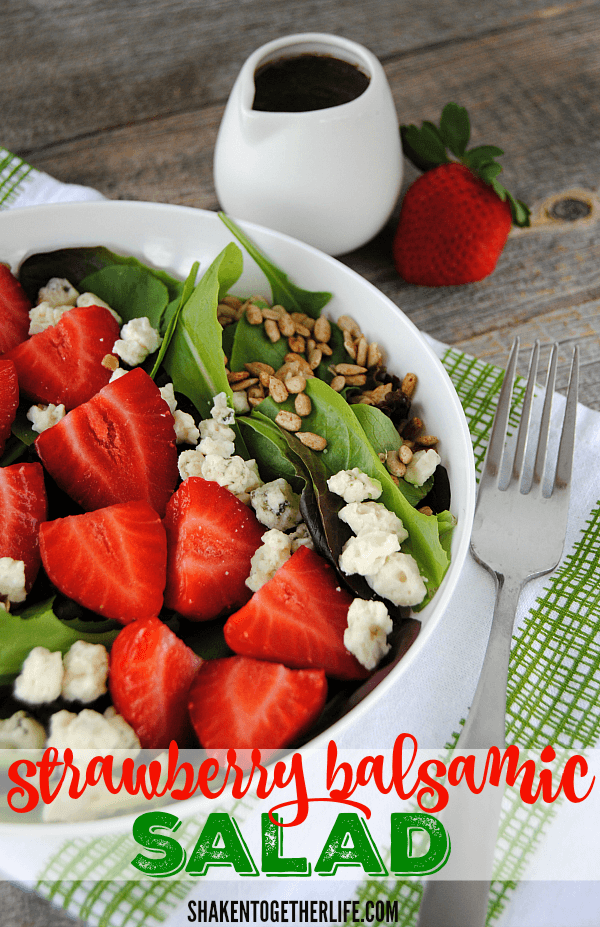 Simple Strawberry Balsamic Salad