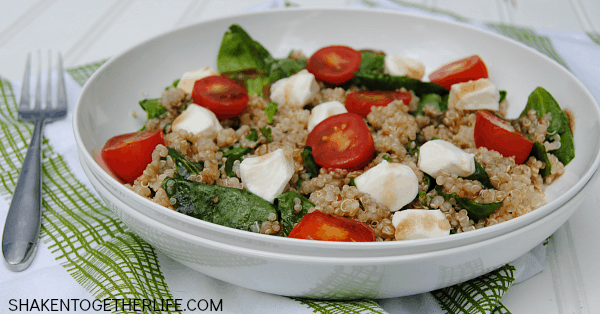 I am a little obsessed with caprese anything lately.  Slices of tomato, fresh mozzarella, basil and a drizzle of balsamic vinegar make the perfect light lunch or dinner.  Also obsessed with quinoa.  Weird to be smitten with an ancient grain?  I'm okay with that 😉 Since I've been hooked on this quinoa breakfast bowl lately, I wanted to come up with a few more ways to use my cooked quinoa.  So, it only seemed natural to marry my two recent obsessions into this light and flavorful Spinach Caprese Quinoa Salad!
Spinach Caprese Quinoa Salad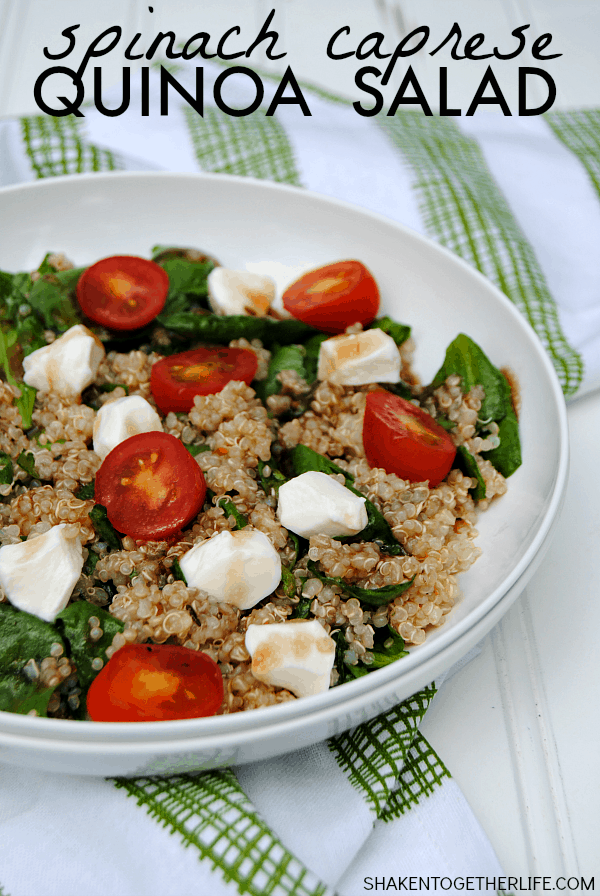 If you haven't jumped on the quinoa train yet, it's okay.  Quinoa is a protein-packed grain that is cooked similar to instant rice: boil water or broth, add quinoa and simmer until the liquid is absorbed.  Quinoa has a mild nutty taste so I tend to use it like pasta or rice.  I've baked it with sauce and cheese like ziti, used it in place of oatmeal for breakfast and made lots of salads with it.  Mix in your favorite ingredients - olives, shredded carrots, veggies, cheese or meat, etc.- for a twist on classic pasta salad.  I haven't tried it yet, but I bet you could stir fry quinoa for a version of fried "rice".  (Making a mental note to try that this week!)
Now, if you are ready to try quinoa, this Spinach Caprese Quinoa Salad is a great place to start!
Print Spinach Caprese Quinoa Salad
---
1 cup

torn baby spinach leaves (stems removed)

¾ cup

cooked quinoa (chilled)

4 tablespoons

light balsamic vinaigrette salad dressing (divided)

4

or 5 cherry tomatoes (halved)

6

-

8

fresh mozzarella pearls (or fresh mozzarella cheese cut into cubes)

1

-

2

basil leaves
---
Instructions
Mix all ingredients together except the basil and 1 tablespoon vinaigrette.
Allow to chill for an hour or two before serving - this helps the spinach leaves soften a bit and the flavors marry together.
Just before serving, chiffonade or tear the basil leaves and sprinkle on top and add additional tablespoon of dressing if needed.
Season with salt and pepper if desired.
---
You can adjust the ingredients - more tomatoes, more cheese (never a bad idea!), less dressing - to your taste.  Since this recipe makes an entrée sized salad, just a drizzle of plain balsamic vinegar wasn't quite enough me.  The light balsamic salad dressing was a great way to get that balsamic flavor and still provide moisture for the spinach and quinoa.  If you prefer to drizzle balsamic vinegar and olive oil, that would probably work, too.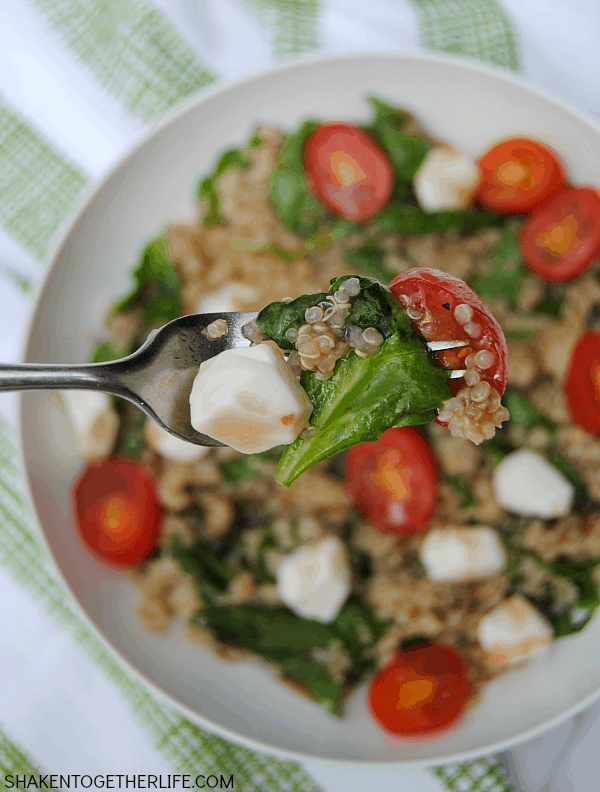 Since this Spinach Caprese Quinoa Salad tastes even better as it chills, it makes a really delicious make ahead lunch for the office.  So much fresher and healthier than a sandwich or take out!  It would also be perfect to pack in mason jars for a picnic or serve pool side.  Add grilled steak, chicken or shrimp to make it a little heartier for dinner.   YUM!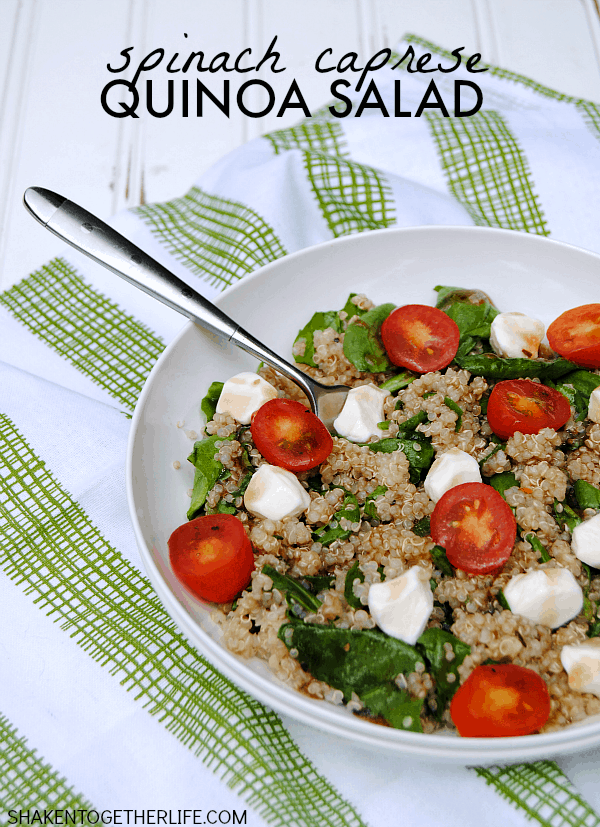 More Quinoa Recipes Coming Right up!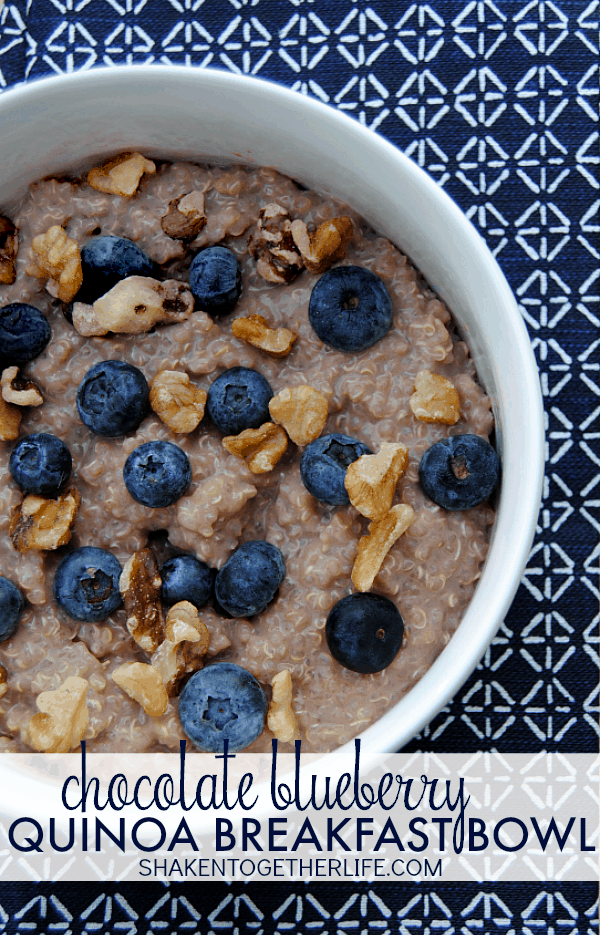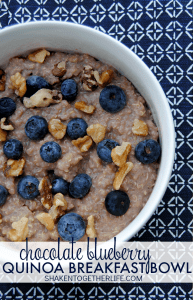 Chocolate Blueberry Quinoa Breakfast Bowl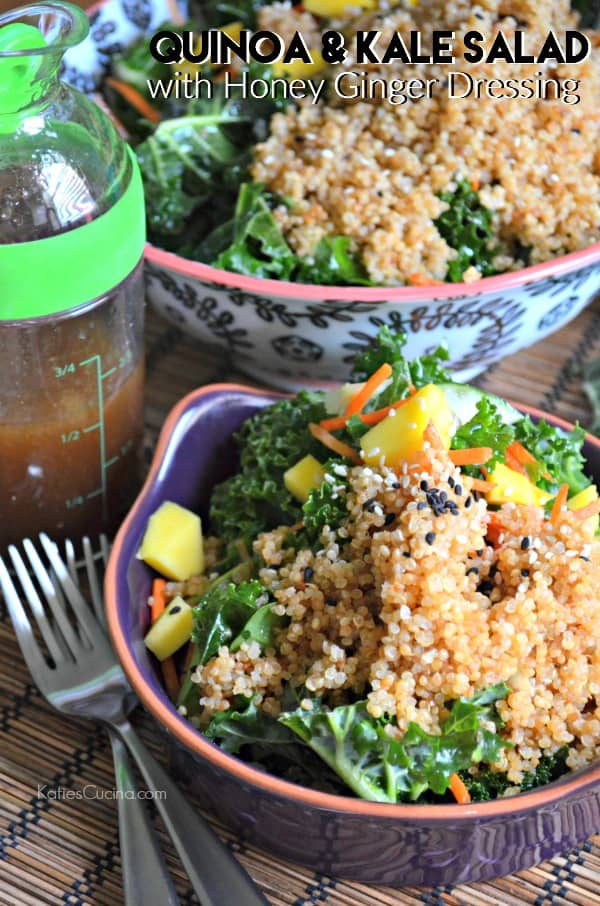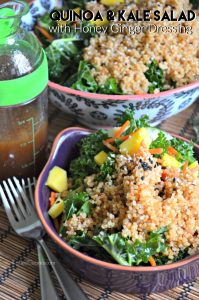 Quinoa & Kale Salad with Honey Ginger Dressing - Katie's Cucina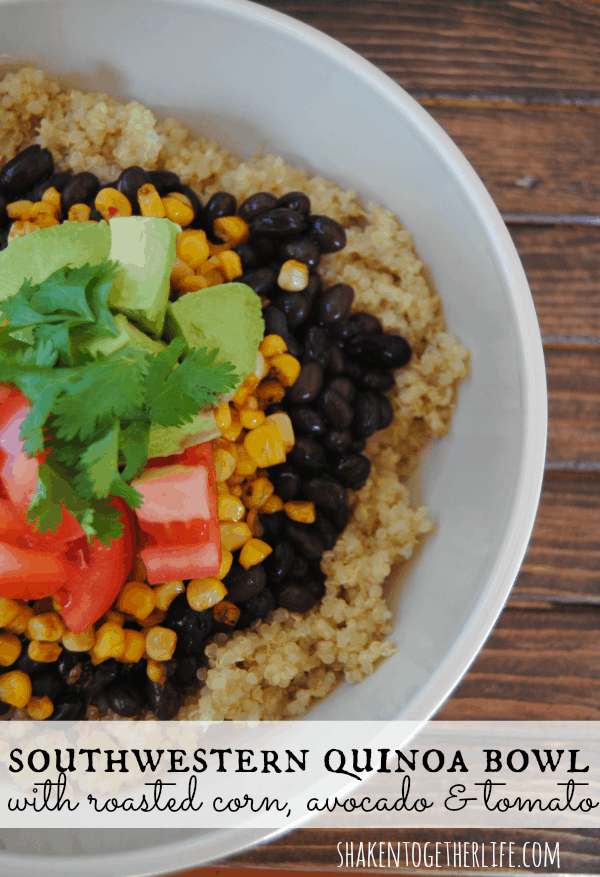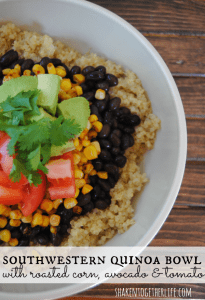 Our Spinach Caprese Quinoa Salad may be shared here: