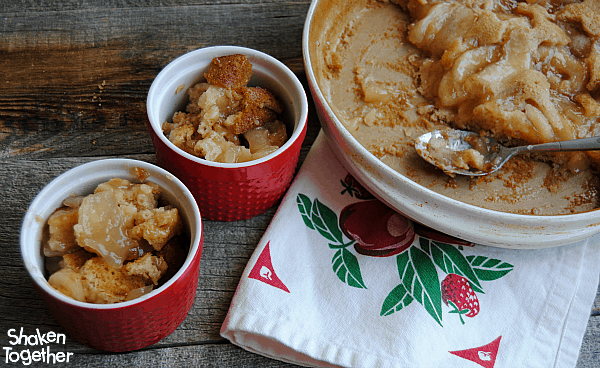 A soft tender brown sugar cake, studded with apples and drizzle with caramel, this Caramel Apple Cobbler Cake is the perfect partner for vanilla ice cream! If you have been around this past week, you know I am on a caramel apple kick! First cute little no bake pies, then a ridiculously delicious dessert pizza and now, an easy peasy cobbler cake. You will love this mix and pour, no frosting needed cake!
Caramel Apple Cobbler Cake

I seem to be at this point in my life where simple is better. I have been gravitating towards recipes with minimal ingredients and prep time, making the most of my time by running multiple errands in one trip, even simplifying my wardrobe by introducing more 'mix & match' items.  So this cake?  Simple.
Basic ingredients (you might have everything in your pantry right now!), just mix, pour and bake, drizzle with a little caramel and dessert is done.
And oh, so delicious!


Since this dessert is a mash up of a cobbler (baked fruit covered with a soft biscuit/cake like topping) and a cake (our batter bakes more like a cake than a biscuit), it doesn't slice like a traditional cake into neat squares. And there is no frosting to make.
See?  Easy.
So just pile it up in a bowl, give it a drizzle of warmed caramel and a scoop of vanilla ice cream and enjoy!
This cobbler cake is so versatile. If apple isn't your thing, use your family's favorite flavor of pie filling – raspberry, blueberry, cherry or peach. Drizzle with chocolate or butterscotch instead. Fresh whipped cream would be delicious, too!
Caramel Apple Cobbler Cake
Ingredients
1/4

cup

butter

1

cup

all purpose flour

2

teaspoons

baking powder

6

tablespoons

light brown sugar

6

tablespoons

granulated sugar

3/4

cup

milk

1

teaspoon

vanilla extract

One 21 oz. can of apple pie filling

One can caramel sweetened condensed milk or caramel ice cream topping
Instructions
Preheat oven to 325*.

Melt butter in a 9x9 or 10 inch round baking dish.

In a mixing bowl, combine flour, baking powder, sugars, vanilla extract and milk.

Pour batter in baking dish.

Spoon apple pie filling on top of batter - do not stir.

Baking for about one hour or until the top of the cake is golden brown.

Serve with vanilla ice cream and caramel for drizzling.
This Caramel Apple Cobbler Cake is best served warm, drizzled with a little caramel and topped with a scoop of vanilla ice cream.  See how the ice cream melts a little into the nooks and crannies of the cake? Why yes, I will have another bite!
More Caramel Apple Treats from Shaken Together + Friends!
Caramel Apple Munch Mix – Shaken Together
Caramel Apple Cheesecake – Grace and Good Eats
Snickerdoodle Caramel Apple Dessert Pizza – Shaken Together
Caramel Apple Parfaits – Just Us Four
Hot Caramel Apple Cider Floats – Shaken Together
Caramel Apple Cookies – Chuck and Welly
Mini Caramel Apple Pies (No Bake!} – Shaken Together
Our Caramel Apple Cobbler Cake may be shared here: