My husband does not have a huge sweet tooth.  (Oh, the irony that he is married to a food blogger!)  But there is one thing that will always tempt him:  carrot cake with cream cheese frosting.  His favorite cake was actually the inspiration for this unbelievably delicious twist on fruit dip.  Loaded Carrot Cake Dip!
This dip is not overly carrot cake-y.  Just the right amount of carrot cake flavor, tangy cream cheese, a bit of sweet pineapple here and there, coconut and a pecan crunch every now and again.
Now, after my own highly scientific recipe testing (read, dip pretzels, repeat, repeat, repeat), I gave this dip a trial run at my Spring Fling Pinterest party.  A few times a year, my mom and I decide on 8-10 crafts (some inspired by Pinterest finds) and host 15-20 ladies in a whirlwind crafting day.  You may have seen a glimpse at some of the prep work on Instagram.  Here is our group shot (minus one) with some of their favorite projects from the day: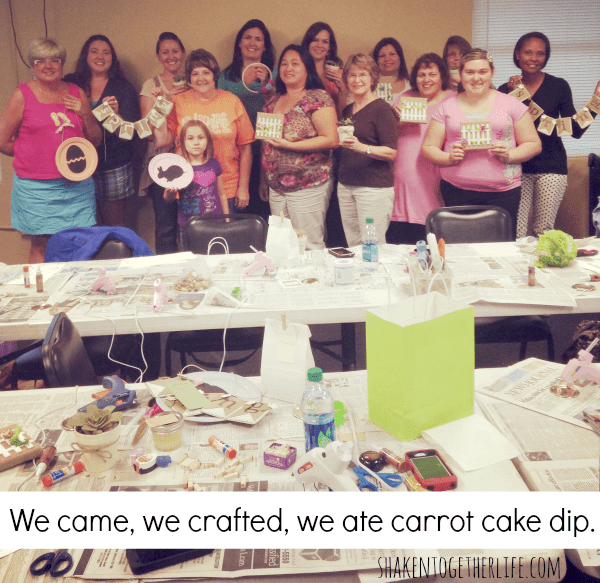 Do you see a few of my fellow fantastic bloggers?  Lauren from The Thinking Closet and Kelly from Simply Kelly Designs were there - I absolutely love getting to craft in real life with them!!
Anyway, this loaded carrot cake dip got rave reviews.  And I have to say, it is darn good.  I mean, filling styrofoam cups to tuck in your purse to take home good.  (At my urging so I didn't have to pull over in the car wash parking lot to polish off the leftovers.  I'm sure licking the bowl clean while driving is probably frowned upon.)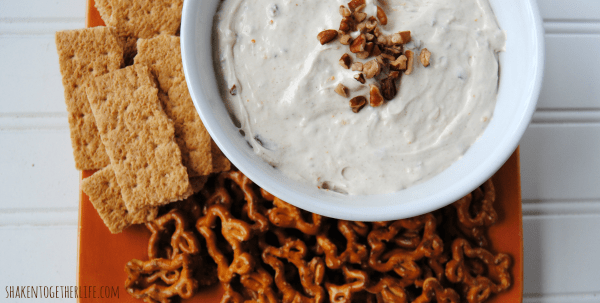 Print Loaded Carrot Cake Dip
---
One

8 oz

. block of cream cheese (softened)

8 oz

. marshmallow fluff

2

-

3

tablespoons of crushed pineapple (drained)

2

-

3

tablespoons of sweetened coconut flakes

¼ cup

chopped pecans

4 tablespoons

carrot cake cake mix (dry)
---
Instructions
Using a hand or stand mixer, blend together the softened cream cheese and marshmallow fluff.
Mix in pineapple, coconut, chopped pecans and carrot cake cake mix.
Allow to chill at least one hour.
Serve with your favorite dippers: apple slices, pretzels, vanilla wafers, graham crackers.
---
Notes
Get creative! Add anything else you enjoy in carrot cake: raisins, walnuts, shredded carrots!
Loaded carrot cake dip is like eating a slice carrot cake with cream cheese icing without the annoying business of a plate and fork!  And you can add any of your favorite carrot cake add ins: shredded carrots or apples, walnuts (we are a pecan family) or even raisins.  We are most definitely NOT a raisin family.  Blech.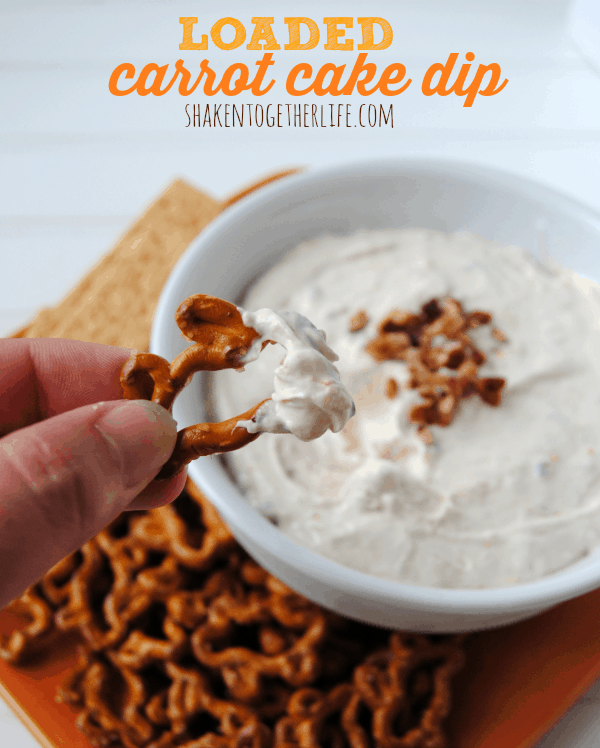 And yep.  Those little bunny pretzels are front and center again.  They first made their debut when they became chocolate filled bunny pretzels and made an encore appearance in my Easter bunny snack mix.  But the salty pretzels are the absolute perfect dippers for this sweet, dessert dip.  (The bunny pretzels are from Target - I grabbed them in the Easter/seasonal section of my store.)  You can also dip apple slices, carrot sticks and graham crackers in it.  Spoons also work well.  You know, to cut calories.