So, you know you're a food blogger when you snatch up seasonal cake mixes, special edition frosting flavors, cupcake papers and sprinkles like you have stumbled across a shelf full of $100 bills. It was a BIG day for me when I only picked up one key lime cookie mix and tub of frosting when they popped up at Target. And boy, am I regretting that self-restraint now. Pin this recipe then run to the grocery store to scour your shelves and stock up. Because these key lime pie cookie cups are rock.star. Seriously.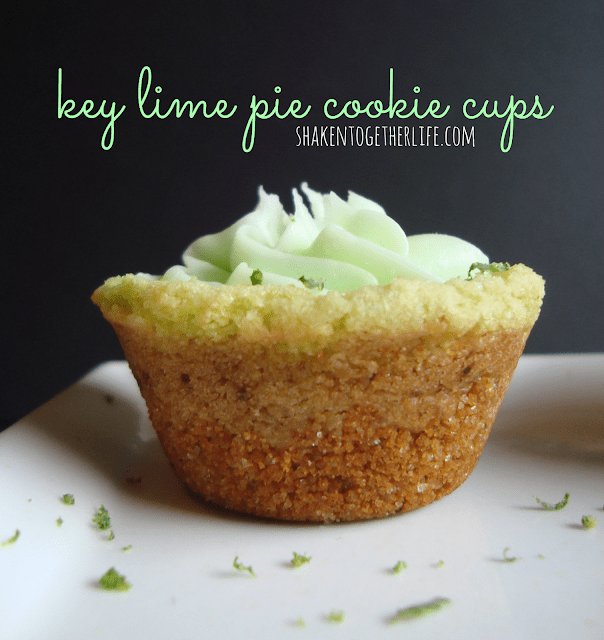 key lime pie cookie cups
Yield: 36 - 40 cookie cups
1 box Pillsbury key lime cookie mix (and ingredients noted on box)
1 teaspoon key lime juice
1 recipe graham cracker crust (1 & ⅓ cup graham cracker crumbs, 3 tablespoons granulated sugar and ⅓ cup melted butter)
1 tub Pillsbury key lime frosting
Fresh grated lime zest
Prepare graham cracker crust by stirring graham cracker crumbs and sugar together and mixing in melted butter. Prepare cookie mix as directed on box but add in 1 teaspoon of key lime juice.
In mini muffin pans, place 1 heaping teaspoon of graham cracker crust in each well. Use the back of a teaspoon or a tart tamper to press the crumbs into the bottom of the well. Then, using a small cookie scoop, add about 1 tablespoon of key lime cookie dough on top of the cookie crust. You don't have to press it down - just let it rest right on top of the crumbs.
Since I was using a dark coated pan, I reduced the temperature of my oven to 350* and baked the cookie cups about 12 minutes. Keep an eye on them so they don't get too dark.
Remove cookies from oven and allow to cool about a minute. Again, use the back of a teaspoon or a tart tamper to press the cookies into cookie cups.

Here, let me show you ... and please excuse the darker pictures - my kitchen has no.natural.light. SIGH.



Basically: 1. crust 2. scoop 3. bake 4. smoosh.
Once cooled, pipe key lime frosting into each cookie cup with a star tip and garnish with fresh grated lime zest. Nothing makes prepared frosting look better than a pretty piping job and a little sprinkle of something!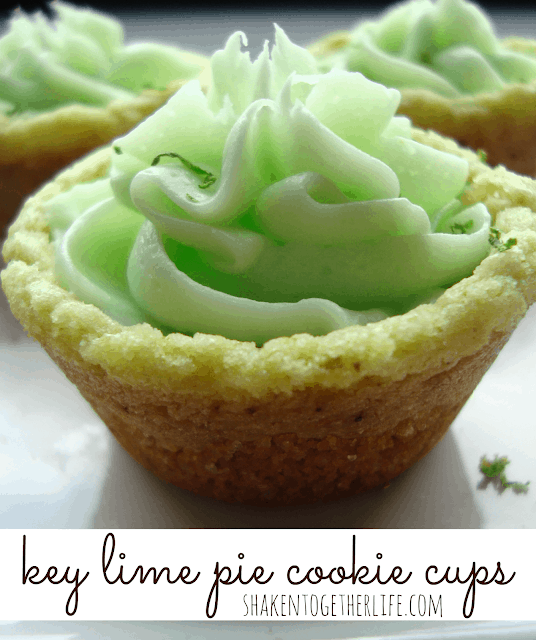 Aren't they gorgeous?! The graham cracker crust really gives these cookies the taste and feel of traditional key lime pie. It's a great buttery crunch that gives way to a soft lime cookie and velvety lime frosting. The key lime juice and grated lime zest give a fresh burst of flavor to the pre-made mix and frosting, too. Key lime pie cookie cups ... pretty much the best two bites of the day!
Because one key lime recipe is clearly NOT enough ...
Key Lime Cupcakes with raspberry sauce
This post was shared at the awesome link parties on my link page!