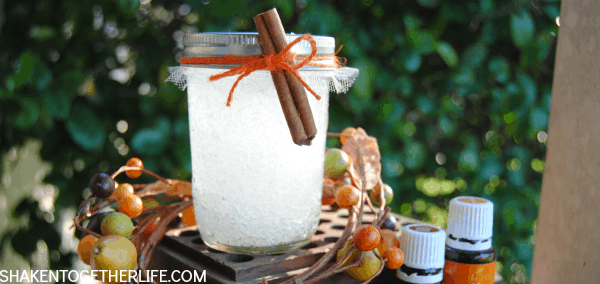 Our local grocery store has cinnamon brooms placed by the door, so every time the automatic doors swoosh open, you are hit with the warm spicy scent of cinnamon.  Even the craft store has bins of deliciously scented pinecones right by the carts so you can't help be wooed by the spicy, Fall scent!  So, it's safe to say that I am a cinnamon lover!  And when Fall rolled around - or at least a hint of it in Florida - I put an Autumn twist on my DIY mason jar air freshener and I think you're going to love it!
Cinnamon Orange Air Freshener

Supplies
Mason Jars
Watersorb or a similar water absorbing polymer (*see note below)
Cinnamon Bark Young Living Essential Oil
Orange Young Living Essential Oil
Tulle
Twine
Cinnamon stick
The How-To
In a bowl, stir together 1 teaspoon polymer absorbent crystals*, about 1 cup of hot tap water and 10-20 drops of essential oils.
For this air freshener, I used 10 drops Orange + 10 drops Cinnamon Bark.  YUM - Autumn in a jar!
Stir together until blended and add a little more water if necessary – there should not be any dry powder/crystals left.
You can also add coloring to the gel, but I love the translucent/white color of the air freshener, so I left it out.
Split the mixture between two half-pint mason jars.
To use immediately, place a thin piece of lace or tulle over the jar (leave off the jar lid) and screw on the ring.
When giving for gifts, leave the jar lid in place, place the lace/tulle over the lid and screw on the ring.  You may want to add a tag with instructions and note which essential oil you added.
If the gel starts to dry out, you can refresh it with a little additional hot water (a teaspoon at a time) and another few drops of oil.
*I purchased 2 lbs. of the small polymers from Watersorb.  From the Watersorb site: "With an essentially neutral pH, Watersorb super absorbent polymers will break down into nitrogen, carbon dioxide and water with no residual toxicity."  I am not a scientist, but I personally felt comfortable using these for this project.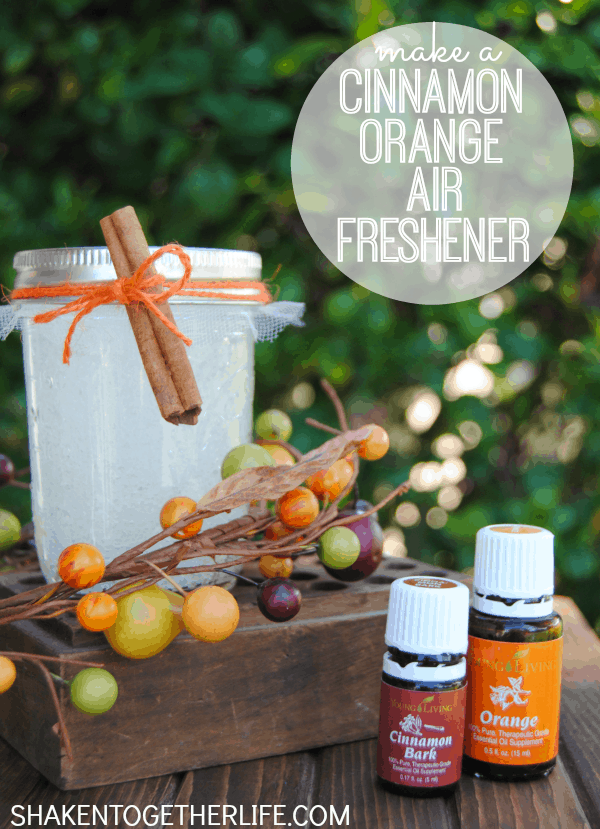 Since it is Fall and I love twine #twineallthethings, to give these Cinnamon Orange air fresheners a little Fallification, I tied a small cinnamon stick around the jar with orange twine.  You could add a gift tag as well if you are giving these as gifts.  They would be the perfect Fall hostess gift, teacher gift or for co-workers.  I love having mine at my desk at work 🙂
**These air fresheners are best used in small spaces - your car, closet, at your desk, etc.  Since the oils are not diffusing into the air or being sprayed, they won't scent a large room or space.  If the scent becomes too faint, add a teaspoon or two of warm water and a few more drops of oil to freshen it back up!
Here is the winter-y version of these air fresheners with a bright Rosemary & Spearmint scent >>  Winter Fresh Air Fresheners!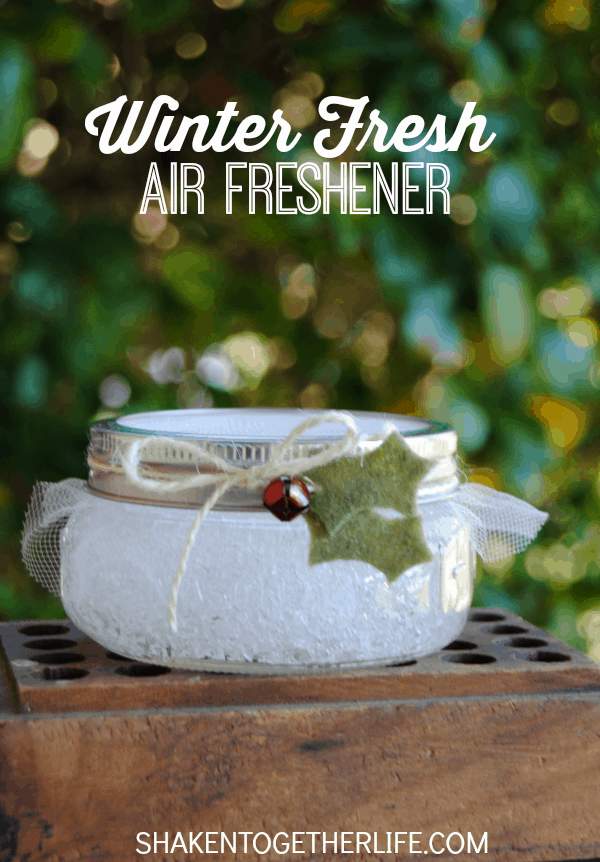 More of my favorite ways to use Young Living essential oils:
And if you want to learn more about essential oils, then I invite you to …
Disclaimer:  These statements and any information contained on this website have not been evaluated by the Food and Drug Administration. This information is intended for educational purposes only and is not meant to substitute for medical care or to prescribe treatment for any specific health condition. These products are not intended to diagnose, treat, cure or prevent any disease. Our content is not purposed to replace professional medical diagnosis, treatment or advice. Information obtained from a Young Living member should never cause disregard or delay seeking advice or treatment from a medical or healthcare provider. Use of any information from the content of this site solely at your own risk.  Consult individual products labels for safety information