Taco casserole is great if you want to make your next taco Tuesday something special! If you're wondering what to serve with taco casserole, we have you covered. This versatile dish is a delicious combination of a Mexican classic with the flavors and textures of a comforting casserole with simple ingredients.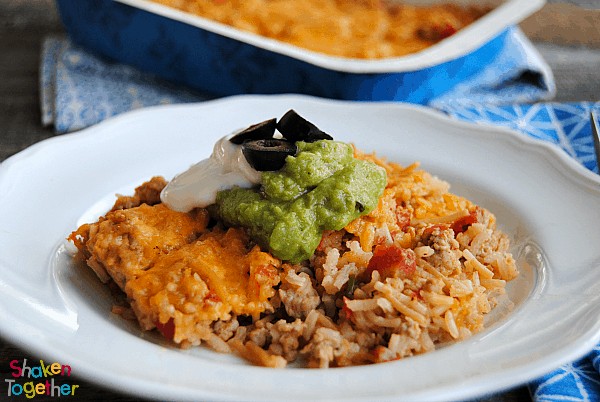 These are the best side dishes and toppings that pair perfectly with this casserole dish. Read on to discover the perfect finishing touches to your taco night masterpiece that the whole family will love.
What to Serve With Taco Casserole
Throw together some taco casserole and pair it with one or more of the below sides for the perfect easy weeknight dinner!
Mexican rice is the perfect side dish for any Mexican meal! This delicious side dish is made with long grain rice cooked in a flavorful tomato sauce that has been infused with garlic, onion, and Mexican spices.
Hearty salad is a great way to add a healthy touch to taco casserole. This is made with romaine lettuce, tomatoes, bell peppers, avocado, and a homemade lime vinaigrette, but you can add all the toppings you like.
Creamy guacamole is one of my favorite toppings for Mexican food. This classic Mexican dip is a super easy recipe made with mashed avocados, diced tomatoes, onion, and cilantro.
4. Refried Beans
To make this easy dinner even more filling. add refried beans as a side! Deliciously creamy beans are simmered in their own juices with garlic, onion, and spices until thick and creamy.
A colorful combination of diced tomatoes, corn, bell peppers, onion, and fresh cilantro is a great addition to any taco casserole. Serve this salsa with corn chips and if you feel like it, you can make your own crunchy tortilla chips with corn tortillas.
Make an easy side dish with an easy taco casserole recipe! This traditional Mexican side dish combines shredded cabbage, onions, mayonnaise, vinegar, sugar, and spices and is light, refreshing, and delicious.
This is a great side or dessert that the entire family will love. This simple dish is a sweet and tangy fruit salad made with diced green apples, oranges, grapes, pomegranates, and red chili powder.
Mexican corn is easy to make a perfect for making a complete meal! This popular street food is served piping hot with melted butter, lime juice, chili powder, and cotija cheese. This fresh corn is a light and delicious side dish!
9. Spicy Black Beans
If you like Mexican dishes with a little kick, this recipe is an easy way to add that to your meal! Pinto beans are cooked with garlic, chili powder, cumin, and cayenne for a flavor-packed side.
Mexican cornbread is one of my favorite Mexican side dishes! It's quick and easy to make so it's great for any night of the week! Sweet cornbread is jazzed up with diced jalapeños, red onions, and Mexican spices. 
This fresh salsa made with diced tomatoes, onions, jalapeños, lime juice, and cilantro gives an extra zing to taco casserole. 
12. Elote
The delicious flavor of this Mexican-style corn is irresistible! Grilled and served hot with mayonnaise, chili powder, queso fresco, and a squeeze of lime juice, everyone will love this delicious dish!
This is a great recipe to add more bulk to your meal if you're serving a lot of people. Halved potatoes are smothered in a smoky chipotle sauce and cooked until golden and tender.
This Mexican recipe is one of those tasty sides that people will rave about! Pinto beans are cooked with bacon, garlic, onion, tomatoes, and Mexican spices for a hearty and flavorful side dish.
If you're looking for the best sides with fresh veggies, this tomato-cucumber salad is a great choice! Bright and tangy salad made with chopped tomatoes, cucumbers, onions, lime juice, and cilantro is healthy and tasty!