Ground beef is a very popular meat used in so many recipes like our ground beef and rice skillet or hamburger hash brown casserole, but have you ever learned how to cook ground beef in the microwave? Ground beef can be bought raw and fresh, or even in your grocery store freezer aisle, already seasoned, cooked, and frozen. Cooking fresh ground beef, thawed or frozen, can be sped up considerably by using the microwave. This is a great option for people who don't have a lot of experience cooking or anyone who wants to take a shortcut to save time that could be spent outside of the kitchen.
We have so many options for food that can be cooked in our microwaves, but I bet you never considered cooking your ground beef that way. I questioned this possibility myself, but it's true. It can be done and it actually turns out really tasty. The same as if you had cooked it in a pan. There are just a handful of simple steps to follow. Find them and some great tips to go along with them below!
Can raw ground beef be cooked in the microwave?
Yes, we aren't just talking about heating up cooked ground beef. We really can cook raw ground beef in the microwave oven. It's an easy way to reduce active cook time for this popular ingredient.
Benefits of cooking ground beef in the microwave
It's easy to think of a few benefits of cooking ground beef in the microwave. These are probably all reasons that pop into your mind when you realize that using a microwave to cook ground beef is an option.
It's a quick and easy approach
There's no standing over the hot stove top, stirring the ground beef and making sure it doesn't get stuck to the pan. You will be stopping to stir the ground beef several times in the microwave, but the process is much easier and less messy.
There's no messy cleanup
This is my favorite benefit of using this cooking method. Cleaning pots and pans is such a pain. It's probably the most frustrating of the whole cooking process. So avoiding that is a major plus for me.
There's also no splattering of grease all over your stove and backsplash that has to be cleaned up. Microwaves cook food with electromagnetic waves from the inside out. So there is no hot grease splashing around.
Ground beef retains its flavors
Cooking ground beef in the microwave does not take away from the final flavor in any way. It keeps your ground beef moist and it comes out just as full of flavor as it is after cooking it in a pan on the stove.
How long does it take to cook ground beef in the microwave?
Cooking ground beef in the microwave takes the same amount of time as it takes to cook it on the stove. It will require 7 to 10 minutes of cook time for each 1 pound of ground beef to be cooked to a well-done temperature.
What you need to cook ground beef in the microwave
1lb fresh ground beef (you can also use frozen ground beef)
Medium-sized microwave-safe container or bowl
Microwave-safe lid
Large wooden spoon
A meat thermometer
How to cook ground beef in the microwave
If you are using fresh ground beef, skip step one and complete the easy 6-step process. If you are using frozen ground beef, complete all 7 steps.
Step 1: Defrost frozen ground beef
If you don't defrost your ground beef before cooking it will have an extremely long cook time, cook unevenly, and get dried out before cooking is complete.
To defrost, remove all of the packaging and place the frozen ground beef on a microwave-safe plate or bowl and place it in the microwave on the defrost setting. If you don't have a specific defrost setting, set the microwave to 50% power for 2 to 3 minutes. Rotate and flip the ground beef every 45 seconds. Repeat this until your ground beef is thawed completely.
If you do not want to or cannot thaw your ground beef in the microwave, leave it in the refrigerator overnight to thaw or thaw the meat in cold water. You can defrost ground beef in cold water in two ways, but it is important the water is less than 70 degrees for either method.
First, place your ground beef in a sealed plastic bag. You can run water constantly over the bag of protein until thawed by laying the ground beef in its bag on a plate in the sink under the faucet.
Second, you can place the bag of ground beef in a bowl full of cold tap water. For this method to work, the meat will need to be completely submerged.
Important: The water must be changed every 30 minutes as the food continues to thaw because the temperature of the water will get colder as the meat thaws and the thawing process will stall.
Do not use warm or hot water to thaw frozen meat or leave it on the counter at room temperature to thaw. As soon as frozen meat begins to thaw and becomes warmer than 40 °F, bacteria that may have been present before freezing can begin to multiply.
Perishable foods should never be thawed on the counter, in warm or hot water, or left at room temperature for more than two hours.
Step 2: Transfer ground beef to a medium-sized microwave-safe bowl
It's important to make sure your bowl is in fact microwave-safe due to the amount of time the hamburger meat will be cooking. A glass bowl is better than plastic for cooking ground beef because plastic is porous and heating raw meat in it could make it difficult to remove any contaminates during cleaning.
Step 3: Cover with a microwave-safe lid
As the liquids from the meat heat up, they will start to bubble and splash. A lid prevents this so there is no mess left behind in your microwave. It also helps hold in moisture for a juicier result. Most importantly, the lid will ensure that the ground beef cooks evenly and faster.
Step 4: Microwave the ground beef for 1 minute
Start your microwave on high power for one minute then remove and break up the ground beef. Breaking up and stirring the ground beef helps to cook it evenly, just as you would need to do on a stovetop.
Some microwave wattages can not be adjusted. If you can not change the power from low to medium to high on your microwave, simply test the ground beef's temperature regularly to make sure you don't over or undercooked it.
Step 5: Return to microwave for 2 minutes
After breaking it up, return it to the microwave for an additional 2 minutes for further cooking. Then remove and stir again.
Step 6: Remove and stir, check for the desired temperature
Stir and use your meat thermometer to check the meat's internal temperature. If it's not cooked thoroughly, return it to the microwave for an additional 2 minutes. Repeat until it reaches 160 degrees.
When checking the temperature, check several pieces, mainly the largest pieces, and make sure that the thermometer is inserted into the center of each piece you check to get the true internal temperature.
Step 7, Final Step: Drain excess fat
Use a colander to drain the excess fat from your ground beef. Lean ground beef may not need to be drained.
Tips for Cooking Ground Beef in the Microwave
Make sure to use a towel or pot holder to remove your dish from the microwave. After cooking for 7 to 10 minutes it will be very hot.
Never use a metal dish or lid in the microwave
Using a large bowl, larger than you need, will decrease cook time because the meat can be spread out more. When it's all clumped together it will take longer for the internal temperature of the ground beef to rise.
Don't skip using a lid. The lid will trap the heat inside the dish and allow the ground beef to cook more evenly.
You can also cook different cuts of meat and different kinds of meat in the microwave by following the same basic instructions.
Leaner meat is better for microwave cooking. Higher-fat ground beef or other cuts of meat will stew in its own juices and become tough as it cooks.
You can season your meat during the cooking process in the microwave the same way you season it on the stovetop in a frying pan. Add garlic powder, salt, pepper, or any other seasoning you like. If you drain your meat after it cooks, you may want to add a little extra seasoning as a last step.
You do not need to add any oil to the dish to cook microwaved ground beef.
Do not microwave or defrost ground beef in its original packaging because it is typically not heat resistant.
FAQs
What is the problem with cooking meat in the microwave?
Cooking meat in the microwave is perfectly safe, but it can cook unevenly. That's why you should cover the meat with a lid and throughout my instructions to microwave ground beef, I indicate the need to remove the ground beef from the microwave and stir it. This will allow the meat to cook thoroughly, all around.
Always be sure to use a meat thermometer when cooking ground meat in the microwave to make sure it's cooked to at least 160 degrees.
How many times can you microwave ground beef?
There is no limit to the number of times you can reheat leftover, cooked ground beef. However, the more it is reheated, the dryer it will get. To keep it moist, wet a paper towel with water and place it over the meat in a microwave-safe dish. This will help moisten the meat as it reheats.
How can you tell if meat cooked in the microwave has been thoroughly cooked?
Although you will likely be able to tell when meat is cooked thoroughly in the microwave just by looking at it, you should always test the internal temperature of any meat you cook to be sure.
Make sure to put the thermometer into the center of several pieces of ground beef around the dish in order to get an accurate read.
Is it safe to eat a microwaved hamburger?
It is safe to eat microwaved hamburger meat as long as the cooked meat has been temperature tested and verified to be thoroughly cooked.
Can I cook a ground beef patty in the microwave?
Cooking a ground beef patty in the microwave will be much the same as cooking ground beef. Instead of stirring, however, you will flip and rotate the burger regularly. When using a meat thermometer, be sure to insert it into the very center of the hamburger patty and leave in place for at least ten seconds.
Can you cook ground turkey in the microwave?
Yes, you can cook ground turkey in the microwave the same way you cook ground beef. Follow these same instructions, however, the ground turkey should be cooked to 165 degrees rather than 160. 165 is the safe cooking temperature for all poultry products, in including turkey and chicken.
Reader Favorite Ground Beef Recipes
Print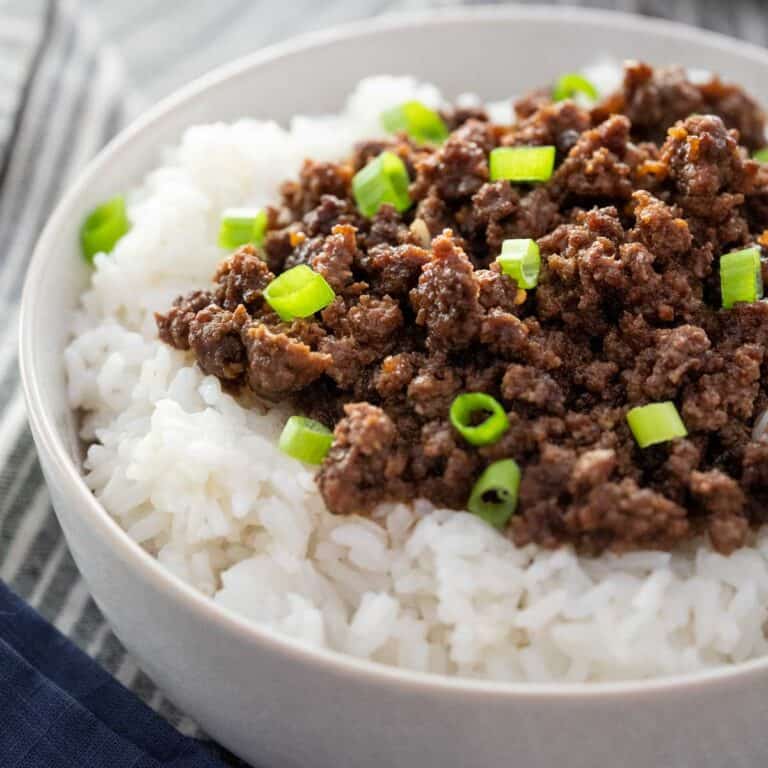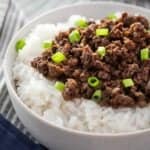 Microwave Ground Beef
Author:

Melissa Riker

Cook Time:

10 minutes

Total Time:

10 minutes

Yield:

4

1

x

Category:

meat

Method:

microwave

Cuisine:

American
---
Description
No stove or short on time? Here is a step by step tutorial for everything you need to know about how to cook ground beef in the microwave.
---
1

lb fresh ground beef
seasonings as desired
---
Instructions
Place meat in a large glass microwave-safe bowl. Cover with a microwave-safe cover.
Microwave on high for one minute. Use the spoon to break up the meat and recover.
Cook for 2 minutes. Break up the meat again with the spoon and check the temperature with a meat thermometer.
Repeat until the meat reaches 160 degrees. Be sure to check the temperature in multiple places and continue to break up and stir the meat to ensure even cooking.
Once the meat is to temperature, drain if necessary and season to taste.
---
Notes
You will also need:
Medium-sized microwave-safe container or bowl (preferably glass)
Microwave-safe lid
Large wooden spoon
A meat thermometer
Keywords: microwave ground beef