So, it's been about 10 years since I first sat at a keyboard and pounded out the first post here at Shaken Together. I penned some random thoughts, sure that my witty prose would have people from all walks of life flocking in droves to my little corner of the internet. Not so much, ha ha.
Wanna take a walk down memory lane? I dug through my old pictures to find a few of my old blog headers …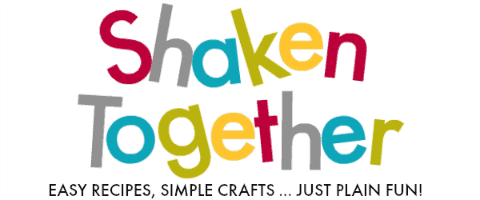 A few months in, I discovered that I could pair my love of teaching and my penchant for creative crafting and publish craft tutorials. (Honestly, if haven't spent any time poking around, you are missing out! There are lots easy gifts, decor and more tucked away in the archives.)
Then, I started sharing recipes with you and really found the sweet spot (pun intended!) of what Shaken Together was meant to be for me. A place to share the double decker chocolate chip cookie cake for Kaleb's 12th birthday. My grandma's famous secret ingredient chicken salad recipe. A never ending love for no bake desserts. And I sprinkled in a little bit of life, like the passing of our sweet cat, Boss and our family vacations just in case you wanted to plan something similar. Each post is a little bit of me. Of us. Of our family. We all grew up here. These are Kaleb's hands in this post for Jell-o Ice Cubes. And the real chalkboard props we used for back to school photos. Chris rolling his eyes just off camera as I made him pose for this shrimp boil on the grill post.
This blog has been through the life and time of two boys. 4 different addresses. Marathon weekend recipe testing. It has seen its share of cake mixes, boxes of pudding and too many exclamation points to count. But like life has a tendency to do, mine has changed pretty significantly. My 8-5 job is requiring more of my time. I have an unbelievably adorable grand-daughter who calls me Kiwi (short for Grandma Keri which is a mouthful when you're only a year old). My boys aren't boys anymore. They are bright young men forging their own futures.
Anyway … all of that to say, I have to step away.
*Insert brief tissue break and a quick call to her momma for the over emotional blogger.*
BUT I love Shaken Together way too much to just let it sit and gather dust or fade into the wood work. So, my amazing friend Melissa (you may know her from The Happier Homemaker ) is going to step in. Take the reigns. Lead the charge. Steer the ship and any other bold forward thinking thing you can think of. She is a wife, a fellow boy mom, a home cook, a warm and wonderful friend and pretty much the best person I can think of to keep this little corner of the internet pretty and shiny. You may see me pop in from time to time, but I hope you rally around Melissa and welcome her to the neighborhood with open arms. She's pretty darn fantastic.
So, friends, from the bottom of my heart, thank you. Thank you so, so much.
Keri
P.S. I did start a personal Instagram page if you want to keep up with me … I'm not exactly sure what it'll look like over there but I never say no to a friend 🙂